Christmas is a time for celebration and giving. Get into the holiday spirit by decorating your loved ones' gifts with happy holiday stickers. Your holiday stickers design can be whatever you want it to be, but there are a few popular ideas to emulate or serve as inspiration for your own creativity. So, you won't be blue this Christmas if you follow the 5 tips below.
1. Custom holiday stickers as a gift and gift inserts
Make your own holiday gift stickers to give away with purchases. Funny Christmas stickers are a fun, one-of-a-kind gift that your receivers will appreciate – people will remember the fun stickers they received from your gift, which may lead to them loving you and appreciate your gift more. Custom stickers have the advantage of being able to be made in any shape or size that you need. This allows you to be more creative with your designs. From simple square stickers to super complex sticker designs, almost any shape is possible.
The holidays represent returning home, taking a break, and spending time with loved ones. Similar feelings should be evoked by your Christmas thank you stickers messages, and they should make your family members feel like they are a part of the process. Types of stickers that can be used as gifts on Christmas such as:
These holiday-themed stickers can be used to decorate plastic-wrapped cookies, Christmas cards, and family scrapbooks by christmas present stickers or christmas envelope stickers.
Giving personalized photo stickers: You can decorate gifts with personalized Christmas gift stickers to make something truly memorable! Example: stickers printed from real photos with Christmas images.
Santa or the Christmas tree make even better holiday stickers for envelopes for sending cards to family and friends. They can also be placed on top of gift boxes – Christmas gift stickers are an excellent choice for this.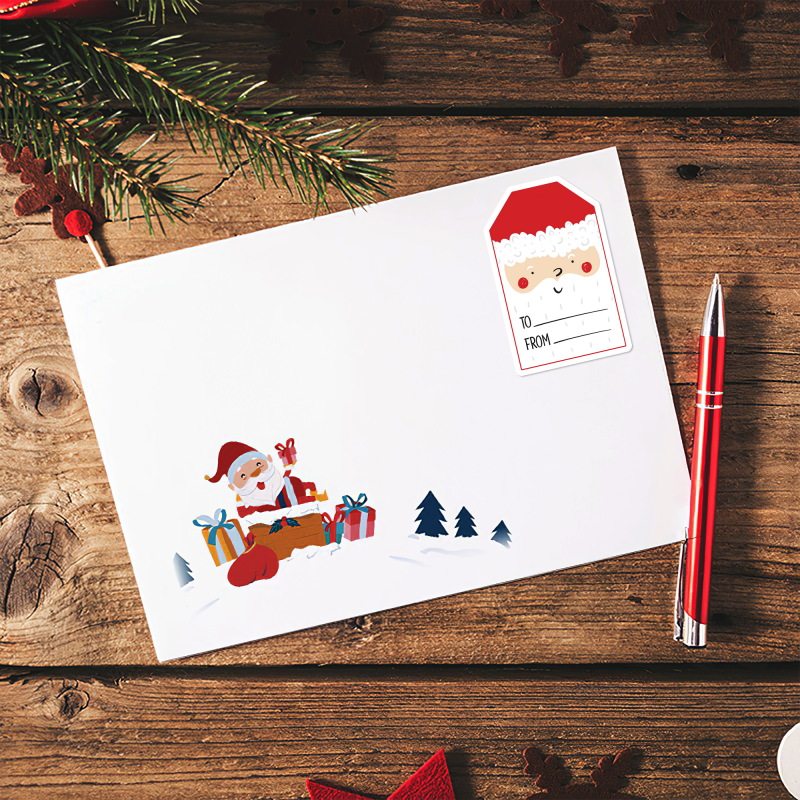 2. Custom holiday stickers as gift packaging
Here are some simple ways to make your packaging gift reflect the holiday spirit:
Custom stickers as holiday packaging for gifts: These holiday stickers are designed to be applied directly to wrapped gifts. There will be no cleanup. These have a sticky back and will adhere to gift wrapping paper, gift baskets, and fabric. You can easily write on these with a pencil, pen, or permanent marker. We do have other Christmas gift tickets available if needed.
Custom stickers as holiday packaging for cookie cake: After you've placed the cake in the bag, fold the mouth of the bag and stick the sticker on it to make it your gift. Each detail has a unique shape, quote and color, allowing you to freely decorate and create your own handcrafted items.
3. Custom holiday stickers as Home decor
Christmas window stickers
Christmas window stickers are an excellent way to decorate for the Christmas holiday season. There are a lot of window stickers to suit any of your Christmas decor needs, featuring many festive favorites. Choose from graceful snowflakes, bright Christmas trees, handsome robins, and even some exciting color-in stickers in this collection of Christmas window stickers.
Christmas tree wall stickers
Christmas tree wall stickers made of high quality material designed to take a beating indoors for years. Vinyl decals come in a variety of sizes and have a small white stroke around them. Christmas tree wall stickers come in a variety of sizes and types. Simply peel and stick – reusable, repositionable, and washable without leaving a sticky residue. Save the backing paper to store it for next year. They are not only ideal for walls, but they can also be used on any smooth, hard surface.
Christmas stair stickers
Christmas stair stickers are a stylish addition to any staircase and add a touch of class to any home. Custom colors allow you to change the color of this timeless pattern to match your decor! The designs are printed on an adhesive-backed fabric that is removable, repositionable, and reusable. Christmas stair stickers also have a removable high-tack adhesive.
Christmas ornament stickers
This holiday season, custom ornament stickers are a great way to personalize your Christmas tree! Personalized Christmas Ornament transfer stickers can be applied to baubles, gift boxes, hangers, backdrops, wine glasses, champagne flutes, and any other smooth surface.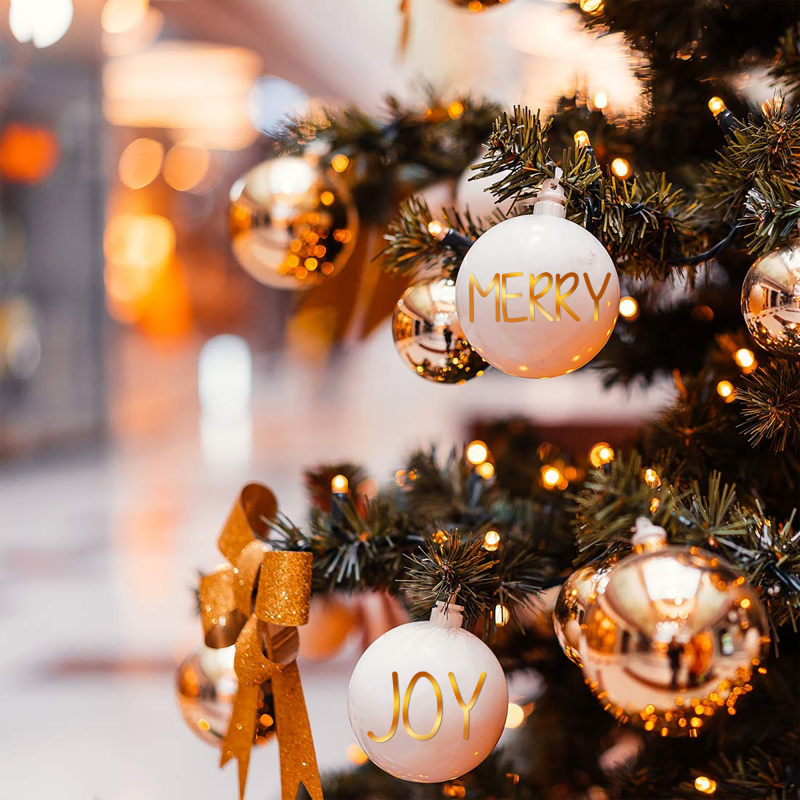 4. Use custom holiday stickers to decor your belongings
Custom stickers are an excellent way to personalize your belongings and demonstrate your sense of style. You can decorate your planner, cup, water bottle, and laptop,… Consider functional stickers such as flags, tabs, and arrows if you want your stickers to serve a purpose. These can assist you in organizing your planner or calendar and making it more user-friendly.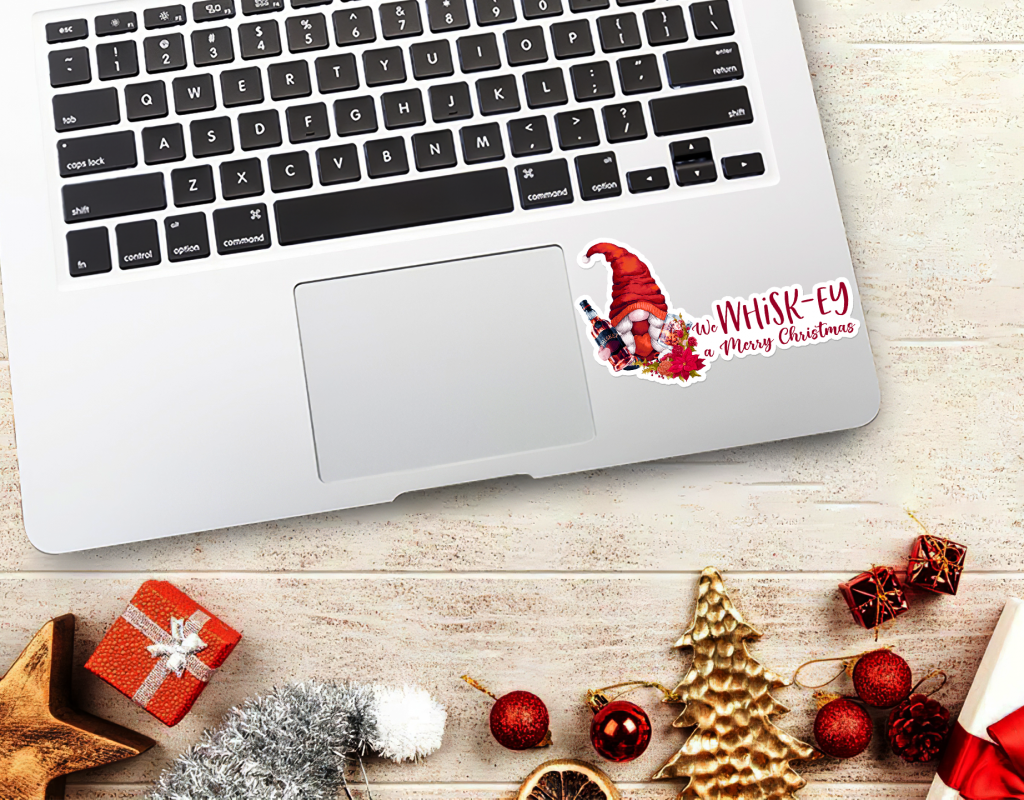 5. Creative with custom stickers as advent calendar
If you like personal planners and photo calendars as gifts, you can always add some sticker sheets for a festive touch on Christmas! Christmas stickers are an excellent way to highlight special events such as Christmas. At the end of each day, add one more sticker on the calendar to count down to Christmas. Making a personalized advent calendar with stickers is not a bad idea. Here are 3 types of stickers commonly used to make advent calendar:
Monogram stickers
These are the ideal holiday stickers to add a classy touch to your planner or advent calendar. Use them to mark important dates or edit a boring advent calendar page.
Motivational or inspirational quotes stickers
This makes more excellent custom stickers. Use them to make your day brighter or to remind yourself of your goals on the advent calendar.
Decorative stickers
If you want to spice up your planner or calendar on Christmas day, experiment with some decorative stickers. Flowers, animals, trees and patterns are all excellent choices.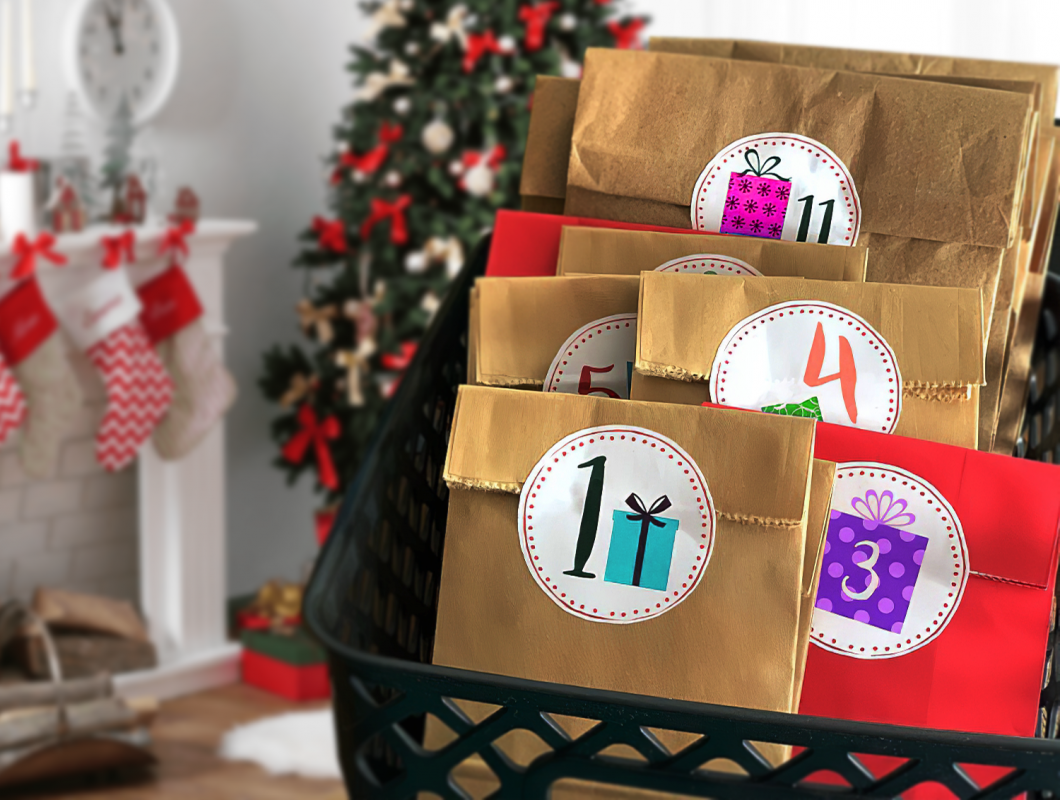 Finally, holiday stickers are beautiful stickers with many different shapes and colors. Stickers can be placed anywhere, including your briefcase, books, walls, and windows, to make your Christmas decorations more fun this year. The cold is in the air, the leaves are already falling, and the holidays will be here. If you're itching to get into the holiday spirit, why not start with some festive DIY Christmas happy planner holiday stickers right away?