Have you become bored with your normal water bottle? You may now personalize it as you want by using stickers! Adhere them anywhere you like on your bottles! They're a great way to spice up an otherwise simple water bottle. You may now get a water bottle that displays your personality, passions, and so it will undoubtedly attract your interest in drinking more water.
Nevertheless, there are a few things you need to know before you start applying stickers all over your bottle, such as how to adhesive and take off these custom stickers for water bottles, which types of bottles are suitable for them, how to keep stickers from peeling off, etc.
Now, let's explore!
1. How sticker can help you Stay Hydrated and Stylish
Stickers are a great way to give your water bottles a one-of-a-kind look. They're fantastic for expressing yourself and developing your own unique look. Stickers may spruce up an otherwise uninteresting water bottle or container by giving it the color, adding interest, and providing design. In addition to improving the bottle's aesthetics, they also provide superior protection against sweat and moisture.
Additionally, putting custom stickers on water bottles can motivate people to drink more water in a lighthearted, fun way. Putting a statement or funny sticker on an otherwise boring bottle is a great way to brighten your day. Because of this, drinking water will no longer be tedious but a fun experience every time you reach for your bottle.
You can now find many custom stickers for water bottles to remind you to drink water throughout the day. These stickers display the recommended drinking time and water intake for a typical type of bottle. Placing these custom stickers for water bottles will serve as a constant reminder to drink water, helping you begin a healthy routine.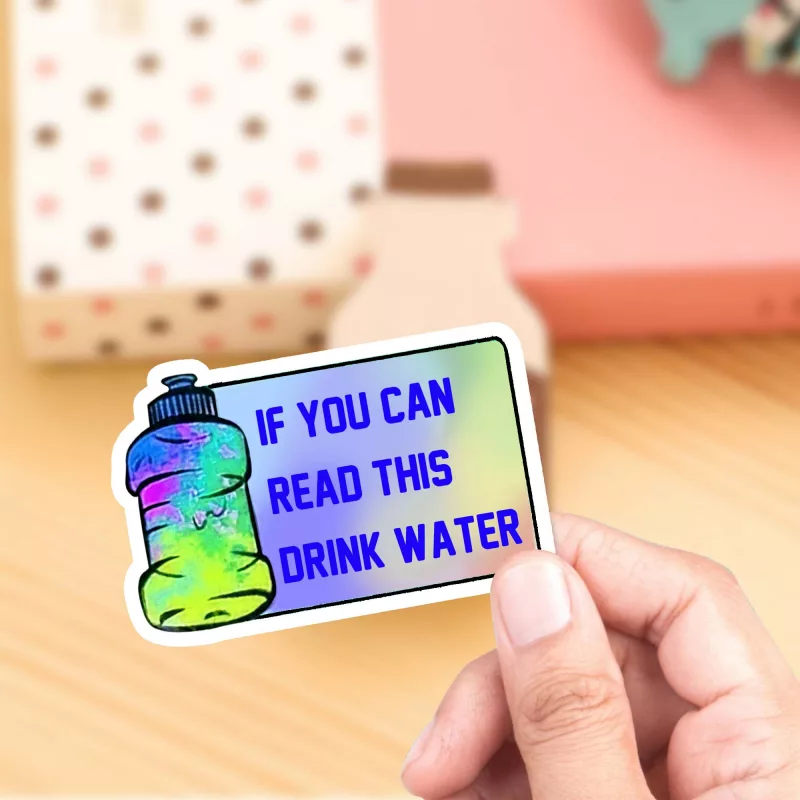 2. Best types of water bottles to put stickers on
It's essential to choose the proper water bottle before applying custom stickers for water bottles. The use of stainless steel water bottles is highly recommended compared to other kinds of water bottles. The reason is that they make moving stickers easier than plastic ones and don't leave sticky residue behind.
These are now the most well-liked brands of stainless steel water bottles:
Yeti
Yeti bottles are well-liked for their capacity to keep beverages hot or cold for an extended time. They are available in a wide range of materials, from stainless steel and aluminum to BPA-free plastic. Each customer's needs and preferences may be accommodated by their extensive selection of sizes and designs. Yeti has got you covered whether you need a tiny bottle to take on a trek or a big one to keep you hydrated at work.
Hydro Flask
Premium stainless steel SUS304 (18-8) is used in all Hydro Flask drinkware items; this steel is food-grade and contains no chemicals like BPA. In contrast to inferior water bottles designed with liners, Hydro Flasks have no liner on the inside and are covered with high-quality molding powder. This company's high-quality water bottles can maintain the temperature of your favorite drink for up to 12 hours.
RTIC
During the day, your beverages will maintain their ideal temperature in an RTIC water bottle thanks to the double-wall vacuum insulation. They can maintain a drink's temperature for many hours. BPA-free is a feature of RTIC. You may choose the ideal RTIC water bottles for your requirements among the company's many available sizes and colors.
3. Are there special stickers for water bottles?
When it comes to purchasing unique stickers to put on water bottles, there is a wide variety of options available to choose from. Vinyl water bottle stickers, transparent decals, and everything in between are included. Several different kinds of custom stickers for water bottles exist, but here are some of the most recommended ones:
Vinyl stickers
Due to the fact that it is waterproof and resistant to both high and low temperatures, vinyl is one of the most often used materials for manufacturing stickers for water bottles. In the event that dirt or debris becomes embedded in custom vinyl stickers for tumblers, it is also simple to remove.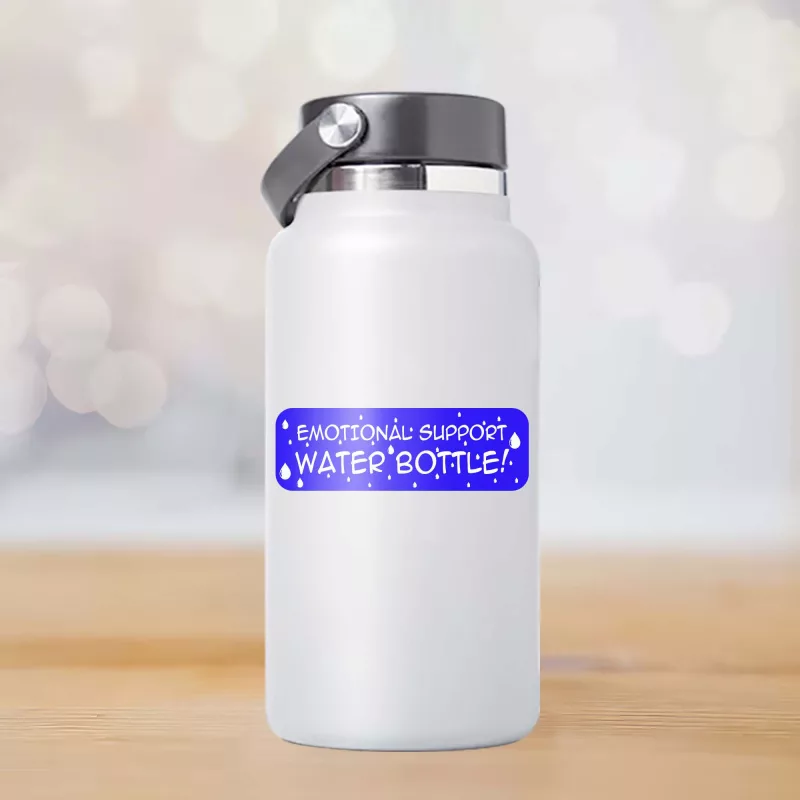 Clear stickers
Clear sticker is a wonderful addition, thanks to the capability of becoming transparent. These stickers show that they blend in your bottles nearly perfectly. Using this method, the text or picture seems to have been custom-printed directly into the surface of the water bottle, giving your product a deep feel.
Moreover, laminated clear stickers are protected from the sun's rays and water, making them suitable for use on items like water bottles that will be washed in the dishwasher.
Holographic stickers
Holographic stickers provide the appearance of being very colorful and catchy, which helps to make water bottles seem very appealing.
Typically, holographic labels have a glossy texture and a rainbow image that changes with different angles of view. Holographic vinyl stickers for water bottles are produced with vibrant colors and imaginative designs. They are also laminated for protection against the elements, tears, fading, and scratches, which helps them stay longer on your water bottle.
4. How to decorate a water bottle by adding stickers
Here's a quick and easy way to adhere and seal your stickers on a water bottle so that they'll last for much longer!
First, make sure your water bottle is completely clean and dry. Surfaces without any grime or residue are good places to put stickers. Use a paper towel to thoroughly clean the bottle. Avoid using the cloth since it may leave behind fibers.
To expose the sticky side of the custom stickers for water bottles, peel off the backing. Beginning at one end of the sticker, carefully apply it to the bottle and proceed forward to the other, smoothing out any air bubbles as you go.
If an air bubble forms, you may pop it by directing a hair dryer at it and then pushing it out with your fingers. A small pinhole may be pierced in the bubble as an alternative. Although the second option wouldn't have much effect on your sticker, it's not our recommendation since you'd be too focused on the hole.
5. How to protect stickers on water bottles
After you're through decorating bottles with unique custom stickers for water bottles, you'll want to make sure they last as long as possible. Also, here are some suggestions on how to keep stickers from peeling off:
Keep out of the sun or rain
Your custom stickers for water bottles may fade and peel over time due to exposure to the elements (sun, rain, etc.). If you use stickers on your bottle, try to keep it out of direct sunlight and rain. The weather may degrade these stickers. So, to minimize the risk of your custom stickers for water bottles being damaged, it is preferable to keep your water bottle inside as much as possible.
Hand wash or buy dishwasher safe stickers
For maximum protection, use custom stickers for water bottles that indicate they are dishwasher safe stickers.
Nonetheless, if your water bottle is covered with stickers, avoid putting it in the dishwasher since the heat and detergent might peel the stickers off. Please only wash your bottle by hand. Even though the bottle says it can go in the dishwasher, you should still hand wash it. The bottle could be, but the stickers on your items definitely aren't.
Epoxy
You may cover the custom stickers for water bottles with transparent epoxy that is safe for food if you want to. However, it really must specify that it is food safe or that it is food grade. Suppose it doesn't; don't try to seal your stickers with it.
6. Purchase stickers for water bottles online
The application of stickers to water bottles has recently surged in popularity. These custom stickers for water bottles were formerly widely utilized as a means of self-expression and message sharing. Therefore, it should come as no surprise that cool water bottle stickers can be purchased online from many online platforms such as Amazon, Etsy or Walmart.
In addition to that, you can also get from our company a wide selection of custom stickers for water bottles in a variety of sizes, designs, and materials. Visit customany.com if you are interested in acquiring new stickers for your water bottles online.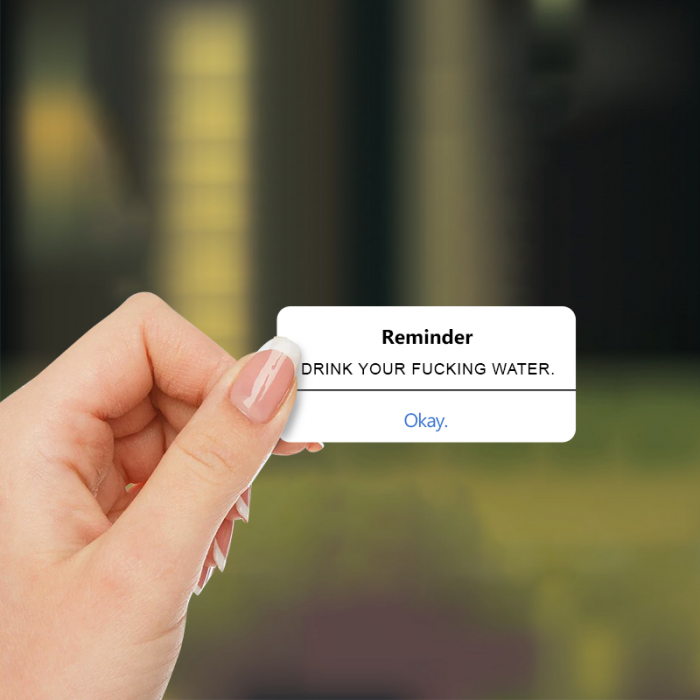 7. Removing stickers from water bottles
In case you no longer like your custom stickers for water bottles or their quality has been degraded, you will want to take them off your bottle. However, if you don't remove them in the right way, they may leave residue or may affect your bottle's paint. So, here are the proper steps to unstick the custom stickers for water bottles:
Begin pulling the sticker from one corner and continue until the whole sticker is peeled.
If any glue is left behind, you may simply remove it with some adhesive remover.
To get rid of any residue left behind by the cleaner, you can clean your water bottle with isopropyl alcohol that has been applied to a dry cloth. After that, use a fresh paper towel to remove the isopropyl alcohol.
Conclusion
You now have access to all the helpful information about custom stickers for water bottles, including how to use them and which bottles are the best fit for them. In addition to that, you are proficient at putting them on and taking them off. Then, it is the ideal time to design and create your own personalized water bottles with stickers. After spucing it up, take a picture, post on instagram and tag us via @customanyofficial to share your massterpiece with thousands of people with the same interest!