Maintaining both your physical and mental health requires that you keep yourself well-hydrated at all times. And custom water bottle stickers are a fun and simple way to remind you to drink more water throughout the day. Custom stickers for decorative water bottles are surprisingly clever. Not only can they serve as a constant reminder to drink water throughout the day, but they can also make the water bottle seem much nicer and more customized.
In this piece, we'll take a look at 6 inventive ways that you can utilize custom water bottle stickers to help you remain hydrated and keep your body functioning properly. Go through these water bottle stickers ideas and pick out the one you like most!
1. Personalize Your Water Bottle with Your Name or Initials
You are able to put your initial as well as your name stickers on your water bottle so that it is unique to you.
These custom water bottle stickers serve as a unique identifier that adorns the water bottle's design, giving it a personal touch. Those who wish to have a water bottle with them wherever they go, whether to class, work, or sports, will find this to be an excellent option. You may avoid using communal mugs in these situations. Instead, you will use a water bottle with your own name, which will also prevent anybody else from misusing yours.
Personalized name stickers are available in a wide variety of fonts, sizes, and colors to suit your own style.
For the greatest results, use a clear sticker for this application. If you use clear stickers, your name will nearly blend into the background of the water bottle, giving the impression that you printed your name directly on the water bottle.
Bringing the same aesthetic result as clear stickers, transfer stickers are another excellent option for customizing with your name or initials. Both clear and transfer stickers are made by removing their background. However, transfer ones are cut exactly to the shape of the image or text, leaving no removable backing material. Because of this, the final product will have a much more polished and tidier appearance.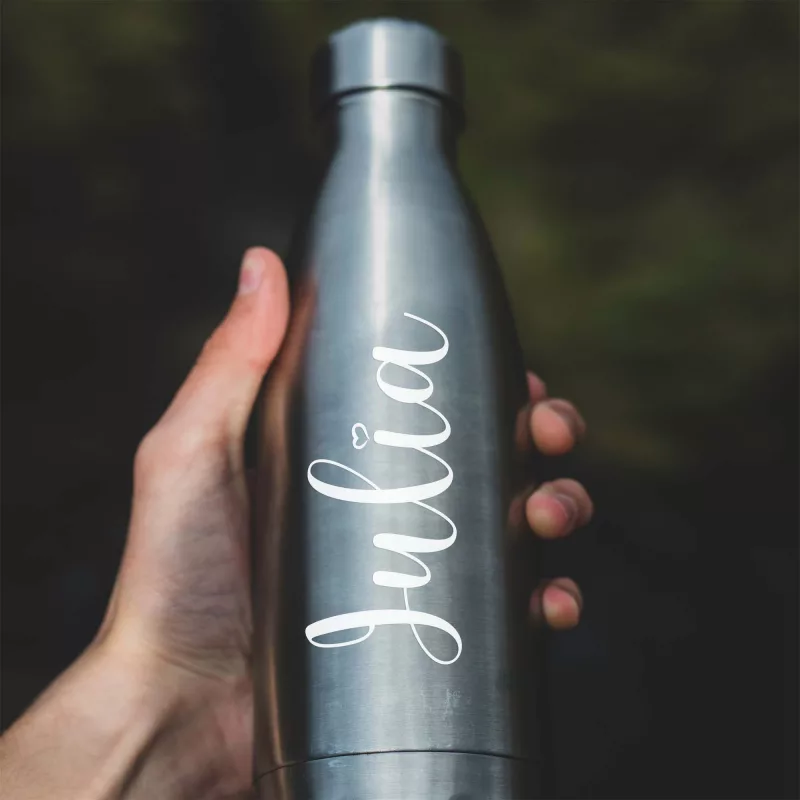 2. Track Your Daily Water Intake
If you want to drink more water every day, use the prettiest planner stickers as a reminder. You will be able to swiftly determine at a glance the total quantity of water that you have drunk during the day. If you set a daily water consumption target and then see yourself gradually approach it, you'll be more motivated to keep drinking water. These custom water bottle stickers are great for reminding you to drink water throughout the day, whether you're a busy student, a professional worker, or simply want to improve your health.
Use stickers in the shape of several blank cells to keep track of how much water you drink each day. Put a checkmark on it each time you drink a bottle of water until you reach the amount you set. Instead, you may use water measurement stickers to determine how much water you have consumed. However, these custom water bottle stickers may only be used with transparent water bottles so that the user can easily monitor their water intake.
3. Motivate Yourself with Inspirational Quotes or Images
Stick these motivational message stickers on your water bottles so you can stay inspired during the day. Sayings like "All things change with the passage of time and with the help of water" and "It is only when the well runs dry that we realize the value of water" are good examples. If you're having trouble staying motivated to drink enough water each day, reading these quotations may help.
In addition to the aforementioned quotes, you may also use custom water bottle stickers with images of your favorite person, whether they are your closest friends and family or your idols. If you do this, then every time you glance at your water bottle, it will be as if your loved ones are reminding you about the need to maintain a healthy level of hydration.
Vinyl, which is hard and robust, resistant to fading, deformation, and breaking, and easily peeled off and used, is an ideal material for creating motivational custom water bottle stickers.
4. Funny reminders to drink water
Staying hydrated is very important to your health. To help you drink more water, funny reminder stickers for water bottles have become all the rage!
"A thousand people have lived without love, but not a single person has lived without water," "Take care of yourself by staying hydrated, b*tch!", "Be sure to drink as much water as you can, and pee as much as you can" are some reminder examples for funny water bottle vinyl ideas. These humorous custom water bottle stickers are an entertaining way to remind yourself and your loved ones to stay hydrated.
The materials of the stickers vary from vinyl to plastic. You can find sticker designs in different sizes and colors that can match any personality or style. They are also easy to stick on various surfaces like a water bottle or tumbler, which makes it even easier to keep track of your daily dose of water!
When picking out the right design, opt for something catchy and eye-catching that will leave you with a smile whenever you take a sip.
You may want to read out previous post: 7 Things you wish to know sooner when using Custom Stickers for Water Bottles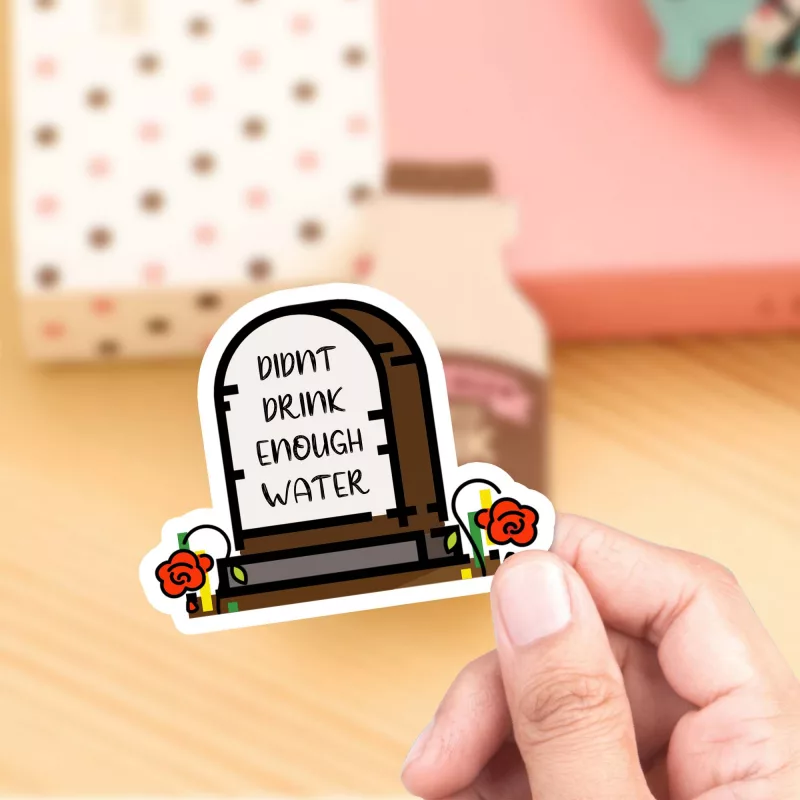 5. Educational stickers with hydration tips or reminders
Educating ourselves and others about the importance of drinking more water is something we can all relate to. Using educational stickers featuring hydration tips or reminders for water bottles can be a great way to promote hydrating habits and help people learn more about what it takes to stay hydrated.
The materials and designs of these custom water bottle stickers can vary greatly, from vinyl, paper, and clear plastic materials. However, they should be dishwasher safe stickers to help them to last longer without losing any adhesion.
One more noticeable thing when customizing these custom water bottle stickers is that they should be in an easy-to-read format, attracting attention and increasing the visibility of the information presented. This makes them the perfect medium to provide people with the guidance they need to stay hydrated throughout their day.
6. Reflective stickers for visibility during outdoor activities
When you are a person who often has to be active outdoors, reflective stickers for visibility will be the "savior" choice. Because when outdoors, the intensity of sunlight will be very strong, which will affect your vision. Therefore, finding your water bottle will become more difficult, especially for glass water bottles or transparent water bottles.
At this point, the reflective stickers will help you quickly recognize the location of your water bottles, making them always in your sight so that you can get water anytime you want.
You had better use reflective vinyl stickers for water bottles for a high-strength, water-resistant option. Because of the light-reflecting tint, these custom water bottle stickers look their best when they are paired with black or other dark colors to contrast them.
Or holographic stickers are also reasonable custom water bottle stickers ideas in this case. In the sunlight, holographic stickers are reflective, creating a beautiful rainbow effect and attracting everyone's eyes.
Conclusion
Staying hydrated is essential to staying healthy and alert, but drinking more water can be tricky. That's why custom water bottle stickers come in handy! Putting stickers on water bottles is a creative way to remind yourself and others to drink up with fun messages and designs.
Hopefully, these aforementioned 6 creative ways of using custom water bottle stickers can help you stay hydrated. Whether it is for office or home use, these unique water bottle decorations will surely help you reach your health goals without any hassle.
It is now time for you to personalize your own bottle so that you can better maintain your level of hydration.