What can say more about the food than the food's label? In this vast world of food packaging, an awesome custom food label design is a silent salesman that speaks volumes. It helps your products stand out on the market shelves, attracting customers and elevating your brand image at the same time.
So, while you might not be running a massive food empire (yet), we've got some fantastic design ideas that can add an awesome effect to your custom food labels. Join us as we explore 5 cool design ideas for custom foood labels to make your products even more enticing.
What makes Awesome Custom Food Labels?
Finding awesome food product labels is an interesting and exciting subject that every reader wants to jump right in. However, before diving into the cool design ideas, let's learn the signs that we can take to determine whether a label is an awesome art or not.
1. Eye-Catching Visuals
What kind of a custom food label is if it does not catch the eye of the passerby? Yes. Awesome labels for food packaging or any other products are those that make people turn their head back. This can be gained by:
Vibrant colors and graphics: Skillful use of colors and graphics can immediately draw the eye. Take a jar of homemade jam as an example: you can make its labels with images of luscious, fresh strawberries in vivid reds and greens.
High-quality images: High-resolution images are a must have in an awesome custom label. No matter if it's a slice of cake or a refreshing beverage, clear and appetizing visuals create an instant connection with the consumer.
2. Uniqueness and Originality
Awesome food container labels are the unique ones. Your one-of-a-kind custom food labels should have:
Distinctive branding elements: Incorporate your unique logo, specific branding colors, or a catchy tagline in the product label. Consider an example of Nutella: Their food labels stand out thanks to unique design characteristics.
Custom shapes and sizes: Make you different from others by giving up on traditional rectangular labels and opt for unexpected shapes. For example, a hexagonal label for handmade honey jars
3. Consumer appeal
A custom product label that is awesome has the power to be appealing to your target customers.
Target audience alignment: It's crucial to understand your target audience and incorporate this understanding in creating suitable custom food labels. For example: while the label for a kid's snack should be colorful and lively, the label for an organic food can emphasize environmental tones.
Informative and clear: Ensure your custom food labels effectively show important information, including ingredient list, dietary and allergy alerts, nutrition facts, etc.
With all this background information in mind, let's move to the interesting part to find out awesome design ideas for your labels
5 Awesome Design Ideas for Custom Food Labels
The wheels of creativity never stop turning. Help your wheel in label design turn even more effectively with our 5 awesome suggestions for custom food labels.
1. Opt for Simple Food Label Design
In the first step of your labeling journey, you should know that simplicity is a powerful ally. If your products are packed in unique containers or you want to product itself to be the spotlight, start with uniform label shapes. Rounds, ovals, or rectangles are both safe options.
The key to make your custom food labels awesome here is the harmony; or opposition between them and the product. For example, choose clear labels for glass jars; and choose a perfectly circle label for a square box.
Besides, be simple in other elements on your label, including a limited quantity of fonts used, a unified color palette, and basic graphics if needed. A clean and straightforward design communicates authenticity and product quality.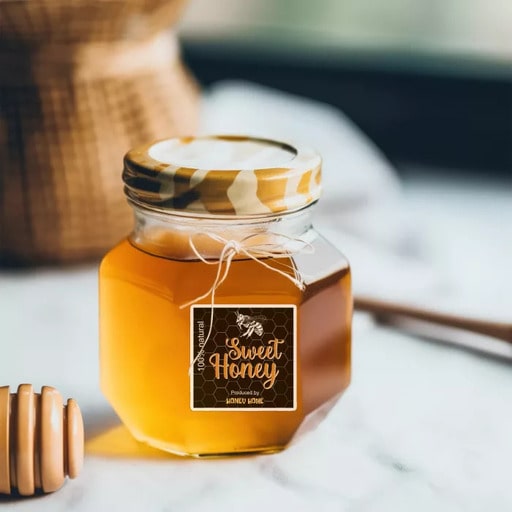 2. Create Unique Die-Cut Shape
If you don't like a safe option, you can choose distinctive die-cut shapes to make a big impression. This sticker design for food is particularly effective for products that gain from an unusual presentation.
Imagine a unique cheese that comes with a label that resembles a cheese wheel. Consider labeling jams with fruit forms or specialty chocolates with elaborate shapes.
These stickers design ideas are unique, offering a sneak peek at the product.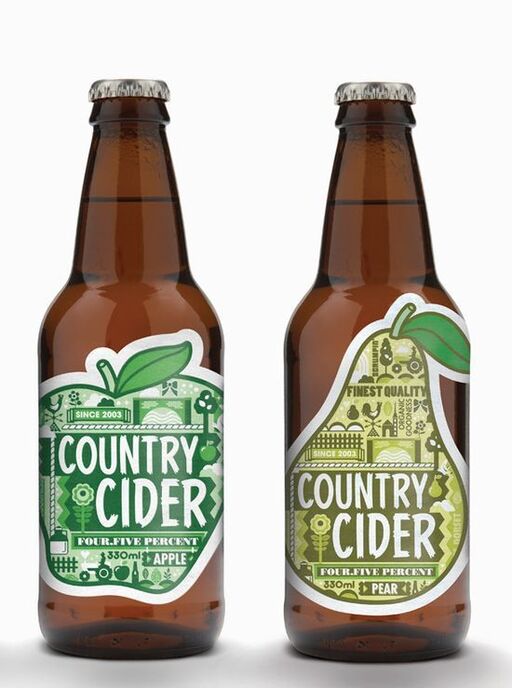 3. Regular label form with Cut-Out Shape
The third idea is to combine regular label shape with cut-out inside the label. Don't go with the familiar, because awesome label ideas for food products will bring your customers a big surprise.
This idea can be used for a jar of homemade jam: create a circle or square label featuring a cut-out of this main fruit shape. Cut-out labels are also ideal for showcase the product within, so you can use it for cookie packaging. This design choice not only enhances the visual appeal but also offers a glance of the product within, fostering a sense of transparency and freshness.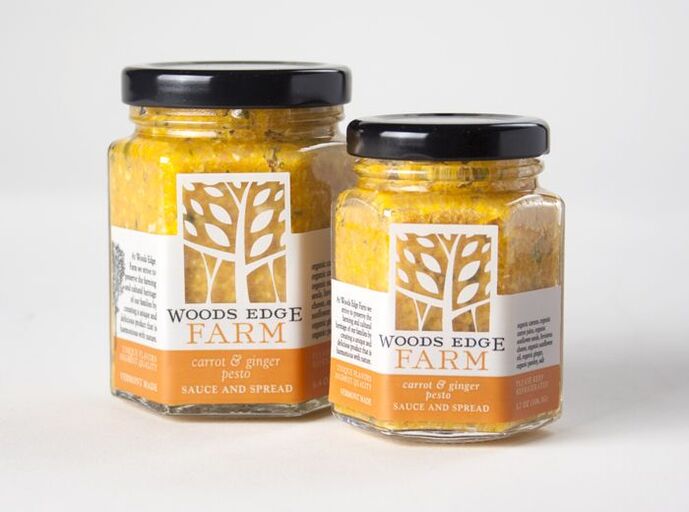 4. Enhance Food Label Design with Clear
Clear labels bring a modern and elegant appearance to your products. They will work exceptionally well if you want to showcase the contents inside the carrier, so glass bottles of beverages or gourmet sauces, for instance, are suitable for using clear labels on them.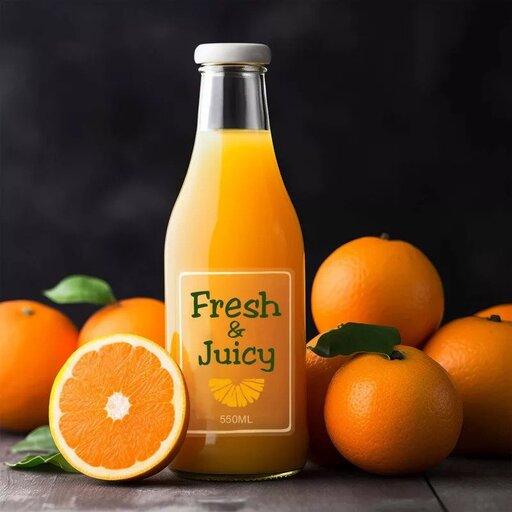 5. Let the text says
Custom food labels are not just about shape and images on them, sometimes only text can make a big impression if you do it right.
Choose the right font and typography that can make your labels a significant difference.
Choose something playful, elegant, or rustic, but still align with your brand personality.
If you have an organic snacks company; a clean, sans-serif font shows the simplicity and purity of the product's ethos.
Going creative and distinctive with font sizes and styles will create visual interest for even ordinary products.
Related article: 45+ label font suggestions to match your brand's personality
Each of the ideas we've walked through can change your custom food labels from ordinary to extraordinary. But remember, creativity is key. Take food label design ideas as a guideline, testing, get feedback, and find the file design for custom food labels that not only represents your product accurately but also captivates your target audience.
Tips for making Custom Food Labels
When turning your awesome ideas into real-life custom food labels, there are some tips you must know to ensure a stunning outcome.
1. Awesome Design but still Consistent
Whether it's color schemes, fonts, or label shapes, remember to keep it consistent to your brand image. Besides, maintain a consistent custom food sticker design across your product line.
2. Appropriate Size and Shape
Size matters, and so does shape. Ensure your label size complements your packaging without overwhelming or getting lost. For unique or irregularly shaped die-cut labels, you should go for a larger size than you thought to ensure it has enough space for all the necessary information.
3. High-Quality Printing
The process of bringing your custom food labels from screen to real-life product is truly important. Make sure you use high-quality, compatible printers for food label printing in-house. Or else, go for a reliable third-party who offers printing service.
For a hassle-free, professional outcome, print your labels at CustomAny. This way, you can be assured that the material, the shape, and the cutting process will be done perfectly, so every detail of your design is faithfully reproduced. What else to wait for? It's time you turn your custom food labels into something that stands out on the shelves.