As Christmas is approaching, what better way to welcome the holiday spirit than with beautifully adorned Christmas door decorations? These festive embellishments hold special meanings, symbolizing the warmth and hospitality we extend to our loved ones and even strangers during this magical time of year.
But with so many options available, it can be overwhelming to know where to start. Are you wonder how to adorn your house, workplace, or store doors with ornaments such as wreaths, sparkling lights, or personalized touches?
In this article, we will take you on a journey through the top 8 locations and 6 ideas to show you how to decorate a door for Christmas for a successful and enjoyable decorating experience. Get ready to explore!
Where to use Christmas door decorations
The front door is often the main place that people consider decorating at Christmas. But the truth is that Christmas decorations may be displayed on many different types of doors to add a festive touch and create a warm atmosphere for your entire space.
Here are our collection of 8 places/types of doors where you can use Christmas door decorations:
Front Door
The front door is the perfect place to start your Christmas decorations. It is the first thing that guests see when they arrive at your home, so decorating it will create a warm and inviting welcome, spreading holiday cheer to everyone who enters.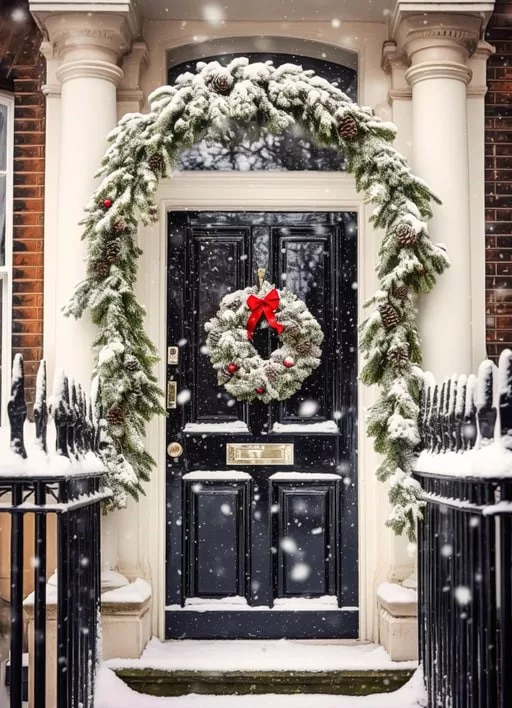 Back Door
Compared to the front door, the back door is often overlooked. But it shouldn't be forgotten.
Especially if the back door allows easy access to the backyard and garden, or if it leads to an outside living area like a patio or deck. In this case, decorate the backdoor not only for guests but also for your own family, and friends or relatives visiting you.
Interior Doors
The interior doors of your home provide a wonderful canvas for Christmas door decorations. These doors are the entryways to each room within your dwelling. So, using the same theme or complementary decorations to those on the front entrance door for them can create a cohesive and festive atmosphere throughout your entire home.
By adding festive elements to these doors, you visually connect each room and spread the holiday magic from one space to another.
Kitchen Cabinets
Since the kitchen is a gathering place during the holiday season, it makes sense to extend the festive ambiance to this important space.
Let's decorate your kitchen cabinets with Christmas decorations to create a joyful and charming atmosphere while you prepare delicious holiday meals and gather with loved ones.
Closet Doors
Decorating the closet door for Christmas adds a festive touch to every little corner of your home. It creates a sense of completeness and unity in your holiday decor.
Garage Door
The garage door is a unique and eye-catching location to incorporate Christmas door decorations. Doing this creates a sense of welcome for both residents and visitors.
Garage door Christmas decorations are a fantastic way to spread holiday cheer from the outside, allowing you to showcase your holiday spirit to the entire neighborhood.
Office or Study Doors
Decorating the office or study doors (or Christmas classroom door) for Christmas will create a visually appealing and inspiring environment. By decorating these doors, you infuse your office or study with a visually appealing and inspiring atmosphere, making it a more enjoyable place to spend time during the Christmas season.
Storefront or Showroom glass door
If you own a business or have a showroom, decorating the storefront or showroom glass door is a fantastic way to attract customers and make a good first impression. The decorations on the glass door serve as an invitation, enticing customers to step inside and explore your store's Christmas collections or Christmas deals.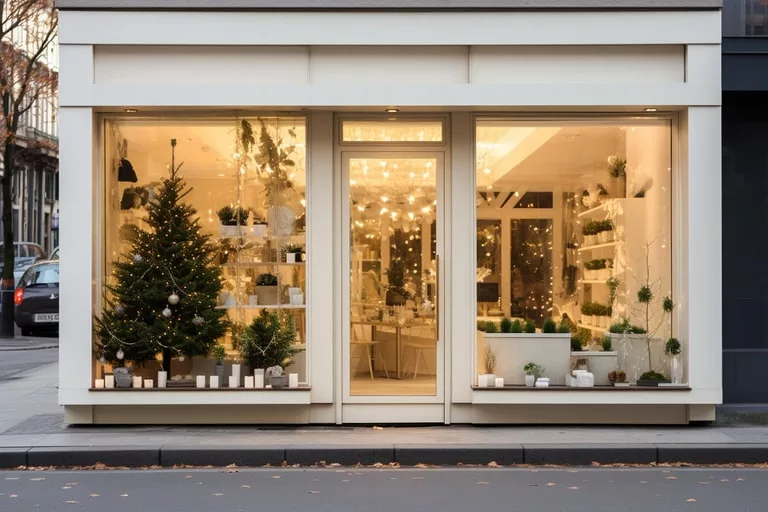 6 easy to find Christmas Door Decorations
Are you stuck in numerous ideas about Christmas door decorations and want to find the most suitable design for your requirements? This part will help you. We will list 6 popular options that can be easily obtained and used to adorn your door during the holiday season:
Wreaths
Wreaths are a classic and timeless choice for Christmas door decorations. They come in various sizes, materials, and designs, and you can use them as a back, front door christmas wreath, and so on.
From traditional evergreen wreaths adorned with red bows to more modern and unique designs featuring ornaments or lights, wreaths add a touch of elegance and holiday charm to any door.
Garlands
Garlands are versatile and can be used to decorate not only the door itself but also the surrounding frame. They can be made of fresh or artificial greenery, intertwined with lights or ribbons, and embellished with ornaments or pinecones.
Garlands are a great way to add a festive touch and create a cohesive look when paired with other decorations.
Door hangers
Door hangers are decorative pieces specifically created to hang on doors. They come in a wide range of designs, from traditional Christmas symbols like Santa Claus or snowflakes to more whimsical options like elves or reindeer. Door hangers are easy to find in stores or can be DIYed, and they instantly add a decorative and personalized touch to your door.
Lights
Holiday displays aren't complete without Christmas lights. They work wonders when used on doors. You can wrap them around the door frame, create a border around the door, or even attach them to a wreath or garland. Lights bring a warm and magical glow to your door, creating a welcoming and festive atmosphere.
Door mats
Both outside and inside door mats can contribute to your Christmas decorations. The outside christmas front door mat can feature holiday-themed designs like snowflakes, Santa Claus, or holiday greetings, while inside ones can have playful or humorous messages related to the holiday season (ex, ""Santa, please stop here", "All I want for Christmas is a clean house… and someone else to do it."). …
Stickers
Stickers are an easy and affordable way to decorate your door for Christmas. At our website, CustomAny's custom stickers come in various types, from die-cut stickers, transfer stickers, storefront decals, door decals that you can customize with different designs like lettering stickers, Christmas trees, Santa Claus, or Christmas quotes. Also, CustomAny provides almost all stickers printed on vinyl, which are waterproof and fade-resistant ensuring your decoration will last throughout the Christmas season.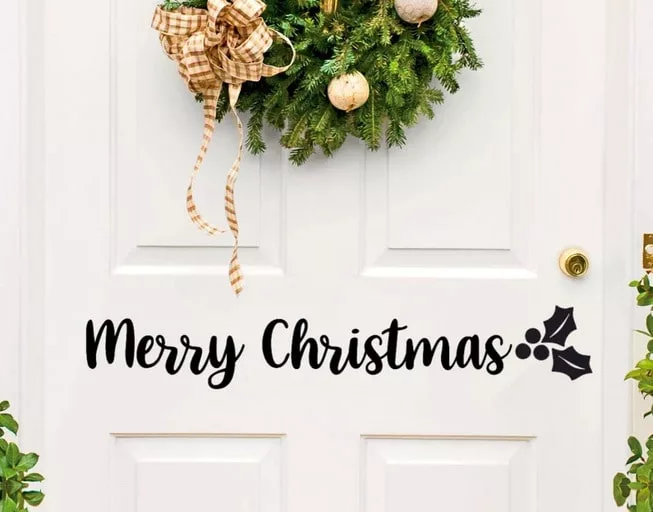 Our stickers can be applied directly to the door or on glass surfaces for a delightful and temporary decoration. For smooth surfaces, the sticker can be removed after a period of use, without any surface damage. If there is a little adhesive remaining, you can easily wipe it with a damp cloth.
They are particularly useful for rented spaces or situations where you want to avoid any damage to the door.
5 important things to consider decorating Christmas door
Here are 5 crucial things to keep in mind when doing Christmas door decorations to ensure a successful and enjoyable decorating experience:
Safety first
Before beginning any decoration, it is essential to prioritize safety.
Ensure that your chosen decorations do not pose any potential hazards.
Ornaments should not be too heavy or have sharp edges.
Be mindful of any electrical outlets or cords and take necessary precautions to prevent accidents.
If you want to hang on ornaments using ladders, you should be cautious.
Choose a theme
Selecting a theme for your Christmas door decorations can help create a cohesive and visually appealing display. Consider the overall look and feel you want to achieve, whether it's traditional, rustic, modern, or whimsical. A well-thought-out theme will guide your decoration choices and create a harmonious look.
Timeless vs. Trendy
When making your selections, consider whether you want a timeless or trendy aesthetic. Timeless decorations, such as classic wreaths or traditional colors, may seem a bit familiar and unexciting, can be used year after year without feeling outdated.
On the other hand, trendy decorations introduce new ideas and innovative concepts, reflect current design trends, and add a touch of elegance and sophistication. However, you might need to get them updated in the future because they are out of trend.
So, choose decorations that align with your personal style and preferences.
Ready made or Personalized
Decide whether you want to use ready-made decorations or personalize your Christmas door display. Ready-made decorations offer convenience and a wide variety of options, while personalized decorations allow you to showcase your creativity and add a unique touch. You can consider DIY projects, such as creating your own wreath, designing door hangers, or using Christmas stickers.
Stay within Budget
It's important to establish a budget for your Christmas door decorations and stick to it. Plan out your decorations and research prices to ensure they align with your budget. Then, look for affordable options or consider repurposing existing decorations.
Conclusion
Throughout this article, we have explored the top 8 locations and 6 specific ideas to showcase your Christmas door decorations, ensuring that your festive creations receive the attention they deserve.
As the holiday season approaches, take the time to spread joy and cheer by adorning your door with enchanting decorations. And if you want to find more suggestions to decorate other places for a perfect celebration, don't hesitate to visit our website. Our blog will give you various interesting ideas and inspiration.