The festive season is approaching. It is also the time of holiday shopping, where the magic of store Christmas decoration goes far beyond just twinkling lights and decorated trees. Whether you're a small boutique or a large department store, it's that time to consider how to transform your place into wonderlands, attracting shoppers to explore.
At all means of retail store decorations, the Christmas window display plays as a creative canvas. These open frames not only show the charming scenes of the Christmas season but also have the power to lure customers to step inside.
So, in this article, we'll offer you 20 delightful ideas to enhance your store's Christmas window display. We hope that they will help you create a winter wonderland that not only spreads festive cheer but also attracts more customers during this magical season.
Traditional Christmas Window Display for stores
Firstly, Old but gold: The traditional decorations embrace the timeless charm of Christmas. So, let's take a look at some Traditional Christmas Window Display to set your store's stage with classic elements that have delighted generations of shoppers.
1. Festive Lights
There's no better way to kick off the Christmas season than by illuminating your store's window with twinkling festive lights. These lights can be warm, golden glows or vibrant reds and greens. Use these lights to make your main product shine at the window display.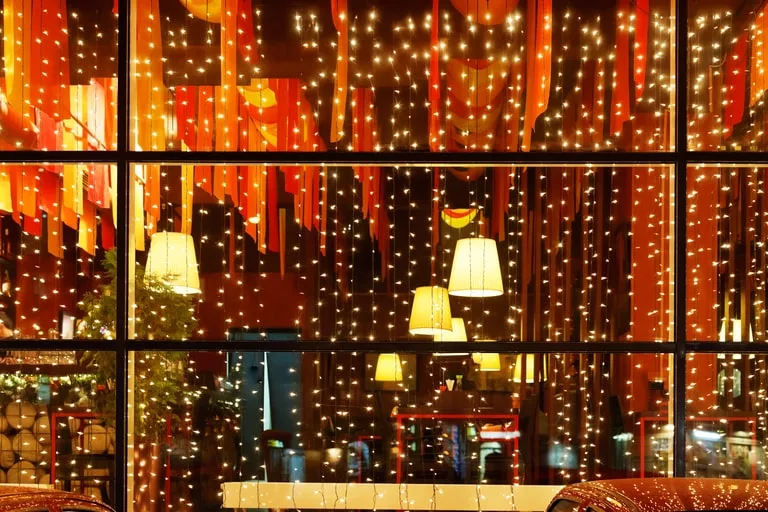 2. Digital Countdown Calendar
When do you decorate for Christmas? Christmas is about the timing of the new year, so using a digital countdown calendar, placed prominently in your window, is the perfect attention-grabber as a Christmas window display. This countdown calendar updates on how many days are left until Christmas, so it will become something exciting that every passerby looks at, both children and adults alike.
3. Elves, Toys, and Santa Claus
What's a Christmas window without Santa's elves busily preparing for the big night? Incorporate your Christmas window display with an interesting story, such as Santa and his helpers crafting toys. Using a life-sized Santa or elf, and your main products as the toys will complete the inspiring display which attracts customers.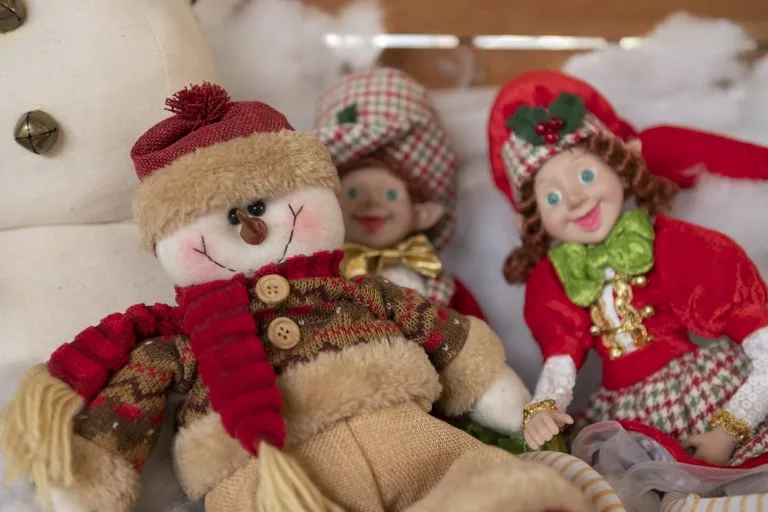 4. Pine Tree Forest
Beautify your Christmas window display with a forest of artificial pine trees – a classic symbol of Xmas. Note that you should prepare the trees in varying heights and sizes to create depth for the scene. Decorate your pine trees with string lights, ornaments, a dusting of artificial snow and some magical stage lighting from the above for a truly Christmas effect.
5. Glistening Snowflakes Window Stickers
Don't forget the power of window stickers as they can be combined with other Christmas window decorations. For window snowflake stickers, consider using our clear stickers as they have transparent backgrounds which allow the decoration inside to shine through, and at the same time add a touch of winter magic to the whole scene. Also, clear stickers from our website are easy to apply and leave no residue, making cleanup a breeze.
Besides, you can also use transfer stickers, window decal, or static clings from CustomAny to use as a window sticker.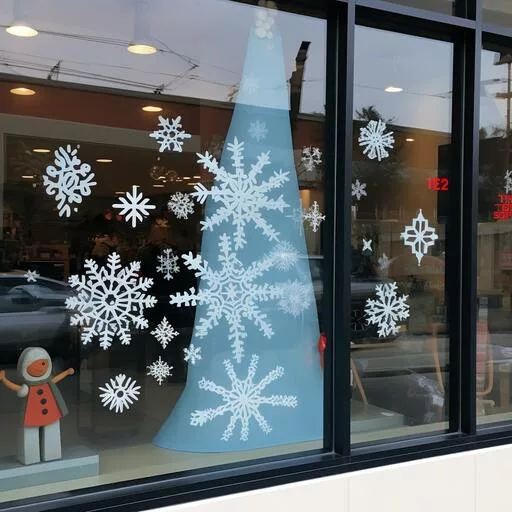 Make your products shines by Christmas window display
A Store's Christmas window display isn't just about showcasing your holiday spirit; it's also a fantastic opportunity to spotlight your products in the festive time. So, how about incorporating your main product into the display so you can attract customers who are looking for the perfect holiday gifts?
6. Christmas Tree arrange by Your Products
Get creative by placing your products into the shape of a Christmas tree, whether it's shoes, clothes, books, or even skateboards. Anything can be transformed into a part of the tree. Remember to add Christmas string lights and ornaments to your special tree.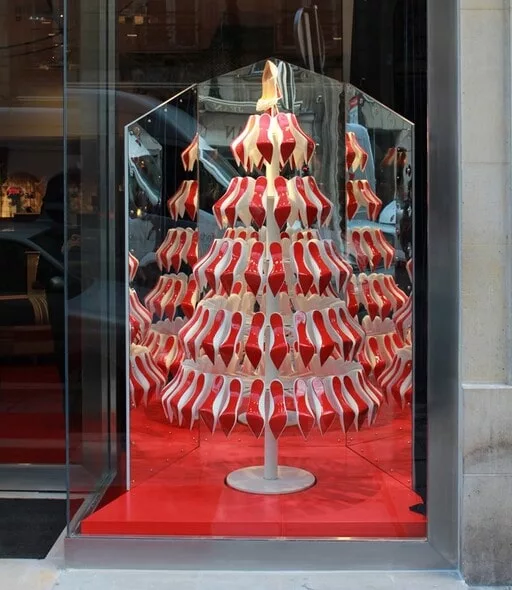 7. Main Product in the Center with Snowflakes
To draw attention to a particular item or collection, place it in the center of your Christmas window display. Frame it at the focal point of your decoration and add oversized, sparkling snowflakes on the background to complete the Christmas vibes.
8. Nutcracker Guard Puppets
Create the Christmas window display by using the help of Nutcracker Guard Puppets to watch over and protect your products. Place your product at the center as an important Chirsmas gift and cleverly arrange an army of Nutcracker Guard Puppets – embodiment of the holiday spirit – around.
9. Santa's Sleigh Full of Your Products
What better way to inspire gift-giving ideas for passersby than by featuring Santa's sleigh full of your products? Create a model of Santa on his sleigh delivering your products at Christmas night right at your Christmas window display. This will introduce to people that what you are selling is what they need as the perfect Christmas gift for their loved one.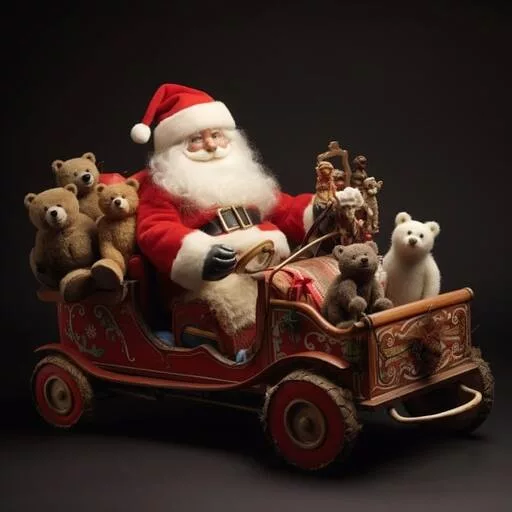 Creative Christmas window displays
Your store window decorations should be more innovative and creative as each year passes. So, you may want stepping out of the traditional and dive into the creativity with these unconventional ideas:
10. Hanging Gifts
Break away from the typical gift-wrapped gifts stacked at the window displays. This year, try hanging wrapped presents from the ceiling. Hanging them at varying heights to create an illusion of gifts floating in mid-air. This unique decoration will delight shoppers passing by your Christmas window display.
11. Cozy Fireplace
Embrace the cozy vibes of the season by creating a Christmas window display with a lifelike fireplace. You can use plush chairs, blankets, and other holiday retail Christmas decorations to create a feeling that your store is like the perfect spot for a fireside chat or storytime for customers. These decorations work best for coffee shops, family restaurants, stores that are selling retro goods or following a cozy vibe.
12. Disco Ball
Bring the disco era to your store with a giant disco ball as the Christmas window display. When the light hits it, it'll scatter dancing beams of light around your display, creating a festive atmosphere that's hard for customers to resist.
13. Giant Sequin Ornaments
Using some glamorous sequin ornaments will highlight your window display this Christmas season. These shiny, shimmering decorations are sure to catch the eye and express a sense of holiday.
14. Giant Candy Cane Lane
Big things draw "big" attention. Go big on this holiday with a giant candy cane lane for your window display. Line the floor near your Christmas storefront with oversized candy canes and use lollipops as your path markers. This sweet setup will make everyone feel like a kid in a candy store.
15. Colorful Snowy Clouds
Replace the traditional snowfall or lighting with colorful snowy clouds. These ceiling-mounted decorative lights are shaped like fluffy snowy clouds and can emit lights in various colors. Adding these clouds to your Christmas window display will definitely make your store stand out.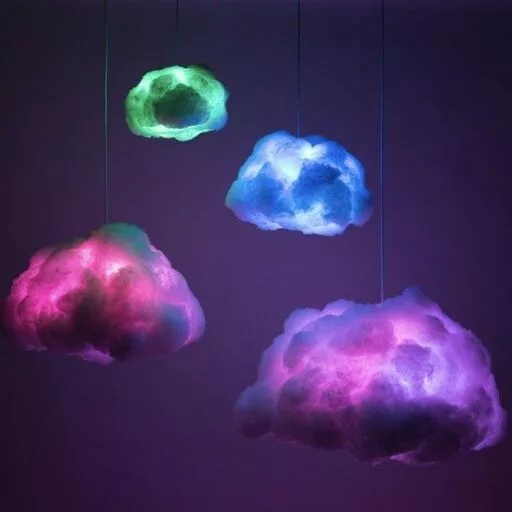 16. Funny Gingerbread Men Decal
Instead of traditional holiday characters, you can use funny gingerbread men decals for your window decoration. When it comes to window stickers and decals, these familiar gingerbread men figures can be customized in various scenarios, from dancing to playing pranks, bringing smiles to everyone's faces.
Natural look in Christmas Window Display
While Christmas often brings to mind warm and cozy images, you can also embrace the beauty of a natural winter wonderland with these christmas store decoration ideas:
17. Frozen Branches
The first natural decoration for your window is using frozen branches. You can use artificial snow and glitter to give your Christmas winter display a glistening, icy appearance.
18. Snowy Mountaintops
Create the illusion of snowy mountaintops with faux snow and cardboard cutouts. This idea will require a little talent in DIY but it definitely will attract your customers to step inside for a peaceful winter landscape.
19. A Winter Palace
Transform your window into a regal winter palace with a model made of cookies. This idea will work best for cake or coffee shops this Christmas season.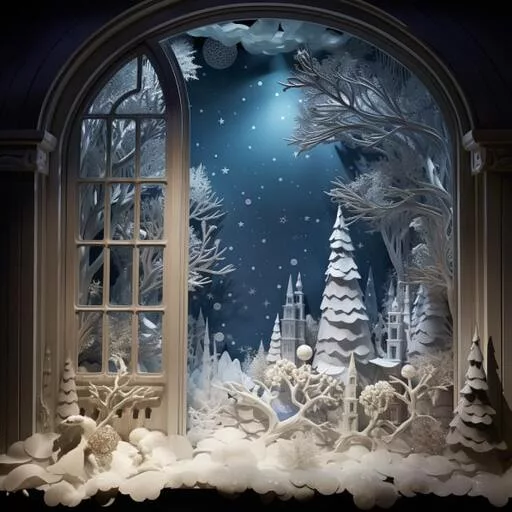 20. Whimsical Ice Cave
For a truly unique look, consider a whimsical ice cave. Use icicle decorations, twinkling lights, and perhaps a frosty crystal ball to give your Christmas window display an enchanting atmosphere.
Last thoughts
To attract more customers by Christmas display ideas during the holiday season, remember that you need to stand out, so try the ideas that we've discovered above.
We recommend you combine 2 or more ideas together, just be more and more creative to create a display that no one ever did. Also, you need to keep things neat and beautiful. Besides, tailor your Christmas window display to customer preferences but at the same time, ensure they align with your store's values and goals. Take your time to make a one-of-a-kind Christmas window display to attract more customers this holiday season.
For more articles about Christmas decoration or more valuable insights for your business, check out our blog page. We're always here to help.