Father's Day is a really noteworthy occasion that occurs annually. It is easy to buy some things for granted. However, the holiday of Father's Day gives us the opportunity to take things more slowly and express our gratitude for our fathers, particularly via the presentation of thoughtful and personal crafts for father's day.
There is no better way to show your dad how much you care about them than with a one-of-a-kind, handcrafted present, and stickers can help you put the finishing touches on your creations.
This post will provide you with some ideas for taking advantage of stickers for making father's day crafts. Let's explore!
Craft Idea 1: Personalized Father's Day Card
You may show your dad how much you care by doing things for him (like planning an exciting day full of activities and giving him presents), but sometimes words are more powerful. These easy father's day crafts for adults and children will guarantee that the card itself will warm his heart, in addition to the message within.
Let's make your dad feel special by making him one of these handcrafted Father's Day cards.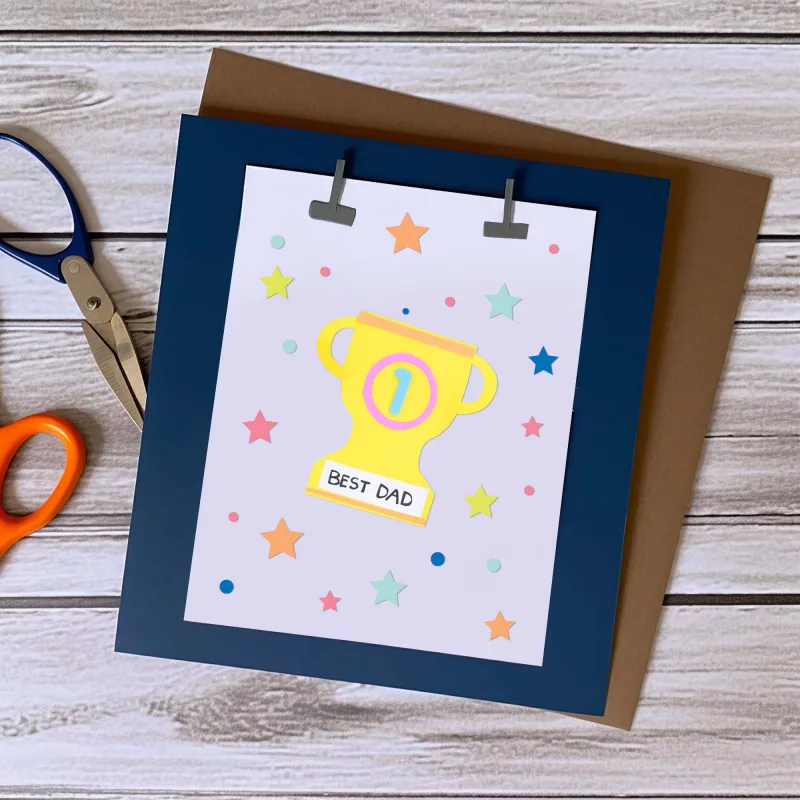 Materials needed
There are many ways to make a personalized Father's Day card, but some common materials and tools you might need are:
Cardstock paper (white or colored)
Scissors (regular or funky)
Markers, crayons, or colored pencils
Stickers, stamps, or cut-outs
Double-sided tape or glue
A printer (optional)
Step-by-step instructions
With so many designs and layouts to choose from, making Father's Day cards is now simple and easy. There are different ways to make these father's day crafts, depending on the design and style you want. Here are comprehensive steps to guide you through the process:
Choose a card template from online sources, or create your own design using cardstock paper, scissors, markers, stickers, and other materials.
Print out the template or cut out the card shape from the cardstock paper. You can use regular scissors or funky ones to create different edges.
Decorate the front of the card with your chosen theme, such as a baseball, a tie, or anything else that your dad likes. You can also use handprints, fingerprints, cut-outs, stamps, stickers, or drawings to make it more personal.
Write a message inside the card that expresses your love and appreciation for your dad. Add drawings, photos or photo stickers of your family to make it more fun.
Fold the card in half and seal it with a sticker or tape. Ribbons and glitter are optional extras that may increase the holiday spirit.
Tips for decorating with stickers
You can make cards with only messages you want to send to your dad. But adding stickers is a great way to make these words become more interesting.
There are many stickers that are suitable for these personalized father's day crafts. Some popular options include stickers that feature Father's Day messages or quotes, stickers that feature pictures of fathers and their children, and stickers that feature images of tools or other items that are commonly associated with fathers.
Craft Idea 2: Decorated Picture Frame
A decorated picture frame gift on Father's Day is a thoughtful and creative way to show your appreciation and love for your dad. You can personalize the frame with a photo of you and your dad, a meaningful message, or a design that reflects his personality and interests.
Materials needed
To make a decorated picture frame for Father's Day, you will need a photo frame, paint (if needed), and other decorative materials such as stickers or decorative tapes. Besides, it is possible to decorate your picture frame with materials such as cardstock, construction paper, markers, colored pencils, stickers, and glitter.
Step-by-step instructions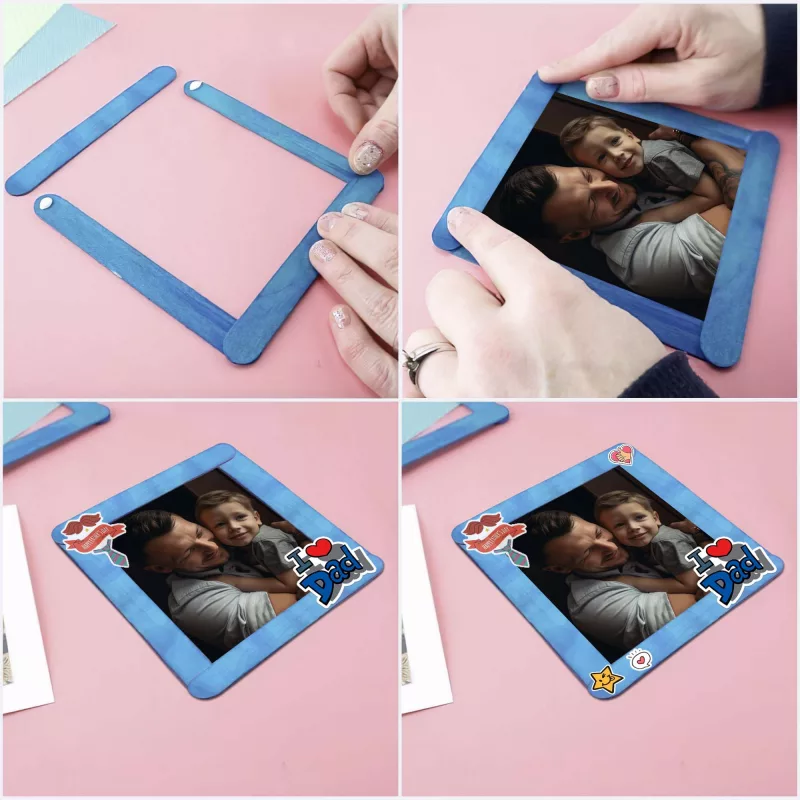 To make simple father's day crafts with picture frame, there are our recommended steps:
Cut out a piece of scrapbooking paper that is slightly smaller than your card base.
Cut out a square window in the center of your scrapbooking paper using a paper trimmer or scissors.
Use double-sided tape to adhere your scrapbooking paper on top of your card base, aligning it with the edges.
Cut out a piece of white cardstock that is slightly smaller than your window opening. Use foam tape to adhere it behind your window opening, creating some dimension.
Use double-sided tape to adhere your photo on top of your white cardstock, centering it in your window opening.
Write or print out a message for your dad and cut it out into a banner shape. Use foam tape to adhere it below your window opening, overlapping it slightly.
Tips for decorating with stickers
The following tips will help you decorate these father's day crafts with stickers:
Choose stickers that match your dad's interests or hobbies. For example, you can choose die-cut stickers with a glossy finish in the shape of a tie or your dad's favorite sports, like volleyball, soccer, etc.
Use stickers sparingly to avoid making the picture frame look cluttered.
Experiment with different sticker placements and arrangements before committing to a design.
Consider using stickers in combination with other decorative materials such as paint or glitter to create a more unique and personalized look.
Craft Idea 3: Sticker Collage Art
These father's day arts and crafts are unique and personalized father's day crafts that your fathers will cherish. You can make your sticker collage art according to your father's preferences and tastes. Adding a message or drawing details to your collage art can make it more meaningful.
Certainly, your fathers will appreciate the time and effort you put into making this gift for them.
Materials needed
To make a sticker collage art for Father's Day, you will need:
A blank paper or cardstock as the background
Stickers of your choice that relate to your father's interests or personality
Scissors and glue if you want to cut out some stickers or add other elements
Markers or crayons if you want to write a message or draw some details
Step-by-step instructions
After preparing these materials, you can starting making this father's day crafts by following these steps:
Choose a theme for your art project, such as sports, hobbies, music, travel, etc.
Arrange the stickers on the paper in a way that looks appealing and balanced. You can overlap some stickers or leave some space between them.
Cut out some stickers if you want to create different shapes or sizes. For example, you can cut out letters from alphabet stickers to spell out your father's name or a word that describes him.
Glue any other elements that you want to add to your collage, such as photos, drawings, magazine clippings, etc.
Write a message or draw some details with markers or crayons to make your collage more personal and expressive.
Let your collage dry and then give it to your father as a gift on Father's Day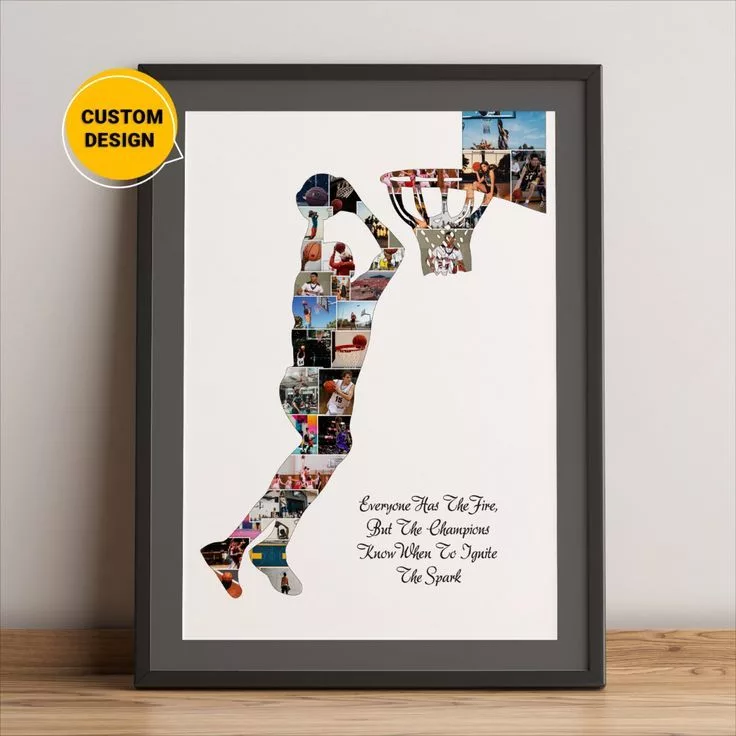 Tips for decorating with stickers
To use stickers for your sticker collage art father's day crafts, choose stickers that match the theme and style of your dad. You can use stickers that relate to your father's hobbies, interests, personality, or favorite things, such as his favorite sports (basketball, football), movie characters (Daniel Hillard, Nick Fury).
Besides, you can use stickers with different shapes (round, triangle, die-cut, kiss-cut) or sizes. However, try to balance the colors, shapes, and sizes of the stickers to make your collage look harmonious and attractive.
Stickers that say "Dad", "Father", "I love you", or other sweet messages are also an excellent idea.
Conclusion
Father's Day is the time to get creative father's day crafts for your beloved father! The best part is that you can make something really special for your dad with a tight budget. There are so many easy and quick father's day crafts that you can make with stickers. Whether it's something from scratch or adding finishing touches with stickers to an existing craft, we guarantee Dad will love whatever he gets this Father's Day.
With a few simple materials, you get creative and share your creations with us on our social media accounts or tag us with a specific hashtag.
We also want to tell you that stickers are readily available in our company. We provide a wide range of sticker printing services with different types and materials. You can easily find ready-made stickers with any theme to make your father's day crafts. So, let's go to our website to find out the best stickers for your needs!