Online sticker shopping has become increasingly popular, offering a convenient way to explore a wide range of designs and customize stickers to your liking. However, despite stickers being small items, with large orders, shipping fees can quickly add up and impact your budget. So, it's important to consider shipping costs to make the overall experience more cost-effective.
To help you save on shipping costs when ordering stickers online, we have compiled five valuable tips. Join us as we explore how to maximize your savings without compromising on sticker quality or convenience.
Why We should Order Stickers Online
The convenience of ordering stickers online has made it an increasingly popular choice for individuals and businesses alike.
It brings unparalleled convenience as you can effortlessly explore a wide range of designs and styles from the comfort of your home or office. Online platforms, such as Etsy, Amazon, Redbubble or CustomAny, offer an extensive selection of sticker designs, catering to various themes and purposes. Whether you prefer trendy stickers, vintage vibes, aesthetics, or personalized stickers, the online marketplace has options to suit your specific needs.
Customization is another remarkable advantage, allowing you to personalize stickers with text, images, colors, or shapes to align perfectly with your brand or event.
Moreover, online sticker retailers often offer competitive pricing due to reduced overhead costs, making it an enticing option, especially when ordering stickers in bulk quantities.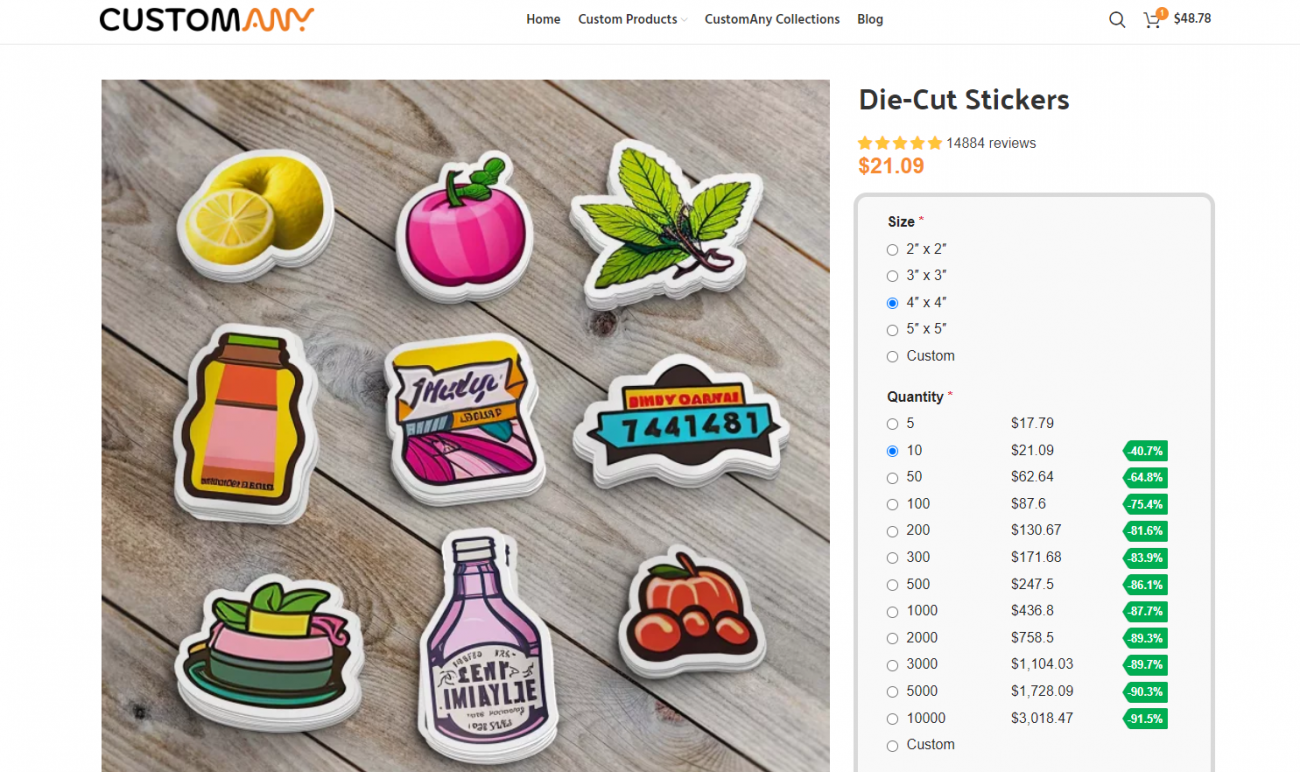 Saving on shipping cost is crucial
While these benefits make online sticker shopping a desirable option, it's crucial to consider shipping costs to maximize the overall value.
In fact, shipping costs can significantly impact the overall price of your sticker order. By finding ways to reduce these costs, you can save money and stay within your budget. Sticker orders are often small and lightweight, which means that shipping costs can be proportionately higher compared to the net weight or dimension of the sticker packages. It becomes even more important to find ways to minimize shipping expenses in order to maintain a reasonable cost-to-value ratio.
Moreover, the shipping industry is subject to fluctuating rates and additional charges, such as fuel surcharges or dimensional weight pricing. Staying informed about cost-saving strategies can help you navigate these changes and adapt your shipping practices accordingly.
Overall, by learning and implementing the tips to save on shipping costs when ordering stickers online, you can make your sticker shopping experience more cost-effective, allowing you to enjoy high-quality stickers while keeping your expenses under control.
By being mindful of shipping expenses and implementing the forthcoming tips, you can ensure a cost-effective and enjoyable sticker shopping experience.
5 tips to save on shipping costs when ordering stickers online
Understanding how to save on shipping costs allows you to make the profitable purchasing decisions. In this part, let's unlock some proven strategies to save on shipping costs when ordering stickers online to optimize your expenses and get the most value out of your sticker purchase.
1. Ordering in Bulk to save money on shipping
How to save money on shipping? One of the most effective ways to save on shipping costs when ordering stickers online is by taking advantage of bulk ordering.
By purchasing a larger quantity of stickers at once, you can significantly reduce the shipping costs per unit. Not only does this help you save money on shipping, but it also ensures that you have a surplus of stickers readily available for future needs. Whether you're planning to use stickers for promotional purposes, product packaging, or personal projects, ordering in bulk allows you to enjoy cost savings and ensures that you never run out of stickers when you need them most.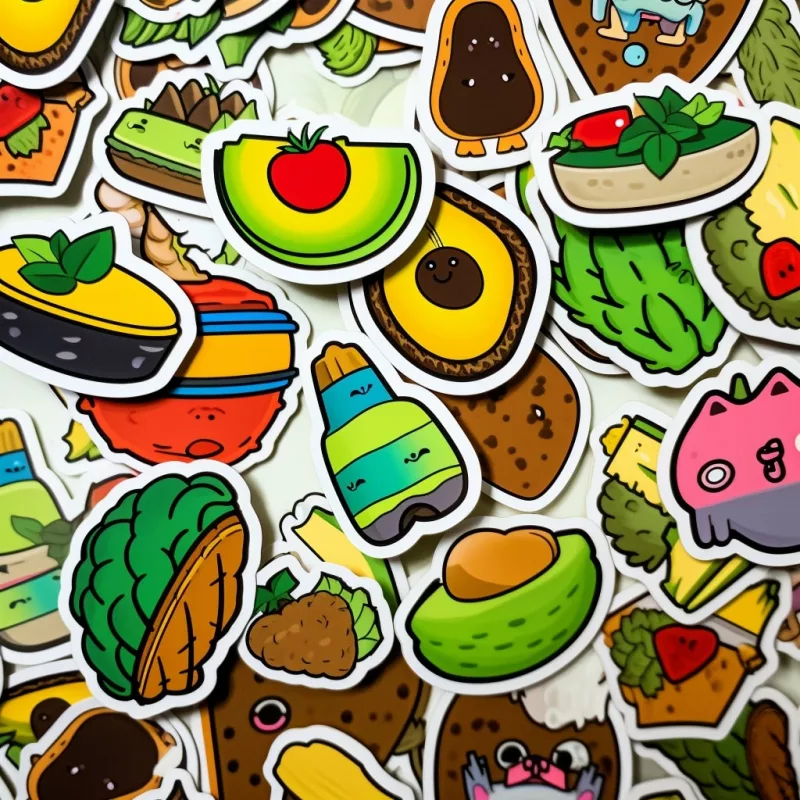 2. Choose the Right Shipping Method
Selecting the appropriate shipping method is one of the crucial online sticker shipping tips. Consider factors such as distance, weight, and delivery speed requirements when choosing the most cost-effective shipping option. Our website offers a comprehensive range of shipping methods, each with its own advantages and pricing structure. Take the time to evaluate the pros and cons of each method and determine the one that best suits your specific needs. By making an informed decision, you can ensure that you're not overspending on unnecessary shipping services and that your stickers are delivered in a timely and cost-effective manner.
3. Consolidated Shipping
Combining orders of different products from the same supplier is a savvy approach to reduce shipping costs. For instance, when adding die-cut stickers to your cart, refrain from immediate payment. Take the opportunity to explore other products, such as holographic stickers, photo stickers, bumper stickers, ect… on the website. If you find additional items of interest, order them together to avoid unnecessary shipping expenses. This simple tactic helps you save money by consolidating your purchases and avoiding wasteful shipping charges.
4. Shipping Promotions and Discounts
How to reduce sticker shipping cost? – Stay up-to-date with websites that sell stickers to stay informed about shipping promotions. At CustomAny, we frequently announce exclusive deals and limited-time discounts that can significantly reduce your shipping costs on our social media accounts, including Facebook, Instagram, Pinterest and Twitter (you can find all of our social media accounts at the footer on our web page). By taking advantage of these opportunities, you can enjoy additional savings and get the most value out of your sticker orders. Keep an eye out for free shipping promotions, discounted shipping rates, or bundle deals that include reduced shipping fees. By staying connected, you'll never miss an opportunity to save on shipping costs when ordering stickers online.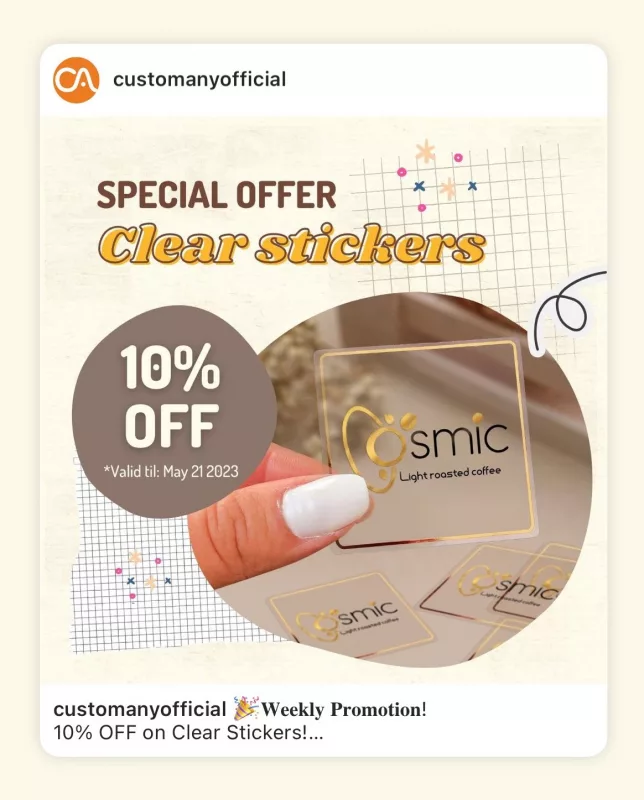 5. Consider Tracking and Insurance to save on shipping costs
When it comes to ordering stickers, it's essential to prioritize online platforms that provide you with package tracking and insurance. Package tracking allows you to monitor the progress of your shipment, providing peace of mind and ensuring that you're aware of its whereabouts during transit. Knowing the estimated delivery time and having access to real-time tracking updates enables you to plan and manage your sticker inventory more efficiently.
Additionally, for high-value sticker orders, investing in insurance provides added protection against any potential loss or damage that may occur during transportation. While it incurs an additional cost, insurance offers financial security and ensures that you're adequately compensated in case of unforeseen circumstances. By opting for tracking and insurance services, you can have confidence in the safe delivery of your stickers and minimize any potential risks.
These tips have been tried, ensuring that you can confidently implement them to maximize your savings. By following these proven strategies, you'll have the peace of mind knowing that you're getting the most value out of your sticker purchases.
Conclusion
By incorporating these 5 tips into your sticker ordering process, we believe that you'll be able to streamline your shipping process, optimize your expenses, and enjoy a cost-effective and seamless experience when receiving your premium stickers. Start implementing these tips today, for example, at our website, and witness the difference they make in enhancing your sticker shopping journey.