The experience that previous generations have had of the world around them is different from that of Generation Z, who is the first to grow up with social media. There is a wide range of new ideas, values, fashions, and aesthetics being brought into the world by Gen Z. Among them, aesthetic stickers are the way youngsters express their tastes, personality, and differences. And those aesthetically pleasing tickers have a big role in determining where gen Z is spending.
Let's explore several "fundamental" aesthetic sticker ideas to fully grasp Gen Z's taste.
What are Aesthetic stickers?
Definition and Origin of aesthetic
"Aesthetic" is derived from the Greek term "aisthetikos". This word only perceives emotionally instead of thinking rationally.
In 1735, the German philosopher Alexander Baumgarten used this word to name his book "Aesthetica." He also developed the meaning of aesthetic from "sense" to "perception": "sense of beauty." By 1790, the philosopher Kant, in his book Critique of Judgment, also used the aesthetic as defined by Baumgarten and popularized it in English.
Aesthetic, as it is used now, refers to a certain aesthetic representative of a certain group. It is based on individual creative styles, and can be found in fields as varied as fashion, home design, and way of life. Aesthetics is also a subfield of philosophy dedicated to the study of beauty and aesthetic judgment.
Aesthetic in sticker printing
When it comes to aesthetic sticker prints, they may be everything, a picture, quotes and so on. In general, aesthetic stickers are usually many related stickers that have the same theme and a certain sense of beauty. These stickers express personal style and taste.
It is evidence that sticker printing aesthetics are growing in popularity. Compared to the number of searches for die-cut stickers, the volume of searches for "aesthetic stickers" on Google is much higher. It is because particularly among the young, aesthetic tickers spread out very quickly.
Why have aesthetic stickers become so popular?
The term "aesthetic" became popular among young people in 2010. Since 2018, "aesthetic" has been one of Pinterest's top trending topics, with 60% of related searches. This results in the development of several visual subgenres that youth may use to establish themselves as unique individuals on platforms like TikTok and Instagram.
Aesthetic sticker ideas provide a means by which young people may freely express their originality, self-awareness of personality, and taste, free from formulas that are dull in accordance with societal standards. Particularly now, when social media tends to amplify and celebrate differences.
9 aesthetic sticker ideas for Gen Z
Millions of one-of-a-kind Gen Z aesthetic sticker designs have been produced and sold. These stickers may be used in a multitude of applications, from bullet journaling to embellishing scrapbooks and many more. For inspiration, here are the best 9 ideas we could find for beautiful aesthetic sticker ideas.
1. Aesthetic stickers anime
Aesthetic stickers anime are aesthetic sticker ideas that celebrate the history and diversity of animation and comic art in Japan, as well as the most well-known shows and characters from throughout the decades.
These stickers often use bold, vivid colors that are both cheery and aesthetically pleasing. Even if you're not a fan of anime shows or movies, the eye-catching art style of an anime sticker is sure to get your attention.
Anime aesthetic sticker ideas are a way to show support for your favorite series or character by adding some visual appeal.
2. VSCO aesthetic stickers
The initials "VSCO" refer to the widely used VSCO smartphone app for taking and editing images. The term "VSCO girl" or "VSCO child" refers to members of a subculture within Generation Z that made waves in 2019. They stand out from the crowd because of the uniformity of their clothing and accessories. Some examples of VSCO child fashion include oversized t-shirts, Birkenstock sandals, scrunchies, or water bottles covered with many stickers.
VSCO aesthetic stickers are well-known for their adorable design, often with a pastel color palette and a hand-drawn look. Animals, flora, and other elements of nature, motivational phrases and humorous sayings are common aesthetic sticker ideas for themes in VSCO's artwork. Aesthetic VSCO stickers are easily recognizable by the white border that frames the artwork.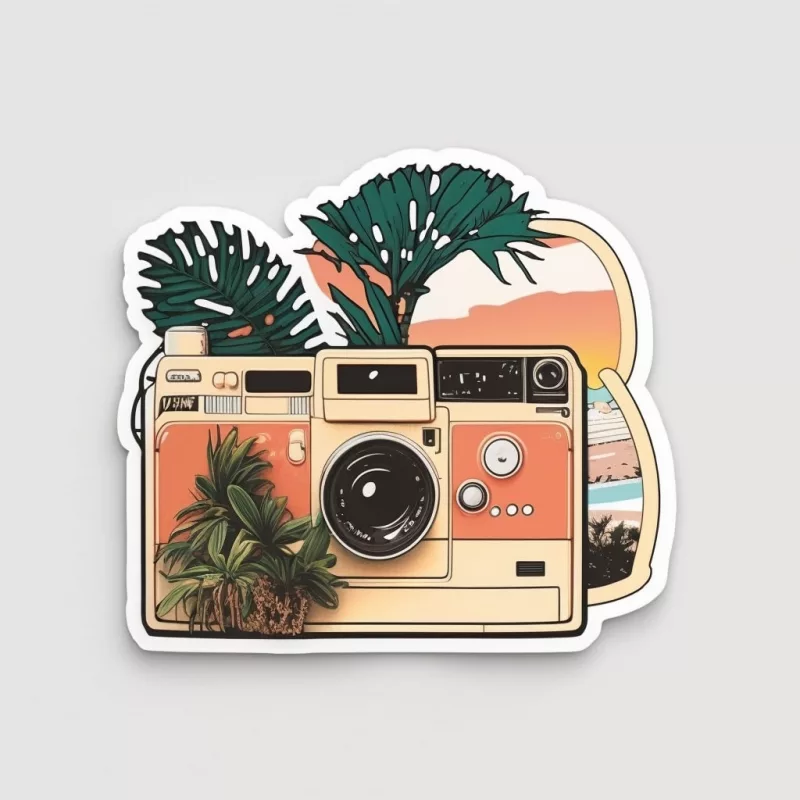 3. Soft girl aesthetic stickers
Numerous young women on social networks follow the "soft girl" fashion trend, emphasizing a cutesy, feminine appearance and a self-aware "girly-girl" personality. Being a soft girl might also mean having a sensitive, kind, and vulnerable character.
In a nutshell, "soft girl" refers to a certain fashion sense highlighting sweetness and femininity.
Girls that use "soft girl" stickers are often seen to be kind and accessible, and they have a fondness for girly, pastel styles. Soft girl aesthetic stickers are characterized by cropped cardigans, slip skirts, and bucket hats or cute designs like hearts, clouds, and flowers.
Sticker celebrating an updated but recognizable, hyper feminine look. The style is purposefully feminine, almost to the point of being excessively so; these stickers come with a lot of pink, pastel tones, and glitter.
4. Grunge aesthetic stickers
The term "grunge" is often related to the concept of "dirty" or anything that is chaotic.
The grunge aesthetic was a reaction against the prevailing pastel and preppy fashions of the period, and it is distinguished by the use of dark colors, plaid, leather, band shirts, dark denim trousers, black boots, Converse shoes, chokers, and unusual haircuts.
Hence, stickers with a grunge look tend to be black, gray, or another dark color to convey a sense of gloom and unpredictability.
5. Aesthetic cottagecore stickers
Adolescents and young adults have taken to an online style known as "cottagecore," which idealizes rural living.
Stickers in the cottagecore aesthetic transport viewers to the English countryside, a place where time stands still and where sentiments of romance, nostalgia, homeliness, and a simpler way of life are still alive and well.
Earthy tones are used for some of the hues in this style. You can customize aesthetic sticker ideas by visualizing your favorite ethereal landscape scene, complete with greens, blues, yellows, creams, and off-whites.
6. Baddie aesthetic stickers
A baddie girl is a self-assured woman who enjoys applying cosmetics and has a stunning appearance. Real-life baddie females do their flawless make up like Barbie dolls.
The baddie aesthetic refers to the fashion sense of persons who are both well-groomed and confident in themselves. It's a free-for-all where any fearless, self-assured, and accomplished individual may express themselves in whichever they feel suitable.
Images often used in baddie stickers are images that show the confidence and lifestyle of baddie girls, such as girls with baddie style, butterfly wings, red lipstick, pink lips, hands with long twinkle nails, etc.
Baddie aesthetic sticker ideas with black and pink colors are among the most popular. These two colors represent something that is both feminine and baddie in a harmonious way.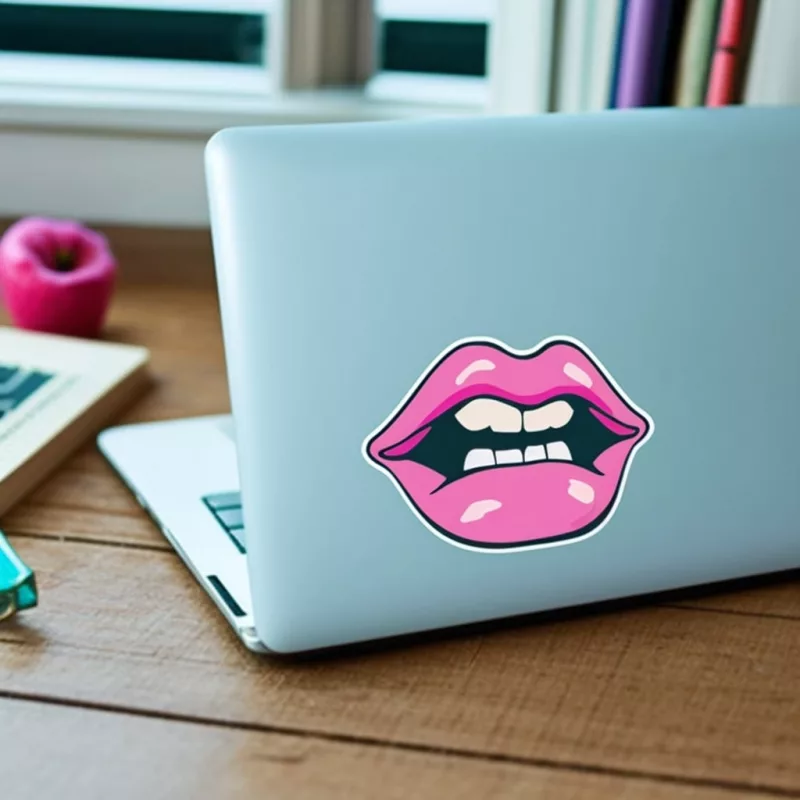 7. Black and light academia stickers
The term "Academia aesthetic" is often used to describe a design aesthetic that is inspired by a passion for academia. Both the light and dark sides draw their inspiration from literary canons and historical studies that center on European civilizations.
Tones of brown, black, and earth are prominent in the dark academia stickers. A dark academic environment is characterized by intense, tragic themes. The trend in light academia stickers is characterized by a predominance of beiges and creams, and the atmosphere is generally more cheerful.
Oxford shoes, coffee mugs, book pages, markers, etc. are commonly used images in black and light academia stickers.
8. Vintage aesthetic stickers
The aesthetic known as "Vintage" developed from the revival of the 1970s to 1990s style. It's a style meant to emphasize one's originality and identity.
Mixing and matching garments from various eras is an idea that has emerged with this trend. Now, it has become commonplace for teenagers to take pictures of themselves using film cameras while dressed in vintage-style clothing.
Cream, beige, and black are typical colors of vintage aesthetic sticker ideas. Moreover, every hue you'd see in an old Polaroid shot would give off an endearingly nostalgic feeling.
Compared to light academia stickers, the colors of the vintage aesthetic stickers look quite similar. However, vintage aesthetic stickers often have more intricate details, and are often decorated with newspaper pages and flowers.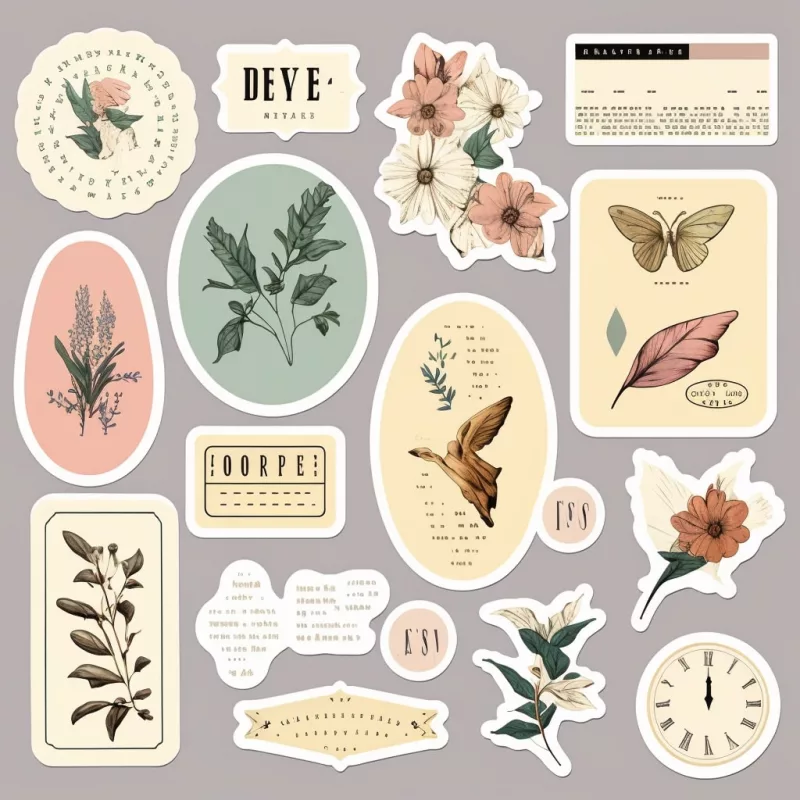 9. Aesthetic boho and indie stickers aesthetic
Bohemian style refers to a decorative aesthetic that was popularized by the free-thinking artists of 19th-century Paris. The free-spirited nomadism that typified the Bohemian era inspired many of the movement's aesthetic choices.
Although bright, bold colors have always been associated with the bohemian aesthetic sticker ideas, contemporary aesthetic boho stickers design favors muted tones of earthy browns, metallic silvers, and jewel tones. Dark browns, greens, and grays serving as a backdrop for bright pops of vibrant purple, blazing orange, and electric blue accessories are also great aesthetic sticker ideas.
Besides the Boho style, other interesting aesthetic sticker ideas are Indie aesthetic stickers.
Although the Indie style had many characteristics with the Pastel aesthetic, its colors were softer and less vibrant. The Indie style is often dark and moody, while the Pastel aesthetic offers a feeling of tenderness and purity. Added lettering in this style, often expressing sadness, are common aesthetic sticker ideas in this design.
Conclusion
Aesthetic sticker ideas are becoming increasingly popular trends among young people. These stickers are perfect for personalizing notebooks, photo albums, making wall decorations, and many other purposes. After reading our article, we at CustomAny hope you've learned something and discovered some inspiring aesthetic sticker ideas to pursue.