Stickers used for aesthetic purposes may take the form of anything, including pictures, quotations, etc. Aesthetic stickers, in general, are a group of stickers that have a common vibe and topic. These stickers are a great way to show off your sense of beauty. Stickers like these may be used for a wide variety of purposes, including but not limited to adorning notebooks, picture albums, walls, water bottles, and more.
Yet not everyone has a firm grasp on the best ways to use these stickers. So, to help you brighten up your belongings, we've compiled a list of the top three aesthetic stickers using ideas. Let's explore!
Aesthetic stickers and Decoration
Aesthetic stickers provide a means by which young people may freely express their personality, consciousness of identity, and taste. Particularly now, when communities serve to emphasize people's differences. Adding an aesthetic sticker pack to your belongings is similar to building a personal brand. This also creates an understanding of art.
Aesthetic stickers, by today's young people's standards, generate positive emotions connected to aesthetically pleasing graphics. They are a fun and easy way to express your appreciation for the arts, the beauty of the world, and your own and others' unique qualities.
Applications for aesthetic stickers
Laptop
Sticking aesthetically pleasing stickers on your laptop has evolved into the usual approach of modernly personalizing your versatile device.
Placing laptop stickers aesthetic (or aesthetic computer stickers) on the top "clamshell" or rear of a laptop, across from the screen, is ideal. In this way, stickers attach well and stand out clearly on the robust, sturdy, flat surface, and also leaves all controls, including the screen, keyboard, and ports, accessible.
Water bottles
The aesthetic water bottle stickers you place on your water bottle give others around you a glimpse into your personality.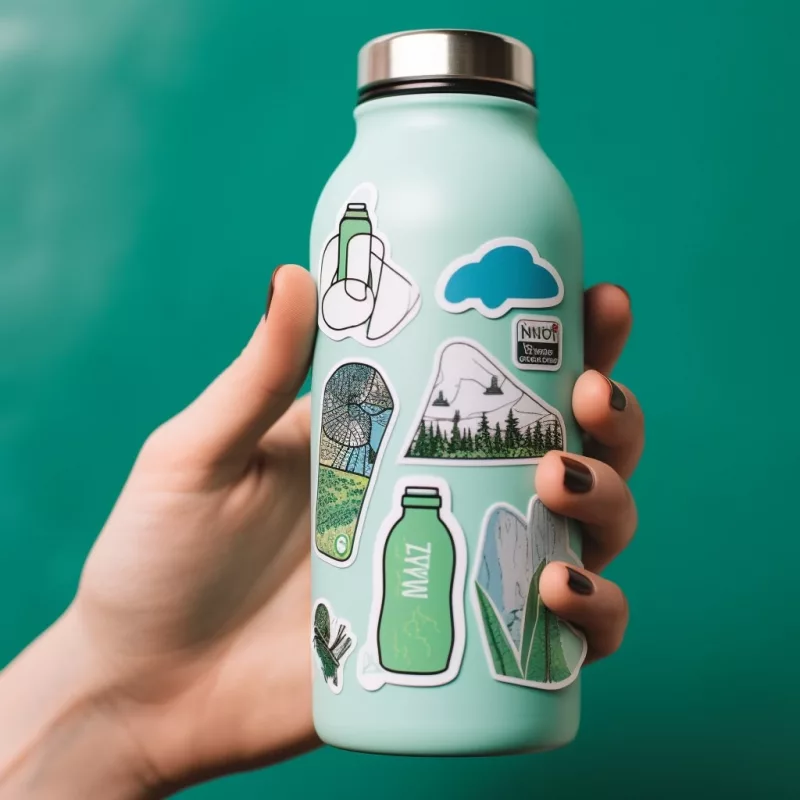 You can put multiple stickers around your bottle or just use one attractive sticker to adhesive it to the focal point. Just make sure that they are not placed in an area where they are likely to get damaged by scuffs or rubbing.
Helmet
The aesthetic sticker pack of various designs may be used to decorate protective headgear such as hard hats, bicycle and motorcycle helmets, and more. It's a great way to get people's attention while you're on the go, and it also serves as a barrier to prevent your helmet from being scratched.
Planner/journal
Using an aesthetic sticker pack to personalize your planner or journal is one of today's most well-liked and time-efficient methods. Aesthetic decals might be a fun collectible, or they can inspire you to express yourself imaginatively. Let's celebrate your adventure as it happens in real-time in your journal, emphasize the essentials in your planner, and use these aesthetic stickers to motivate yourself.
Phone/earphone case
In order to enhance your phone or earphone case appearance, aesthetic sticker packs are the most convenient option. Choose a few that you really like and put them front and center, or cover the whole case in a sticker collage. It's fantastic that adding stickers may fortify your phone or earphone against wear and tear.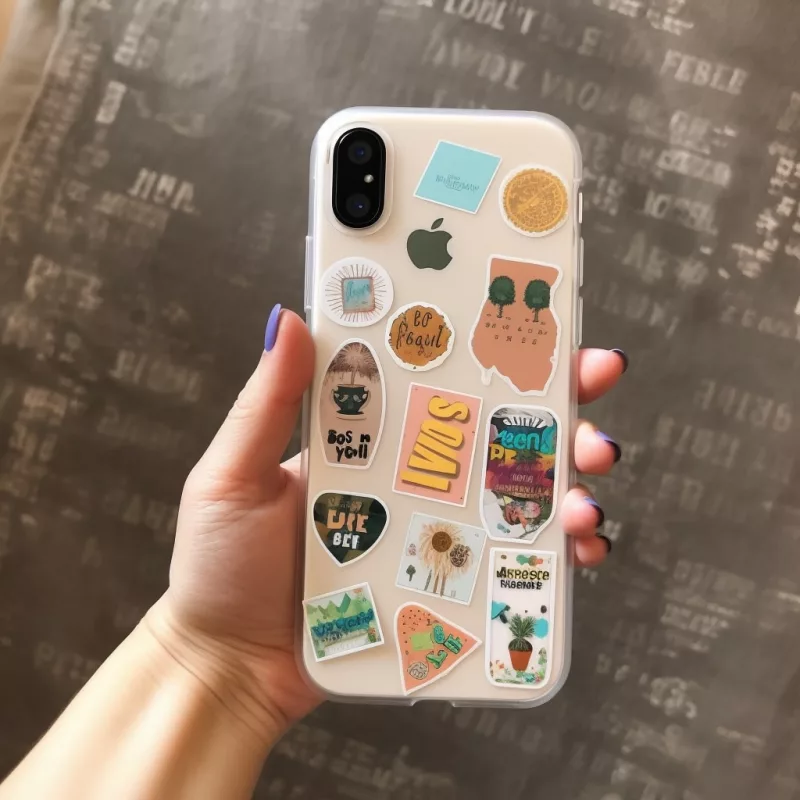 Car
Aesthetic car stickers are often used as a means of self-expression, reflecting the interests and values of the individual who displays them. They enhance the aesthetic appeal of your vehicle.
You are free to make use of them in order to create personalized and distinctive designs for your vehicle. That special touch to your car will make it stand out from the rest.
3 tips for sprucing up your belongings with aesthetic stickers
If you are wondering how to spruce up your stuff with aesthetically pleasing stickers without producing a mess, the following three suggestions can assist you with that. They provide you with a basic notion of arranging these stickers in a manner that creates the greatest harmony and looks the most attractive.
1. Using one style
To have a comfortable and artistic vision, you need to choose a consistent sticker style for your belongings. This is the most important principle when using easthetic stickers. Why? Because in case you combine a number of different styles or you don't follow any style at all, it won't seem aesthetic; rather, it will look like a typical sticker pack or just like a sticker bomb.
Grunge aesthetic stickers, Aesthetic cottagecore stickers, Baddie aesthetic stickers, Aesthetic vintage stickers, and Boho and aesthetic indie stickers are among the most popular styles now. To learn more about these above aesthetic sticker styles, What are they? What are their characteristics? Who are they suitable for?, you may want to read our previous blog post: What are aesthetic stickers? – 9 interesting aesthetic sticker ideas for Gen Z.
Each style has its own characteristics, color, design, layout, and decoration. Therefore, choosing a style for the aesthetic sticker packs will help you shape the idea for decorating your belongings in the most specific way. For example, if you are into aesthetic cottagecore styles, aesthetic plant stickers or aesthetic butterfly stickers are among related stickers you should collect.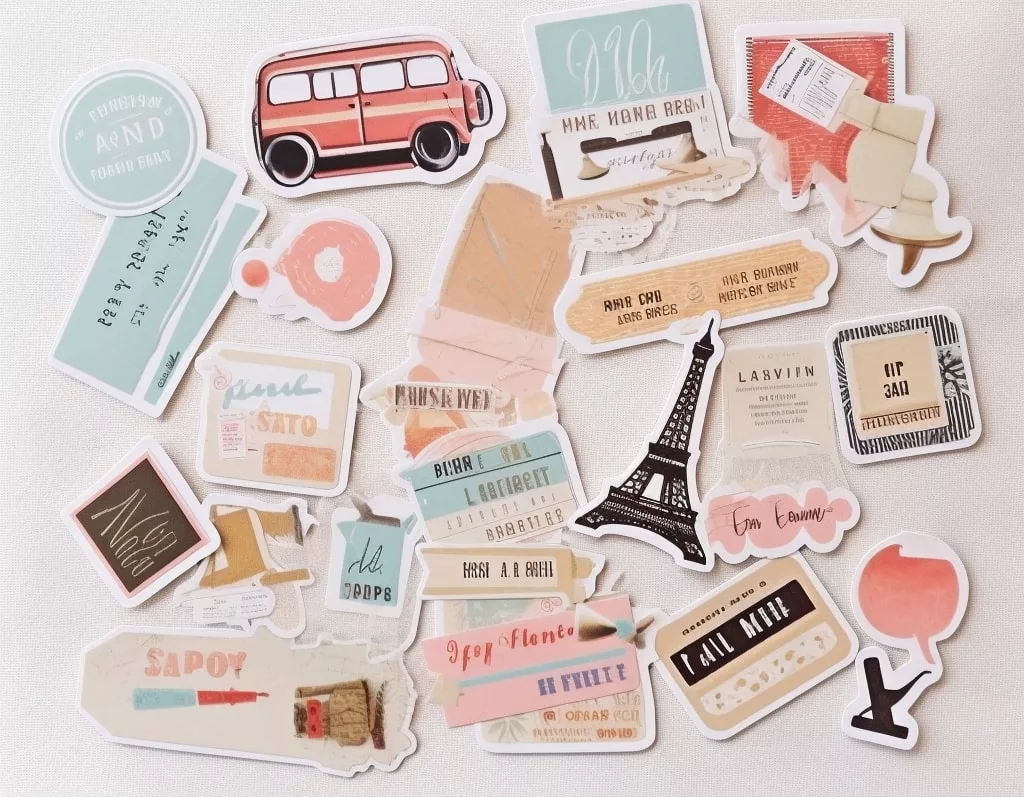 2. Using one color tone or using color transition artfully
Aesthetically pleasing colors can add beauty to your belongings while also boosting your creativity and mood via the power of color. The stickers' aesthetic color choices are wholly unique expressions.
We have 2 options for recommendation when picking suitable aesthetic sticker's colors.
The first approach is using one color tone, such as red stickers aesthetic, blue stickers aesthetic, pink aesthetic stickers, purple aesthetic stickers, yellow aesthetic stickers, brown aesthetic stickers, etc. This will create a harmonious look without any clutter. If you don't know how to combine colors beautifully, or you are simply a big fan of a particular color, choose that color as the theme color for all your aesthetic stickers. Then stick them on your belongings. This will create a stunning effect without any effort.
The second option is to use color transitions artfully. Using this method, you arrange the sticker colors in such a way that there is a gradual shift from one color to another. If you use this technique to combine two or more analogous (green and yellow-green aesthetic stickers), or contrasting colors (aesthetic blue stickers vs orange aesthetic stickers, or aesthetic stickers black and white), the result will be magical. You can also apply a monochromatic color scheme. With this technique, you use only one color repeated at different intensities and brightnesses. It is a great way to add depth and visual dynamics to any of your belongings.
3. Using high quality stickers
For your aesthetic sticker quality, you should always choose the highest one.
Durable and long-lasting stickers are less likely to fade or peel over time if they are constructed from high-quality materials. They will last longer, providing you with more time to enjoy their decorative effects and sparing you the trouble and cost of constantly replacing them.
Moreover, high-quality aesthetic stickers' visual appeal is superior to low-quality ones. Their colors will be more vivid and brilliant, the images will have a crisper appearance, and the overall appearance of your labels might contribute to the increased attractiveness of your items.
If you are looking for high-quality aesthetic stickers that are waterproof, fade proof, and weatherproof, come nowhere than our website. We ensure to provide you with the best stickers coming with various designs.
Words to the wise
Aesthetic stickers not only externally express their beauty but can also show their owners' inner beauty. We hope this article has helped you find the best tips for using aesthetic decals to decorate your belongings. When you get the idea for your decoration, it's time to switch up your belongings.
As a great idea, we recommend you combine aesthetic stickers with fashion style and makeup to better express your sense of beauty. Choose a consistent aesthetic style (maybe one of the nine abovementioned styles) and present it on your stickers, clothes, and makeup. This will bring a fantastic result.