So you want to show your style wherever you drive to but you don't want to spend too much time and money on paint or foiling job? Well, there's an efficient, stress-free and cost-effective way to personalize your car that you can easily do by yourself: using car stickers. Whether you want to support for your sports team, raise your political opinion or advertise your business, it's essential to choose the right type and place to put your designs.
In this article, we rounded up 7 cases you can use car stickers for; 5 common sticker types people use to stick on their car; where to put car stickers for the best result; and how to apply them properly without damaging your vehicle.
Now get ready to add a little dazzling to your ride!
3 reasons why you should choose stickers to decorate your car
1. Car stickers are unique
Let's do a simple comparison: car with stickers is like a girl with jewelry. With nice dress, the girl still appears gorgeous, but nice jewelry take her look above and beyond. Similiarity, stickers are little extras that make your car upper-class. Branding your vehicle with custom stickers even save you time and grief identifying it in a vast parking lot.
2. Car stickers are fast and affordable
If your car needs a quick makeover, we highly recommend adding stickers. At CustomAny, car stickers printing process just takes 5-7 business days. We also offer them in bulk with much more reasonable price.
2. Car stickers are flexible
When it comes to personalize your vehicle, using stickers or decals is the most flexible and the least risky way to go. This way, you can control the quality of your design before it will be sticked to your car. Car stickers are available in various shapes and sizes: they can be a-few-inch sticker or a hood-sized decal, they can cover your entire car or just a cutesy piece on your side window.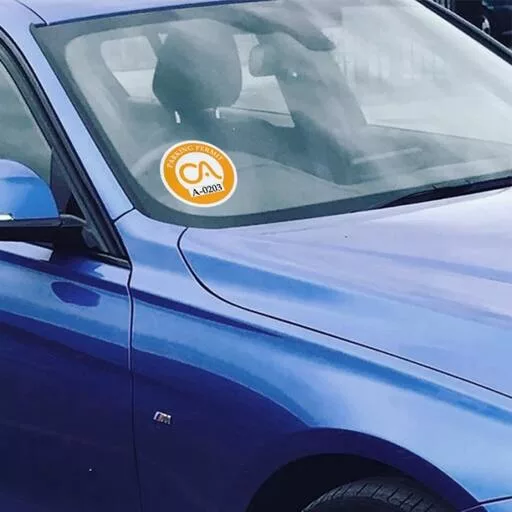 What makes a good car sticker?
When it comes to choose car stickers, there are a few things that you will need to keep in mind. The first one is whether the color of your car and the color of the sticker are match. To be sure that your car stickers will stand out, consider increasing contrast. Make sure that the sticker can be easily positioned and removed for the case you end up not satisfied with where it has been placed. You will also want the sticker to be high quality and durable because the sticker will be exposed to the elements. 
7 interesting uses for car stickers
1. Spruce up your car
If you're feeling bored with your car's typical appearance and want to make it stand out from the crowd, custom stickers are the answer to your problem. With their use, you can easily create a outstanding design or unique projects that will catch the eye. The best things about having your car covered in stickers is that they can be removed any time you want without leaving any residue.
2. Convey your message across the town
You can choose whatever to print on a car sticker: It can be a a bible scripture, a symbol, a smart joke, even a political opinion that shows who you are and what you like at this point of your life. These designs help to voice your messages out by broadcasting them to whoever see your car.
3. Show your most loved
Considering about custom car stickers that features your family drawings, your sport team, your favorite artist or movies because they're actually are some of the most famous designs. You can't help but be proud of having these personalized stickers on your car. These custom-made go beyond all the usual mass-produced stickers.
4. Display your brand
If you're a business owner who tries to acquire new potential customers, think about applying business badges, business names and custom stickers with catchy messages to your cars. It is a great way to promote your brand, effectively attract the attention of passers-by and other drivers.
5. Provide infomation or give warnings
Car sticker is the best way to get the word out if you need to promote your company's event, announce up-coming offers or include a warning on your vehicle. Note that your sticker need to be printed in an appropriate design and color that readers can intuitively know your message for them.
6. Use them as gifts
Pretty car stickers are a great gift or present idea, specially when they are "tailor-made" just for that one person or group of people. Custom car stickers can be a special and intimate message to your loved ones or they can be great corporate giveaways that raving a brand's fans.
7. Be creative
Just encourage your creativity because no one says that car stickers are only used for your vehicle. Made for outdoor use, this type of stickers are much more sturdier and long-lasting than others, they can be stick on your front door, in your mailbox or on any similar surface such as metal, plastic, or glass. They have endless applications that you can even put them in your room as a wall or floor graphic.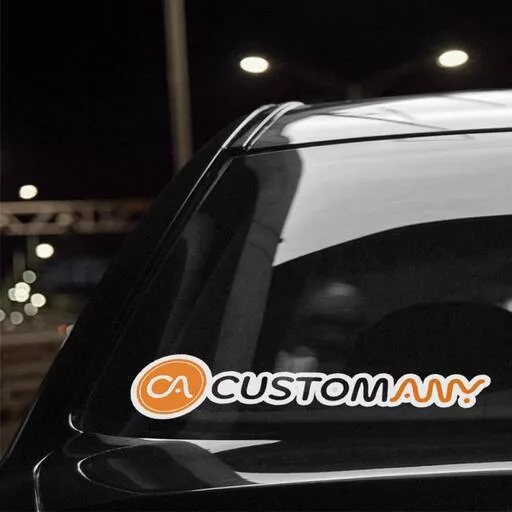 5 common types of car stickers
Many people think that car stickers are just bumper stickers and reverse, but actually we can choose from 5 different options depending on your design or the position you will apply it.
Can be used for any designs and make your design standout from the crowd, die cut stickers are very popular for car decoration.
Using adhesive on the front, these stickers are perfect for clear surfaces. You can stick them on the interior side of your car so they are offered an extra protection to last even longer.
Printed with white ink behind your design to preserve opacity, clear stickers make the colors and shape of your design pop.
Fully transfer any patterns or words to the surface of objects when pasting, these stickers are often use when your design is lettering or a collection of small details with gaps.
Still worry that stickers can damage your car when being removed? Try static clings. Custom static clings are designed to firmly hold to any glass surface without using adhesive so you can feel free to change the sticker whenever you want.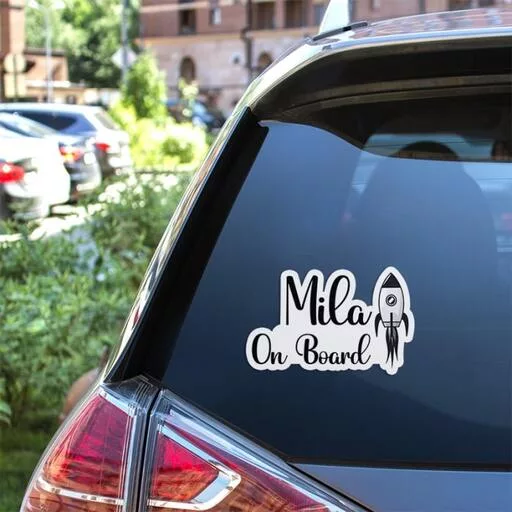 Best places for car stickers
To choose a good place to put stickers is a decisive choice! Is there a clear king? No. Actually, the best location for car stickers is any part of your vehicle as long as it allows most sticker exposure and visibility.
1. Windshields
This placement is directly on the sight of pedestrians or other drivers so it can expose your sticker directly to your target audience. If you have important information or immediate message to send out, just apply the sticker on windshield. It's the best placement for car passes, company insignias, or other types of notes.
2. Rear windows
Rear windows stickers can catch the attention of everyone: from passers when they walk past your car in the parking lot to the driver who is driving behind you. This position is highly recommend for funny quotes or smart jokes that speak to you or can make the traffic jams not so bad as usual.
3. Doors
The sides of your vehicle are perfect for large graphic that serve the purpose of advertising or brand promotion. Applying stickers to your car doors unblock the limit of number and size of stickers you can use and also does not affect your vision when driving.
4. Side windows
Vehicle window stickers are affordable, eye-catching way to express your own words or to advertise your business to potential viewer. When using stickers on side windows, remember to think about their size because an oversized sticker may prevent passengers from enjoying the roadside view or it may block the driver's view of the road and cause accidents.
5. Bumper and fenders
The classic places for sending a message on the road are bumpers and fenders. They are the best setup for car stickers if you want ot be seen. Bumper and fender stickers are famous for being used in political statements, timeless quotes and sayings. Use it for any of your purposes but remember to check your sticker size and the message it conveys to make sure that your stickers stay within the state's law.
6. Rear Tire Cover
If your car or truck has a rear-mounted spare tire cover, you can make use of for brand exposure or extra messages. A circle sticker, die-cut sticker or a lettering sticker will work best on this location.
7. Gas tanks
Gas tank is just a small area but decorating it right can make your car the super-star at any gas station or anywhere your drive by.
Like being said, every part of your vehicle has its purpose when it plays the role of being background for your stickers. You can place car stickers on any of the seven top locations mentioned above and they'll work just fine. You can also try at least two of the places or you can even use a pack of similar designs for all of these places to maximize visibility.
How to apply car stickers
Car stickers and decals are an excellent way to keep your vehicle looking stylish, but it will not if you apply them the wrong way. Now, pay attention! There are 4 simple steps for you to apply a car stickers to get a fantastic result.
Step 1: Position your sticker and get measurement
Before placing stickers on your car, it is essential to determine the ideal location, especially when you plan to use more than one. Hold the car sticker against your car to get an idea of how it will look. Try as many location as you can think of to see if the sticker will look better on another placement. In this step, you need to keep the sticker's backing to protect the adhesive.
Step 2: Clean the surface
Make sure to clean your vehicle because even the highest quality stickers can't last long on a dirty surface. Use soap or rubbing alcohol to clean your selected position and wait for it to completely dry before doing anything else.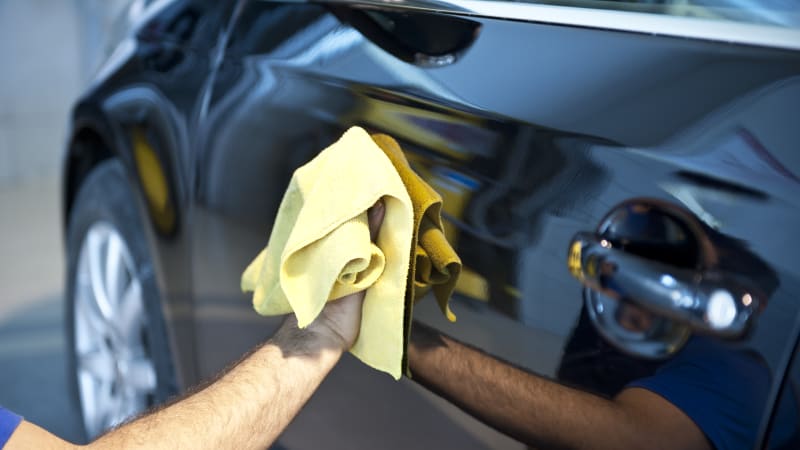 Step 3: Get the sticker and peel off the backing
Once you have a clean and dry area, it's time to place your design on! Remove the sticker's backing, you will have to be one hundred percent careful in this step, taking it off one portion at a time if it is a big size one, and stick it to your car. Remember to carefully press the sticker on the surface as you peel off the it's backing.
Step 4: Smoothing Out Air Bubbles
Smoothen everything as you go along, trim off any excess margins that don't stick on any surface. A tips for you is utilize a credit card to ensure there's no folds and air bubbles on your stickers, and that's exactly the neat finish you're aimng for.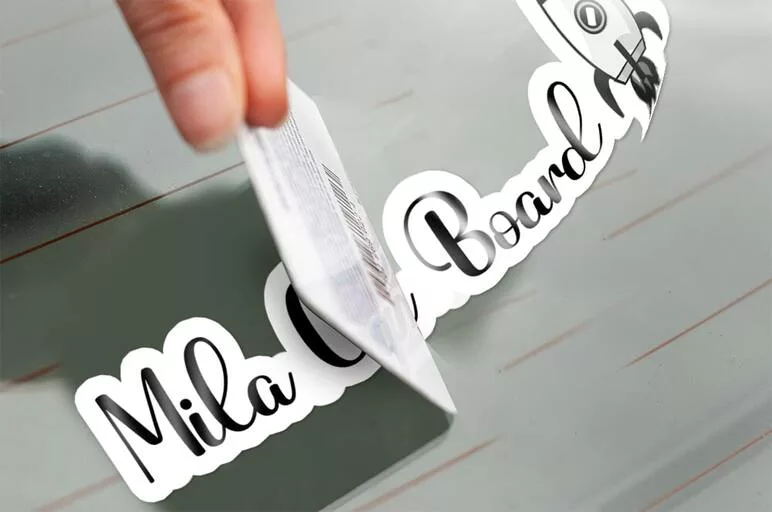 How to order your custom car stickers
At CustomAny, we offer the partially customized stickers to make your car the trendiest vehicle. If you consider customization a hard work, just check them out. However, if you are passionate about creat your one-and-only design (and of course you are!), here's 3 simple steps you can do to order your personalized car stickers and decals:
Step 1: Create your design
Let your creativity run wild! This first step is exactly about you and for you: create whatever you imagine and want it to be.
Step 2: Go to CustomAny website and make it real
On CustomAny's site for custom sticker, select the type of the stickers you want. Then you will be led to a page where you can select size and quantity for your design (we offer any custom sizing and quantity) with automatically calculated price published right next to them. On the next area, upload your artwork, press the checkout button to complete your order and it's almost done.
Step 3: Check the proofs
After receive your information, our designers will make proof and it will be sent to you within a day of checkout. You can make adjustments on the sizes, lines, and colors so that your car stickers will come out exactly as you want them to bebefore we print it. Changes will be made to your proof for free until you're happy but don't worry, you won't be disappointed by the results.