Ever think about receiving a package wrapped in a pretty nice box or bag? Consider saving it to use again or buying again from that brand? Oh, if yes then you knew the power of custom packaging.
As a business owner, think bigger than just the product quality itself. Aside of product quality, make a specific and impressive packaging for your customers is a key way to stand out in the highly saturated ecommerce market. The packaging you use is not only part of the customer experience but it even become part of the product. It may only catch your customer's attention for a moment, but it will frame how they see (and talk about) your brand ever after. This short article will show you 9 killer packaging ideas to stand out and sell more.
What is Packaging?
Packaging is the basic necessity of every product. It basically means the wrapping or bottling your products to prevent them from being damaged during storage and transportation. However, modern packaging these days not only keeps a product safe but also helps in promoting the product, identifying a brand and enhancing customer experience.
Why packaging matters?
As mentioned above, product packaging goes beyond cardboard and tape, it can also act as a marketing tool, a branding mechanism, and a way to ensure customer satisfaction. And here are the specific ways packaging affects the whole business:
1. It affects brand perception
Product packaging that is high quality can help your business in increasing brand awareness by standing out from other competitors. Using creativity, anything from a custom box or bag to unique label colors can help you accomplish your brand awareness goals.
Makes the brand seem more upscale
Reinforces customers that the product was worth the cost
Reinforces customers that the brand is for people like them
2. It affects customer behavior
There's one significant benefit if you have a better packaging idea: It has a direct affect on your bottom line.
Gets customers more excited about receiving the package
Encourages subconscious associations, save the box or bag to reuse
Promotes brand loyalty: Better packaging makes people more likely to order again
So now it looks like it's worthwhile to invest in better packaging. But how?
9 nice packaging ideas that don't break your budget
Have no fear. Any one of these nine tactics can help:
1. Personalized inserts
Inserts are one of the cost-effective packaging ideas you can try as the first step in upgrade your packaging. They are proven tactic that can increase your order value, enhance customer's loyalty and be the word of mouth about your brand. There are several different ways that you could do with inserts: include a simple business card printed in bulk (this way is easy and cheap but not so impressive, of course); you can include a custom discount code to entice your customer to come back; or write a handwritten thank-you note (it is becoming quite the trend that many online companies had success) to make a positive impression on your customer.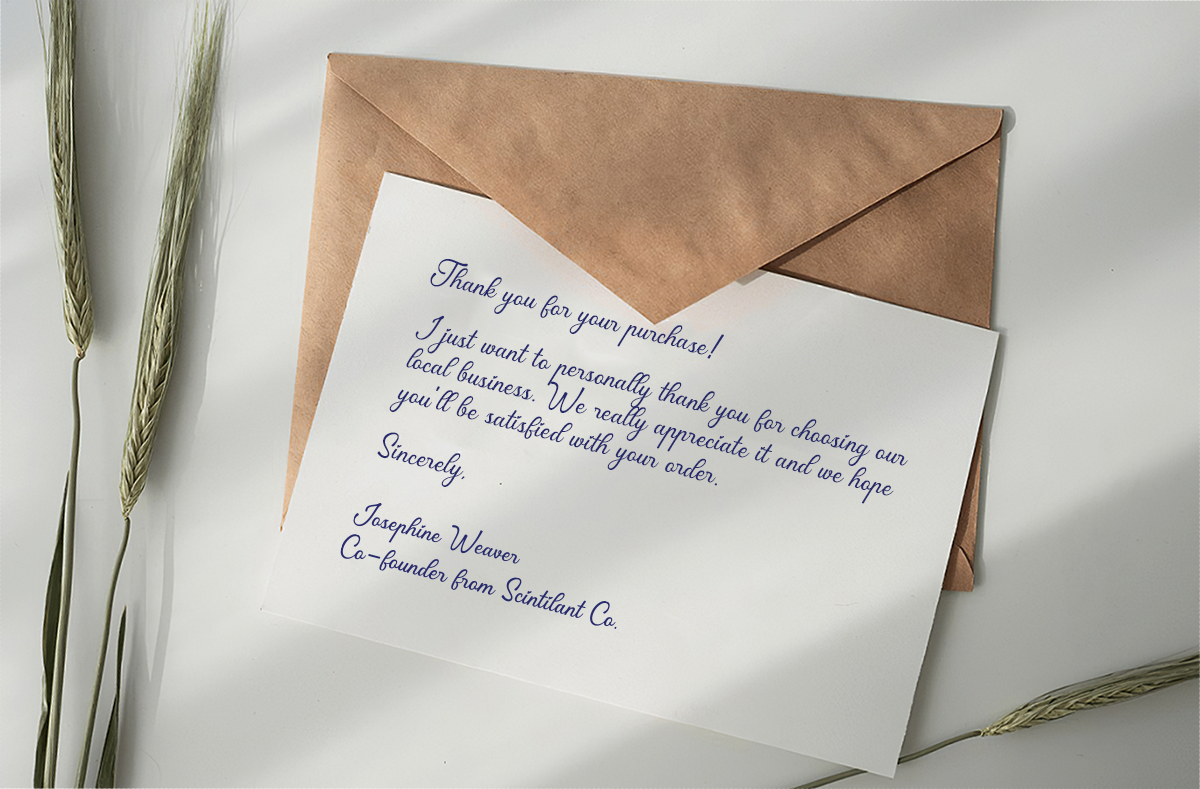 2. Branded tissue paper
When it comes to the inside of the box, branded tissue paper is the first thing you should consider. Using customized tissue paper in your package is a cheap solution that not only promote your brand—but it also enhances customers' unboxing experience and helps provide some extra protection for the products inside. Because tissue paper is relatively cheap, paying for branded tissue paper won't cost you high price—and it's surely worth it!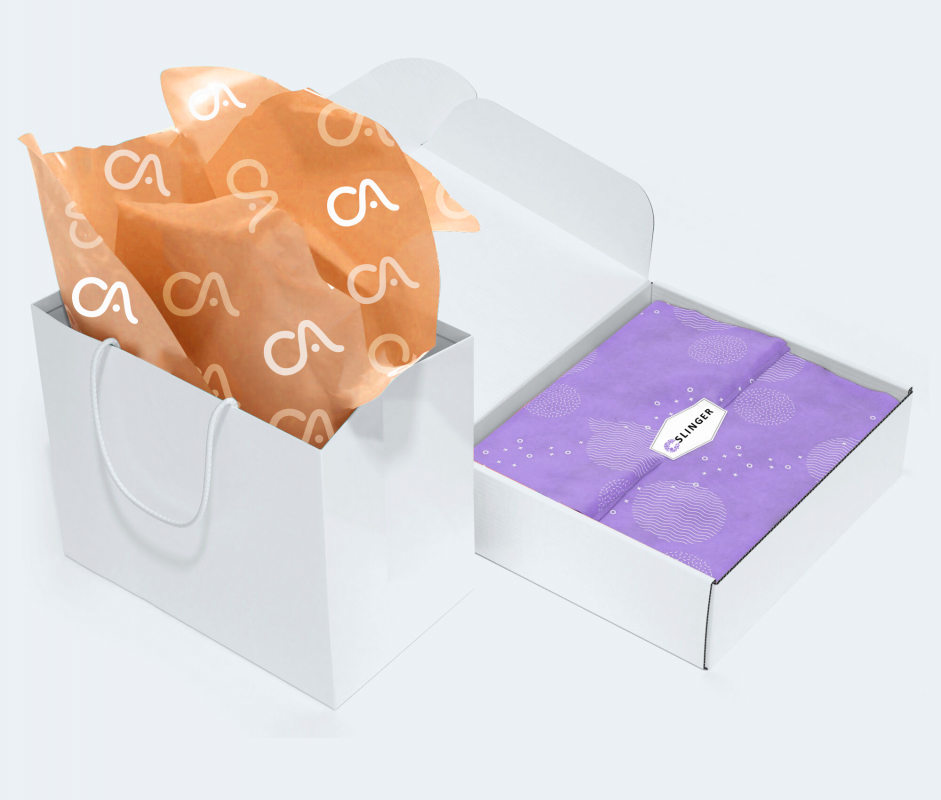 The fact is, there's more to packaging than just the box, or bag you wrap you product in. To make an impression on your customers, don't forget about the extras. The first choice for a cost-effective extra is, of course, a branded logo sticker. Using a logo sticker on a plain box is not only a clever cost-cutting solution but also grab all customers' attention to the logo thus helps in showing off your brand.
4. Printed paperboard boxes
The second packaging option you should consider is a paperboard box, or shipping box. Paperboard boxes are a suitable packaging option for products that don't need much protection during the shipping process, such as smaller items and trinkets that aren't breakable or retail items that are going on the shelf. As they are thinner than normal shipping boxes that made of corrugated cardboard, paperboard boxes are thinner and lighter—making them easier to store and cheaper to ship.
Add some extra flavor to your paperboard boxes by sealing it with custom stickers and labels. Your bland shipping boxes instantly turn into a practical and eye-catching package. You can get creative with printed stickers and labels with funny sayings like "What are you waiting for?", "Great things inside" or "I'm here, babe",… Stickers and labels are also great for holding accents like ribbon or strings in place in case you want to decorate your packaging for travelling.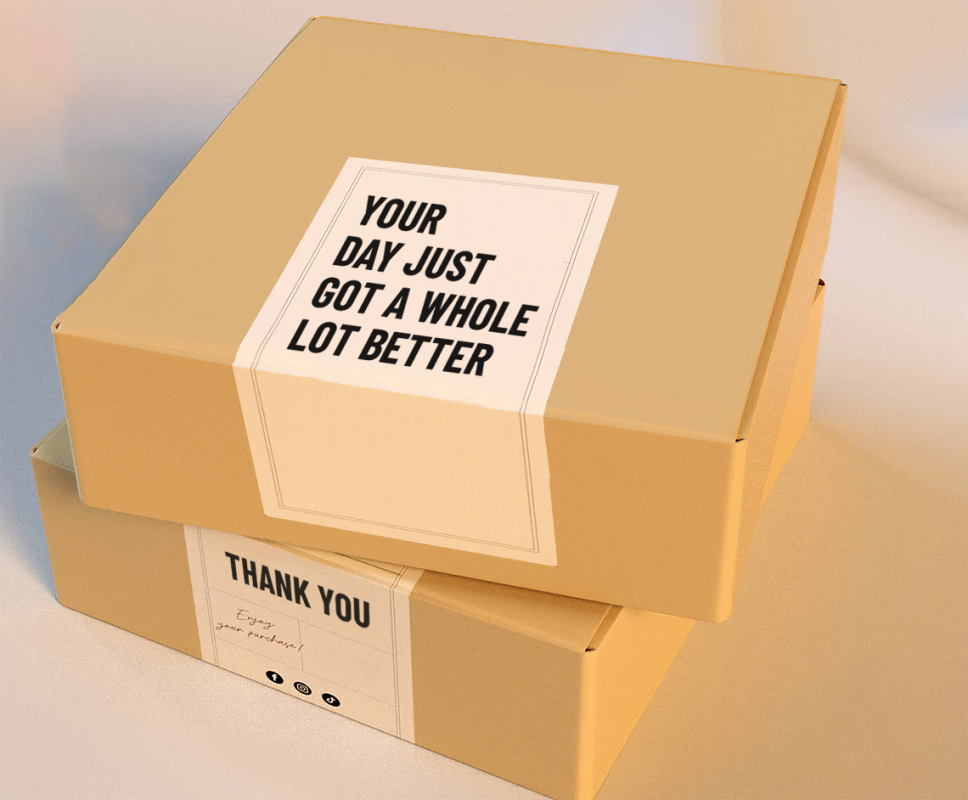 Another cheap and clever packaging idea to show off your brand within your packaging design is to use custom tape. At CustomAny, we offer custom tape in bulk so you can get a cool and branded way to pack a great deal of products and at the same time can save money on scale.
Made of a durable and protective plastic material, poly mailer bags are able to completely seal so that you can cover your products safely and rest assured about shipping process. A pros of poly mailer bags over cardboard or paperboard packaging is they are weatherproof. Thus, poly mailers are ideal for extreme weather shipping condition.
Using thin and lightweight poly mailer bags in packaging make it much more easier to store and ship. If you want to make a impressive packaging but on a tight bugget, consider custom poly mailers. Since they are extremely cost-effective and weather-proof, poly mailer bags are a great option for lightweight and non-fragile products such as clothing items.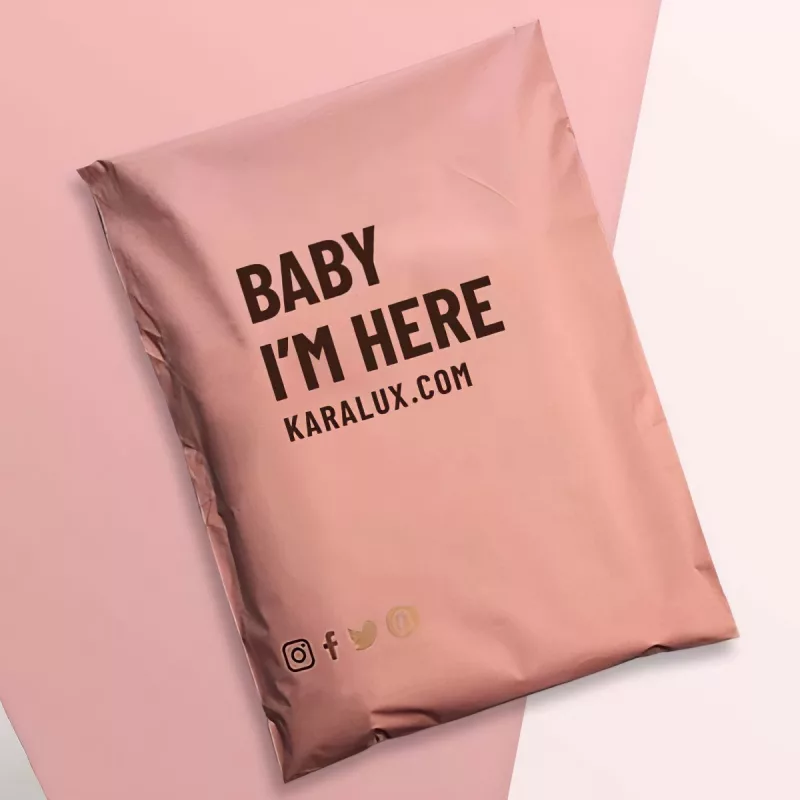 8. Custom bubble poly mailers
Upgraded from poly mailer bags, bubble poly mailers also have a plastic layer on the outside but with a padded bubble layer on the inside. With this extra layer, bubble mailer bags provide your product extra protection and insulation. They are ideal for small, thin, and fragile products such as CDs, jewelry or books. Custom bubble poly mailers are not only budget-friendly, but also ensure your packaging have the most eye-catching outlook with printed designs on them.
9. Eco-friendly packaging
Sustainablity is always one of the significant effect that customers care about when ordering things, so eco-friendly packaging idea is definitely something that you should consider. Try using corrugated paper inside a packaging box instead of bubble bags or eco-friendly mailer bags that eliminate the need for single-use plastic. These type of packaging will not cost you much and also make a great contribution to taking care of the Earth.
What makes a good packaging?
There are so many packaging ideas to choose from. But how can you know that yours is a good packaging? As we sorted out, good packages all have the following in common: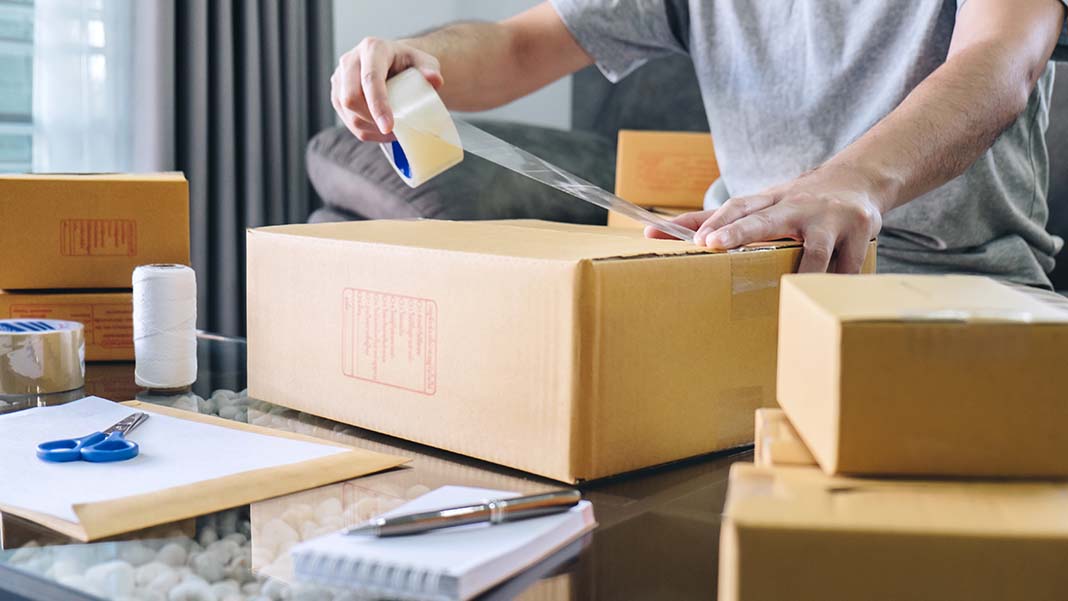 1. Good packages keep the product safe
The basic use of packaging, of course, is to protect the product inside. Choose the right packaging type to make sure your products arrive safely at their destination.
2. They look attractive
A packaging appearance need to be charming and distinctive that leaves a great impression to customers. but consistent with the product and the image (dynamic, luxury, elagant,…) that your brand is aiming for.
3. Packages tell stories
At a glance, the packaging needs to be consistent with the product and the image (dynamic, luxury, elagant,…) that your brand is aiming for.
4. A good packaging is a economical one
Remember, the key in a successful business is reasonable cost. Choose an impressive but on a suitable budgetfor yours packaging.
Bottom Line
Packaging play a important role in fulfillment but it's not just that. Creative packaging ideas help elevate a brand's image and boost customer recognition. Although custom packaging may be a little bit expensive than standard shipping options, it will be a part of the whole positive experience for your customers in ordering from your brand. As mentioned earlier, there's a wide array of custom boxes and packaging materials available. So choose wisely and design distinctively to add a personal touch to your customers' buying experience.