Having in a storefront or working in an office setting that features large windows or glass walls? Don't leave it plain and bland, take advantage of your most visible and valuable space with window stickers to bring your business to life! With window stickers and decals, you can show your business slogan, promote special sales or events, provide key information like working hours, contact information, daily specials and more.
Actually, you can use any types of custom stickers on your business windows, but to make sure that you'll get the best result, we suggest three common types of custom stickers that works best on your glass surface: static clings, transfer stickers and front adhesive stickers. Although these window stickers can be used for similar purposes, they all have their own unique benefits – so how do you choose between them? Read along this article.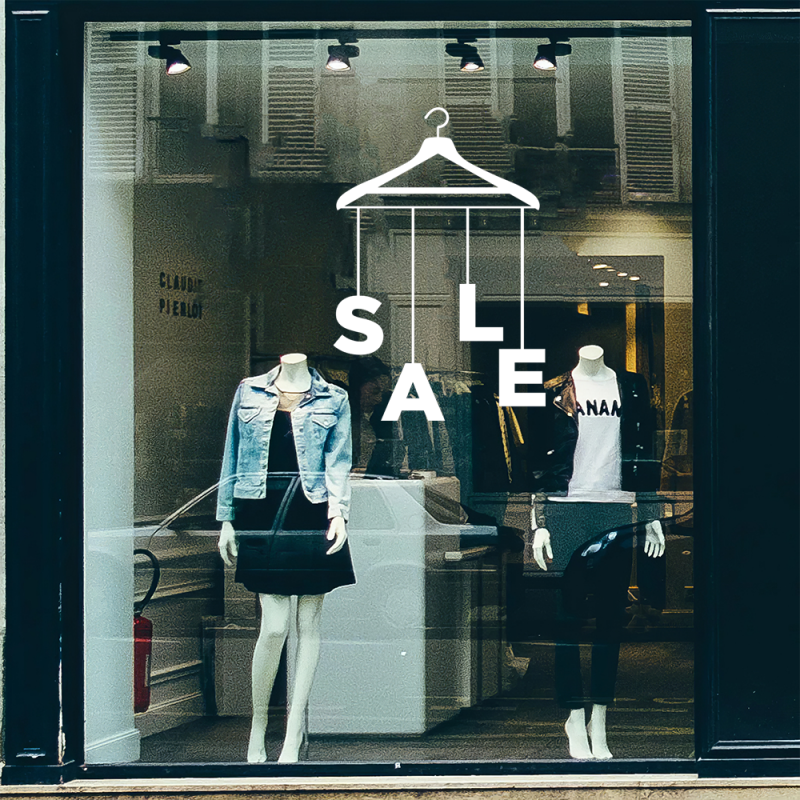 A static cling is a thin sticker made of vinyl. Using natural static, it can stick to a surface without any adhesive. Static clings work best on smooth surfaces like glass, window and metal. Especially, these stickers can be easily applied and reapplied time and time again.
Static cling stickers are ideal for use on smooth and flat surfaces such as windows or metal. These non-adhesive stickers are great decoration, advertising or branding. Since they can be reused, you can choose static clings for temporary use and seasonal decoration.
Do static clings make good window stickers? They sure do! Printed in any colors, static clings can display whatever design you want until you decide to take it down. Especially, because static cling stickers can stick to windows without any adhesive, they won't leave any marks or residue behind after being removed.
Static cling stickers are not weatherproof, they can keep their adhesiveness to a limit range of temperature so static clings are recommended for indoor use. However you can still use static clings for temporary outdoor use in the right conditions with temperature of between 20°F and 220°F.
Transfer stickers have three layers: a paper backing, the vinyl sticker and a layer of transfer tape. The vinyl sticker layers consists of multiple parts. These vinyl sticker parts are held together with the transfer tape. This tape ensures that you can precisely apply of all the sticker parts to the place you want.
Being strongly adhesive and highly durable, transfer stickers are commonly used as glass stickers, on metal or on other smooth surfaces such as laminated doors and paper. As transfer stickers hold all elements of a design together, they ensure a precise placement. They are the perfect option for complicated designs such as logos or names.
As mentioned above, transfer stickers work great as window stickers. On glass, transfer stickers are extremely durable and long-lasting, so they're ideal for businesses and commercial windows, too.
Transfer stickers are the first thing to comes in mind if you are looking for outdoor stickers because of their durability and strong adhesive. As the vinyl layer is dyed rather than printed, transfer stickers are weatherproof and fade-proof. However, it may take effort to remove transfer stickers from windows because they use a strong adhesive to stay in place. You should use soap and water to clean and make sure there's no remained residue on your window after removing transfer stickers.
Front adhesive stickers are printed and adhesive on the same front side of the sticker. These stickers are certain helpful for giving information so they are commonly used in business storefronts when they want to display their memberships, important news that they don't want to be peeled off by passers. Since they are so easy to stick on and peel off, there are many uses of front adhesive stickers for businesses:
Seasonal or occational storefront display
Announcement for your business or social cause
Display professional memberships
Show off awards and reviews
That said, static clings, transfer stickers or front adhesive stickers all have their pros and cons. Here are a comparison of main features that will help you in selecting the most suitable for your purpose.
| | | | |
| --- | --- | --- | --- |
| Features | Static clings | Transfer stickers | Front adhesive stickers |
| Material | Vinyl | Dyed on vinyl with a transfer tape layer | Vinyl |
| Adhesive | No adhesive, don't leave marks or residue when removed | Strong adhesive | Adhesive on the front |
| Remove | Easy to remove | Take effort to remove | Easy to remove |
| Resistance | Not weather-proof | Weather and fade-proof | Weather and fade-proof |
| Use | Indoor recommended | Outdoor | Insinde a glass window |
| Best for | Temporary or seasonal use | Complicated designs | Frontdoor marketing, provide information |
So, you have big windows or glass doors that catch the attention of passersby? Or you need to marketing your frontstore but on a tight budget? Window stickers can bring such a great results to your business in both decoration and promotion. The choice between the 3 most effective types of stickers: static clings, transfer stickers or front adhesive stickers all depends on how, where and what you use the window stickers for. At CustomAny, we're proud to offer all these 3 items in any sizes, color and quantity. Check out our custom stickers here to turn your design to real life and level up your shop's windows!