Having a custom sticker made with your company's logo is a great way to spread brand awareness. Whether you're spreading the word about your business, team, or brand, stickers are the perfect way to do it.
You can use the flexibility of making your company logo sticker to bring your brand's visual identity into harmony, produce one-of-a-kind marketing collateral, or meet your specific demands. Customized logo stickers also allow you to choose the right shape, which helps highlight the logo design. Thereby matching the brand personality that the company is aiming for.
Therefore, the article aims to outline the top 3 most popular logo sticker types so that you can choose the most suitable one for your business.
1. Circle Stickers For Standard And Classic Logo
Define and Benefits
Circle stickers are exactly what they sound like: sticky stickers that have a circular form. Round stickers are a popular form, and you can use them for various purposes. Because it does not have clear sides, it is a significant symbol of an endless cycle that stands for completeness, eternity, infinity, and unlimited possibilities. Since many well-known companies are now offering their products and services all over the world, and since the earth is round, it makes sense that they would favor the use of circular designs for their logo. 
Price
Businesses on a tight budget will find that circle stickers are a suitable option since they are often less costly. The reason is that they can be mass manufactured just as rapidly. Also, the round shape makes cutting these stickers a simple process.
Usability
For either round or square company logos, they are an excellent choice. Because most logos are round, circular stickers are both a standard and a classic choice. A round logo sticker is perfect for product labels, from bottles and boxes to candles and cosmetics. Round labels with your brand are the perfect finishing touch for every package. These may also be used as a decorative and functional method of closing packages, making a good first impression on your customers.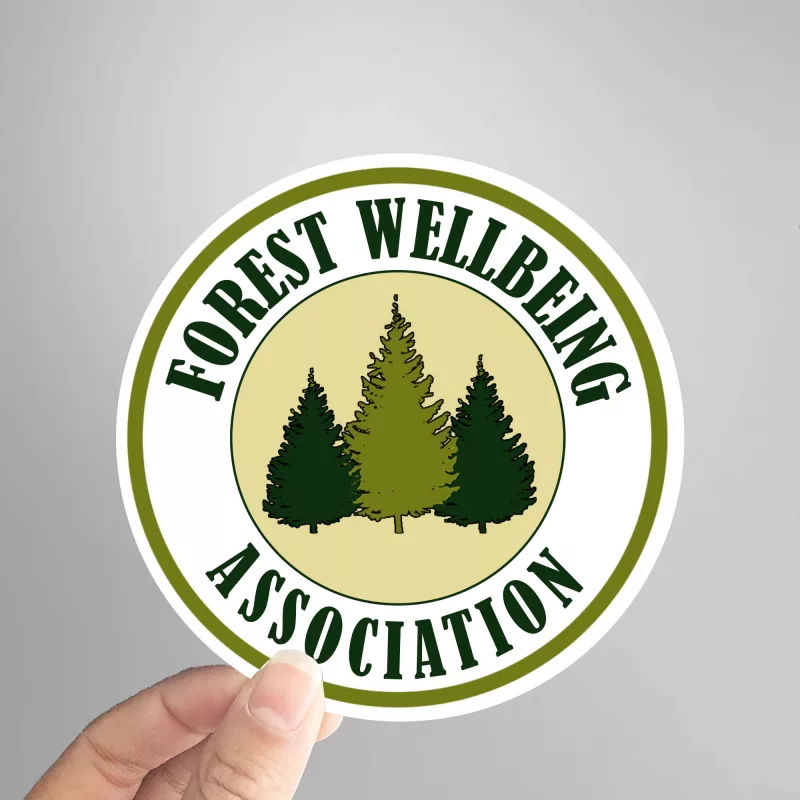 2. Die Cut Stickers Highlight Every Edge Of Your Logo Design
Define and Benefits
Stickers are "Die Cut" if they are cut to follow the shape of your design. Die-cut stickers, as opposed to circular ones, may be made in any form. You may design your own sticker die cuts with any shape, including sharp corners, rounded edges, undulating lines, and more. Both the sticker and the back are shaped to the form, ensuring that there is no leftover surplus of material. So, there is nowhere for debris, dust, or moisture to get trapped. This makes die-cut stickers more robust and long-lasting.
The cut to the shape of die-cut stickers is what make them unique. This distinguishes them from any other stickers that have uniform shapes such as circle, rectangle or square stickers. Using this technique may help your logo design stand out from the crowd. It gives your design a degree of individualization you wouldn't normally obtain if it were a circle logo sticker.
Price
Die-cut stickers are valued more highly than their conventional equivalent since they seem more expert and are more challenging to produce. However, they do have aesthetically pleasing benefits that might make the additional investment worthwhile for your company's brand.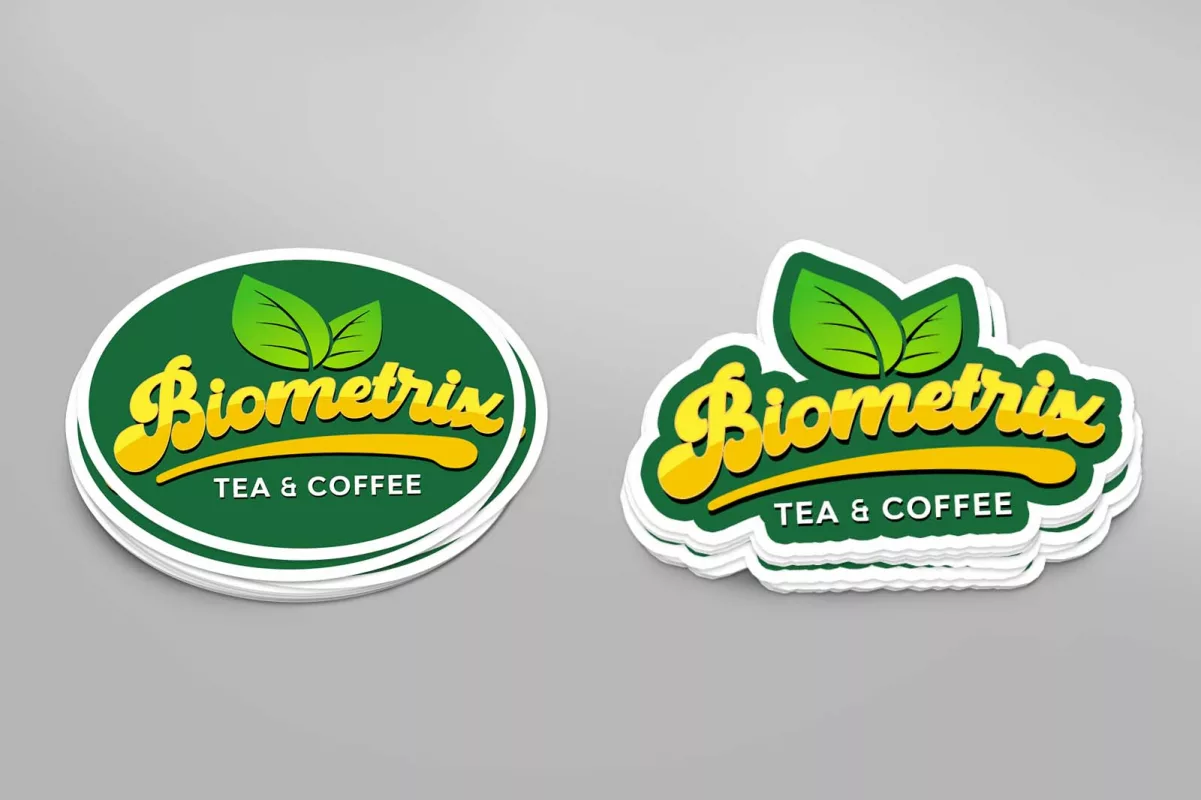 Usability
Stickers formed using a die cutter may be made in any form the customer desires. This makes them appropriate for any company's logo. Because of their uniqueness compared to the other forms, these logo stickers are frequently used by creative enterprises and businesses. These kinds of organizations always want to make breakthrough in their products and presence; thus, die-cut stickers are ideal for their needs. 
If you choose die cut sticker for your sticker logo design, it can catch people's attention immediately. This is because people are naturally drawn to things that are strange or unusual to them.
You can distribute promotional stickers with your business's logo to spread the word about your company.
More fantastic suggestions for die-cut logo sticker ideas:
Stick on packaging of shipping products
Use as tamper proof sticker on product packaging
Giveaways at company events
Stickers made specifically for your company will attract more attention than generic ones. Die cut stickers, or the very similar type – kiss cut stickers, are one of these. You can make them perfectly fit in whatever form you choose so they are the perfect selection for giveaways stickers with your brand image or message on.
3. Clear is the Rising Sticker Type For Modern Company Logo
Define and Benefits
Clear-backed custom stickers are a fantastic marketing tool for showcasing your company's products. They let you spotlight your goods in a wholly original manner without sacrificing form. Stickers made from transparent material may have their designs printed on both the front and reverse, making them ideal for use on reflective surfaces. You may place the transparent stickers anywhere you want, whenever you like since they come off cleanly every time. Custom transparent stickers stand out due to their unique ability to display a high-quality image against a transparent backdrop. Glossiness is a standard feature of clear stickers. This ensures a high-quality appearance and a polished logo.
Price
Manufacturers use technology to manufacture clear stickers that are both ultra-clear and of the highest quality. Therefore, the cost is more than standard stickers (like round and triangle stickers that have white backing).
Tips to design clear sticker with logo
Experienced designers love working with clear labels since they provide more freedom regarding layout, transparency, and striking components. If your product logo labels seem more "etched," try using white ink with your design and apply them on a transparent object (like a beer or wine bottle).
Due to the vinyl's transparency, your logo design can pop on a clear sticker. Some examples of the possible use of this material are as follows:
Create see-through effects by including transparent sections in your design. Keeping the material in its present state is all required to achieve that goal.
Make colors that are completely opaque on a transparent background. Because of this, you can make the colors appear "natural" and vivid even when using a transparent basis. To do that, you can print white in between the vinyl and your artwork.
Make a stained-glass impression by printing your chosen colors directly onto the material. You will get truly stunning effects with this method.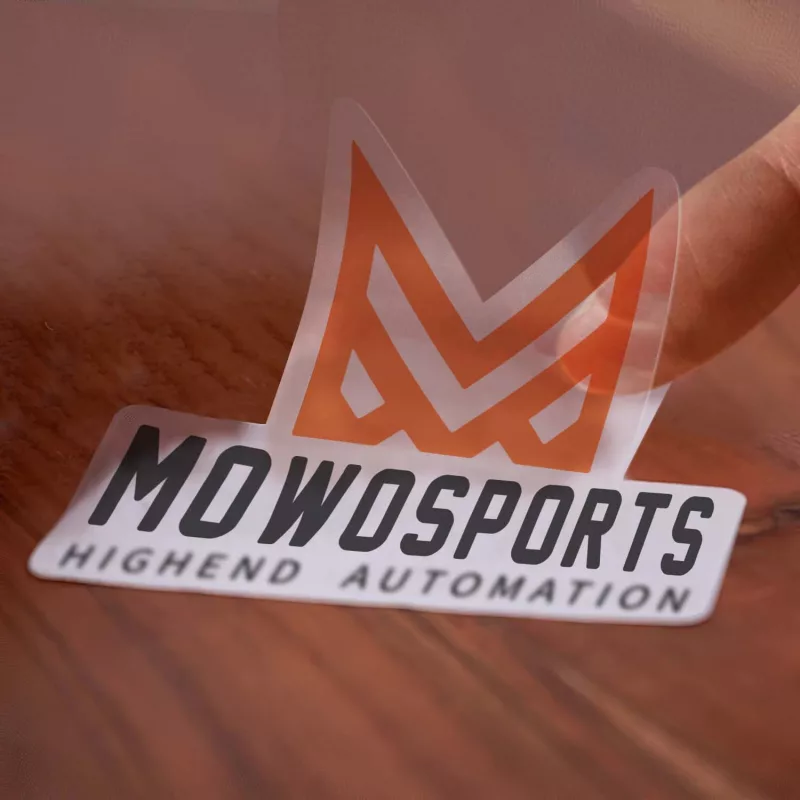 Closing thoughts
Even though other typical sticker shapes (such as square or rectangle stickers) are still utilized for business logos, the three sticker types we mentioned above are the most popular based on a statistic of thousands of our orders.
Circle stickers are the most classic option that any business can choose for their logo design. Die-cut stickers are for companies that want to make a great impression on customers. Meanwhile, clear stickers, which emerged recently, are prominent, easy to use, and very flexible as they can suits other needs like product labels and glass door signs.
To turn your logo designs into the real ones, visit our website. We are proudly to offer you custom stickers in various shapes and sizes, ensuring good quality and super fast shipping.