In sticker designing and printing, except for selecting suitable shapes and materials, choosing a feasible size can be a daunting task. If you need a sticker for a glass jar, it can't be so big that when it is applied, it becomes obstructed on the sides. Or if you are making a car sticker, it can't be so small to look like just a dot on a very big vehicle. What a tricky task, right? Don't worry cause we're here for you. In this article, we will walk you through 7 most popular types of custom stickers and the best sticker size you can refer to for each application.
1. Best sticker sizes for small circle stickers
If you are planning to decorate personal items with stickers, our suggestion is tiny circle stickers. The most typical sticker size (and also the best sticker size for those) is 1×1 inch (about 2.5 centimeter), similar to the size of a 25 cent coin; and 2×2 inch (about 5 centimeter), similar to the size of an Oreo cookie. These options are right for you for two reasons.
Firstly, these mini stickers are suitable for your small items. A 1-inch circle sticker is only about a tenth the size of a smartphone. When applying these stickers, you can align the position and minimize the possibility of the stickers overflowing into the slots or sockets of electronic devices. This ratio even allows you to stick tons of stickers on one desired item to

create a sticker bombing artwork

.
Secondly, using small circle stickers is a cost-effective option. These stickers can be printed in bulk or in a form or a sticker sheet thanks to their relatively small sizes. You can batch print the same sticker design or create a set of stickers with the same theme.
However, because the size of these stickers is quite small, in cases you use them for designs with too many small details, they may not be prominent enough for decorative purposes. Choose striking colors and use them for simple designs so that these stickers bring out their full advantages.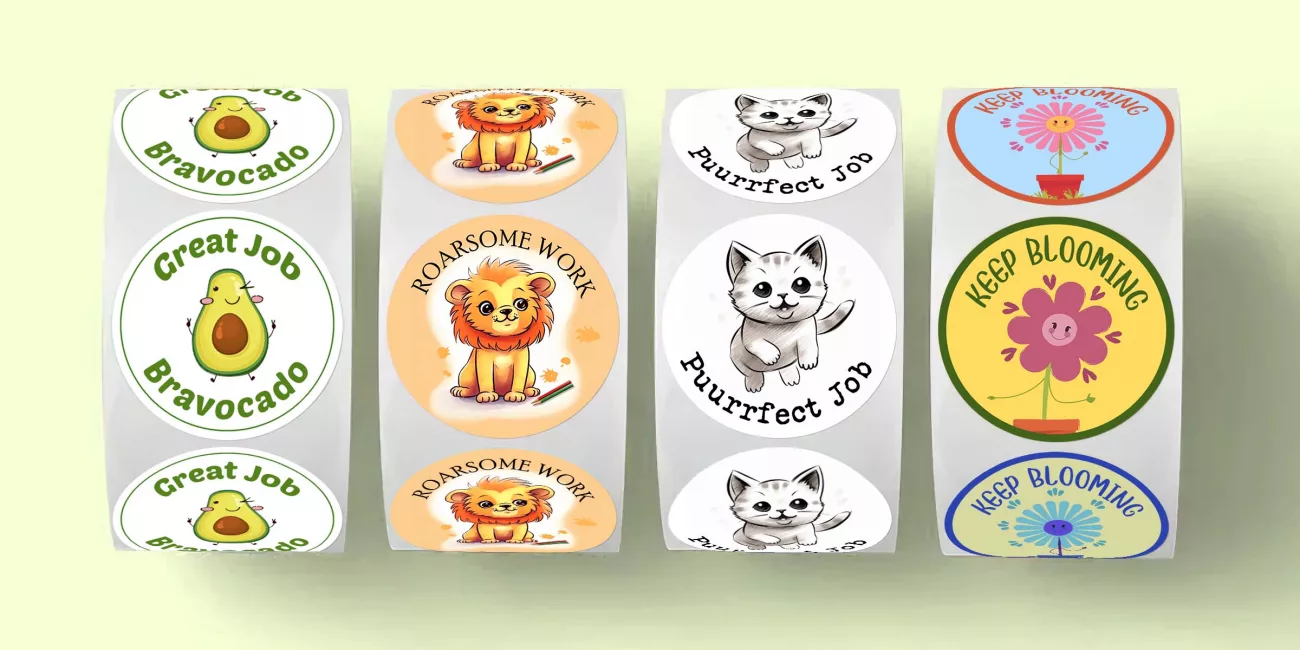 2. Big circle stickers work best in these sizes
Still in the shape of a circle but with a larger size (3 to 5 inches in diameter), big circle stickers are a great choice for intricate artwork or trendy custom photo stickers. The large size allows your design to show off all the meticulous details and the round shape is suitable for a variety of different applications.
For personal use: Most individuals use small circle stickers to decorate personal items such as tumblers, laptops, helmets or even bikes or cars.
For artists: If you are a designer or artist, try turning your works into big circle stickers. You can easily sell them online on e-commerce sites such as Amazon, Walmart or sites for craft stuffs like Etsy.
For businesses: For companies, 3×3 or 4×4 inch is a good sticker size for brand logos. These custom sizes are also great options for giveaways at Company events.
3. Great sizes for rectangle stickers
Rectangle stickers seem to be a boring, non-breakthrough sticker shape to be rarely used. However, with the right size for their shape, they will serve various purposes so well that no other sticker type can do.
Our tip for you: 3.5×2 inch is the best sticker size for a rectangle sticker, especially for organization or business uses.
This rectangle sticker size can be a good selection for wordmark logo stickers which can be used as seal labels on shipping packages, thank you labels on shopping bags or greeting cards for your beloved customers.
Within a business or organization, this is the best sticker size to make name tags for your members. Many customers on our website chose 3.5×2 rectangle stickers for their new employee welcome kit.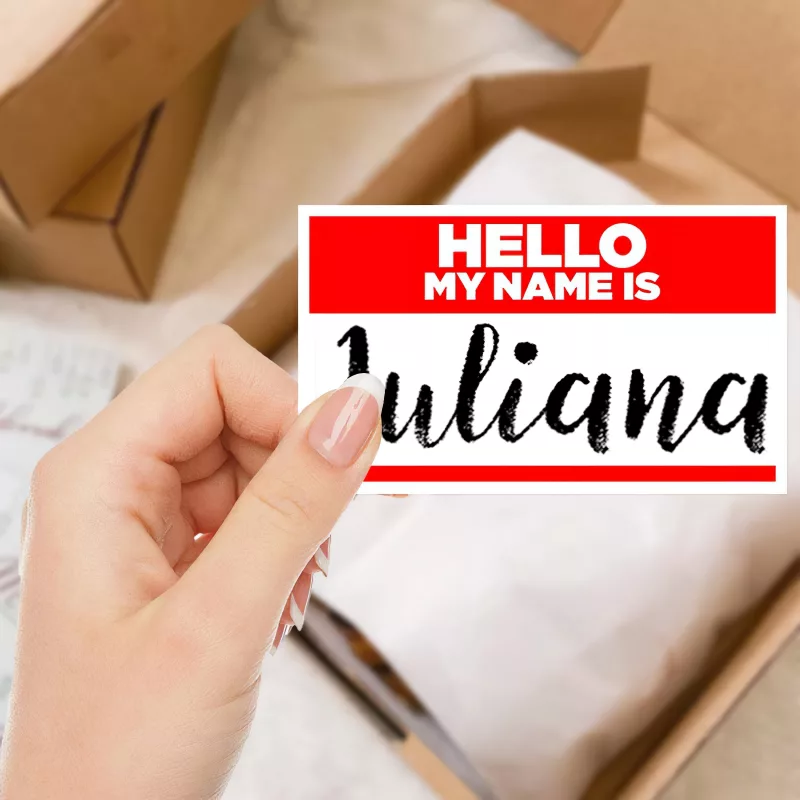 4. Best sticker sizes for square stickers
The square sticker can be considered as a big circle sticker with an expanded area in their corners. Just like big circle stickers of the same size, 3×3, 4×4 and 5×5 inches in square shape are standard sizes for photo stickers or artwork stickers. Comes in a square shape that provides a larger area compared to circle stickers, these stickers are easier to use:
5×5 inch square stickers are great to serve as labels for products packaging in paper bags.
4×4 is the average size for a square sticker. These stickers are extremely suitable to stick on square or rectangular objects such as laptops or tablets.
The slightly smaller 3×3 size is suitable for hydro flasks and reusable water bottles.
5. Oval stickers are popular in these sizes
The shape of the oval sticker alone has brought a classic look. If combined with warm tone colors, it is great for Simple and rustic coffee brand packaging or any other brand which has packaging made from kraft paper. The preferred size of oval stickers is 1.5×2 inch for small packaging or 2×3 inch for medium size packaging.
These 2 sizes are neither too big nor too small, so they are easy to produce in sticker sheets or sticker rolls. This option is suitable for the needs of using a large number of oval stickers or oval labels of small and medium businesses.
For individuals, this type of sticker is not a common choice, but you can consider the two sizes above as they are versatile to be pasted on any of your belongings, from flat to curved surfaces.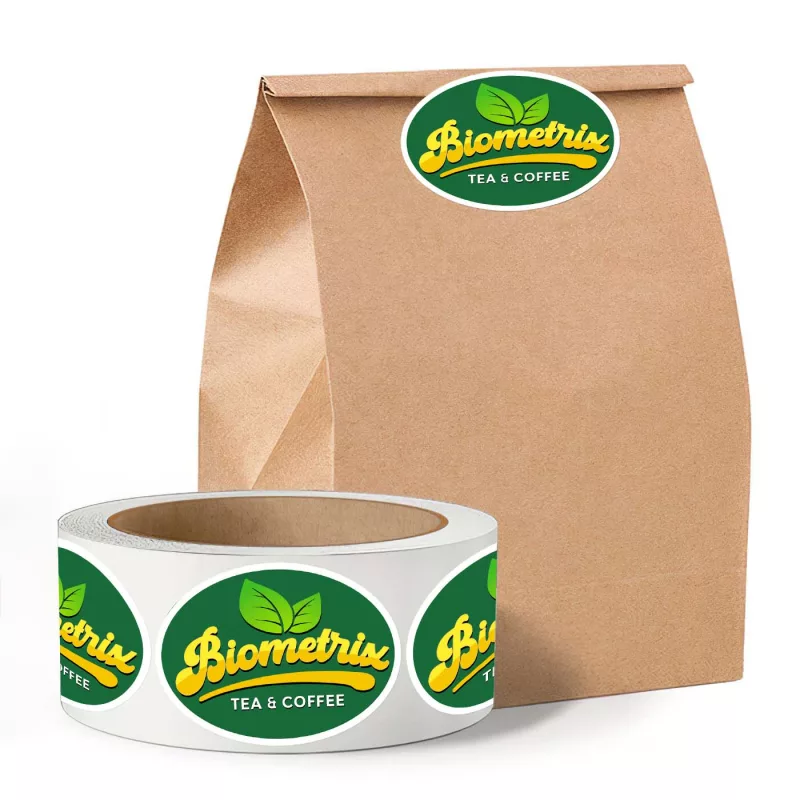 6. Good sticker sizes for bumper stickers
Bumper stickers are adhered to the bumper of cars, usually made of high quality vinyl so they are waterproof and can withstand weather elements. They are a type of rectangle sticker but are relatively larger in size than regular ones of the same shape. Bumper stickers are widely used for different purposes such as decoration, providing information or personality expression.
The best sticker size for a bumper sticker depends on what type and how big your car is. However, there is a standard size that fits most. So, what is the standard size of a bumper sticker? The feasible size for a bumper sticker is 11.5×3 inches (about 30×7.5 centimeter). This size is small enough to fit in half the rear of your car and big enough to showcase any details of your design. In addition, you can try other options such as 8×4 inches and 12×4 inches, as well as try rotating these sizes horizontally to find the most suitable and special application.
7. Custom stickers – which sizes are prefered?
Custom shape stickers that CustomAny provides you are cut to any shape that you want so they are called die-cut or kiss cut stickers. Actually there is not a preferred size for these types of stickers because of the variety of shapes they can be. However, based on statistics from hundreds of thousands orders shipped, customers love the rare custom sizes that almost only our website provides. They are super small (1×1 inch) and extra large (20×20 inch). If you are in need of stickers with such special sizes, visit our website immediately to order some custom die cut or kiss cut stickers with an easy upload and go process.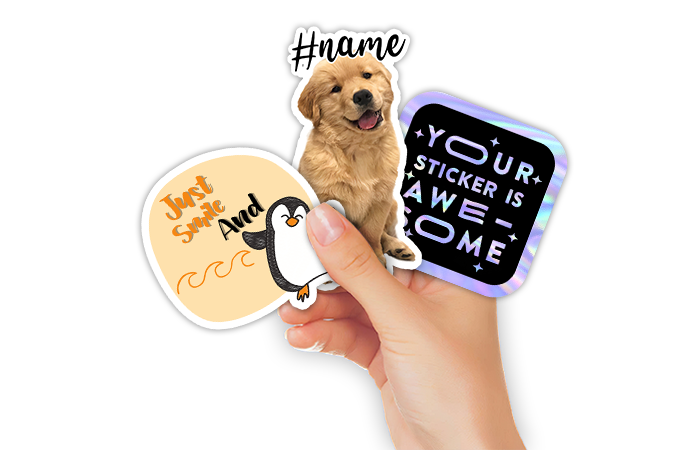 In this article, we rounded up a list of the best sticker sizes for 7 commonly used sticker types based on the choices of thousands of our customers. The key point to choose a good sticker size is conformity. We guarantee that the sizes we suggested above will do the best to make your sticker designs stand out and fit snugly over the place wherever they are applied.