You've seen a ton of stickers slapped to walls, doors, laptops and even cars. This technique called sticker bomb. Although there are cases sticker bomb is used to cover grungy old surfaces, it's mainly used to decorate personal items like cars, skateboards, helmets, or used as the way to express personal taste of art. To make a professional sticker bomb items, you have to put in a lot of effort. It's actually a form of art, so let's learn what it really is and how to become an sticker bombing artist.
All you need to know about sticker bomb
1. What is sticker bombing?
Sticker bomb is a way to cover a surface with as many stickers as possible to creat a new awesome look. This technique can be used on any kind of surface, from a flat surface such as a wall, door, laptop to a slightly curved surface like a helmet or hydro flask.
2. Why do sticker bomb?
Sticker bomb is sometimes known by 3 other names, these are also 3 names corresponding to 3 purposes sticker bomb is used for:
Sticker graffiti: This is a street art that uses stickers to cover walls in public. These sticker bombing walls represent artistic meanings, often created by street artists, just like graffiti. Besides, sticker bombing in a busy street is the perfect way to catch the eye of passers-by for social activities purpose.
Sticker slapping: This is named for the action of covering an old surface by stickers. Think of an easy way to renew your peeling helmet with the

trendiest stickers

.
Sticker art: Individuals use ticker bombing to personalize their belongings. For instance, covering a helmet, a laptop or a tumbler in stickers is a smart way to make them unique.
3. What should I Sticker bomb?
You are not an artist or a social activist? Your sticker bomb are simply for decoration and self-expression? So, yes, it is easy to divide things that you can apply this technique to into four groups.
Tech gadgets: Typical tech items for sticker bombing are laptops, mobilephones, earphone carrying cases, speakers, etc… One important note when applying stickers to these items is to avoid covering electrical inputs, speakers or sensitive hardware. If you own an expensive macbook or iPhone and don't want to sticker bomb directly on their surface, you can buy a case and slap your stickers on it.
Personal belongings: Your water bottles, skateboards, helmets or even your guitar can be easily sticker bombed as they are not so big and will not cost you too many stickers or too much effort to handle it.
Your vehicles: A person with a good taste of art can give their cars, motorcycles or bicycles a distinct and eye-catching look by sticker layers. However, if you are planning a sticker bomb for your personal vehicle, make sure that the local law allow it.
Household items: Actually you can sticker bomb all the items in your house, from small things like table lamps to bigger things like wardrobes, doors and dressers. However, a large surface will require a huge amount of stickers and sometimes the result is not as you expected because it looks overloaded.
4. What types of sticker can be used for sticker bombing?
In terms of materials, should we choose paper or vinyl stickers? Using vinyl stickers will ensure you the best results because they are much more vibrant and durable than paper stickers. As vinyl stickers are waterproof and weather-proof, they can be used for both indoor and outdoor. Paper stickers can probably used for sticker bombing but we recommend it for household items that rarely come into contact with water and chemicals.
In terms of shape, die cut stickers are the most preferred type because they emphasize all the unique lines of each sticker. All other common shapes of stickers such as circle, square, rectangle or oval can be used for sticker bombing. In fact, the top tip for making sticker bombing is to combine all these various shapes and sizes to make an eye-catching and standout result.
Another tip we want to share with you: use special sticker types as The Star of your artwork. For instance, placing hologram stickers and text stickers interspersed between common picture and photo stickers.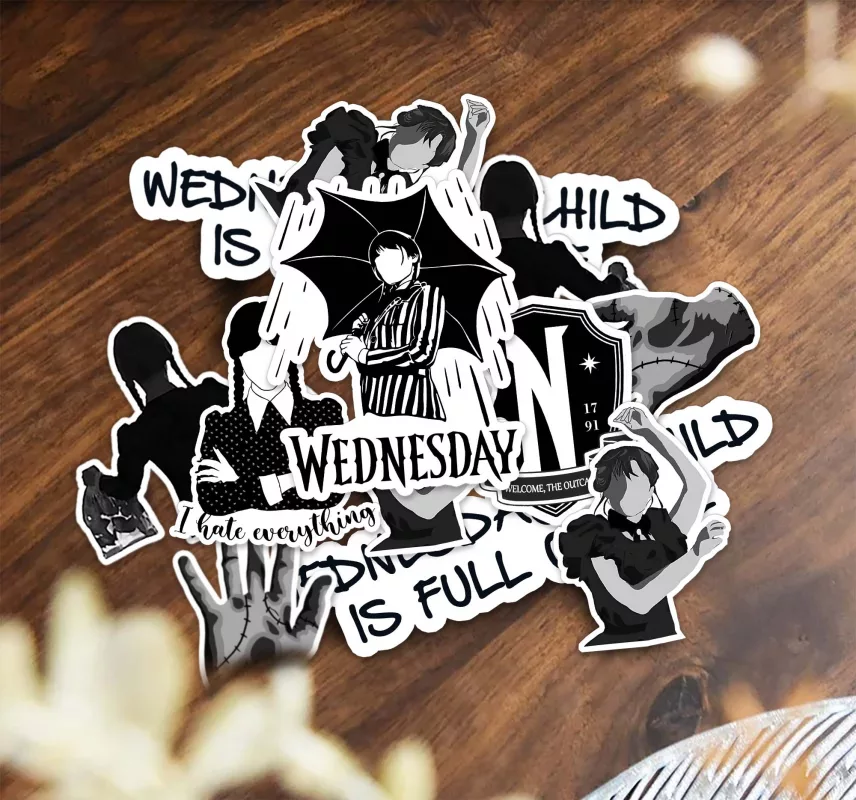 How to sticker bombing
Sticker bombing seems very easy and straight forward to do but in fact you need to follow specific steps to create the best work.
Step 1: Prepare the surface
Before starting, make sure that the surface that you will apply stickers to is clean and dry. You can use a damp cloth to wipe it off (sometimes with a specialized cleaner if you stick the sticker on a vehicle) and then wipe it with a dry cloth to ensure the best adhesion.
Step 2: Prepare your stickers
Prepare lots of stickers – a lot more than you think, because you will be applying at least 3 layers. You can use many different singular stickers or you can buy sticker packs and sticker books with the same theme.
Step 3: Arrange and apply stickers
In this step you need to divide all the stickers you have into 3 groups. We recommend sorting them into "the okay, the good and the awesome", or you can also sort them by their color, style or theme. Paste them one by one, from your least favorite stickers to the most love, on your chosen surface. Make sure at the end there is no bubble and gap in your work.
Step 4: Seal your sticker bomb
You can leave your sticker bomb completely bare, but the stickers may fade after time. For longer use, seal your sticker bomb with acrylic sealer or a coat of clear paint. Here's an important note for you, the artist: avoid touching the surface before these coatings are completely dry.
Now, after 4 simple steps you created a completely new look for your familiar belongings.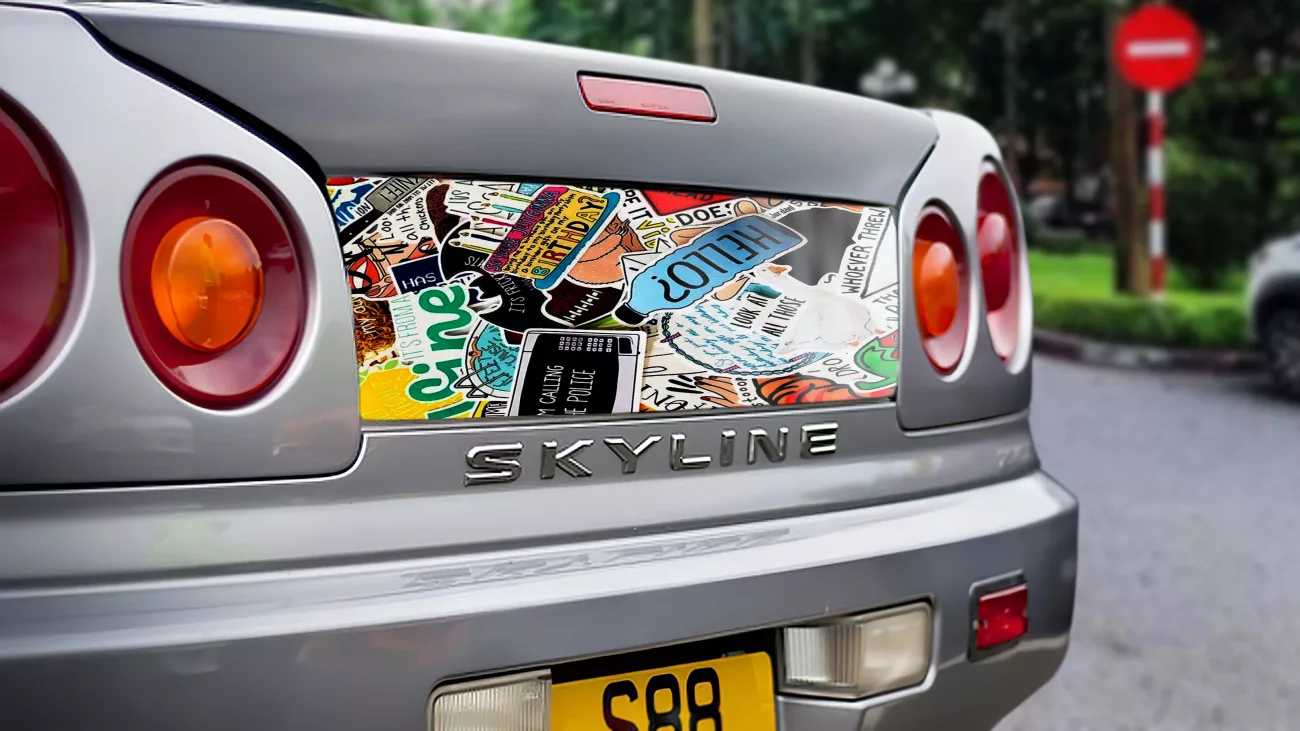 Sticker bomb FAQs
How do you keep a sticker bomb from peeling?
There are 3 tips to prevent your sticker layers from peeling off. First, choose high-quality stickers. Take it serious when choosing where to buy stickers for sticker bomb. Second, keep the surface clean and dry when you apply stickers on it. During the applying process, use a coin or a credit card to remove the air bubbles under the stickers. Third, to protect your sticker bomb, consider to seal it by a transparent coat as in step 4.
Do I need to clear coat a sticker bomb?
If you have used stickers made of good materials, creating a coat for the sticker bomb is not mandatory, but we recommend doing this to keep your art from peeling or fading after time.
Is sticker bombing illegal?
If you sticker bomb on public items not owned by you or against the will of the owner, that action is considered illegal. For personal items like water bottles, helmets, laptops, you can slap as many stickers as you like. However, when sticker bomb on vehicles such as motorbikes or cars, check the local law first. Stickers sticking on a car should be avoided on the front, rear, and side windows for clear observation for the drive. Additionally, whether or not the law allows it, when sticker bomb on vehicles, you need to avoid using offensive or inciting content stickers, or stickers that distracts traffic participants.
Where to buy stickers for sticker bombing
You can easily get stickers at stationery stores or e-commerce platforms. They provide a variety of stickers in a large number that are suitable for the purpose of sticker bombing. Choosing singular stickers, or sticker sheets and sticker books in the same theme are good options.
If you want to get high-quality stickers, or want to use your own unique design for sticker bombing, why don't give print on demand stickers a try? We at CustomAny provide you with a wide variety of stickers, from common shapes such as circle stickers, square stickers, oval stickers, to special kinds like die-cut stickers, hologram and clear stickers. All that suits your sticker needs. Bulk ordering of stickers from us is a cost effective option which also guarantees you a great sticker bomb.
With the information we have provided above, you must have been extremely excited to create your sticker bomb. Please follow the steps and be careful when applying to get the best results.