Have you been looking for some custom stickers, but perhaps you are still a bit confused because you do not understand some specialized terms, for example, what are die cut stickers?
Do you feel bewildered? Don't worry, we are here to explain that problem to you. This short article tells you exactly what a die cut sticker is, what makes it stand out from regular types and how individuals and businesses can use them to fulfill their sticker needs.
What are die cut stickers?
"Die cut" simply means that it is cut around the shape of your print file. The term "die-cut" or "die cutting" comes from an old cutting technique that uses pre-made metal dies. Thin strips of sharp metal are formed into the desired shape for mold making. Then low-strength materials such as rubber, foil, cloth, plastic, paper will be precisely cut to the specification using this metal mold.
Historically, die-cut stickers are also created this way. However, suppliers using this old method often charge extra for pre-ordered shapes because they need to made a new mold for any shape that you want your sticker to cut into. Most of the printing industry today is using digitally controlled knives and lasers to cut custom stickers at high speed that can reach 50 meters per minute! To save your time and money when ordering die cut or any other shaped stickers, choose a supplier that uses morden cut technology.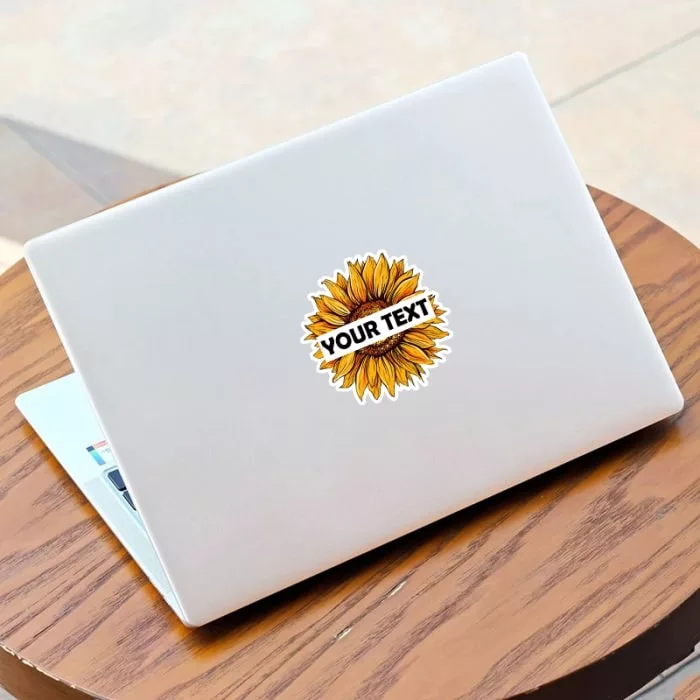 Die cut stickers vs. regular stickers
Differ from regular stickers that have uniform shapes (circle, rectangle or square stickers) — die-cut stickers have a unique shape that works to further highlight the design elements of the sticker itself. They will be cut around the edge of the design, through both the sticker and the paper, so a better name for this type would be "custom shaped stickers". If you still find it hard to imagine, have a look on die-cut Wednesday Addams stickers below.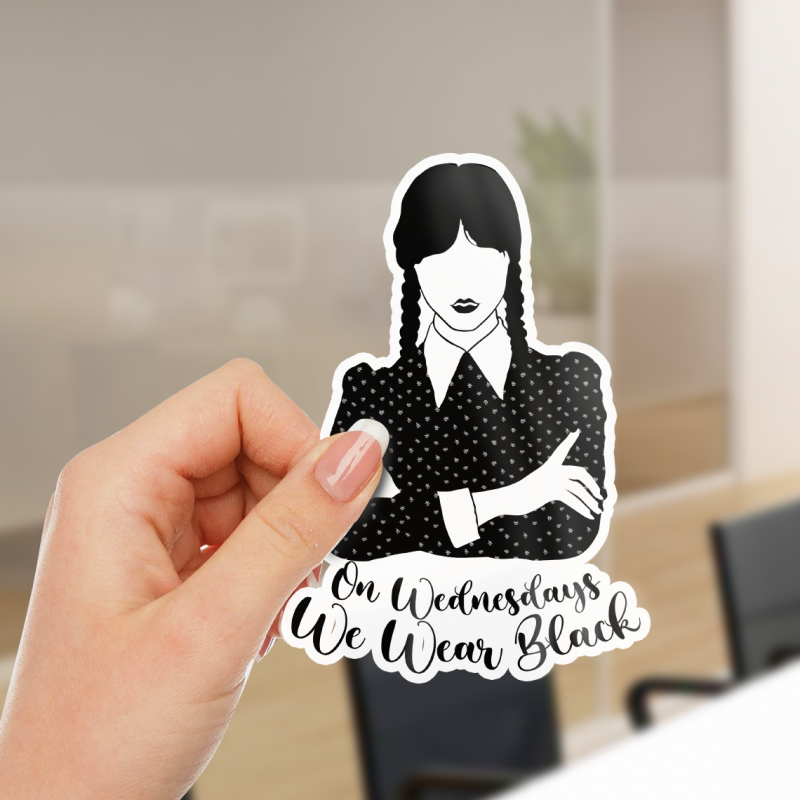 If you have a beautiful design but you still wonder between die-cut stickers or regular ones, we have a few guidelines that will help.
| | | |
| --- | --- | --- |
| Features | Die cut stickers | Regular stickers |
| Shape | Custom shaped | Uniform shaped |
| | Personalized outline | Fixed outline |
| | Less empty white space surrounding the design | More empty white space surrounding the design |
| | Make the stickers more unique, memorable, standout | |
| Cost | Requires more complicated cutting process, higher cost | Less complicated cutting process, lower cost |
| Suitable for | Getting more attention on your design | Small design |
| | Giveaways, advertising | Internal business purposes |
Die cut stickers vs. regular stickers
Common uses for die cut stickers
Now you got that a die cut sticker can help you stand out from the crowd by giving you an individual appearance, we are here to give you some suggestions for die-cut sticker uses. These are the most favorite applications statistic from hundreds of CustomAny's customers:
Brand logos
Food and beverage labels
Giveaways at job fairs, sport days or shows
Custom stickers for retail
Laptop, tumbler or

bumper stickers
Want to turn your idea into real die cut stickes? If you are still wondering about finding the perfect size and unit for your design, CustomAny is happy to announce that we are now offer custom size and quantity for die cut stickers with quick secure delivery in the USA! We've got your back so feel free to order custom sticker to promote your event, idea, art, business, and more.