Hey you, we know your intention. This spooky season, all you want is to be That House, right? The one that all the kids praised year-after-year for having the funniest and craziest Halloween treat bags.
To do so, you have 2 steps. Step one: Stop tossing single pieces of candy into trick-or-treaters' buckets when they ring your front door bell. Step two: Let us introduce you 25+ DIY Halloween treat bag ideas that are gonna be lit! To make it easier for you to pick out the bests, we sorted treat bag ideas by shape and material, rounded up 25+ most delightful ones and at the end gave you handy tips for much more creative Halloween treat bag craft. Now let's 'tis the season to get crafty!
9 as-easy-as-pie Homemade Halloween Treat Bag Ideas
These Halloween favors list starts with bags. Turn paper, groceries bags, cups, or even toilet paper rolls into funny cute bats, spooky ghots or pumpkin-shaped treat bags. Most of these ideas are simple to cut out freehand, some are recycling from easy-found around your house and some are printable designs that requires a little more effort.
1. Paper treat bags
Paper Halloween trick or treat bags – old but gold. Using just a piece of paper and a little bit skill in crafting, you can turn your bags into the shape of any Halloween figures. Simply add a bit more detail to the bags: draw stitches to your Green Frankenstein, paste wings on your black matte bats, decorated your ghosts with googly eyes and even tongues.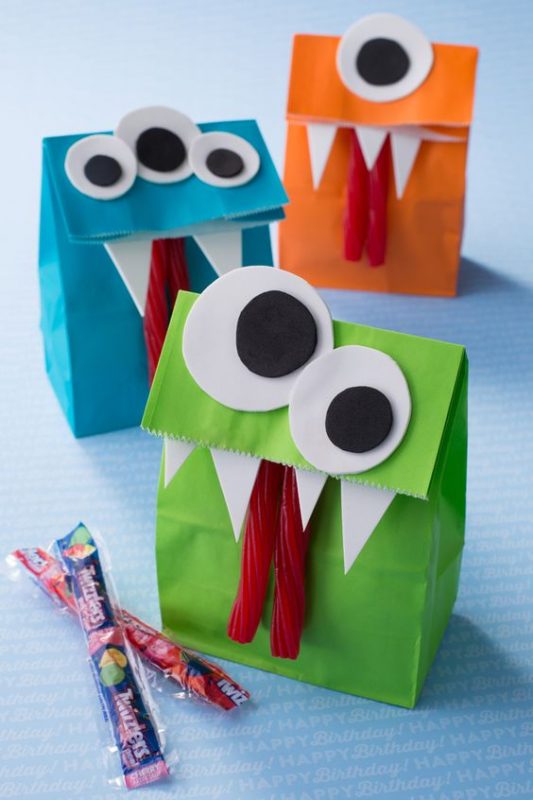 2. Witch broom bags
Halloween is nothing but witching season, so make your own broom candy bag! Sent guests home with a wicked broom that doubles the fun. Here is a detailed tutorial that will help.
3. Hanging bat bags
This idea can be the easiest: there's no need to buy anthing because you already have the materials at home. Recycle your toilet paper rolls to make this cute bat bag. And the best part? Hanging them at the front door to surprises your little guests when they arrived. Come and get the tutorials at Skip to my Lou.
4. Goody bags with stickers
Add as many stickers as you want to a plain paper bag, and boom! Your trick-or-treat bag idea is one of a kind! Check out some fun and cute stickers for Halloween decor from CustomAny.
5. Halloween coloring bags
Another creative idea for your Halloween treat bag craft is to design them as "a coloring book". Print black outlines of a Halloween decorations on white textile or paper bags, kiddos would love to receive candies and color on the bag at the same time!
6. Drawing brown paper bags
If you are passionate about drawing, why don't you draw and write the designs and text by hand? You can get some brown paper bags very cheap from a local grocery store and create some cute Halloween treat bags on your own. This type of bag will be the best result achieved with minimum budget.
7. Printable tote bags
Printed Halloween tote bag is easy to find on any market or e-commerce platform. However, if you want to get a little more personalized, go for a print-on-demand seller on Amazon or Etsy, we sure you'll find the trendiest designs there.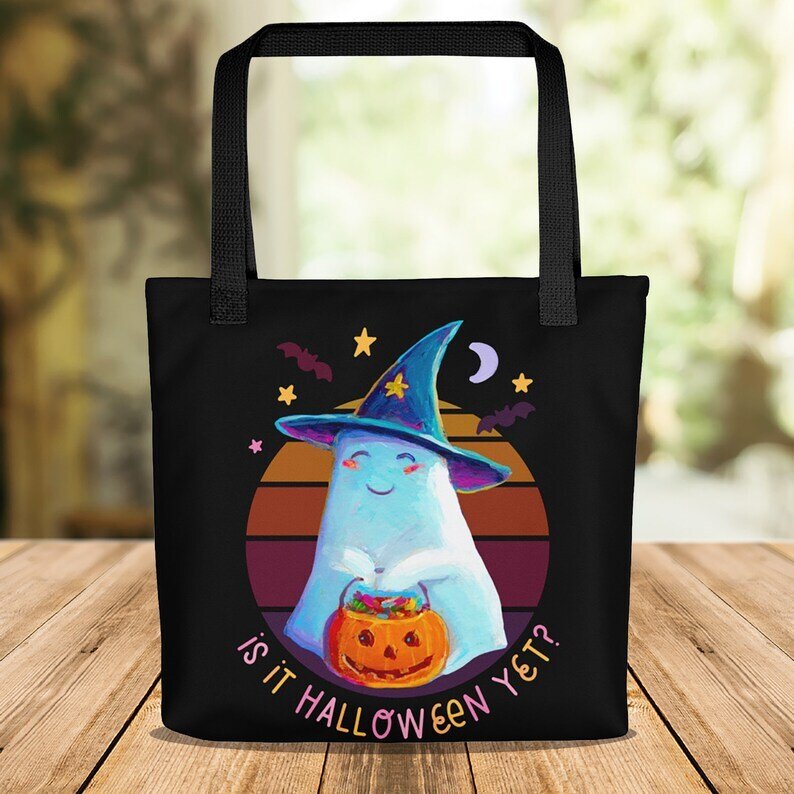 8. Duct tape bag
Use eerie-sistible bags lined with duct tape for a lasting Halloween treat bag. For an even spookier touch, try glow in the dark duct tape.
9. Crochet bag
If crocheting is one of your hobbies, why don't show off your pro skills with this candy corn trick-or-treat bag. Here's a tutorial from All Free Crochet that's simple enough even for beginners to follow along. The adorable finished crochet bag is perfect for all the Halloween festivities.
6 Delightful Halloween Trick or Treat Box Ideas
Here's other boo-tiful options to decorate your treat box. Fill them up with favorite goodies to hand out to trick-or-treaters this spooky season.
1. Candy corn box
Inspired by the most loved Halloween sweets – candy corns, this type of trick-or-treat box need to be painted in 3 signature colors: white, orange and yellow. However it can be in any shape you like. Here's some suggestion from Moms and Crafters: a stripe pillow box, a tri-color paper box, and a triangle box that look like an actual candy corn.
2. Printable coffin box
Look at this coffin box – this idea is a hit! Made of paperboard with Halloween designs printed on, they're sturdy, functional, and spooky!
3. Printable matchbox
Give matchbox a try! You can craft it yourself or download printable template for free from persialou.com. These treat boxes are the perfect size for stashing spook-tacular sweets, sure to delight trick-or-treaters.
4. Window candy box
Meets the perfect container for colorful candies or festive goodies. This cute window detail provides a sneak peek into the sweets packed inside.
5. Popcorn box
Reuse paper popcorn box to carry your treats is a great eco-friendly package idea. Think about filling it up with homemade white chocolate-pretzel popcorn mix by a super easy recipe right here.
6. Pumpkin pouch box
Made of orange and green tissue paper, these pumpkin pouch goodies bags bring the creativity this Halloween season. Kids will love tearing them off to find what treats nestled inside. Get tutorials from Canary Street Crafts.
9 Unique Ideas for Halloween sweets containers
When thinking about Halloween treat bags, it's not only about "bags" but about many other special types you can use to fill in with festive sweets, such as glass tubes, hand gloves or even dried gourd baskets.
1. Paper or plastic cup
Try to draw on your drink cups to create these pumpkin, bat, and Frankenstein designs that no one else have. Make an extra carrying handle, it surprisingly turn into a unique lartern that levels up your child's Halloween costume.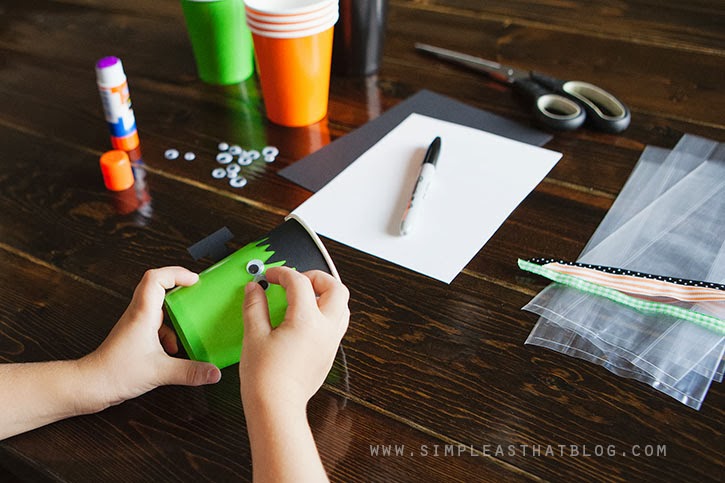 2. Paper holder
Shape your piece of paper into a black bat, add eyes, mouth and fangs for it to look more realistic. Cut 2 parallel lines on its body and put the candy bag inside. This one is a simple but cute way to hold candy.
3. Paper popper
Buy a few stacks of paper in Halloween features, cut them into sized pieces to wrap your candies. These tube-shaped poppers can fit all types of your Halloween sweets.
4. Flavor jars
Glass jars make an affordable but great choice for party favors. To make a cute ghost, fill it with white candies or try orange ones to creat a pumpkin.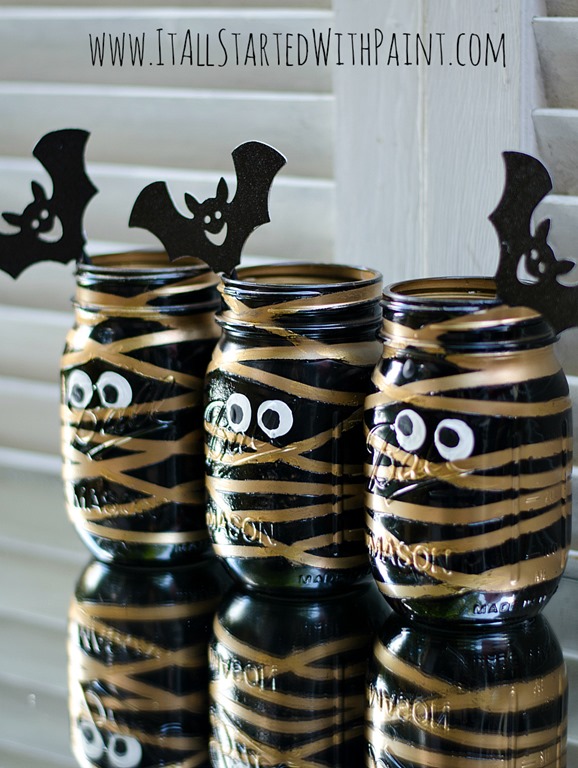 5. Halloween candy cans
Recycle tin cans by wrapping them in cheesecloth, make them into cute little mummies. No little kids can refuse such a great Halloween party favor or surprise. Get tutorial from hgtv.com.
6. Candy tube
You can see these clear tubes at any parties because they are super adorable. Just fill them with candies or gumballs and top with a printed Halloween tag.
7. Hand gloves bags
Fill a clear hand glove with candies and decorate with red paint splatter on the outside for a creepy and quick Halloween candy holder. How brilliant!
8. Dried Gourd Basket
Are you looking for a eco-friendly trick-or-treating option this season? Try this creative basket made from a dried gourd! Add a gold leaf to level up this Halloween item.
9. Witch hat origami
If you are not really a fan of spooky Halloween stuff, try a cute origami craft. Here's is Your DIY Family's tutorial for making mini witches hats that would hold a few small treats.
3 Eye-catching Printable Ideas for Halloween treat bags
Still feel like missing out of something unique? Try CustomAny's personalized Halloween treat bag labels! Not only traditional circle label to stick on trick-or-treat bags, you can be more creative with square, oval, or rectangle label as a topper. You can even use die-cut or kisscut sticker as a treat bag tag – any shape and patterns you want. Simply stick them on paperboard, cut out, hole punch and add to your treat bags. Here are some ideas you can do with our Halloween labels and stickers.
1. Halloween treat bag clips
Have you ever thought about turn wooden clothespins into cute Halloween bag clips? Order some Halloween stickers and attach to your clothespin with double-sided tape. Die-cut stickers are the best choice for this idea.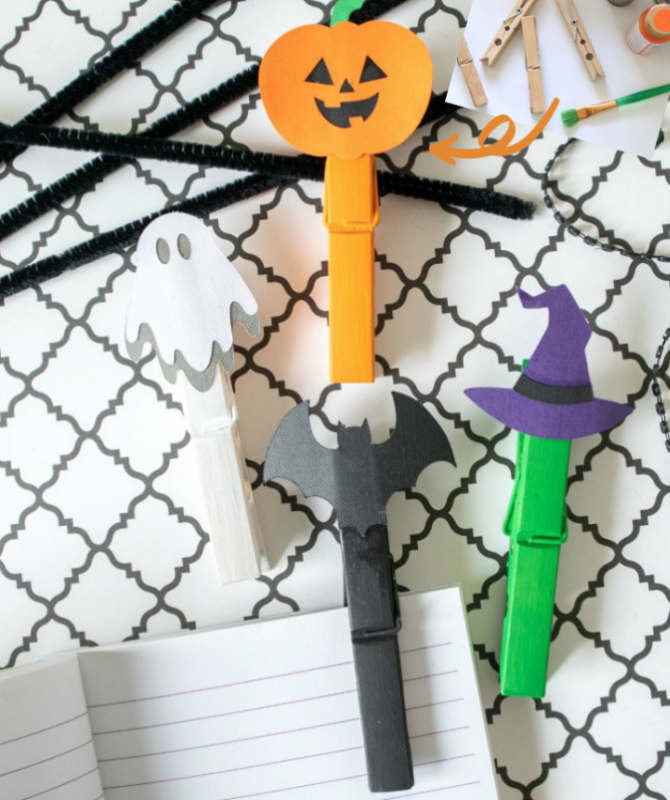 2. Printable Halloween treat bag toppers
'Tis the season to be fun! For easy festive look, try treat bag toppers that can esily made from rectangle or square stickers. If you are still confused about designs, checkout some printable template below.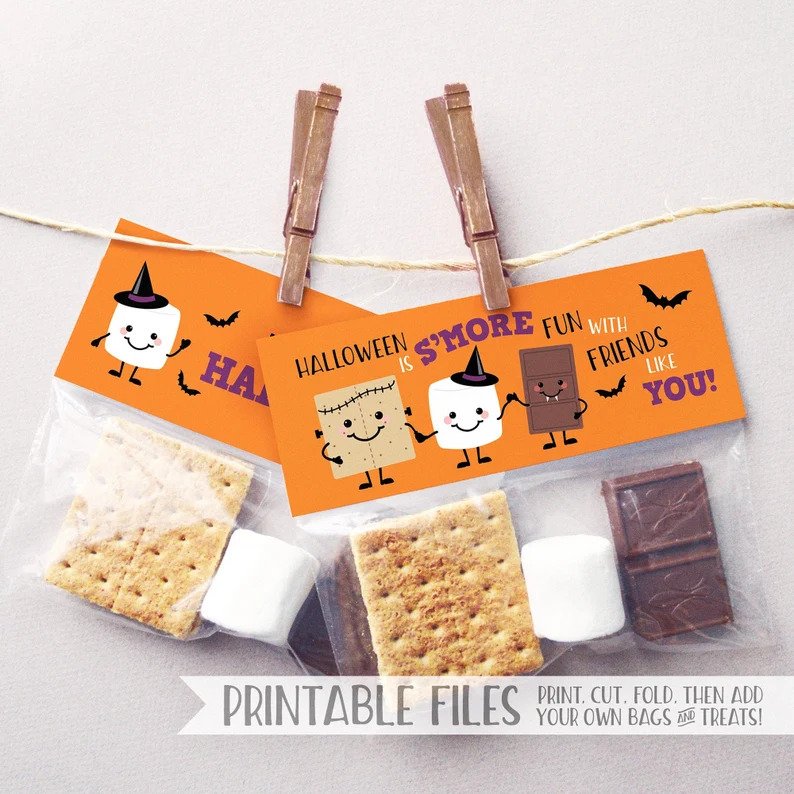 3. Printable Halloween treat bag tags
Want to personalized your treat bags? Attach Halloween name labels to your bag tag and don't forget to write some funny notes on them.
Well, you can do craft all year long, but there's something special about making festive craft for Halloween. So if you're feeling extra creative this Autumn, what's else to wait? Go ahead, choose some from 25+ DIY Halloween treat bags ideas above and ready to bring smiles on children's faces!