No matter how large or small, any company relies heavily on effective product labeling to attract customers and grow its business. When designing a label for your product, you have many options in terms of materials. And you can feel overwhelmed by the massive amount of options. Therefore, we will provide a material that meets most company demands for custom labels. It is BOPP. In many cases, a well-designed BOPP is all it takes to persuade customers to purchase. In the following article, let's learn more about BOPP, its many uses, and why you should use it for your labels. We hope you will give BOPP labels some serious thought for your company branding.
What is BOPP?
BOPP meaning
"BOPP" refers to biaxially oriented polypropylene. It is a subtype of the material known as polypropylene (PP). Polypropylenes a thermoplastic polymer. It is a smooth, printable surface. Basically, BOPP is just flattened polypropylene. BOPP is stretched in both directions by an orientation mechanism. This is why BOPP is abbreviated as "biaxially-oriented" (BO).
What printing product can you use BOPP for?
The BOPP is one of the most produced synthetic plastics in the world. It has fantastic performance features at a low production cost. They can be printed on easily, are impervious to liquids and chemicals, and come in either a transparent or opaque form. That's why BOPP packaging, labels, and stickers are widely applications of this material.
All you need to know about BOPP labels
Types of BOPP labels
White BOPP
White BOPP labels are the most popular type of BOPP. They are non-toxic, exceedingly durable, and resistant to moisture. As its adhesiveness is persistent and robust, it may be used on various substrates. White BOPP material is preferred by health, cosmetics, and personal care goods suppliers for their labels. Besides, white BOPP is often seen on food labels.
Clear BOPP
The material used for clear BOPP labels is not only long-lasting and resistant to moisture but also has the added advantage of being almost invisible. Clear BOPP gives the impression that there is no label when applied, allowing the product to take center stage. Glass bottles and other dark containers may well be sealed with clear BOPP. Also, this label is popular in the wine and cosmetics industries.
Benefit of BOPP labels
1. Durable
Labels made with BOPP are intended to survive throughout your product's shelf life. After a long time used, the paper label will have faded significantly. However, the BOPP label will retain its like-new appearance. This is because polypropylene film is resistant to various environmental factors, including moisture, acids, chemicals, and stains. BOPP is not readily damaged by punishments that would completely ruin a paper label. It will maintain your product's perfect appearance for its entire lifespan.
2. Works well for various products
BOPP labels are suitable to apply on almost every kind of goods. They are the best option for use in almost every situation. Some examples you can utilize BOPP labels are:
Food items. Stain and acid resistance are two additional benefits of BOPP labels. Additionally, they are unaffected by the humidity and temperature changes that occur when kept in a fridge.
Products for cleaning and beauty that use basic acids, bases, or solvents.
All products that will be handled several times, stored under varying temperatures, or exposed to the elements.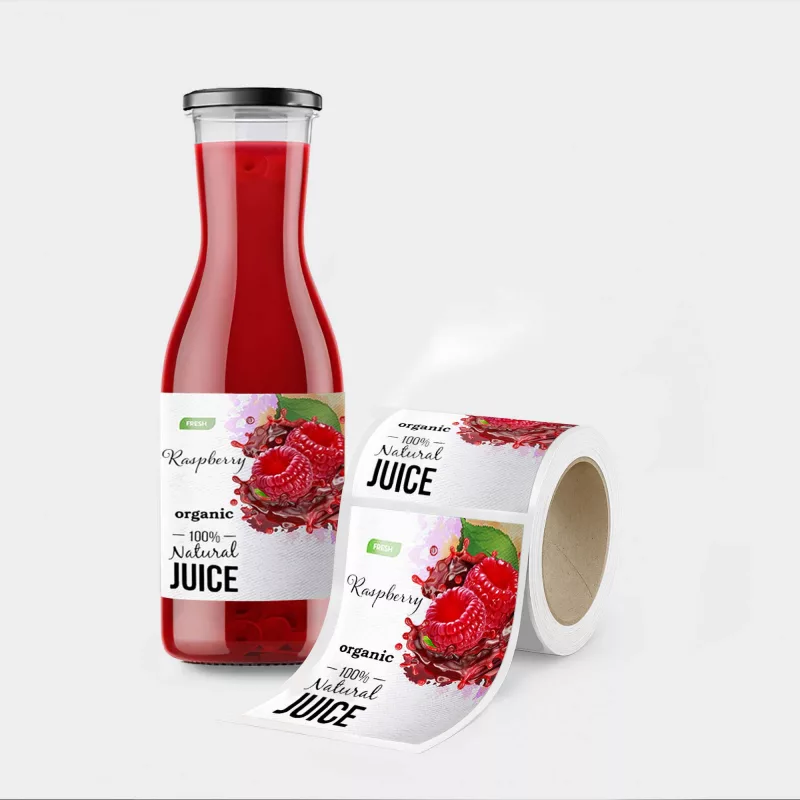 3. Has gorgeous design
By using BOPP, your product will have a more professional appearance, whether it is being sold online or in a store. This is due to the natural process of printing. Common paper labels may absorb ink throughout the printing process, but this can make the final output seem flat and dull. However, when printed on BOPP, the picture maintains its sharpness. The reason is: polypropylene film doesn't let anything through. Instead, the printing is kept on the label's surface. Thus, BOPP labels seem more vivid and clear than paper labels. This makes your product more visually appealing to buyers.
4. Eco-friendly
In comparison to other plastic substrates, like polyester, BOPP plastic films have a small carbon impact. Its low melting point means it may be transformed into another state with little effort. In addition, BOPP labels, as previously mentioned, are very resilient and may be used for years. They may also be recycled and used again, making them a sustainable resource.
Why BOPP is great for product labels
BOPP vs Paper labels
BOPP labels and BOPP stickers can withstand oils, chemicals, and moisture better than paper ones can. Likewise, plastic lasts longer and can withstand greater pressure than paper. As a result, a BOPP label is more durable than a paper label in terms of withstanding tears and scratches. However, being plastic, BOPP tends to have a glossy appearance that might be unappealing to some consumers and designers. Paper labels may be more to your liking if you prefer a more "matte" appearance. However, it's important to keep in mind that paper labels won't survive nearly as long and won't be very useful in most situations.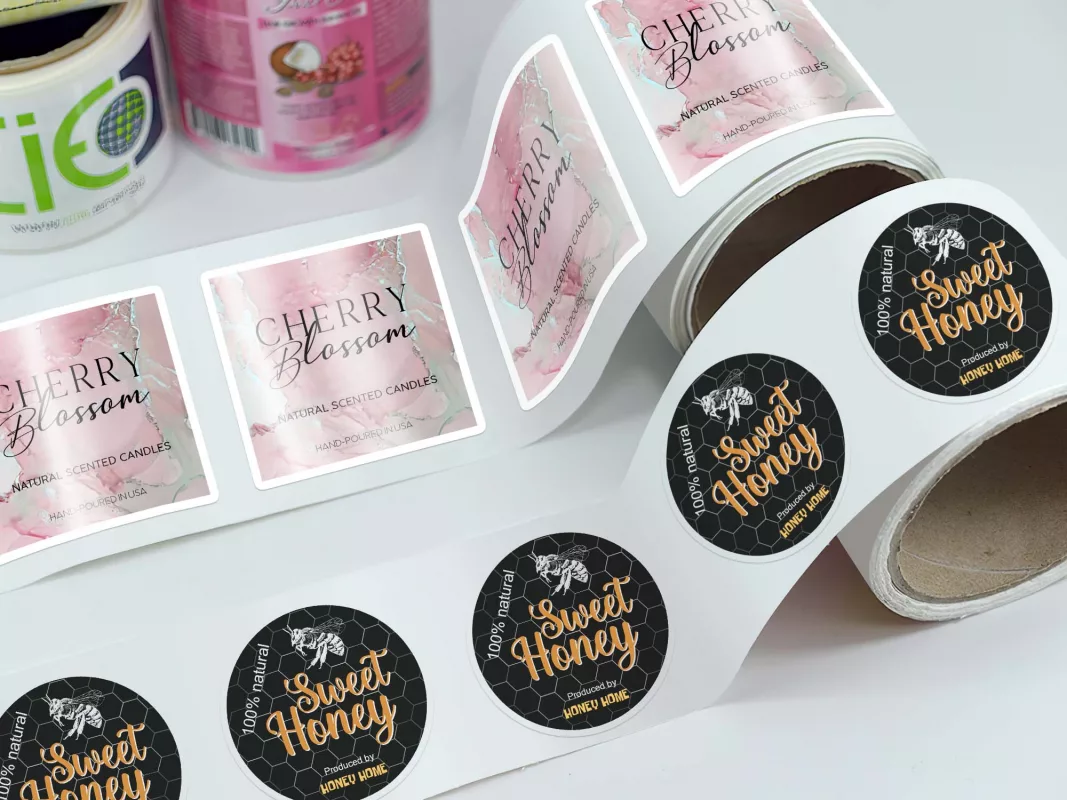 Polypropylene vs vinyl labels
Vinyl works well as a flooring material and house siding. However, it may not a good option for labeling purposes. It is more costly than BOPP, doesn't stick well, has a bad smell, and is too thick for most inserts.
BOPP labels are comprised of a thin, plastic film that is designed to endure and is particularly for use as product labels. As an alternative to vinyl, it offers durability without the latter material's disadvantages. BOPP also prints better, sticks better, and comes at a reasonable price.
Reasons why BOPP is great option for labels
An excellent material for printing
When it comes to printing, BOPP is the way to go. It's compatible with a wide variety of ink types. It is possible to print labels made of BOPP material with either ink based on water or ink based on solvents. Especially, BOPP will often include a topcoat that helps the ink stay fixed on the film's surface.
Resistant to water, chemicals, and UV rays
The BOPP is almost resilient. The fact that it resists both oil and water makes it ideal for being items in the kitchen and the bathroom.
BOPP is also useful for medication and cosmetic labels because of its resistance to almost all chemicals, from solvents and bleaches to disinfectants.
Moreover, it is resistant to the damaging effects of ultraviolet radiation, making it suitable for printing labels, graphics, and other such items.
Whether it's for indoor or outdoor usage, BOPP film is a great option.
Can come transparent or opaque
BOPP's high transparency makes it an excellent choice for labels that need to be seen through. However, you can also purchase the BOPP labels in an opaque form. To that end, there are wide varieties of BOPP labels, including both clear and colorful varieties.
Where to get BOPP labels?
Because of the popularity and convenience of BOPP labels, there are now many places that sell them. Globally, these stickers are available both online and in local stores. CustomAny also offers you the best BOPP labels. We guarantee to provide you with products with diverse, durable designs at affordable prices. In particular, we provide you with door-to-door delivery service, and fast shipping at the cheapest cost.
Conclusion
We're certain that BOPP labels will successfully integrate into your current labeling procedure. In comparison to paper and other plastic labels, BOPP labels offer many benefits, including being recyclable, non-toxic, and long-lasting. Proper usage of them is definitely helpful to a company's brand promotion efforts, making the investment of the products worthwhile. To ensure your goods stand out in the market, consider using our high-quality labels. We at CustomAny want to become your go-to BOPP labeling partner and are glad to have the opportunity to give you immediate goods.