In the previous article, we've talked about 15 thoughtful ideas for Christmas care packages that truly make your loved ones smile. But you know, sometimes it's not just about what's inside the package; it's also about how you present it. After all, the way you do the Christmas package decorations plays an important role in making it unforgettable.
Finding your Christmas gift wrap ideas is a task of creativity and there are times you don't know what to do. Knowing that problem, we're here to help. Here we've wrapped up 26 creative and inspiring ideas to make your Christmas package decorations a breeze.
What else are you waiting for? Let's learn how to transform your plain parcels into special festive Christmas packages!
Choose wrapping paper for your Christmas package decorations
Firstly, let's start your Christmas package decorations by covering it with creative wrapping paper. These are 9 types of wrapping paper you can try:
1. Craft Paper
Craft paper is a rustic Christmas wrapping paper for any Christmas care package. This paper can be easily purchased and it offers a large surface for your creative customization. You can enhance it with your hand drawings, custom Christmas stickers or even holiday embellishments that you usually use for your house or on your Christmas tree.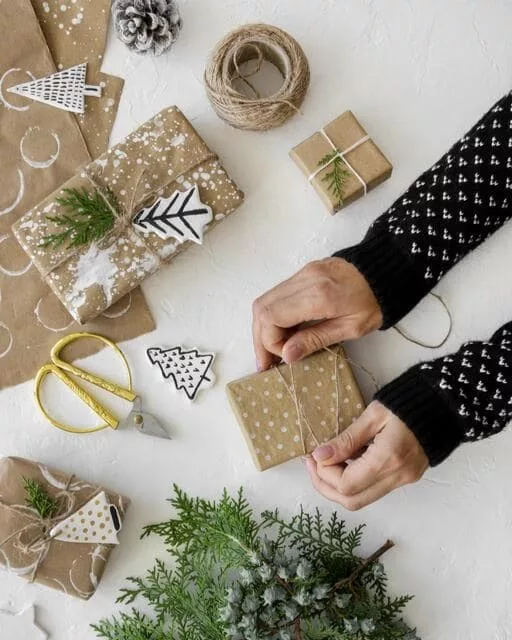 2. Plaid Patterns
If you are interested in a classic look, consider plaid patterns. These iconic prints of Christmas are perfect to be added to your Christmas package decorations. You should opt for traditional red and green plaid, modern red and white, a mix of red, white and black, or just play with different shades of green presents. No matter the hues or shades, using plaid wrapping paper always creates a festive atmosphere, which is perfect for your thoughtful Christmas package.
3. Book Page Wrapping Paper
One of the unique and creative wrapping ideas we want to share with you is using the book page to wrap your care package. You can choose pages from one of your own classic novels or buy vintage novel-like wrapping paper with text printed on it to wrap your gift.
4. Road Map Wrapping
Just like the idea mentioned above, this idea will make your Christmas package decorations a unique one. Road map wrapping paper is just the perfect thing if your recipient loves adventures. Packages covered in these map sheets will evoke a sense of wanderlust and curiosity.
You'd better choose the specific road map of the destination your recipients always want to reach.
5. Sheet music
For music lovers, what else is more special than a Christmas care package wrap in a music sheet of their favorite song. Tips for you: choose the paper color that matches with the music type, for example, opt for vintage yellow paper if the person you are giving the gifts to likes jazz.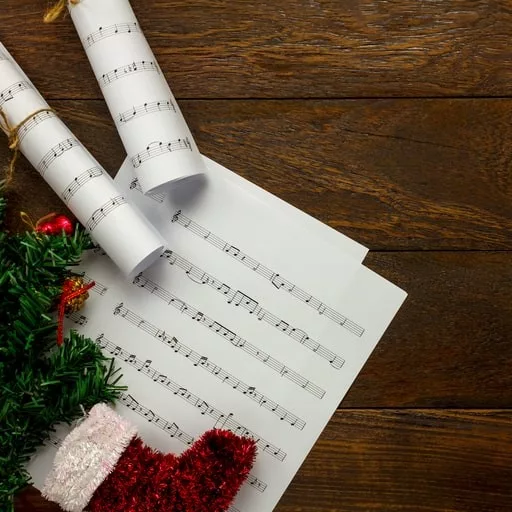 6. Vintage game boards and pieces
Repurposing old game boards and pieces with your Christmas package decorations. It's perfect for someone who enjoys board games and a touch of memories because after unwrapping their gift, they can use these papers to play their childhood game once again.
7. Christmas Light Wrapping Paper
Illuminate the holiday spirit with Christmas light wrapping paper. This cheerful option incorporates colorful string lights, capturing the joy of holiday decorating.
8. Word Puzzle Wrapping Paper
It's another idea for Christmas gift decorations that recipients can reuse. Word puzzle paper is one of the creative ways to wrap a gift, especially for those who enjoy a good crossword or word search.
You can enhance the excitement of unwrapping this package by revealing to the recipients that if they solve the word puzzle on the paper, they'll know the mystery of their gift.
9. Personalized Wrapping paper
Another interesting way to start your Christmas package decorations is using personalized wrapping paper. You can make the unique paper by printing the recipient nickname on it, or place photo stickers that feature their funny expressions. Use transfer stickers to add a name or a special text message to the one you give the gift to, or die-cut stickers printed with a cherished photo of you two.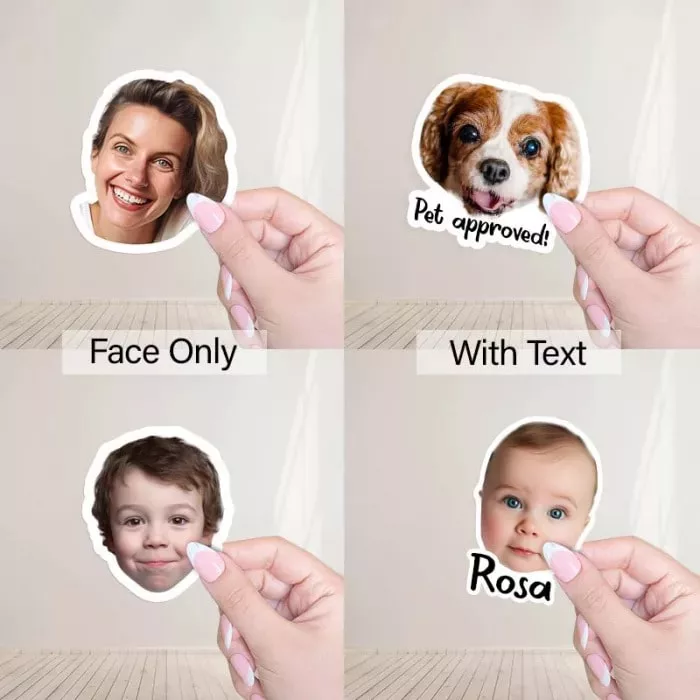 Tie ideas for your Christmas package decorations
Now, with the options for wrapping paper you just got, let's move to step 2: tie your package. Here we have some gift ribbon ideas for you:
10. Colorful Ribbons
When it comes to adding an element of holiday cheer, nothing better than colorful ribbons. You should opt for festive colors like red and green to make your package stand out. For those who love elegance, you should use sparkling glitter ribbons in gold or silver.
11. Combine Tapes in different colors
Colorful tapes will be an easy-to-do solution for you. Buy some washi tapes or custom packaging tapes in different colors and sizes, then place it on your Christmas package, one after another to make a mixing ribbon.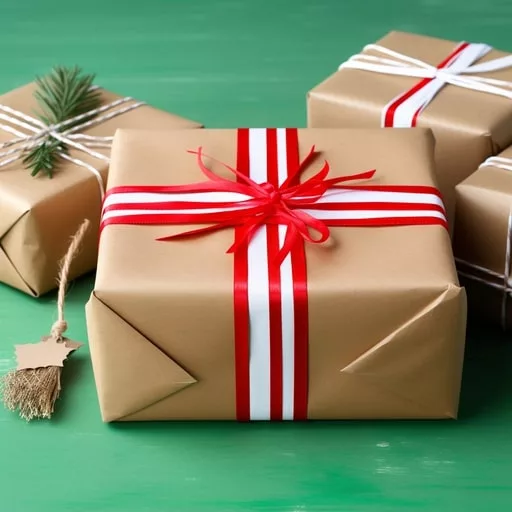 12. Christmas Light string
It will be a magical touch to tie your package with the warm shine of a mini Christmas light string. Make sure you buy a battery-powered light string because your portable package cannot be plugged into an electrical outlet when delivered to your loved one.
13. Ball Ornament String
Just like the Christmas light string, add a festive atmosphere to your Christmas package decorations with tiny hanging ball ornaments. Choosing balls of different colors or decorating the plain ones with transfer stickers is also an easy way to make your package more charming.
14. Poinsettia Flower
Poinsettia flowers are the timeless and impressive art of tying a gift bow. This classic craft requires a little more effort and talent, so if you are new to this art, search for a step-by-step guide to do it.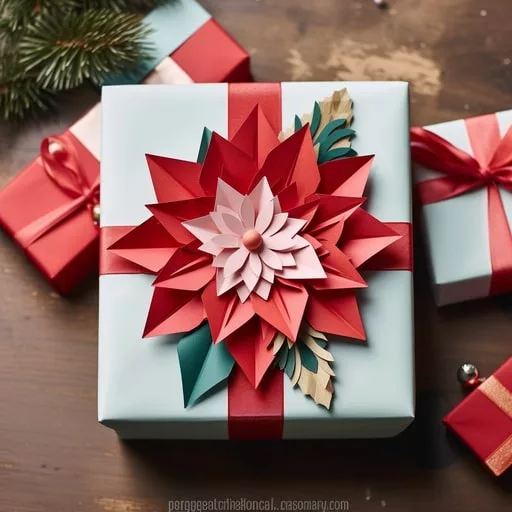 15. Yarn Wrapping Idea
How about yarn? With this idea, you can let your creativity run wild and create any shape you can imagine. Think about a green Christmas tree, or a garland, or stars in festive colors red and white.
Creative toppers and tags – Complete your Christmas package decorations
Your Christmas package decorations may not be a perfect gift to send if they don't have any unique tags with them. Give our creative ideas for toppers and tags a try in this finishing step.
16. Mini Christmas Tree
Go big by going small. A mini gift tag featuring a Christmas tree makes Christmas package decorations delightful. You can combine the main Christmas tree gift tag with other tiny ornaments for extra fun.
17. DIY Christmas Wreath
A DIY gift topper of festive wreaths will embellish your Christmas gift box decoration ideas. We recommend using natural materials such as evergreen branches and dried flowers to make these wreaths.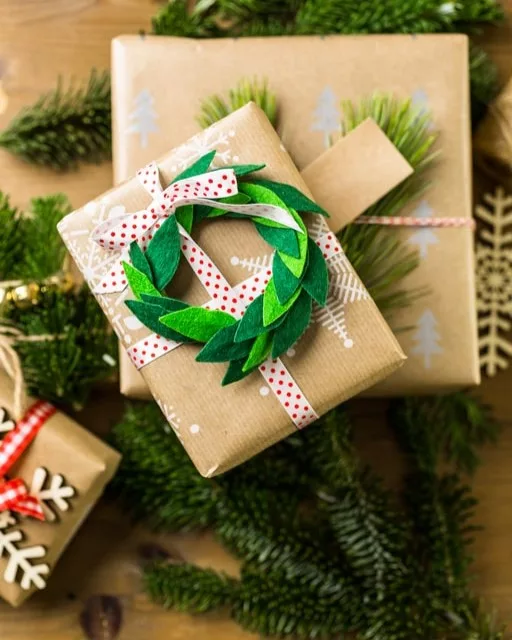 18. DIY Rudolph cute face
Make your package a cute and merry gift by adding a topper featuring DIY Rudolph – the Santa's red nose reindeer. Craft a reindeer face from felt, add googly eyes, and finish it off with a shiny red nose cotton ball. This decoration will put a smile on anyone who receives your care package.
19. Candy Cane Topper
Sweeten up your gifts with a candy cane topper. This fun Christmas package decorations topper is an ideal choice for those with a sweet tooth.
20. Pine sprigs and cones
Using pine sprigs and cones as toppers is a common choice for Christmas care package decorations. Look for perfect-shaped sprigs and cones to mount to your gift box, add some thin macrame ropes to perfect this rustic look.
21. Gingerbread Gift Tags
If you choose gingerbread-shaped gift tags, they can serve as both package decorations and Christmas tree ornaments after unwrapping the gift. Buy gingerbread-shaped gift tags made of wood, plastic, paper, or you can DIY with paperboard and custom stickers.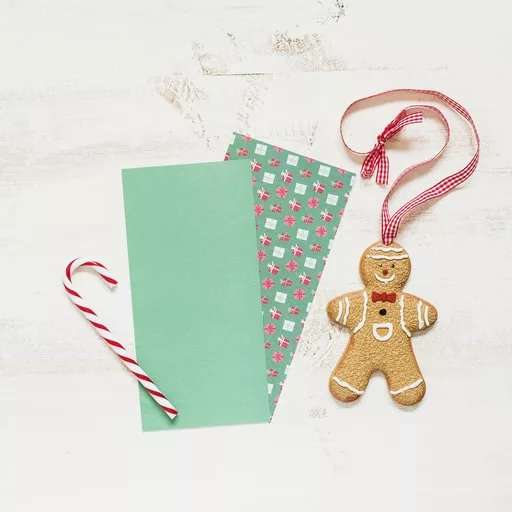 22. Snowflake tag
Snowflake-shaped tags bring a touch of winter's magic to your gifts. You can find them in various designs and materials or even make your own.
23. Rosemary
Small sprigs of rosemary are unique and fragrant toppers for your Christmas package decorations.
24. Santa's belt
If you have red Christmas presents, it's fun to add more details to make it look like Santa's belly. Attach a little piece of black tape and draw on it with a yellow pen to create a Santa's belt picture.
25. Ornament Toppers
Use the ornaments you already have at home to make your gift topper. From glittery bows to mini Santa hats, these can add a festive flair to any package.
26. Photo Gift Tag Idea
For truly personal Christmas package decorations, think about custom photo stickers as your gift tags. Using pictures that hold special memories to the recipient will make your gifts even more meaningful. You can easily print these personalized face stickers at our website here to make the process easier, smoother and faster.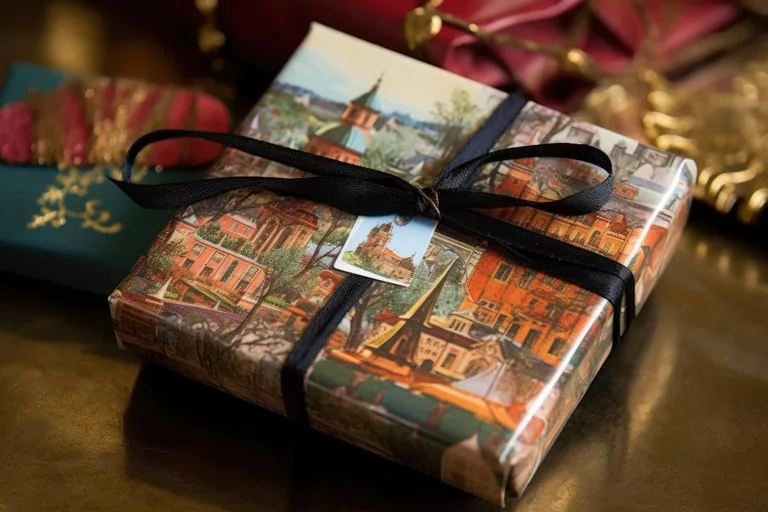 Lastly, be creative
In the joyful spirit of the holiday season, choosing, wrapping and sending gift packages will be a delightful task. To make your Christmas package decorations the most unique and outstanding, we encourage you to try 26 creative ideas above, or even mix and match them to make a package that no one ever did before. Your option is limitless, so let your creativity do the next task.
If you are looking for personalized products like custom vinyl stickers, transfer stickers or custom photo stickers to add to your gift wrapping ideas, go no further than our website. We at CustomAny are honored to be your companion this Christmas.