During the Christmas season, carefully and beautifully decorated presentations play a significant role in making recipients feel special. Rather than buying store-bought gift wrap that looks the same, why not make your own unique Christmas gift bags with our Christmas bag ideas?
Not only will these DIY Christmas gift bags save you money, but they will also make your presents unique and stand out from the rest.
In this article, we will guide you through 6 methods on how to decorate a gift bag easily and creatively. With some simple and easy-to-find materials, you are sure to bring some specialty to your gift-giving ones!
3 ways to Make Christmas Gift Bags that don't require any skill
Below are 3 simple and effective gift bag decorating ideas you can do without any skill. With just a few tools and some creativity, you can create beautiful and unique Christmas gift bags for your family and friends.
Washi Tape
Washi tape is a versatile and easy-to-use material. Its varied colors, patterns, and designs make it perfect for creating unique Christmas gift bags. To make Christmas gift bags using washi tape, you can use one pattern tape or combine different tapes to make your own personalized designs.
Preparation:
How to do:
Select the desired washi tape designs (such as dots, striped, flowers, triangle, etc) that match your theme.
Cut the tape into different lengths or shapes.
Arrange the cut pieces on the gift bag, creating patterns or designs as you like. You can create diagonal stripes by placing strips of different colored tape at an angle across the bag. Alternatively, you can cut out small shapes from the tape and arrange them in a scattered or organized manner on the bag.
Smooth out any wrinkles or air bubbles on the bag for a polished look.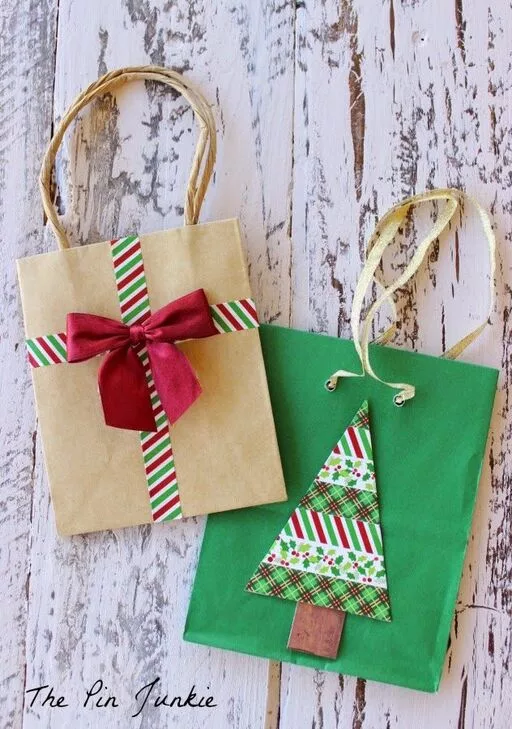 Christmas stickers or custom stickers
If you're looking to DIY gift bag ideas without any artistic skills, stickers are the perfect solution. Whether you choose pre-made Christmas stickers or create your own custom designs, they all allow you to effortlessly decorate Christmas gift bags.
This idea is especially meaningful as you can choose stickers that reflect the recipient's interests, hobbies, or personality, making the gift bag even more special.
When finding stickers for your decoration project, may you want to try those from our website. We provide you different types of custom and personalized stickers to choose from. You can choose custom stickers that tailor to your personalized needs here.
Preparation:
Paper gift bags
Christmas-themed stickers or custom stickers
How to decorate paper bag with stickers:
Choose Christmas, custom vinyl stickers, or any other custom stickers (Die cut stickers, custom photo stickers, personalized face stickers,…) that match your desired theme.
Arrange the stickers on the gift bag, placing them strategically for a visually pleasing design. For instance, you could create a pattern by arranging multiple snowflake stickers all over the bag. Also, consider using a large sticker as a focal point and embellish it with smaller stickers.
Add as many stickers as you like, creating a personalized and festive gift bag.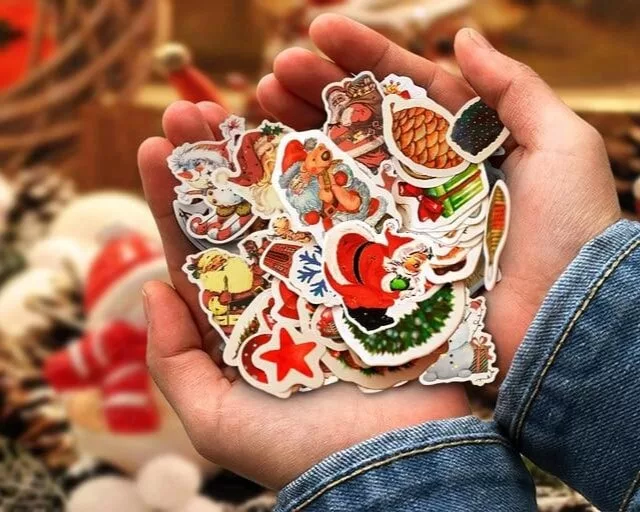 Use Stamp
Stamping adds a handmade touch to Christmas gift bags, showcasing your effort and attention to detail. Using stamps allows you to create beautiful patterns and images easily, giving the gift bag a unique and personalized look.
Preparation:
Plain paper gift bags
Stamps of choice (Christmas-themed or other designs)
Ink pad in desired color
Flat surface for stamping
How to decorate paper bags with the stamp:
Select the desired stamp(s) and ink pad color.
Press the stamp onto the ink pad, ensuring it is covered but not overly saturated.
Then, carefully stamp the design onto the gift bag.
Try different combinations of stamps and colors for a more varied and unique look.
Finally, allow the ink to dry completely before handling the bag to avoid smudging.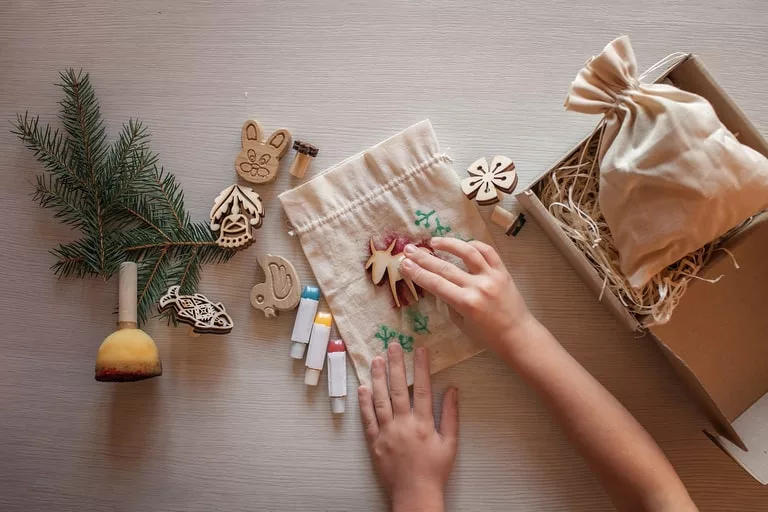 3 other ways to DIY your unique Christmas Gift Bags (require a little more effort)
Besides 3 straightforward Christmas gift bag ideas mentioned above, there are 3 other bag decoration ideas that require a little more effort but create beautiful and personalized results.
Ribbons
Using ribbons to decorate Christmas gift bags is a common and traditional choice. However, the ways you choose to customize and use them as decorative additions seem limitless. Moreover, the ribbons not only serve as decorative elements but also provide functional handles for easy carrying.
Preparation
Ribbon (Satin, velvet, grosgrain,…)
Materials needed: Gift bags, scissors, glue or double-sided tape, embellishments (optional).
How to decorate a gift bag with ribbon:
For the base, white or kraft Christmas paper bags are ideal.
You can arrange various lengths of ribbon in a crisscross or diagonal pattern.
Then, glue them or use double-sided tape to keep them in place.
Ribbons can be embellished with bows, rhinestones, or small ornaments for an extra touch.
Be sure to let the glue dry completely before using the bag to prevent the ribbons from falling out.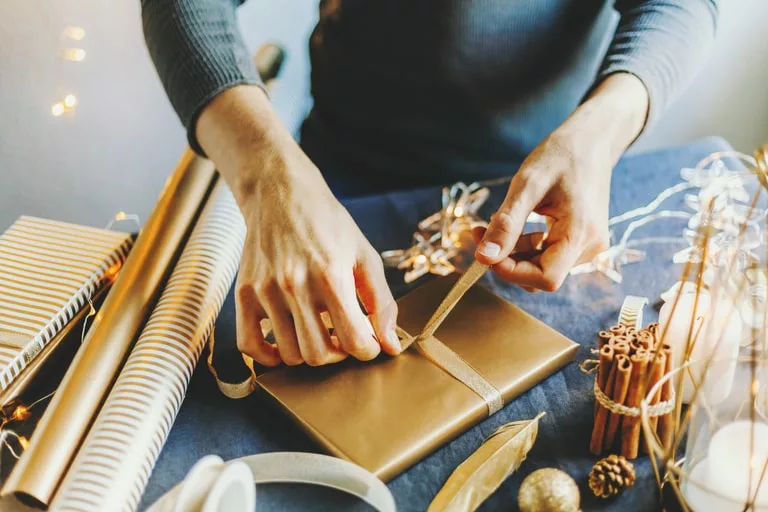 Use spray paint
Spray painting Christmas gift bags is perfect for those who want to showcase their artistic skills or enjoy experimenting with colors. The vibrant and eye-catching designs will make the gift bags stand out.
Preparation:
Spray paint types (Acrylic or fabric spray paint is recommended)
Gift bags
Stencils (optional)
Newspaper or cardboard (as a surface protector)
Painter's tape (optional)
How to decorate a paper bag using spray paint
Cover the surface with newspaper or cardboard to prevent paint overspray.
Cover the desired areas of the bag with a light, even coat of paint. Be careful not to overspray or apply too much paint at once to avoid drips.
When painting, wait until the first coat has completely dried, then apply additional coats (if necessary).
The design can be enhanced by adding glitter or sequins.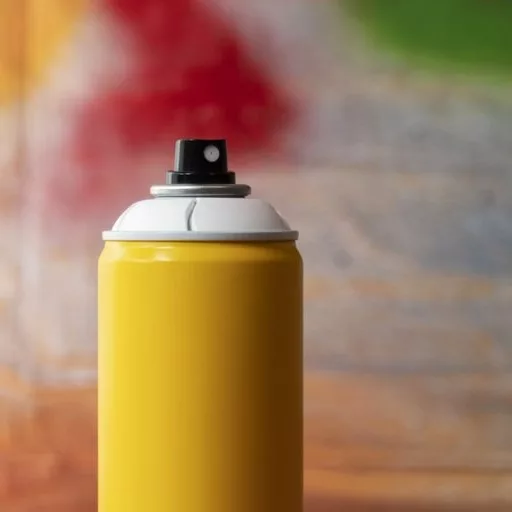 Draw and paint
Drawing and painting your own designs on Christmas gift bags allows for complete personalization. This method is suitable for individuals who enjoy arts and crafts and want to add their personal touch to the presents.
The recipient will appreciate the effort and thought you put into creating one-of-a-kind DIY Christmas bags.
Preparation:
Fabric paints or acrylic paints
Paintbrushes
Pencil (for sketching)
Eraser
Gift bags.
How to do:
Use a pencil to lightly sketch your desired design on the bag. You can draw Christmas-themed elements like trees, snowflakes, reindeer,…
Once you're satisfied with the sketch, start adding colors using fabric paints, or acrylic paints. Use paintbrushes for more precise details.
Allow the paint to dry completely. If desired, you can add additional embellishments like glitter or small beads.
Once the paint and embellishments are dry, gently erase any visible pencil marks.
Conclusion
Generally, transforming plain bags into attractive, one-of-a-kind Christmas gift bags that are exclusive to receivers is an easy and affordable process with the right guide.
With our 6 easy and cheap suggestions for Christmas bag decorating ideas, you now can get creative and create unique bags that will impress your loved ones. From simple embellishments to creative painting techniques, the possibilities are endless.
If you're looking for more customized ideas and inspiration for the holiday season, visit our blog page. There, you'll find helpful resources and DIY tutorials to help you take your gift-giving to the next level.