Christmas is approaching and if you own a business, you know that it's not just a time of joy and celebration, it's also a time when almost all items, including clothes, decorations, gifts, and self-care products,… are in high demand. This time is your chance but also your challenge of how to attract customers and boost sales.
You may have many questions and wonder: How to attract customers to your store? Are the twinkling lights and festive decorations enough to set the mood? How to ensure your store stands out in the crowd?
You don't need to worry anymore. In this article, we're offering you 5 comprehensive guides, from decorating to online marketing to make your Christmas season the successful selling time of the year. Let's dive in!
1. How to Attract Customers? – Festive Decorations
Christmas time is the perfect time to transform your showroom or store into a festive and magic pit stop for customers and shoppers. This is also considered the first step on how to attract customers.
Outside Decorations
Let's begin with the outside of your store. It's essential to make a memorable impression in this step as the exterior is the first thing passersby see. Twinkling lights, garlands with colorful embellishments or eye-catching wreaths are the go-to choice for your exterior store decorations. These decorations not only set the festive atmosphere to your store but also attract customers to step inside and explore your Christmas deals.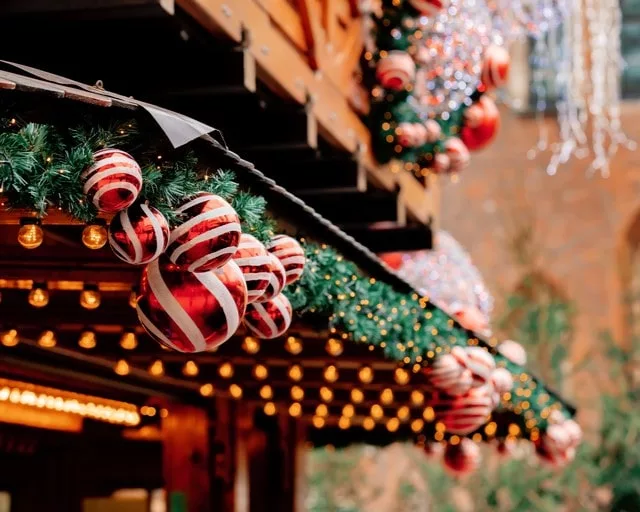 Window displays
Window displays are the magical screen to give passerby a glance of the Christmas world you have inside your store. For this space, you can opt for the traditional decorations such as snowflakes and Santa Claus, or you can get creative with your own products.
We highly recommend you to use window stickers as these pretty, vertile and adorable sticky pieces can add a touch of elegance to your displays. Opt for die cut stickers, static clings or clear stickers and see your ordinary windows transformed into extraordinary works of Christmas art.
For more ideas to decorate your glass windows or storefronts, check out our previous blog post "Store Christmas Window Display: 20 Ideas to Attract More Customers".
Inside Decorations
Now that your customers have stepped inside, you need something well decorated to harmonize with the festivities outside.
A Christmas tree is a must. Besides, you can also add some embellishment with poinsettias and tinkle ornaments. Place some glass jars with cookies, candy cane baskets with festive bows on the counter are recommended. You can use scented candles to create a cozy fragrance because customers even appreciate the warmth and welcoming atmosphere you create.
Well-done and consistent decorations inside and out in your store not only spreads the Christmas spirit but also invites customers to experience the holiday magic within. So, take time for your creative ideas.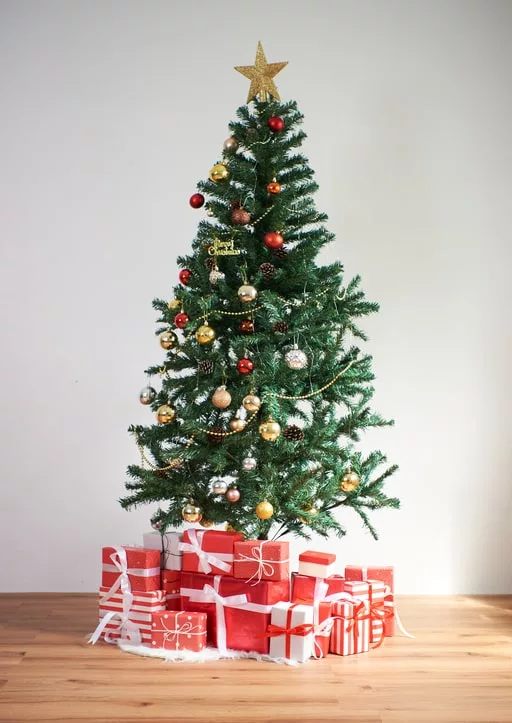 2. How to Attract Customers – Festive Staff Attire will help you
During holidays, if you change a little bit, add festivity to your staff's attire, it can make a big difference. It instantly creates a cheerful and inviting atmosphere, setting the tone for a joyful shopping experience.
Festive staff attire also shows customers that your store is all about holiday spirit, which can make them feel more connected and eager to shop. It provides a great opportunity for your staff to engage with customers more personally. A friendly conversation can go a long way in ensuring a customer's return visit.
When choosing festive outfits for your staff, think about Santa hats, reindeer antlers, elf ears, etc. Encourage your team to get creative and have fun with their outfits while keeping it professional.
3. Special Promotions to boost sales!
When it comes to how to attract customers and boost sales during the Christmas season, special promotions are a surefire way. Shoppers are always on the lookout for great deals, and the Christmas holiday is the time you offer them what they like. To make the most of your special promotions, deploy them thoughtfully and strategically.
Some tried-and-true promotion ideas include:
Black Friday and Cyber Monday Deals: These two shopping holidays kickstart the holiday shopping season. You should use significant discount deals or limited-time offers during this period to give your store sales a significant boost.
Include Gift with Purchase: Give every customer a free gift when they spend a certain amount in your store to encourage larger purchases.
Holiday Bundles: Another smart idea is to create gift bundles that offer complementary products at a lower price.
Flash Sales: Promote flash sales on specific items or product categories for a limited time. The urgency of these sales can drive customers to make quick buying decisions.
For a fresh take on special promotions, consider christmas promo ideas like:
12 Days of Deals: Offer a different promotion each day leading up to Christmas, creating a sense of excitement and anticipation.
Personalized Discounts: Provide discounts based on customers' past purchases or preferences. Personalized offers can increase customer loyalty.
The key to effective Christmas selling ideas for Christmas is to create a sense of urgency and exclusivity, ensuring your customers are eager to take advantage of the festive deals you offer. These delicate changes are how to attract customers and boost sales this festive season.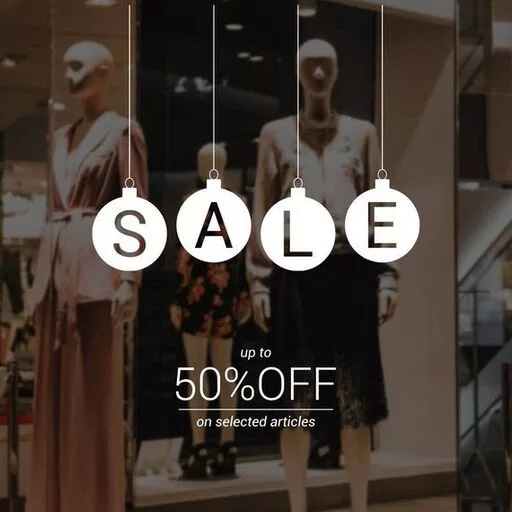 4. Online Presence is How to Attract Customers
Not only your physical stores, your online presence also plays a key role in attracting customers and boosting sales, especially in this digital age. So, how to attract customers and boost sales online? There are some christmas campaign ideas for you:
Turn your website into a Christmas Wonderland
Greet your online visitors with a welcoming, festive banner.
Incorporate high-quality images of your products, especially those tailored to the Christmas season.
If possible, consider adding special effects like gift boxes opening, snow falling, or Santa's sleigh flying across your Christmas website design for a great impression.
Special email marketing flows and campaigns for Christmas
Send out a festive newsletter that keeps your audience informed about upcoming events and special offers.
Create a series of engaging Christmas emails that highlight your special Christmas promotions, new arrivals, and gift ideas.
Quick tips: Using countdown timers to create a sense of urgency and offer exclusive discounts in your christmas email marketing.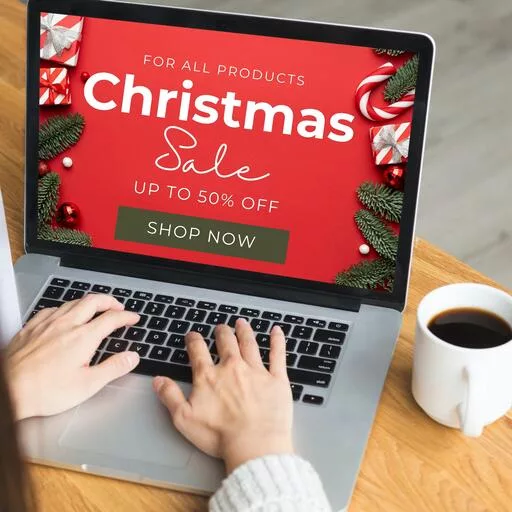 Spread Joy on All of your Business Social Media accounts
Share visually appealing photos that show your Christmas store decorations, products, and special promotions.
Run holiday-themed contests and giveaways to increase interaction and encourage sharing.
Encourage followers to interact with you online and share their experiences with your products so you have a source of user-generated content.
Use relevant holiday hashtags to expand your reach and visibility.
When adding a Christmas atmosphere to your online presence, remember to maintain a consistent and cohesive festive theme across all your online channels. These Christmas marketing ideas for Christmas are one of the answers for the question of how to attract your audience and boost sales throughout this Christmas.
5. How to Attract Customers and Boost Sales? – Customer Experience
Crafting a delightful customer experience is the cherry on top of how to attract customers and boost sales, especially for Christmas. Pay special attention to:
Welcoming Atmosphere
Your store should be filled with a warm and inviting atmosphere. Hang some bells right on your front door as a festive hello to customers when they step in. Besides decorations, you can welcome your step-in customers with the scents of freshly baked Christmas cookies or by some scented candles. You also should play some cheerful holiday melodies.
Attentive Staff
Train your staff so they can provide excellent customer service than just assist shoppers. The joy and enthusiasm they bring can be infectious and enhance the overall experience.
Personalized Service
Each customer is unique, so your service should reflect that.
If you have customers visiting your store, assist them find the perfect gifts, offer recommendations. If they are your online customers, research their purchase history on your website, categorize them into groups based on age, gender, and living area, so you can deploy your online campaigns right to the target customers.
Express Gratitude
It's highly recommended to show your appreciation to customers by including a thank you card in every purchased package. In this card, don't forget to wish them a joyful holiday season.
Christmas Inserts with a Personal Touch
Besides, adding small, thoughtful Christmas inserts to packages is a great idea. You can use personalized Christmas stickers as cute and funny inserts to spread the Joy. These stickers can be customized with your brand's name, logo, and festive holiday designs, making them into branded stickers.
When customers receive a beautifully wrapped package with a Christmas sticker bundle, they may want to share that interesting unboxing experience on social media and thanks to that, your brand just becomes more popular.
Conclusion
In conclusion, these 5 comprehensive tips are your secret weapons on how to attract customers and boost sales this Christmas season. With festive decorations, cheerful staff attire, special promotions, an engaging online presence, and a focus on customer experience, you can create a shopping environment that attracts visitors.
These attempts not only attract customers to your store only during Christmas but also are valuable in the long run when leaving a lasting impression on your customers that they can't resist coming back for more. So, let's begin now!
For more business tips, such as store decorations guide, branding ideas or marketing strategies, be sure to explore our collection of blog posts for businesses. And in case you're ready to take your holiday marketing to the next level, don't forget our custom stickers which can be tailored to match your brand logos and value.