Father's Day is just around the corner, and what better way to show appreciation for the incredible dads in our lives than by throwing a custom celebration that is truly tailored to their preferences and interests? As you gear up to plan a memorable Father's Day party, there must be a menu that caters to your dad's favorite flavors, every detail plays a crucial role in creating a celebration that reflects his unique personality and style.
In this article, we will explore four essential things you need to make your Father's Day party a custom celebration that will leave your dad feeling loved and cherished. Get ready as we guide you through the steps to create an extraordinary Father's Day experience your dad will never forget.
1. Setting the Theme and Ambiance
You should set the theme and ambiance for Father's Day party because it is a great way to show your appreciation and love for your dad. A themed party can make him feel special, honored, and celebrated. It can also create a fun and memorable atmosphere for everyone to enjoy.
Some possible father's day party themes and ambiance ideas are:
Sports bar: If your dad is a sports fan, you can transform your venue into a sports bar with TVs, posters, banners, and memorabilia of his favorite teams or athletes. You can also serve snacks, drinks, and games that are related to sports.
Brunch bash: For dads who love breakfast food, you can host a brunch party with pancakes, omelets, bagels, croissants, bacon, and other tasty treats. Additionally, you can offer guests the option of creating their own custom plates at a buffet or DIY station. Decorate the table with fresh flowers, balloons, napkins, and placemats that say "Happy Father's Day" or "Best Dad Ever".
Awards ceremony: If your dad has many talents, hobbies, or achievements, you can honor him with a personalized awards ceremony. Let's give him funny or sincere awards that highlight his qualities, such as "World's Greatest Dad," "Master of the Grill," "King of Dad Jokes," etc. Awards presentations can be highlighted by speeches, music, and applause. You can also decorate the party for father with some interesting stickers, such as your dad's face stickers, or bring back his funny moments by having some photo stickers adhere around.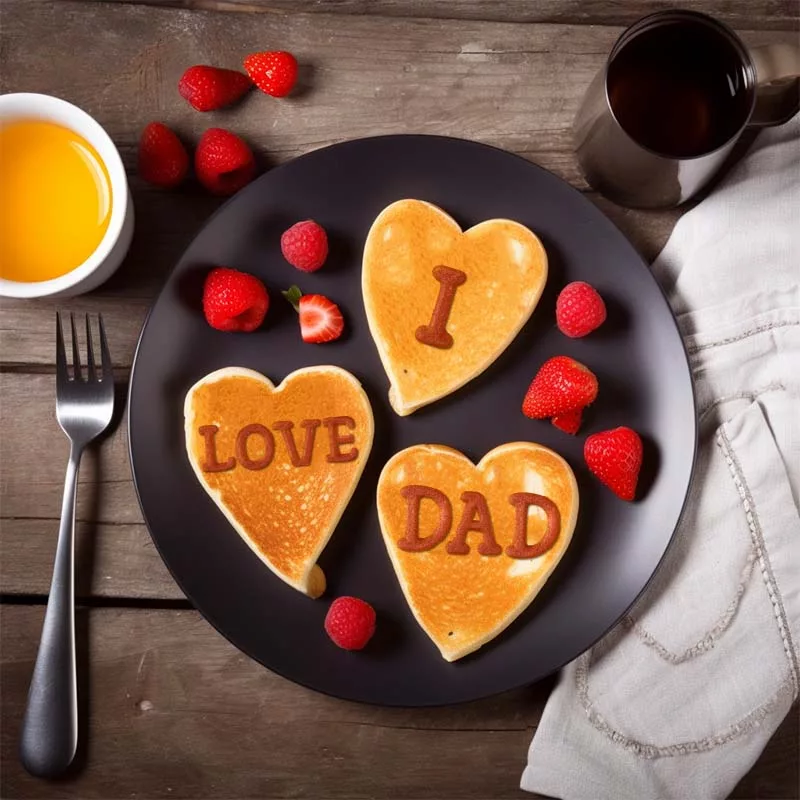 2. Decorations
Decorations are essential to make a Father's Day party be more entertaining and memorable. You can use different colors, and items to create a festive and cozy atmosphere for your dad and family.
Here are some suggestions:
Use paper fans, balloons, and neckties to create a festive backdrop for your party table.
Think about placing golf balls, baseballs, or other sports equipment as centerpieces or accents for your party. You can also make signs or banners with dad's favorite team or player's name.
Take stickers for a banner to create a custom banner that says "Happy Father's Day" or something else that you want to celebrate your dad. Doing this with lettering stickers or shaped stickers to spell out your words on a piece of paper, cardboard, or fabric is ideal. You can also add some die cut vinyl stickers of your dad's hobbies, interests, or favorite things to make it more personal.
Add stickers for balloons, party hats, or drink cups to bring some fun and color to your party decorations. Consider stickers that match your party theme, such as sports, cars, animals, or stars. Stick them on the balloons, party hats, or drink cups before inflating or filling them.
Use custom sticker labels for jars to personalize them with your dad's name, favorite quotes, or messages. It is also possible to use them to label the contents of the jars, such as snacks, drinks, or candies.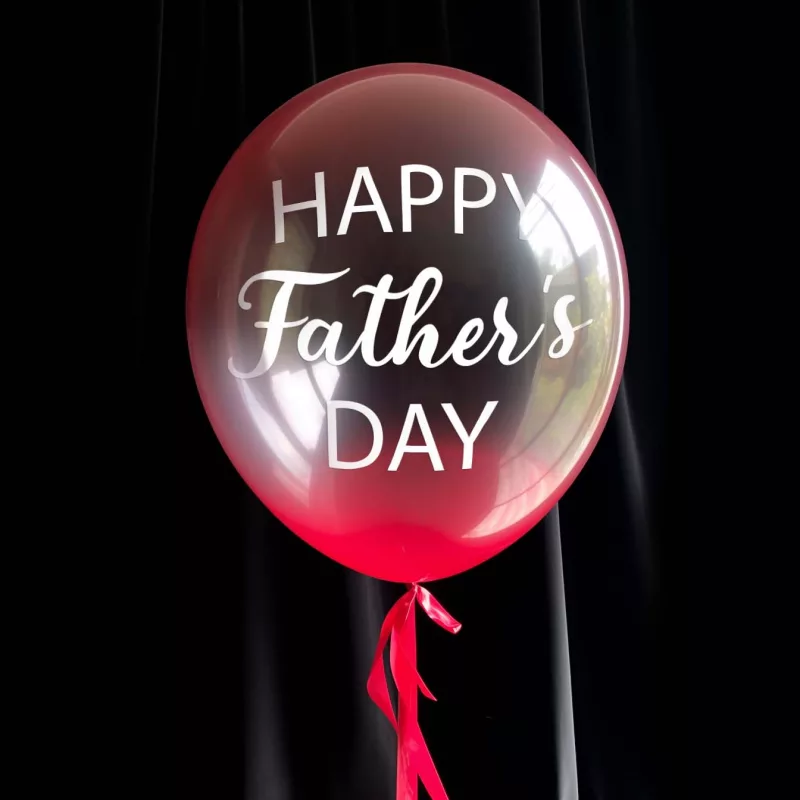 3. Party Favors
Party favors are a way of showing your appreciation to your guests who have attended the Father's Day party and celebrated your dad with you. They are a gesture of gratitude and goodwill that can make your guests feel special and valued.
Father's day gift ideas, such as goodie bags and treat bags, are an excellent way of expressing your personality and creativity. For example, you can give your guests personalized chocolate bars, candy bars, or cupcakes. Besides, gifting artificial flowers or a bunch of artificial flowers to your guests as a party favor is also an idea.
If possible, personalize them with beautiful stickers, sticker tags, or message stickers that say something nice about your dad or your guests. This will add some color, pattern, or design to your party favors and serve as useful, practical, or sentimental father's day gifts for your party's guests.
4. Interactive Games and Activities
There are a wide variety of party games to organize on father's day party. However, if you're looking for something unique and personal to play this year with your dad, or if you truly are a sticker lover, here are some sticker-themed party ideas for you:
Sticker scavenger hunt
A sticker scavenger hunt game is a fun activity where you have to find and collect stickers that are hidden or placed around a certain area.
One of the most important parts of holding this game is deciding on a theme for your stickers. You might utilize stickers in some way relating to your father. For instance, collecting stickers representing your dad at various ages, from when he was a kid to now is an excellent option. Besides, you can use different themes for your stickers, such as animals, colors, shapes, etc.
Then, choose a location for your scavenger hunt. It can be indoors or outdoors, depending on the weather and space available.
Start the game and let the participants search for the stickers. You can also play some music or make some announcements to add some excitement to the game. When the time is up or the goal is reached, stop the game and count the stickers that each participant or team has collected.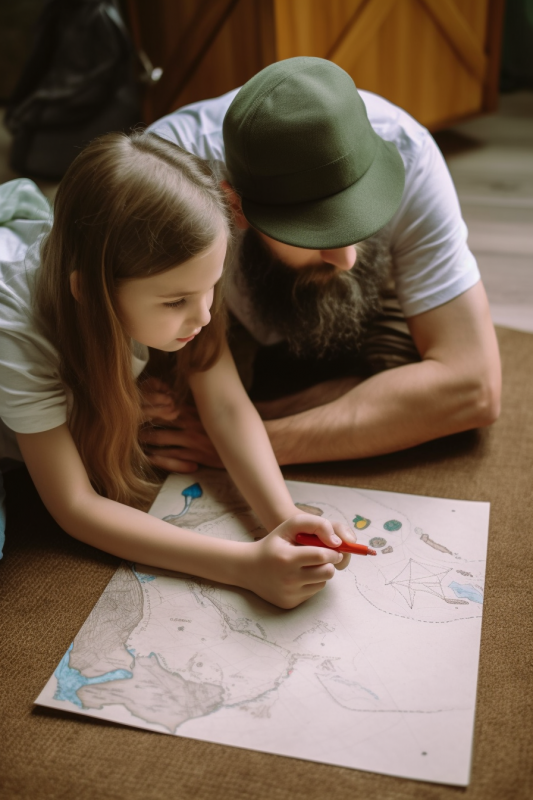 Sticker art competition
A father's day stickers art competition game is a creative activity where you have to make your own art using stickers. You can use any kind of stickers, such as letters, shapes, animals, etc with different shapes (kiss cut, die cut, round) and finishes (matte, glossy).
To celebrate Father's Day party with a sticker art competition game, we suggest some following steps:
Decide on a theme for your art. For example, you can make art related to your Dad, your dad's hobbies, interests, favorite things, etc.
Choose a material for your art. It can be anything that you can stick stickers on, such as paper, cardboard, canvas, etc.
Gather the stickers that you want to use. Then, give each participant or team a piece of material and some stickers.
Start the game and let the participants make their own art using stickers. When the time is up or the goal is reached, stop the game and display the art that each participant or team has made.
Finally, award prizes to the winners based on who has made the most creative, original, or beautiful art using stickers.
Celebrating Father's Day party games is a fun and engaging way to bond with your dad and family. Also, with the help of stickers, you can enhance your custom board game design, making your game more unique and personalized.
Conclusion
Father's day is a special occasion for us to show our appreciation for our dads and all the fathers around the world. As such, let's make this special day extra memorable by hosting a Father's Day party with unique and eye-catching stickers created just for Dad and the occasion! And don't forget to share your ideas with us! We invite you to share your sticker-themed Father's Day party and tag our company's social media accounts (Facebook, Instagram, Twitter,…). 
Plus, don't forget to take advantage of our sticker printing services if you are looking for custom designs or personalized stickers for your gatherings. We guarantee to provide stickers with all kinds, shapes, materials, and images that meet your requirements. We at CustomAny always look forward to helping you bring your special Father's Day party ideas into reality!