How many themes are there to choose from to host a party? The answer is countless!
However, today we will provide you with 5 suggestions to organize a Barbie-themed party; because there's no doubt that the theme itself is on a growing trend and search demand for it is extremely high.
You may wonder, what sets our ideas apart from many other Barbie party tutorials? Well, here you'll find Barbie party ideas that cater to everyone's needs, as we understand that the love for this stylish Barbie dolls' world knows no age limit.
So, without further ado, let's explore the enchanting ideas for a Barbie party!
1. Make your house a Barbie Dreamhouse
Transforming your house into a doll Barbie Dreamhouse is the perfect party for everybody, every event, even though it is a Barbie birthday party, a hen party, or just a night gathering. Here are some key elements for hosting this dreamy Barbie party:
Color: Pink and Glitter
Embrace Barbie's signature color by incorporating pink throughout your decor. Think about using pink tablecloths, chair covers, and napkins to set the color scheme. Add a touch of sparkle with glittery fabrics or sequin table runners. Scatter pink and silver confetti or glitter on tables or the floor for added glamor.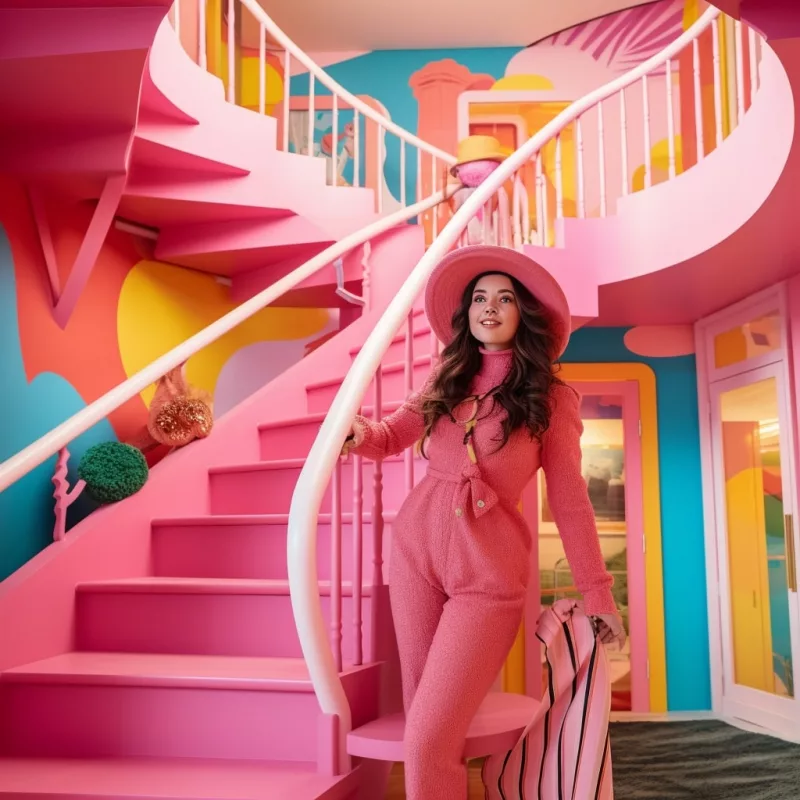 Word fonts
Choose a font style reminiscent of Barbie's world to use for wall decals or personalized signage. This will add an authentic touch to your Barbie Dreamhouse party. Combine your lettering stickers or signages with images of Barbie, her friends, and iconic Barbie accessories like shoes, handbags, and tiaras.
Custom Labels and Signs
Elevate your party experience by customizing labels for drinks, food items, and Barbie party favors. Utilize Barbie-themed templates or designs to infuse the spirit of Barbie into every detail.
You can designate different areas with signs, such as a "Barbie Beauty Salon" for a makeover station or a "Barbie Cafe" for the food area. This will provide a clear and immersive experience for your guests.
However, make sure the custom labels and signs are easily readable and match the overall Barbie theme.
Doll Displays
Bring Barbie's world to life by arranging dolls in different poses and outfits throughout your house. Create mini scenes showcasing Barbie's adventures and fashion moments. Use glass display cases or clear shelves to showcase your dolls and their accessories.
Remember, the goal is to create a Barbie Dreamhouse atmosphere that transcends age and immerses everyone in the magic of Barbie. With that in mind, besides party decoration, you must incorporate Barbie party games or activities to engage guests and make the party more interactive.
2. Host a Barbie Fashion Show
For fashion enthusiasts, especially the iconic Barbie style's fan, hosting a Barbie Fashion Show party is a fantastic way to unleash creativity.
After the Barbie party for all with the Dreamhouse party from the first idea, this theme is ideal for individuals who have a passion for fashion, whether young aspiring designers or adults with a love for couture.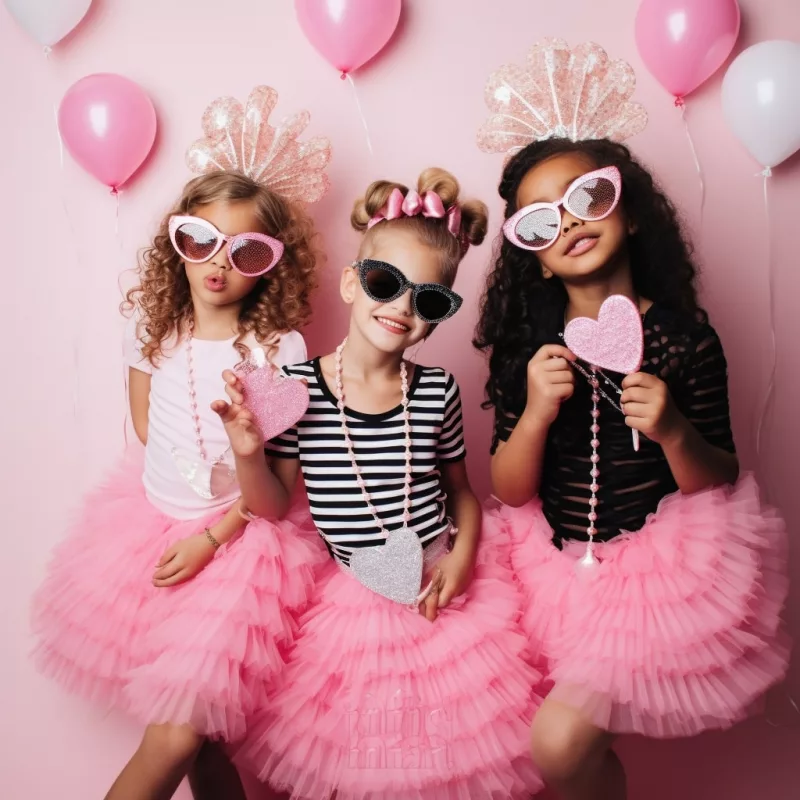 Here are some decorating ideas and activities to bring the Barbie Fashion Show party to life:
Barbie Runway:
Set up a Barbie runway using barbie party supplies such as a long pink carpet or a roll of pink fabric to create a glamorous catwalk. You should enhance the backdrop with a glittery poster or a shimmering fabric to make the runway area sparkle.
Dressing Room:
Designated dressing room area where guests can prepare for their runway moments is a must. You should have a full-length mirror for Barbie theme party outfits assessments and transformations.
Use a Barbie-themed sticker or label as room signage, to mark the entrance of the dressing room, or utilize them as mirror decoration, adding a touch of exclusivity.
DIY Barbie Fashion:
Encourage guests to showcase their fashion design skills by Barbie inspired outfits.
As a host, consider offering your guests with fabric, ribbons, beads, sequins to bring their creative visions to life. Allow them to experiment with different techniques and themes, letting their imaginations run wild.
Fashion Trivia:
How about activities in this Barbie theme party? Create a Barbie fashion trivia game to challenge guests' knowledge of Barbie's iconic outfits and accessories!
The Barbie party host needs to prepare a list of questions and provide Barbie-themed signboards (they'd better DIY with Barbie custom stickers) for guests to hold up when they have an answer. This interactive activity will entertain and educate guests about the fashion legacy of Barbie.
This Barbie Fashion Show party is an opportunity for your fashion enthusiasts or fancy friends to indulge in their passion for design and style. Whether guests are young fashionistas or adults with a flair for couture, this theme will ignite their creativity and provide a memorable experience.
3. Capture the Barbie Party with Photo Booth Fun
The third idea for hosting a Barbie party with Photo Booth, adding an interactive and entertaining element to any celebration. This Barbie party is perfect for individuals of all ages who enjoy capturing memorable moments and creating fun keepsakes.
There are some decorating ideas and activities that we recommend:
Set up a photo booth area:
Create a designated photo booth area adorned with Barbie-themed props, such as tiaras, feather boas, oversized sunglasses, and hand-held mirrors. These props will add a touch of glam and playfulness to your guests' photos.
Barbie-themed poster or backdrop:
Use a Barbie-themed poster or backdrop as the background for the photo booth. Opt for a design that complements the overall Barbie theme and adds vibrancy to the photos.
Instant photo souvenirs:
Provide a polaroid camera or a smartphone with a printer, allowing guests to capture and print instant photo souvenirs. This instant gratification adds excitement and allows guests to take home their memories right away.
Creative posing and expressions:
The host needs to encourage guests to strike their most glamorous poses and capture the essence of Barbie. Provide prompts or suggestions for fun poses to inspire creativity and spontaneity. This will ensure lively and memorable photos.
While this idea is distinct from the previous ideas, you can certainly place a photo booth in any party ideas. The "Capture the Barbie Party with Photo Booth Fun" idea complements any Barbie-themed festivities by adding an element of playful interaction.
4. Glamorous Barbie Spa Day
Hosting a Glamorous Barbie Spa Day party is an exceptional way to create a relaxing experience for your guests.
This theme is perfect for the besties group who enjoy self-care, pampering, and embracing a touch of luxury. This Barbie party allows your friends to unwind in a day of relaxation, fostering a sense of well-being and self-care.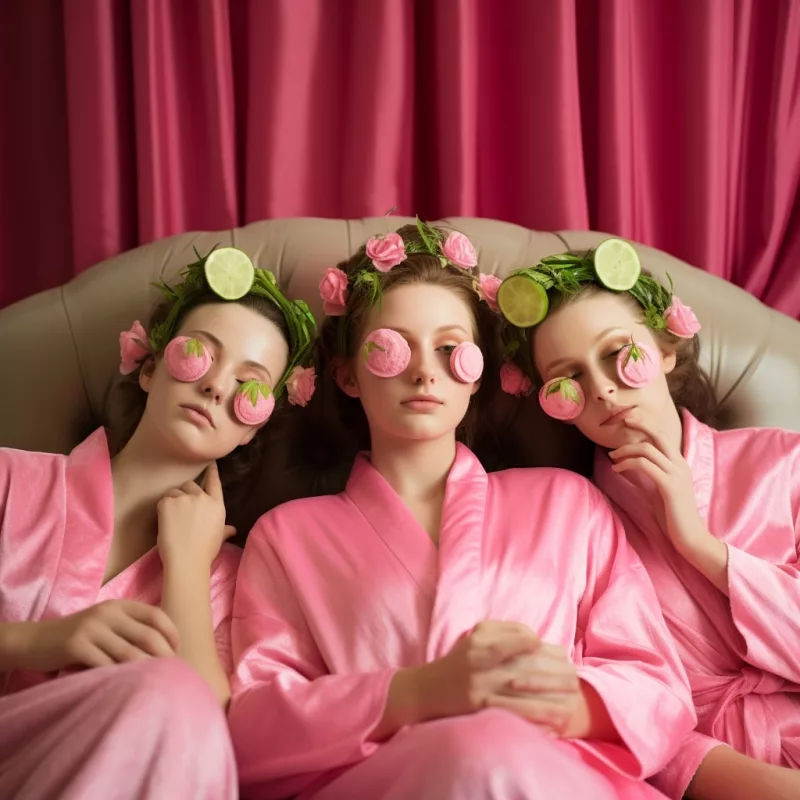 What are decorating Ideas and Activities for this Barbie party?
Barbie-inspired Spa Signage:
Create eye-catching signage with phrases like "Barbie's Pampering Paradise" or "Glamorous Barbie Spa Retreat". Utilize Barbie-themed fonts and colors to enhance the signage. You can use custom stickers or labels featuring spa-related symbols such as flowers, lotions, or face masks to add an extra touch of elegance.
Color Palette:
Choose a color scheme that exudes a soothing and luxurious ambiance. Incorporate soft pastel shades like lavender or mint for tablecloths, chair covers, and napkins. These gentle hues will create a relaxing atmosphere.
Comfortable Seating and Ambiance:
Your spa party should be prepared with seating areas with plush pillows and soft blankets to provide utmost comfort for your guests during the spa treatments. You can also use fresh flowers or silk flower arrangements.
Spa Treatments:
Offer a variety of spa treatments for guests to enjoy. Provide ingredients like honey, yogurt, cucumbers, face masks, and essential oils for facial treatments. Don't forget to use Barbie-themed labels or stickers to label the ingredients or the jars, adding a playful touch to the spa experience.
Nail Station and Hair Styling:
Set up a nail station where guests can indulge in manicures and pedicures. Provide an array of nail polishes and accessories for guests to choose from. Additionally, offer a hair styling area where your friends can experiment with glamorous Barbie hairstyles and Barbie-inspired hair accessories.
5. Barbie-Themed Movie Night for Besties
The Barbie-Themed Movie Night for Besties is the perfect idea for a fun and cozy gathering with closest friends.
This Barbie party is ideal for people of all ages who adore Barbie and want to relish a relaxed movie night in the company of their best pals. Combining it with the Glamorous Barbie Spa Day (the 4th idea) would create an ultimate day of pampering and entertainment.
Here are our recommendations for hosting the Barbie-Themed Movie Night:
Send Invitations that designed like a Barbie Movie Posters or Tickets:
Send out invitations that resemble Barbie Movie Posters or design DIY Barbie Movie Tickets. This creative touch will make your friends excited for the movie night and add to the overall theme.
Barbie Movie Theater:
Create a movie theater-like atmosphere by designing a Barbie Movie Theater. Use colorful lights and Barbie-themed fonts to showcase the movie night lineup and set the mood for a cinematic experience.
Popcorn Bar:
As a theater manager, set up a popcorn bar with various flavors for your friends to enjoy during the movie. We think that a custom Barbie-themed sticker to label each flavor is a great idea.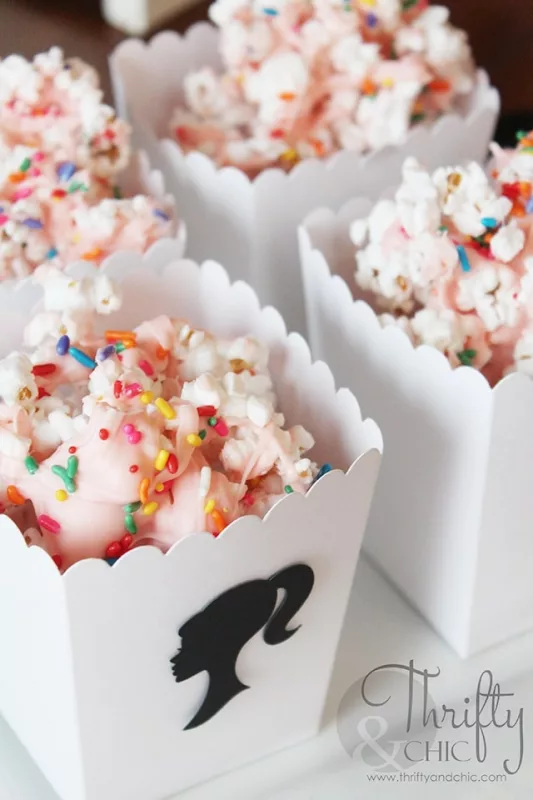 Select a few Barbie movies to watch:
You should have a selection of Barbie movies ready for the movie night. Choose movies that resonate with your group and showcase the different adventures and themes of Barbie's world. This will create a delightful movie-watching experience.
Provide a cozy seating area with blankets and pillows:
Arrange a comfortable and cozy seating area for your besties by providing soft blankets and pillows. This will ensure everyone can relax and fully enjoy the movie night experience.
Tips and Notes:
Encourage your friends to dress up in their favorite Barbie-inspired outfits or pajamas to add an extra element of fun and playfulness to the movie night.
Consider incorporating Barbie-themed games or trivia during the movie night's intermission to keep the excitement going.
Last thoughts
A Barbie party never goes out of style, and with the 5 ideas listed in this article, we believe you can successfully host a memorable event. Whether you choose to transform your house into a Barbie Dreamhouse, indulge in a glamorous Barbie Spa Day, or enjoy a Barbie-themed movie night with friends, there's something for everyone.
For Barbie party decorations, if you're looking to incorporate Barbie-themed stickers, custom labels, or posters, remember to explore our products, to unleash your creativity and create an unforgettable Barbie experience for guests of all ages.