The promise of love, a cool wind, and leaves in vibrant shades of red and gold are all lovely signs of Fall – the season for enchanting and romantic weddings.
Even though trending wedding themes change over time, there are some fall wedding themes that never go out of style.
In this article, we will delve into 6 elegant fall wedding themes that have withstood the test of time. These wedding themes are not only the intertwinement of love and nature but also reflect the couple's unique style and preferences.
1. Rustic Celebration – The classic wedding themes for Fall
Creating fall wedding themes through rustic wedding decor styles involves incorporating elements that evoke a sense of natural beauty, country elements and simplicity. To achieve this effect, we recommend doing the following:
Venue selection: Look for locations with barns, vineyards, gardens, or outdoor spaces that showcase the beauty of nature. The venue should have a cozy and intimate atmosphere.
Color palette: Opt for warm and earthy tones that reflect the essence of fall. Colors like deep red, burnt orange, rustic brown, and golden yellow work well for a rustic celebration. Use these colors in your decor, floral arrangements, and attire choices.
Natural decor: Embrace the beauty of nature by incorporating natural elements into your decor. Use wooden accents, burlap, mason jars, and wildflowers to create a rustic and organic ambiance. Incorporate elements like twine, lace, and vintage pieces to add a touch of nostalgia.
Rustic lighting: Opt for soft, warm lighting such as string lights, lanterns, and candlelit centerpieces to create a cozy and romantic atmosphere.
Attire and accessories: Choose attire that reflects the rustic vibe. For the bride, consider natural-looking makeup and loose, tousled hair. The groom can opt for a tweed suit or suspenders paired with a bow tie. Add accessories like flower crowns, rustic boutonnieres, and vintage-inspired jewelry to complete the look.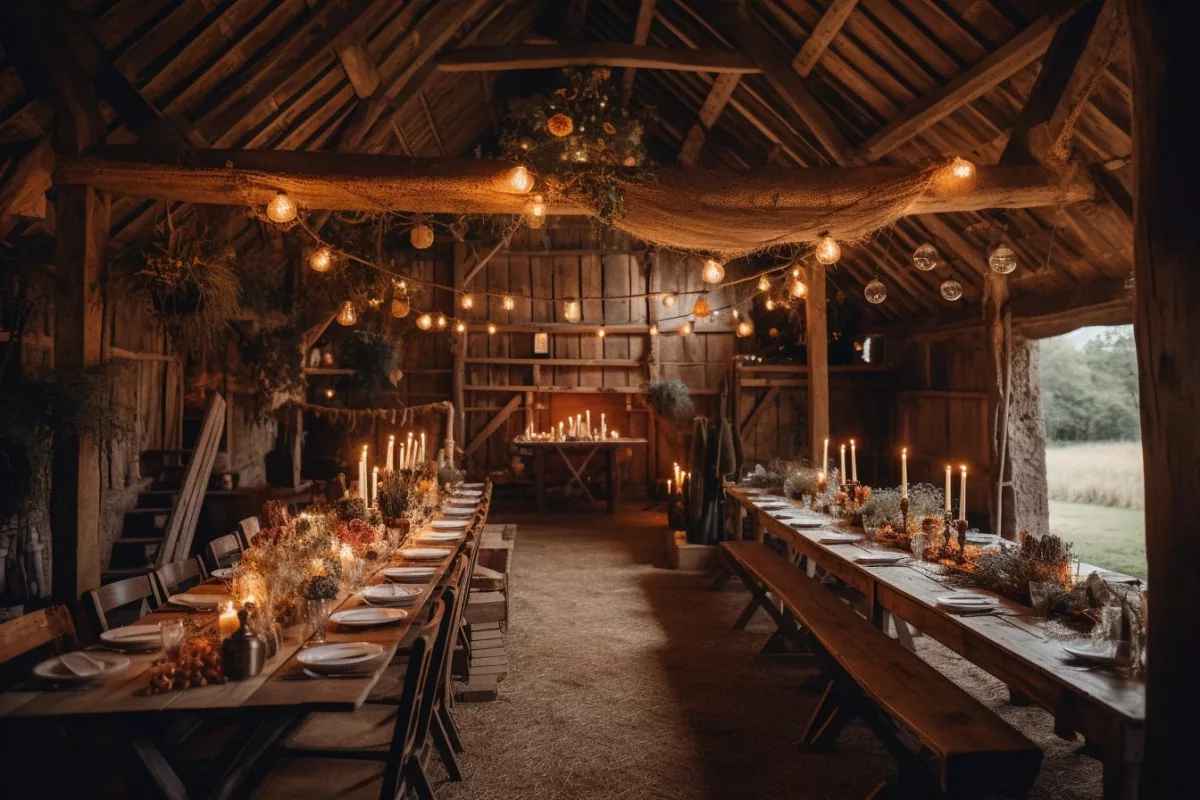 2. Autumnal Elegance
To create autumnal elegance fall wedding themes in your special day, you should use materials that reflect sophistication, grace, and the beauty of the season:
Color Palette: Choose a refined color palette that reflects the richness of fall, such as burgundy, emerald green, navy blue, and plum.
Venue: Select a venue that aligns with the elegance of the wedding themes. Look for locations with grand architecture, historic buildings, or upscale venues that offer a luxurious ambiance. Consider options such as ballrooms, country estates, or elegant gardens.
Decor: Incorporate opulent decor elements into your wedding design. Use rich blooms like roses, dahlias, and orchids. Add touches of gold or silver accents through table settings: candle holders, chiavari chairs and metallic clear stickers on glasses, card box or wedding favors. Besides, incorporate luxurious fabrics like velvet, silk, or lace for linens, drapery, and chair covers.
Lighting: Consider crystal chandeliers, geometric pendant lights, or soft, warm uplighting to create a romantic and sophisticated atmosphere. Candles in tall, elegant candlesticks can also add a touch of glamor.
Live music: You can enhance the elegance of the wedding themes with live music. Consider a string quartet, a jazz band, or a classically trained vocalist.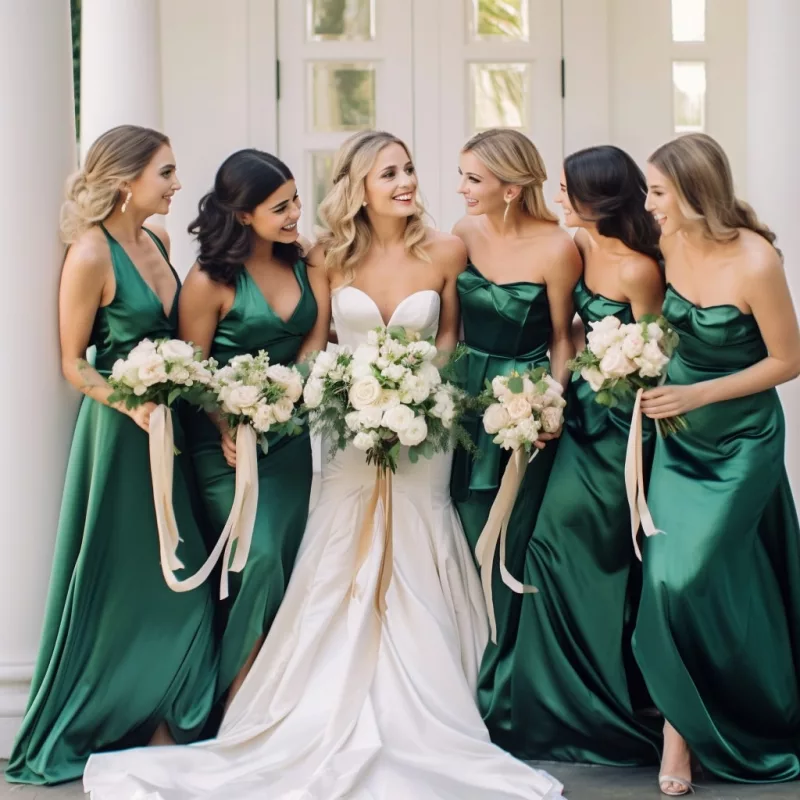 3. Enchanted Forest – A Whimsical Wedding Wonderland
Enchanted forest wedding style evokes a sense of magical nature. This whimsical and romantic theme incorporates elements of nature and magic to create a captivating atmosphere.
Wedding themes like this allow you to transform your venue into an enchanted woodland with fairy lights, mossy decor, and hanging greenery.
Colors
It's best to use shades of green, deep blues, and earthy tones as the base colors, then mix in pops of rich jewel tones like amethyst, sapphire, and emerald to add a touch of mystique.
Venue
Here are some suggestions when choosing a venue:
A lush garden
A woodland area
A venue surrounded by tall trees
Attire
Choose attire that reflects the enchantment of the theme.
For the bride, consider a flowing gown with delicate lace or floral appliques. You can add whimsy with a flower crown or a veil with ethereal details.
For the groom, opt for a suit in earthy tones or a vest with natural textures.
Lights
Create a magical ambiance by incorporating fairy lights and lanterns throughout the venue.
Hang string lights from trees or wrap them around branches to mimic fireflies.
Light up pathways or tables with enchanting lanterns to enhance the ethereal atmosphere.
Decor
Incorporate moss, branches, and tree stumps into your decor.
You can create centerpieces with wildflowers, ferns, and cascading greenery.
Enhance the enchanted forest theme with birdcages, terrariums, or fairy figurines.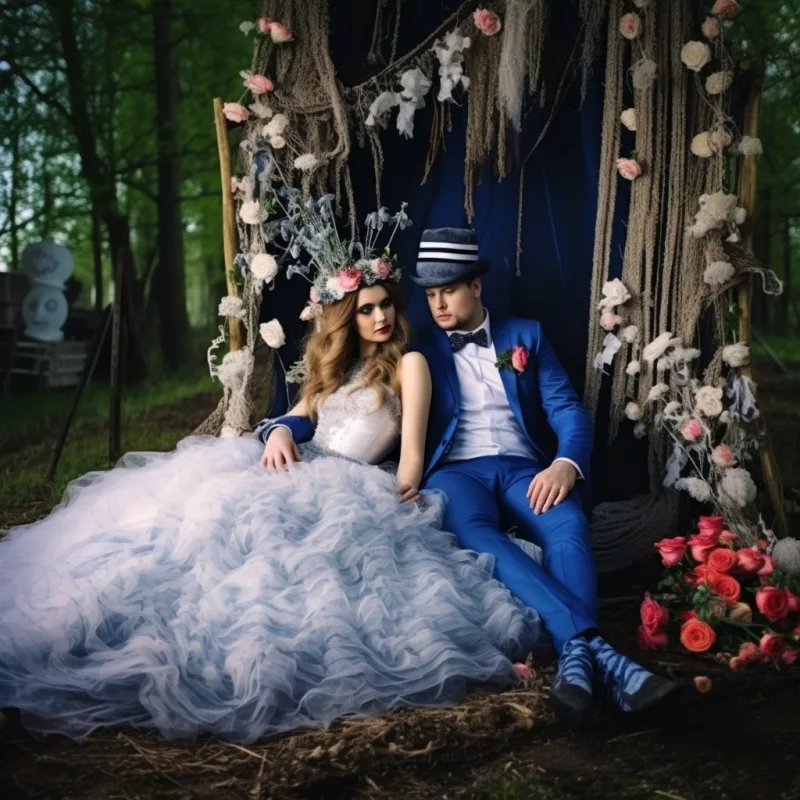 4. Sophistication of Sage Green – Elegance in Earthy Hues
Sage green is a muted, grayish-green hue that exudes a sense of calmness, sophistication, and natural beauty. It is a versatile color that pairs well with various complementary shades, allowing for a harmonious and timeless color palette.
When utilizing sage green in your fall wedding themes, you aim to create an atmosphere of understated elegance. This is achieved through careful selection and incorporation of sage green in different elements of the wedding, such as:
Venue
Choose a venue that complements the elegance of sage green, such as:
A historic mansion
A botanical garden
A luxurious ballroom
Color Palette
Use a color palette that combines sage green with complementary shades, such as ivory, champagne, and gold.
Make use of sage green into various elements, including decor, attire, and stationery.
Decor
Use sage green linens, table runners, and chair covers to create a cohesive look.
Consider using natural elements like eucalyptus, ferns, or succulents in centerpieces and floral arrangements to add depth and sophistication.
Enhance the ambiance with soft, warm lighting and candles in sage green holders.
Attire
Dress the bridal party in sage green attire, such as bridesmaid dresses or groomsmen accessories.
Choose a wedding gown in ivory or champagne hues, with subtle sage green accents or accessories.
Consider incorporating sage green details into the groom's attire, like a sage green tie or pocket square.
Delicate Details
Use ribbons, silk napkins, or botanical motifs to add subtle touches of sophistication to table settings and decor.
Provide wedding favors with thank you stickers in sage green that guests can take home as a lasting reminder of your special day.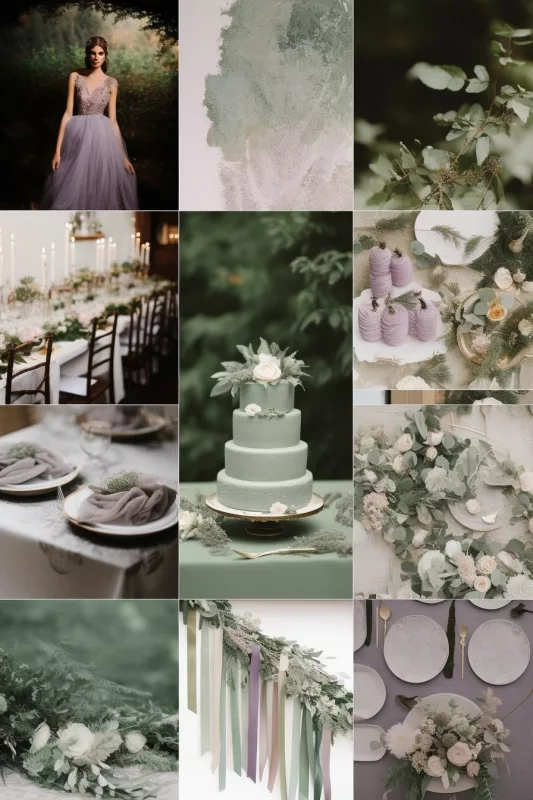 5. Bohemian Woodland – A Celebration of Love Infused with Free-Spirited Bohemian Vibes
Bohemian Woodland is a concept for fall wedding themes that combine the free-spirited and natural elements of bohemian style.
In this timeless wedding theme, the focus is on creating a relaxed and organic atmosphere that embraces the beauty of the fall season. Here are some key elements to consider when incorporating this fall theme wedding into your celebration:
Venue Selection: Choose a venue that embodies a woodland aesthetic wedding theme, such as a meadow, a forest clearing, or a barn surrounded by trees.
Color Palette: Opt for a color palette inspired by the fall foliage, including earthy tones such as shades of brown, golden yellows, deep oranges.
Decor: Incorporate natural elements into your decor, such as wooden furniture, moss, twigs, and wildflowers. Additionally, use vintage and eclectic pieces, macrame details, and dream catchers to create a bohemian vibe.
Lighting: Use soft, warm lighting like fairy lights, lanterns, and candles to create a cozy and intimate atmosphere as the evening sets in.
Arrangements: Create wildflower-inspired bouquets and floral arrangements with a mix of vibrant blooms, greenery, and dried elements like pampas grass or dried leaves.
Attire: Go for flowing and ethereal wedding dresses for the bride, adorned with lace, embroidery, or floral details. Grooms can wear casual attire with natural textures like linen or tweed.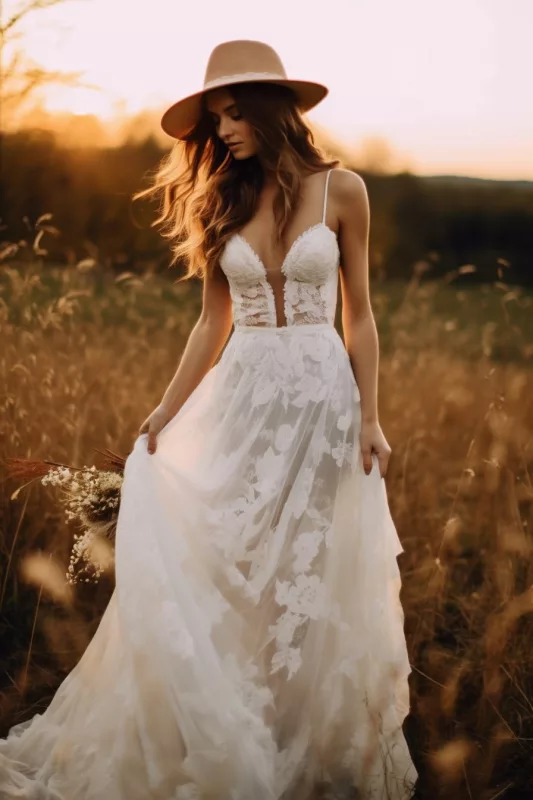 6. Country Chic
Country Chic wedding styles are popular wedding themes that combine the rustic charm of a country setting with elegant and sophisticated elements. When creating Country Chic wedding decor themes, you have to strike a balance between a relaxed, countryside atmosphere and refined touches. Here's how you can achieve this:
Venue: Pick a venue that reflects the charm of the countryside, with beautiful natural surroundings that showcase the colors of fall.
Color Palette: A neutral color palette with warm tones, including shades of beige, ivory, taupe, and muted earthy colors is the best choice.
Decor: Use natural textures like wood, burlap, and twine for a rustic touch.
Attire: Make use of cowboy boots or country-inspired accessories.
Food: Serve a farm-to-table menu that showcases seasonal and locally sourced ingredients. You can also offer BBQ and pies for a country feel.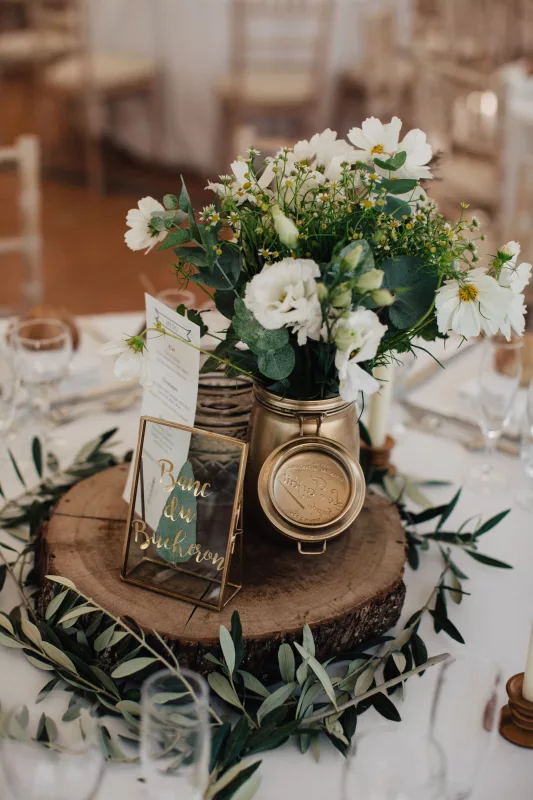 Conclusion
When it comes to planning a fall wedding, selecting the right theme is crucial. The 6 fall wedding theme ideas discussed in this article offer a diverse range of options.
No matter what wedding themes you choose, from classy wedding themes to fun wedding themes, each of these options offers a unique blend of style, ambiance, and personal touches. By carefully considering them, you can create a wedding that not only captures the essence of the fall season but also reflects your individual style and love story.
To explore more wedding topics and gain further inspiration for your special day, feel free to visit our blog page.