Your wedding day is a magical occasion filled with love, joy, and personal touches that reflect your unique journey as a couple.
One delightful way to infuse your personality into every aspect of your wedding is by incorporating personalized items, such as personalized wedding stickers. These customizable stickers add a special touch to your decorations, favors, stationery, and more.
In this comprehensive guide, we will cover everything you need, from design ideas to practical tips, to applying personalized wedding stickers into your special day. Let's find out!
1. Unique Invitations with Personalized Wedding Stickers
The perfect way to make your wedding celebration special is with personalized wedding stickers. If you are sending out invitations, why not include stickers along with them?
Stickers can be used in various positions on the invitation, depending on your preference and design. Common positions are:
Use wedding envelope stickers as seals to add a decorative touch or to secure the envelope.
Incorporate stickers as a focal point on the front or inside of the invitation.
Stickers can act as a decorative element on balloons, backdrops or signages.
Sticker types suggestions
Circle stickers are a popular option for envelope seals or to draw attention to important elements.
Die cut stickers allow you to create unique shapes, such as bride and groom initial, heart shape, monogram, etc.
Metallic clear stickers provide an elegant look, adding a touch of opulence and allowing the design of the invitation to shine through.
Additionally, consider using embossing and debossing stickers to add texture and depth, or stamping stickers for a vintage or handcrafted feel.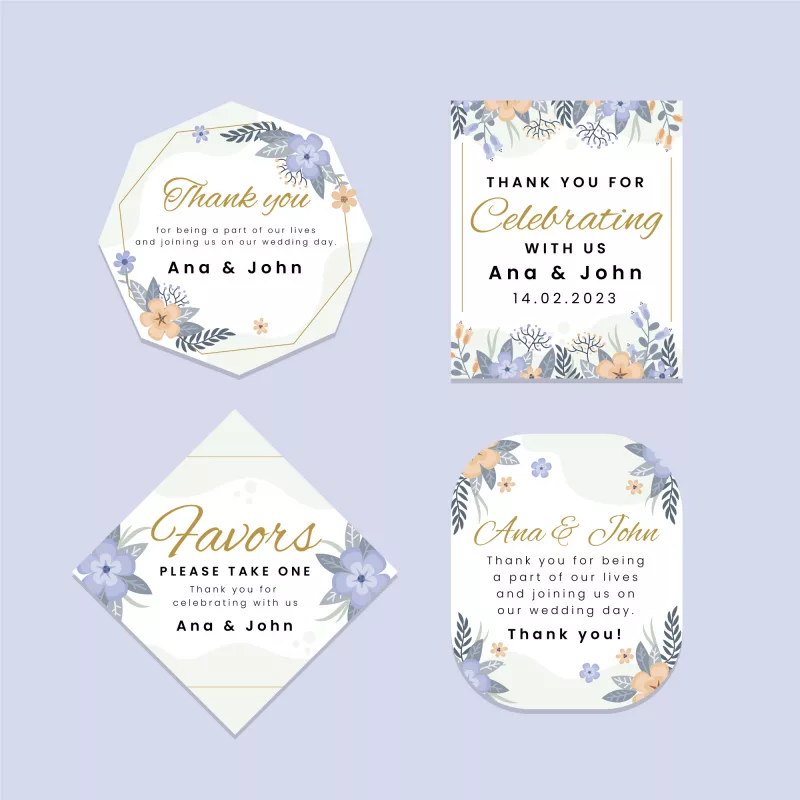 Content for stickers
What to print on to your personalized wedding stickers?
Monogram or Initials: Create a personalized sticker with the couple's monogram or initials.
Wedding Date or Logo: Incorporate your wedding date or a custom-designed logo that represents you as a couple.
Quote or Phrase: Choose a meaningful quote or phrase that resonates with your relationship or wedding theme.
Venue or Location: Feature the name or illustration of your wedding venue or location.
By personalizing your invitations with unique personalized wedding stickers, you can create a lasting impression on your guests and set the tone for your special day.
2. Personalizing Wedding Favors with Stickers
Stickers can work well with the common types of wedding favors, including chocolates, cookies, mini bottles of wine, keychains, or personalized trinkets.
Using wedding stickers for favors allows you to make each favor unique and special, and convey a message or express gratitude to your guests.
Content for stickers
Consider wedding thank you stickers for favors with a short message from the bride and groom. For example, you can use thank you wedding stickers with phrases like "We're grateful you were there" or "We appreciate your presence on our special day." Keep the message concise and heartfelt.
Sticker types suggestions
For wedding favor stickers with a thanks or message content, you can opt for various sticker types depending on your desired aesthetic and theme.
Round or square stickers: These classic shapes work well for most favored packaging and designs.
Custom-shaped stickers: Consider die-cut stickers or kiss-cut stickers in shapes that resonate with your wedding theme, such as hearts, flowers, or wedding rings.
Clear stickers: Clear stickers offer a subtle and elegant look, allowing the favor design to show through.
3. Guest Engagement: Name Tags and Table Decor
For guest engagement, using stickers with different colors, fonts, or designs that align with your wedding theme or reflect your personality as a couple. This customization can make guests feel more connected and engaged with the overall wedding experience.
Consider using personalized wedding stickers as:
Name Tags: Attach stickers to guests' clothing or accessories, eliminating the need for traditional name tags or badges. This makes it easier for guests to connect and engage with each other.
Place Cards: Place stickers on place cards to mark the assigned seats for guests. This simplifies the seating process and ensures a smooth flow during the reception.
Table Numbers: Instead of traditional table numbers, use stickers on small cards or signs to designate each table.
With clear and legible names or table numbers on the stickers, guests can quickly find their designated spots without confusion or delay.
To further enhance guest engagement, you can incorporate interactive elements into the personalized wedding stickers. For instance, you can add a QR code that leads guests to a digital guestbook or an interactive photo booth. This encourages guests to participate actively and create lasting memories.
4. Signage and Decoration
When using personalized wedding stickers for signage and decoration, the decor can be beautifully personalized.
Signage
Wedding signage helps guide guests and adds a decorative element to your venue. Consider using stickers for:
Welcome Signs: Create a stunning welcome sign by incorporating stickers with the names of the bride and groom, along with a warm greeting for guests.
Directional Signs: Use stickers to indicate different areas of your venue, such as the ceremony location, reception area, or dance floor.
Menu Signs: Display your wedding menu using wedding meal stickers. This adds a stylish and adorable touch to your reception decor.
The personalized wedding stickers used for signage are usually text. In this case, transfer stickers would be the best option because of its ability to provide aesthetic appeal; being flexible allows for secure application on curved surfaces and basic materials.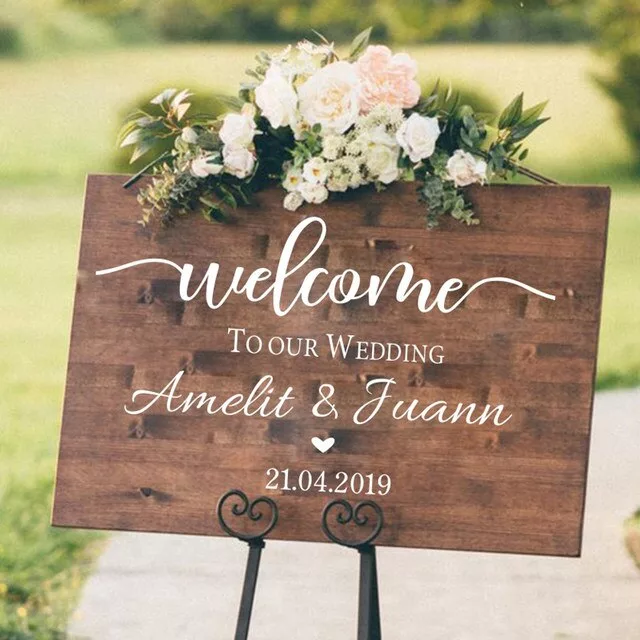 Here are some font options that suit different styles:
Elegant Style: Fonts like "Scriptina," "Great Vibes," or "Alex Brush" exude an elegant and sophisticated vibe, perfect for formal weddings.
Classic Style: Fonts like "Times New Roman," "Baskerville," or "Garamond" have a timeless appeal, suitable for traditional or vintage-themed weddings.
Dynamic Style: Using fonts such as "Lobster," "Bebas Neue," or "Montserrat". They are bold and modern, adding a dynamic and energetic touch to your stickers.
Remember to choose fonts that are legible and match the overall theme and style of your wedding. You can mix and match different font styles to create a visually interesting design.
Decoration
Here are some ideas on how to use personalized wedding stickers effectively for your decor:
Balloon Decorations: You can use stickers on balloons with the names of the bride and groom, wedding date, or custom designs that match your wedding theme.
Backdrops and Photo Booths: Create a customized backdrop by applying monograms stickers, floral designs, or personalized messages. You can also use stickers to create frames or borders around photos taken at the photo booth.
Lighting Decor: Apply stickers to lampshades, string lights, or lanterns to create a whimsical or romantic atmosphere. Choose stickers with delicate designs, such as stars, hearts, or floral motifs.
5. Budget Considerations and Sourcing Stickers
Before printing stickers, one of the most essential factors is to decide on a unified theme for your wedding. By doing this, you will be able to choose sticker designs that align with your overall aesthetic and create a cohesive look. Having a clear theme will also make it easier to narrow down your options and avoid unnecessary expenses.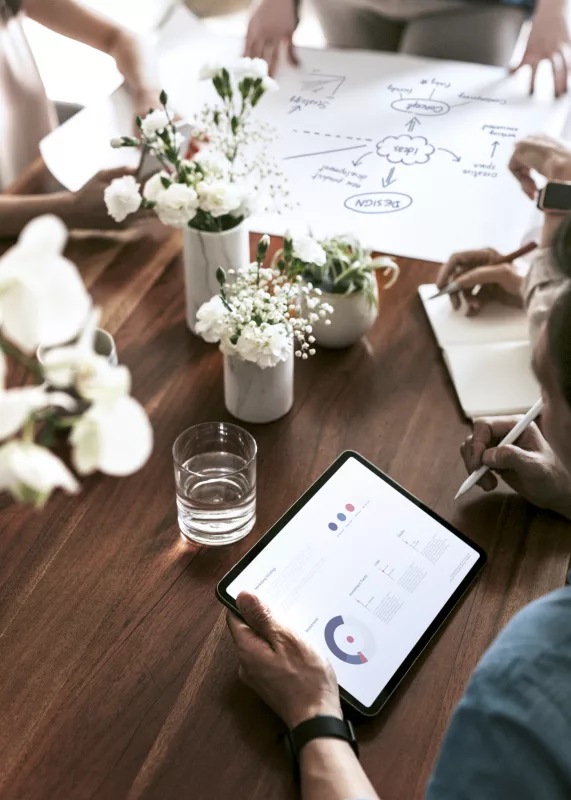 Besides, consider the material, size, quantity, and color of the stickers you need:
Different materials, such as vinyl or paper, have varying costs and durability. Choose between matte, glossy, or specialty finishes based on the desired look and feel.
Determine the appropriate size based on where you plan to use the stickers.
Consider the color scheme of your wedding and choose stickers that complement it. Some common color templates are classic ivory and white, romantic pastels, rustic neutrals,…
Next step: establish a budget for your personalized wedding stickers. Determine how much you are willing to spend on designing, printing, and applying.
Remember, while budget considerations are important, it's also crucial to maintain quality and ensure that the stickers align with your wedding vision. So, look for a reputable printer that offers good quality stickers and guarantees printing time.
We recommend you go for our service. At CustomAny, we provide high-quality stickers of all kinds. We also guarantee a quick shipment, with the time it takes to process and ship being anywhere between 7 and 10 days.
Conclusion
Throughout this guide, we have explored the various ways in which personalized wedding stickers can add a unique touch to every aspect of your wedding. By carefully selecting the right materials, sizes, colors, and design elements, you can create stunning accents that reflect your personalities as a couple.
We hope you found this comprehensive resource useful in providing insight, inspiration, and practical information for incorporating personalized wedding stickers into your big day.