Are you considering giving your loved ones unique Christmas gift bags this holiday season? Are you looking for a cost-effective way to wrap those special presents but at the same time want it to leave a lasting impression? If so, you're in the right place.
We at CustomAny understand the importance of eye-catching and exclusive gift wrapping during the holiday season, so in this blog, we're happy to inspire your DIY project with 9 creative Christmas Gift Bag Ideas using items you already have at home. With a little creativity, let's make these items extra special!
DIY Christmas Gift Bag Ideas From your Kitchen
To start looking for your very own Christmas gift bag ideas, don't look too far for materials because just right in your kitchen, there is a treasure of bags and containers. Let's explore the creative ways to turn your kitchen staples into various festive gift packaging.
1. Kraft Paper Bags
Your groceries bags, often kraft paper bags, can be transformed into beautiful gift bags with a bit of creativity. Use custom stickers, acrylic paints, or markers to create Christmas-themed bags. You can make it a funny snowman, a traditional Christmas tree, or some snowflakes.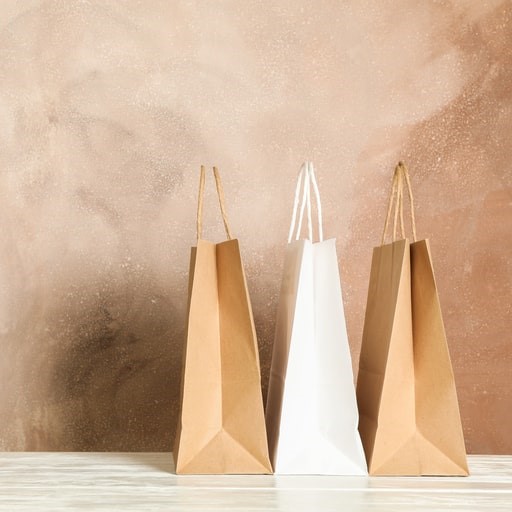 Also, consider adding some holiday-themed cutouts from your magazines, or even your own photos to these kraft paper bags. Using glue or adhesive tape to arrange these images on the bag's surface.
Matching the bag size to what you put inside is necessary. Because these kraft paper bags are fragile, easy to tear, they can hold small homemade treats like cookies or candies. If the treats are something bigger or heavier, consider larger kraft bags or other types of container below.
2. Mini Food Pouches
If you have extra food pouches, they will make charming and eco-friendly Christmas gift bag ideas.
These little pouches make for a perfect canvas to craft your own Christmas-themed designs. Grab some of your markers to draw on snowflakes, Santa Claus, or classic holly patterns. You can add a handwritten note or attach a colorful ribbon to enhance these Pouches Christmas gift bag ideas.
These pouches are perfect for smaller gifts like jewelry, candles, or scented soaps.
3. Wine Bags
You have tons of wine bags from years of celebrations? Give them new life by turning them into some creative Christmas gift bag ideas.
To get started, use these reusable bags as a canvas for your DIY project. Gather some craft supplies like acrylic paints, glitter, or fabric markers. Wine bags are typically made of cloth, so you can paint or even sew on some holiday scenes. Try something like a snowy winter wonderland, a cheerful Santa, or couples of reindeers in the sky.
Consider the size of the wine bag when choosing your gifts. They're ideal for presenting another bottle of wine, champagne, or other kinds of beverages. Make your Christmas goody bag ideas for adults more elegant by tying a ribbon or attaching a customized gift tag.
4. Mason Jars
We bet that you have a lot of mason jars at home. You can transform these appealing glass jars into charming Christmas gift containers with your creativity. Here's some suggestions for you to do this special Christmas gift bag idea.
Start by giving your Mason jar a holiday makeover using paint, clear stickers, or transfer stickers, creating Christmas-themed designs. Let your creativity do this part: opt for a jolly Santa, elegant snowflakes, or a classic Xmas tree. Make sure you tailor the decorating elements to suit the jar size, ensuring a harmonious look for the Christmas gift container.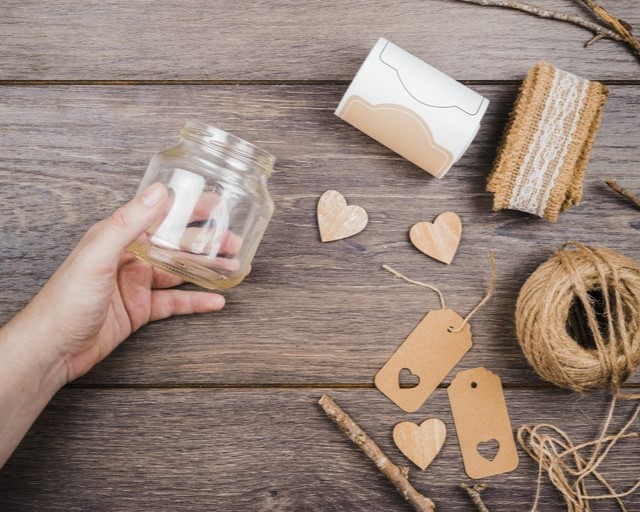 Mason jars are suitable for various kinds of gifts. For large jars, you can fill them with bigger sweets like holiday cookies, candy canes, or homemade fudge. Smaller jars are perfect to be filled with hot chocolate mixes, spices, or bath salts.
Lastly, enhance your jar's look with colorful ribbons or twines tied around the neck. Choose holiday colors for your ribbon to complete your holiday theme.
5. Cookie Tins
After the cookies are eaten, you can use the tins and turn them into distinctive Christmas gift containers. Begin by painting your cookie tin's exterior in holiday colors, such as green, red or white with red stripes. Use custom die cut stickers to apply Christmas-themed designs, such as a cheerful snowman or an elegant holly pattern.
When filling these unique Christmas treat bag ideas, consider the tin's dimensions. Homemade cookies, brownies, candy canes, truffles are lovely sweets that fit the size of these tins. You can put other small things like jewelry in this special bag.
You can handwrite a thoughtful wish or heartwarming message, or add personalized Christmas stickers featuring your unique designs or photos to these tins.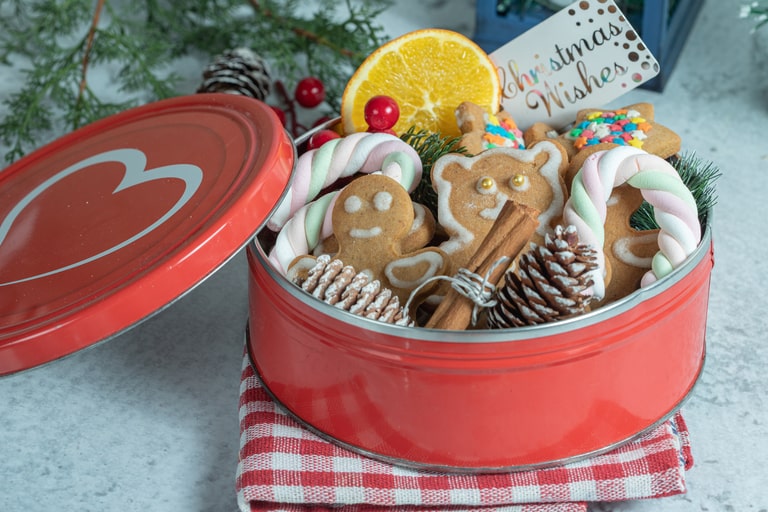 The best part of these Christmas Gift Bag Ideas is that you're giving a second life to your kitchen items. With these kitchen-inspired DIY Christmas gift bags ideas, let's start making memorable and eco-friendly gift packaging for this holiday season.
DIY Christmas Gift Bag Ideas from your Closet
When you want to craft unique Christmas gift bags, your closet is home to a multitude of possibilities. We have some ideas to help you transform ordinary cloth items into festive and creative packaging that will leave a great impression on your recipients.
6. Drawstring bags
Drawstring bags are so practical, commonly used for gym or sports gear. If you have some at home, you can be sure that they serve as a perfect base for creative Christmas gift bag ideas.
Consider the material of the bag. Drawstring bags can be made of cotton, canvas, or other fabrics, making them suitable for acrylic paints, fabric markers, or iron-on patches. Use them to create any holiday designs to the bag's surface
The size of the bag affects what you can place inside. These creative drawstring bags work well for holding clothing items, accessories, books, or small toys.
7. Canvas Tote Bags
Are there some free canvas tote bags from some online orders or events forgotten in the back of your closet? Let's give them the second chance to shine by turning them into festive packaging with our holiday gift bag ideas.
Grab some acrylic colors and paint them in delightful holiday themes or with personal designs. You can even try embroidery your Christmas gift tote to make an elegant look with intricate holiday-themed patterns or some personalized messages for the recipients.
Tote bags often come in large sizes, so you can use these Xmas gift bags for books, cozy blankets, or an assortment of smaller gifts like board games, or festive mugs or a bunch of packaged sweets.
After that, attach a ribbon bow or knot at the straps to complete your special Christmas gift bag.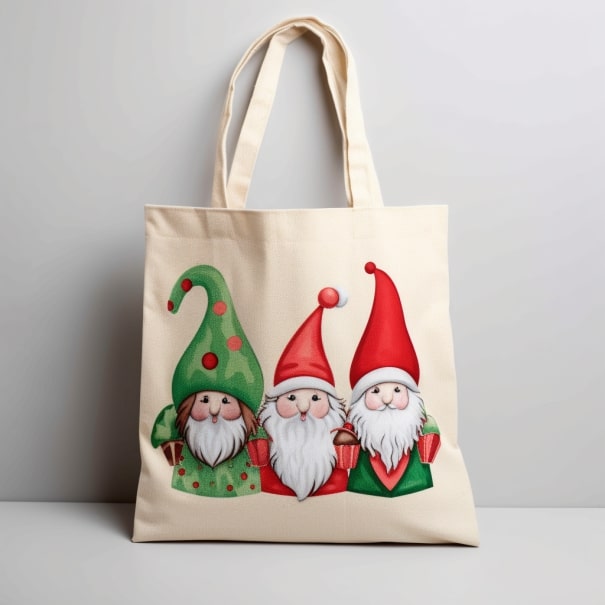 8. Christmas Stockings
Take advantage of your spare Christmas stockings and give them a spectacular makeover to serve as unique Christmas gift bag ideas.
If you're skilled with a needle and thread, attach a custom-sized liner inside your stocking to create a pouch-like structure. With this liner, your stockings are perfect for placing small gifts.
Enhance the overall look of this festive Christmas gift bag idea with a beautiful ribbon tied around the stocking's top. It's great if you pick the ribbon color the same with your fabric liner and match with your sticking colors.
To complete it, attach ornaments, jingle bells, or holiday-themed buttons to the stocking's surface. These accents add a personalized touch to your gift bag.
These closet-inspired ideas not only make your gift shine and impress anyone who receives them but also give you the chance to do a DIY project that is full of creativity and Christmas spirit.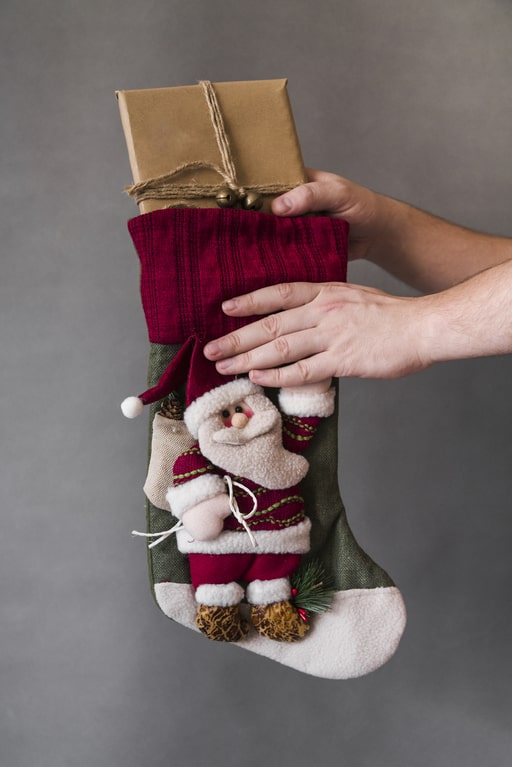 DIY Christmas Gift Bag Ideas in your Home
What else in your home that can be made into a great Christmas gift bag?
9. Baskets
Easter baskets, flower baskets, decorating baskets, market or storage baskets, you leave them around the house. This Christmas, search your home for these various types of baskets and transform them into charming gift bags with some simple decorations.
Firstly, you can use spray paint on the basket to achieve a Christmas color scheme. Then, create a custom liner from festive fabric. Make sure that the liner matches your basket's size and shape. With the liner, small treats that you put in these Christmas baskets won't poke out of the container.
Small items like ornaments, candles, or baked goods or larger things including books, or clothing can fit in these baskets perfectly. To complete your Christmas gift bag idea, add a beautiful ribbon to the basket's handle or edge.
Conclusion
Your gift-giving this holiday season will be so impressive with the unique DIY Christmas gift bag ideas. With them, you add a personal and creative touch to what you give to other people. And the best part? They are available in your home – no need to spend a cent on store-bought gift packing. So, give these affordable and eco-friendly ideas a try and let your Christmas holiday be full of creativity.
To add the finishing touch to your Christmas gift bag, consider using custom stickers with your own designs, messages, or photos. These custom stickers can enhance the charm and personalization of your DIY gift bags, making your presents truly unforgettable.