Investing in a water activated tape dispenser is the most efficient method to improve your packing process. Such devices provide effective sealing and packaging options for every commodity. A water activated tape dispenser, which is equipped with current technology, functions as a wonder glue. It improves the effectiveness and efficiency of your packaged goods. In addition, knowing about a water activated tape dispenser is a must if you're just starting out in this packaging sector. This article will explain how the tape dispensers function, how to use shipping tape dispensers, and recommend many different kinds of tape dispensers that you should use.
Who should use a dispenser for water activated tapes?
How is the adhesive on our packaging tape activated?
If you're using water activated gummed packing tape, you'll need to wet the underside of the tape (the side without printing) before applying it to your package. Either a moist sponge or a gummed tape machine/gummed tape dispenser may be used for this purpose.
To get more detailed information about how to use water activated tape, let's come to our article: How to use water activated tape and top 3 tips to apply it right.
Pros and cons of using water activated tapes with and without machine
If you are wondering whether you should use a water activated tape dispenser or not, you must clarify the advantages and disadvantages of sponge and machine methods.
Sponge method
Pros
Low cost
Suitable for users with low volume packing boxes
Easy to move from one location to another for sealing
Cons
It requires controlling the amount of pressure you use. If you do it too hard, too much adhesive will be removed, making the tape's performance less efficient
Processes that take a long time to complete are only suitable for low-volume uses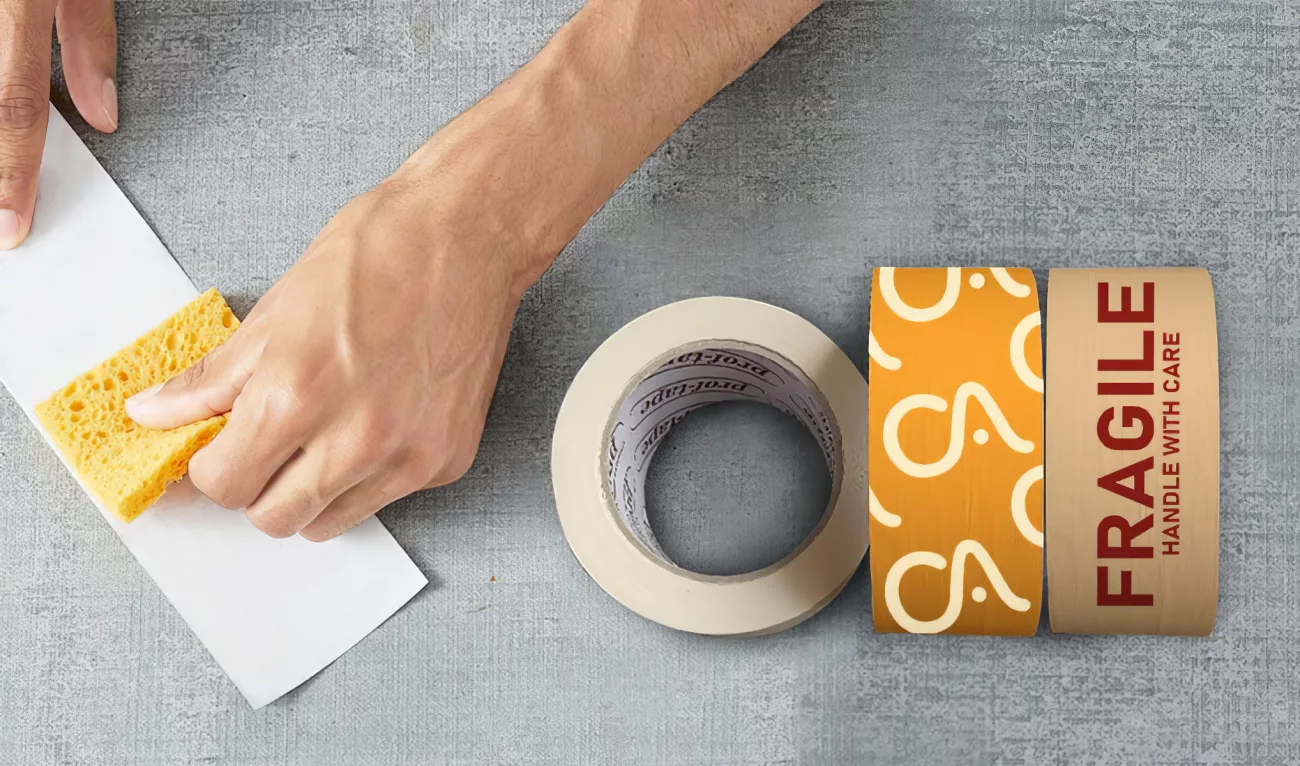 Dispenser method
Manual dispenser
Pros
Cost-effective compared to electric tape dispensers
Function without electricity
Suitable for packing stations with a need for mobility
Enhance packing and shipping efficiency
Ideal for packaging stations with low to medium volumes
Operator training is minimal to none
Cons
Need some small manual effort to operate
Electric dispensers
Pros:
The most efficient packing and shipping method
Ideal for high-volume, high-speed packaging
Durable
Customizable
Enhances employee safety
Cons:
Training may be needed for operators
A more expensive alternative to manual water activated tape dispensers
Electricity is needed to operate
So, who should use a water activated tape dispenser?
As a general guideline, you should invest in a water activated tape dispenser if you regularly pack more than a few hundred cartons daily (or expect your firm to expand rapidly to that level of packing).
In conclusion, a water activated tape dispenser is a way to go if your carton shipping department processes a significant number of packages on a regular basis. Your packing and shipping hub's improved productivity and security will outweigh the additional cost.
4 types of dispensers for water activated tapes
1. Packer 3S
The Packers 3S is a manual water activated tape dispenser. Its lightweight and small size make it convenient for transport. Just filling the front-facing water reservoir is all that's needed to get started with the dispenser. After the tape has been loaded and put through the dispenser, you may activate the adhesive by pulling it over a water brush, and then you can use the blade to make clean cuts.
With the Packer 3S, you can get tape quickly and easily at the lowest price possible. This wet tape dispenser is an improvement over the sponge approach, but you shouldn't do more than ten packages at once.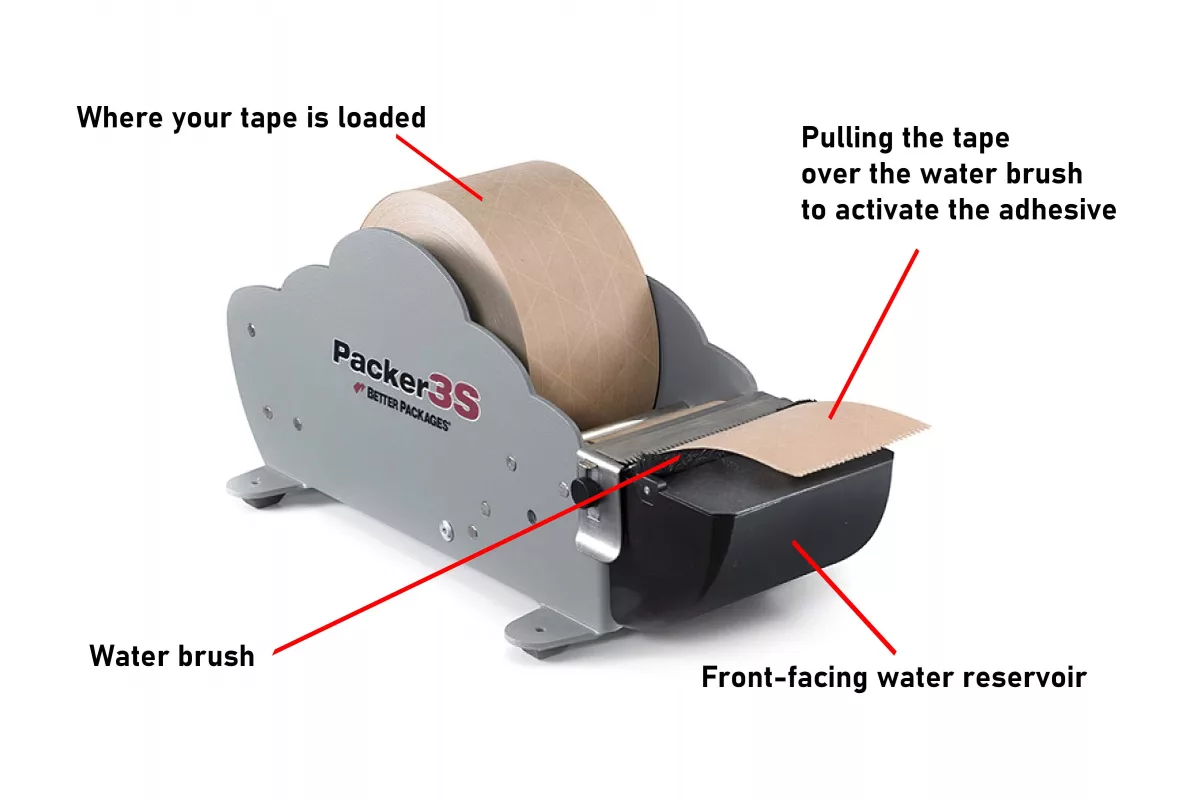 2. BP 333
BP 333 tape dispensers are also manual water activated tape dispenser. While less portable than the Packer 3S, it is still simple to transport. It took some time to get the machine up and running, but once it was, it was simple to use.
Because of its enormous water tank, it can activate a large amount of tape before needing to be refilled. With the brushes and the pressure plate, you can guarantee that every inch of tape is thoroughly wet, maximizing the adhesive potential of the tape.
The tape may be inserted into the dispenser with ease. The tape's length may be manually adjusted using the left-hand mechanism on the machine. Just pull the lever down to release the tape, and then cut it.
In terms of manual water activated tape dispenser, the BP 333 is among the best available. Compared to the Packer 3S and the sponge approach, this is definitely a level higher. The BP 333 is a highly efficient and cost-effective alternative to automated dispensers.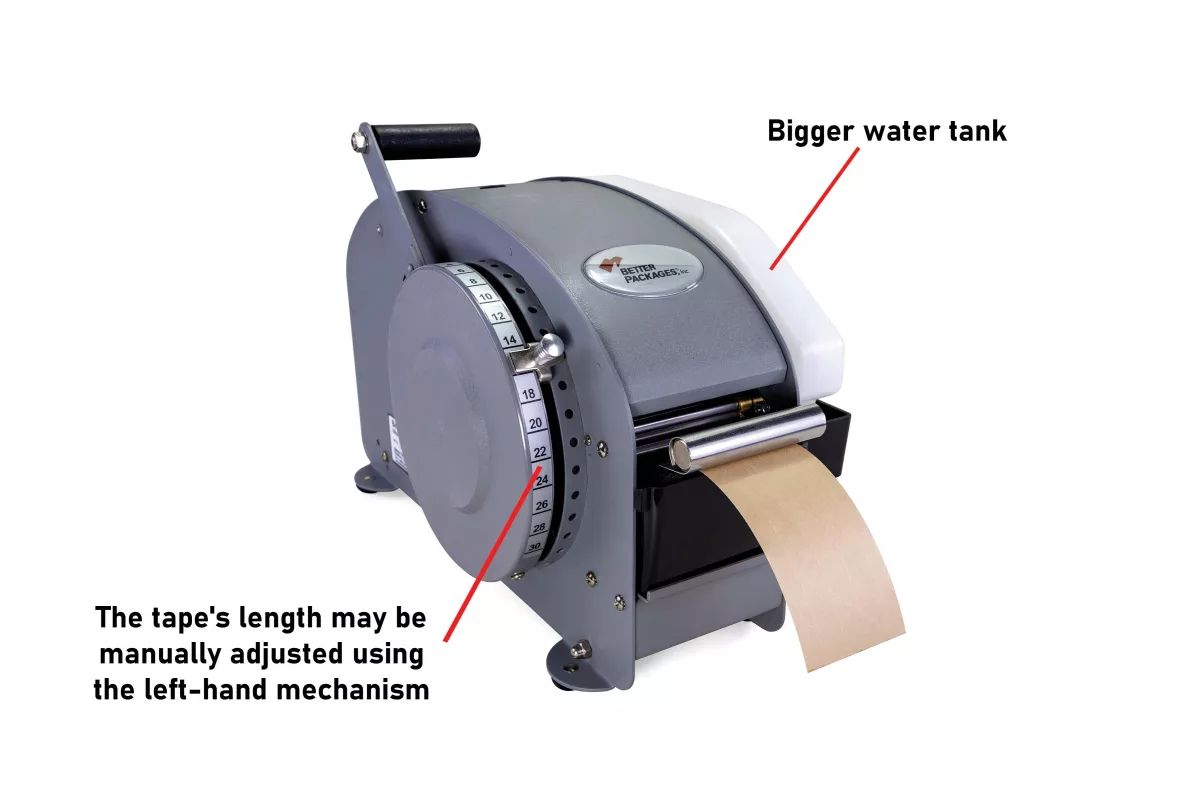 3. BP 555
The BP 555 (including PB 555eS and PB 555eSA series) is a modern electronic water activated packing tape dispenser. In general, it's not too difficult to get the machine up and running, and it's also simple to use. The tape can be loaded and unloaded with ease because of the large hole. The water storage tank is spacious, and its top is sealed to prevent leaks. Also, it has a water heater already installed.
Tape may be quickly dispensed from the BP 555 at great speed. All the pieces are moistened in water to provide good adhesion.
Users can cut the tape to the desired length using the left-hand numbers. If you need a length different than what is offered by default, you may use the supplementary controls to make the necessary adjustments. You may also manually feed tape into the dispenser by pressing a button and holding it down. Also, the repeat option allows you to quickly and easily replay your previous time duration.
With its adaptable design and configurable capabilities, the BP 555 stands out as a top-tier water activated tape dispenser.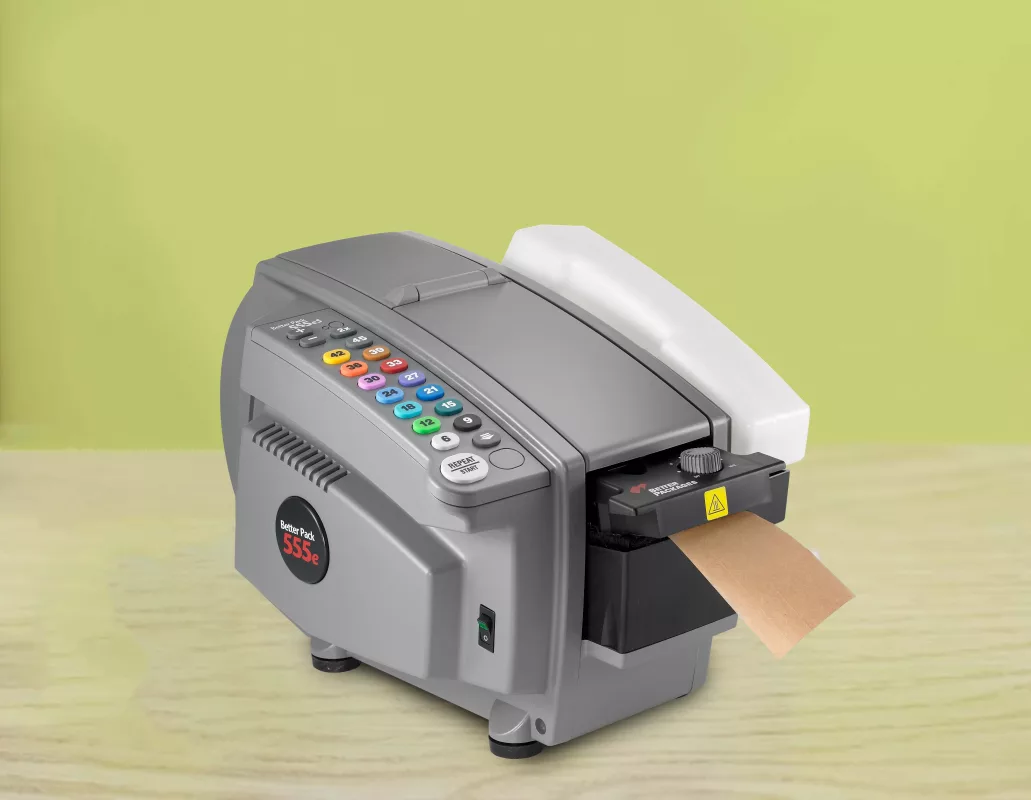 4. BP 755
The BP 755 water activated tape dispenser (including BP 755eS and BP 755eSA series) is an electronic model. For convenience in loading, the machine has a big top hatch and a low profile design.
However, this water activated tape dispenser has a drawback. Compared to BP 555, which has a sealed top, BP 755 doesn't have one. Besides, the BP 755 water tank has narrow entrances. So, it was challenging to fill and remove the water tank without spilling a lot of water.
A water heater is integrated and can be operated by opening the top hatch.
The color-coded keypad located in the front surface provides you with 20 preset tape lengths. You can adjust the tape from 4 inches to 125 inches wide. If your desirable tap length is not in this keypad, this water activated tape dispenser allows you to set the different length by pressing the "Select" button. By removing the separator from the machine's bottom, and inserting it to the body, you can cut two narrow tapes at the same time.
Very simple to set up and use, this water activated tape machine has no learning curve. After the tape is loaded and the water tank is full, the machine will dispense, wet, and cut a piece of tape to the exact length you specify in inches.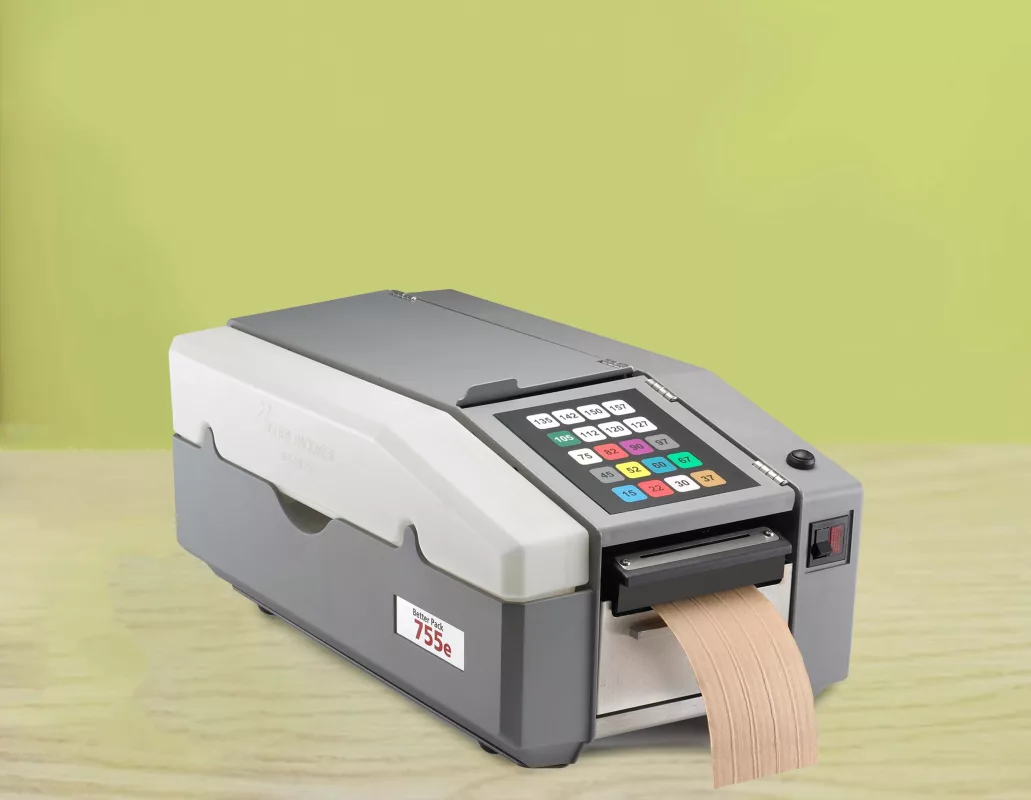 Which water activated tape dispenser is best for your packaging needs?
To decide which water activated tape dispenser is best for you, follow the table below. We will compare the four mentioned gummed tape dispensers depending on three main factors:
Features
Packer 3S
BP 333
BP 555
BP 755
Types
manual tape dispenser
manual tape dispenser
electronic tape dispenser
electronic tape dispenser
Prices
least expensive (about $110)
higher end of manual tape dispensers (about $430)
mid-range of electronic tape dispensers (about $1,000)
high-range of electronic tape dispensers (about $1,300)
Ideal for
Less than 10 boxes per day
between 1 and 100 cartons per day
more than 100 cartons per day
more than 100 cartons per day
Pros
– Simple to use
– CheapPortability
– Do not require electricity
– Simple to use
– Rugged, reliable design
– Portability
– Do not require electricity
– 15 preset tape lengths
– Manage high volumes at a fast pace
– Has computer interfaces
– Integrated water heater
– Safety features available

– Supports up to 4 inch wide tapes
– Dispenses tape up to 100 inches long
– Double brush moistening
– Top heater
Cons
Just suitable for small or home offices
– Much expensive than Packer 3S
– Need little effort to operate
Take some time to learn how to operatie
– Expensive
– Less efficient than BP 555
– Take some time to learn how to operate
After going over the information, we have some recommendations for you:
In general, Packer 3S is the preferable option if your daily output is less than 50 boxes.
If you're sending up to 100 boxes daily, the BP 333 is the best option.
If you ship more than 100 parcels every day, particularly if they are of different sizes, BP 555 is a worthwhile investment.
We would not suggest the BP 755 automatic packing tape dispenser unless the low profile is a must-have for you. The BP 755 is more expensive than the BP 555, but it is less efficient and even has fewer functions.
Conclusion
A water activated tape dispenser is, without a doubt, one of the greatest things you need to pack your items securely. When shopping for a tape dispenser, you can choose one that works for your specific requirements. We at CustomAny hope that with our article, you can pick out the most suitable tape dispenser for your goods and everyday business demands.