To create a beautiful and complete custom sticker, in addition to printing techniques, you also need to "pocket" for yourself the knowledge about the materials that make up the finished product. As we discussed earlier, there are 2 common used material for printing sticker – paper and vinyl. If you choose paper for your sticker to be printed on, the question is: coated vs uncoated paper – which type is the best? Make the right choice can help you save money while also improving the look of your printed products. So, in this article, we will distinguish between coated and uncoated paper for you to choose more easily.
What's the difference between coated and uncoated paper?
1. What is uncoated paper?
Uncoated paper is uncoated paper stock with a rough, matte finish. They frequently feel textured and rougher than coated stocks. Because there is nothing to cover the natural fibers of the paper, it absorbs ink, giving it a softer, warmer appearance. Images printed on uncoated paper are typically less crisp. However, the uncoated paper also produces varied color qualities while printing the sticker due to the varying whiteness. This paper's ability to be written on with regular pens makes it stand out from coated paper in a significant way. Best for text, uncoated paper has a coarser texture and a more rustic, natural appearance.
Drawbacks of uncoated paper: Uncoated paper is not recommended for highly detailed stickers. You'll notice that this paper occasionally causes the sticker to peel off. Furthermore, uncoated paper frequently necessitates additional drying time. As a result, it may not be the best paper for sticker printing.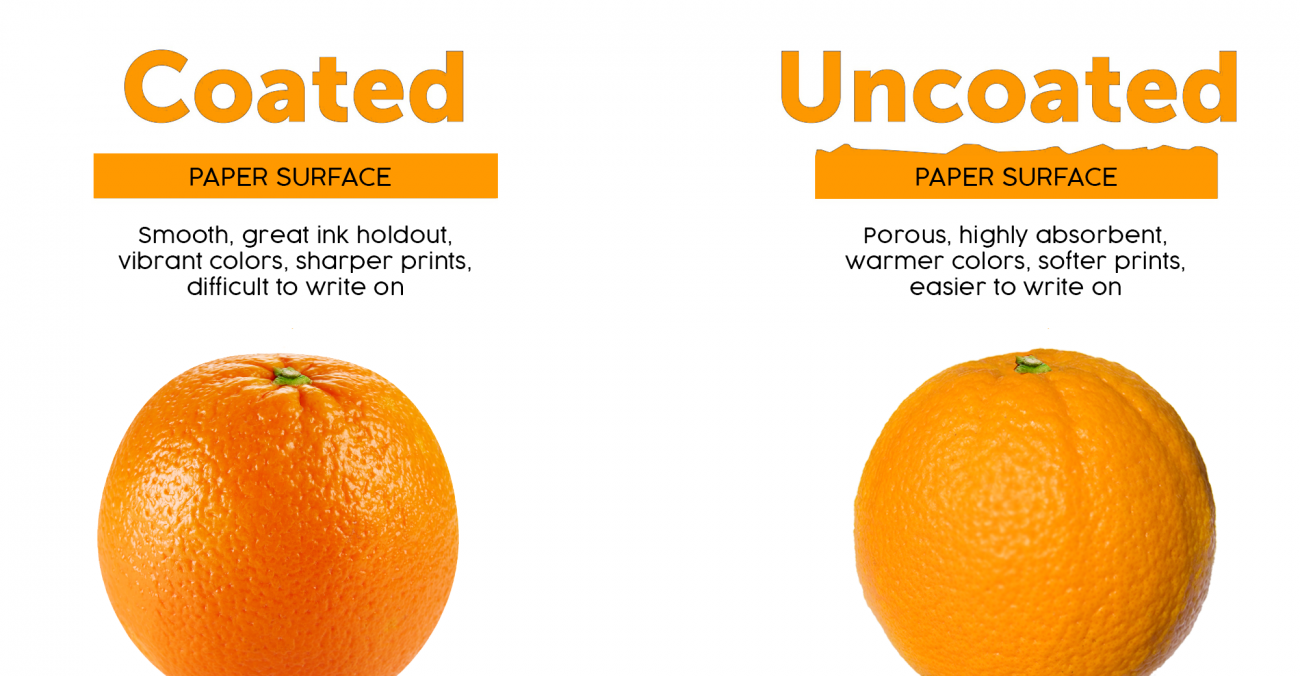 2. What is coated paper?
Coated paper is paper with glossy surfaces and a high level of light reflection. The color reproduction is faithful due to the coating that boosts opacity, making the sticker print highly attractive. Coated paper will last long since it is more resistant to smudges, wear, and moisture. There are coated varieties with one and two sides. Best for stickers, pictures, clear printing, a smooth feel, and customized finishes is coated paper. These are types of coated paper are frequently used:
Gloss-Coated Paper
It features a smooth, glossy surface used frequently to print promotional flyers, catalogs, posters, brochures, stickers, and more… This paper's enhanced depth of color saturation and gloss coating make color stickers. However, the fact that it is prone to glare can make it more difficult to see pattern print on stickers.
Dull-Coated Paper
Dull-coated paper has fewer glare and shimmer than glossy paper. Because of the surface's smoothness, high-quality base image reproduction is supported. This type of paper is ideal for printing stickers because it allows people to clearly see both the text and the graphic on the sticker.
Beside that, matte-coated paper being less shiny than paper with a gloss coating, it has similarities to dull-coated paper.
Cast-Coated / High-Gloss Paper
Being less lustrous than paper with a gloss coating, it also has similarities to dull-coated paper. It resembles dull-coated paper because it is less lustrous than gloss-coated paper.
Paper that has been heavily coated and is exceptionally glossy. Consider choosing a matte-coated paper over cast-coated paper if you want to avoid glare on your print piece because cast-coated paper is very reflective.
Drawbacks of coated paper: When it comes to coated paper, there are a few disadvantages like writing on it with a pen can be difficult. Aside from that, the shininess of the gloss-coated paper can make it difficult to read if you are printing something with a lot of text or small details. When contrasting coated and uncoated paper, this is one of the benefits of uncoated paper.
Coated vs uncoated paper in printing stickers
Finding the right one between coated and uncoated paper for your stickers can be both time-consuming and costly. If you are unsure about whether to use coated or uncoated paper, there are three criteria to consider which are aesthetics, functionality, and budget. Let's look at these three criteria' specifics:
1. Aesthetics
Coated paper produces the greatest results if you want the sticker to seem shiny and glossy. They are suitable for dynamic, fun, youthful stickers or are the perfect choice for you when aiming for bright sticker images. The fine detail and increased contrast between the printed image and the ink are provided by the coated surface of the coated paper. This makes coated paper ideal for projects in the marketing sectors. For example, they provide excellent choices for decorative stickers at showroom stores or stickers to give away to customers.
Unlike coated paper, uncoated papers lend themselves well to pressure-based printing techniques such as suitable for printing letter stickers, decoration for weddings, and invitations to show formal politeness… Besides that, uncoated papers possess more warmth and flexibility than coated paper. They can make 3D sticker-quality stickers such as retro stickers, travel stickers, and stickers for notebooks, helmets, glasses, cups, etc…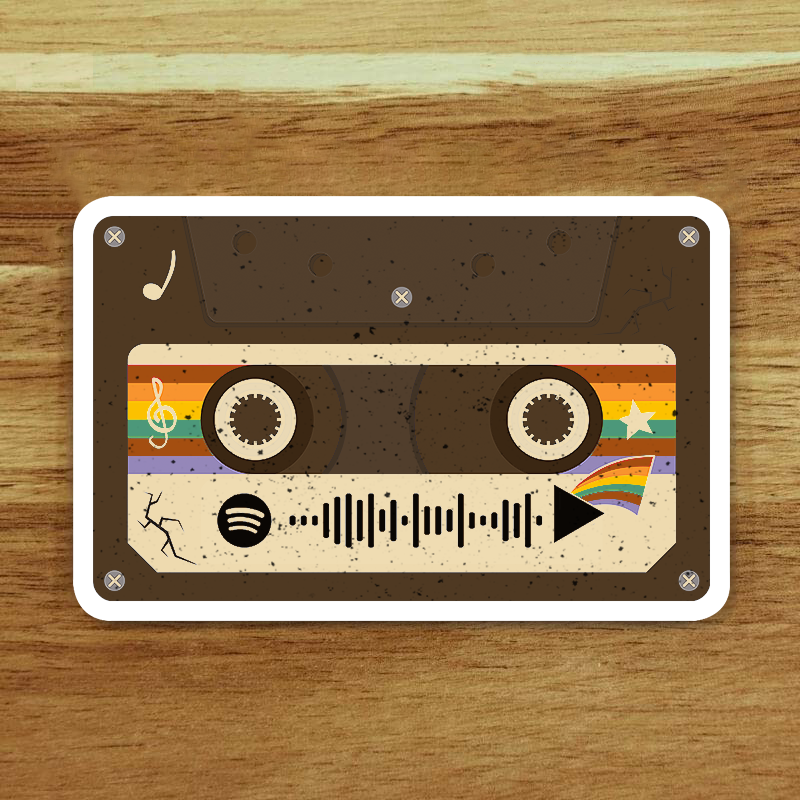 2. Functionality
Coated paper has the benefit of being resistant to tearing, moisture, and dirt sticking to the sticker. This helps maintain the sharp, professional look of your stickers longer than uncoated ones. Because coated paper absorbs less ink than uncoated paper, your colors look brighter and last longer outdoors. Coating materials are ideal if you love stickers with sharp, clear images because the ink sits on top of the sticker. To highlight the best stickers or images, photographers, restaurants, designers and artists can choose coated paper.
Uncoated paper may take longer to dry depending on the amount of ink on the paper. However, the sticker printed with this material is not waterproof, so it cannot be left outdoors, because the sticker can get wet and damaged.
In general, when comparing the durability between coated paper and uncoated paper, coated paper is more durable, used outdoors or indoors without worrying about moisture or being affected by temperature like uncoated paper.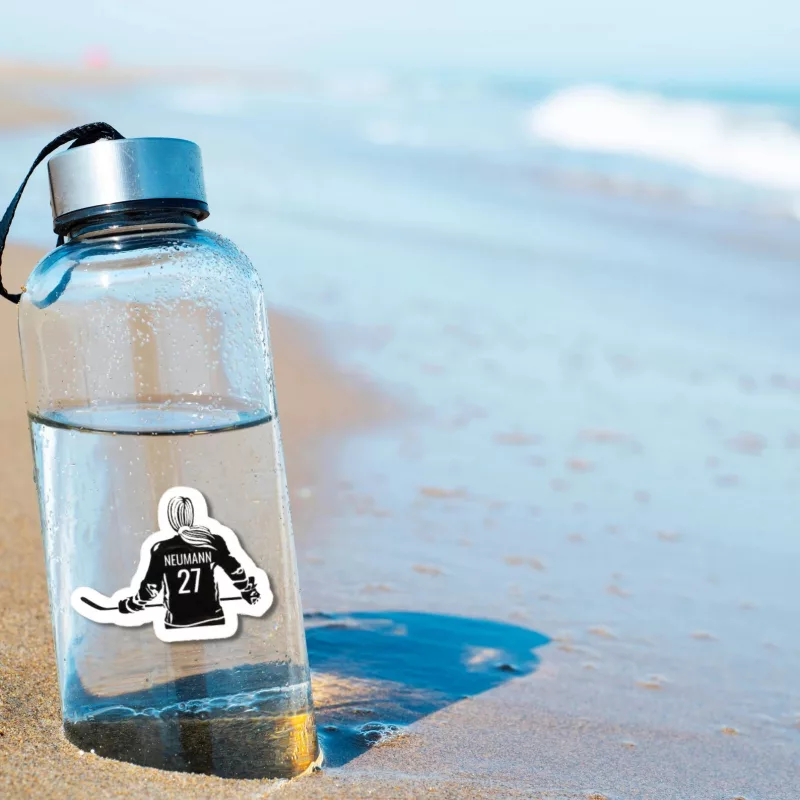 3. Budget
When comparing coated vs uncoated paper, keep specifications like opacity, weight, and size in mind. Coated and uncoated paper both offer a diverse range of products at various price points. In general, due to the reinforcement of the coating, the cost of coated paper will be higher than that of uncoated. To save money on sticker printing, use uncoated sheets that are lighter in weight than coated sheets. This reduction can also help save on finished product shipping costs.
Closing thoughts
These are some of the distinctions between coated vs uncoated paper. These papers are used for a variety of purposes due to their properties. When it comes to sticker printing, coated paper stickers last longer and have a wider variety of finishes to choose from, making them more eye-catching, whereas uncoated paper is less expensive and give your sticker a retro-look. Which type is appropriate and better for sticker printing depends on your purpose. Therefore, consider three factors: aesthetics, functionality, and budget to make the best sticker printing choice.