Lost luggage is something that can happen to all international students, people who frequently travel on business, and especially those who have a summer hobby of traveling. As a result, many people are concerned about how to make their luggage stand out. This marking will relieve you of the worry of misplaced luggage. Here are 9 cool luggage identifiers ideas to help you spot it.
1. Choose luggage in a bright color
If you want to bring a luggage that is easy to spot at the airpot, choose one in bright color. Consider vivid and intense colors such as yellow, bluebonnet, lemon, green, electric blue, pink or red, as well as a digital locking system to ensure the suitcase's safety at all times.
In case you don't want the color of your luggage to be too prominent, you can choose other colors such as light blue, light green, and light pink,… These colors still make your baggage standout because commonly most people bring suitcases in dark colors like dark blue or black… A suitcase in a bright color or an eye-catching cover that is difficult to duplicate and easy to identify will not only assist you in quickly identifying your luggage in crowded places but also help keep your belongings safe from thieves.
2. Use a unique tags as your luggage identifier
The simplest and most convenient option is to hang a unique tag on your suitcase! These tags can be an outstanding luggage tag or a personalized name tag of your own. The main purpose of the tag is to assist users in accurately distinguishing their luggage. If you get a tag for yourself, remember to fill in the necessary personal information such as phone number, contact method, etc. With this suitcase tag, you can relax with your travel because you'll easily be able to claim your luggage, knowing that you won't get the wrong one.
3. Try a luggage strap or belt
If the bright colors and unique tags mentioned above aren't your thing, try a luggage strap or belt. These things can provide some reassurance. Tie a luggage strap or belt around the middle of your suitcase. They aid in keeping your suitcase closed and secure, eliminating the need to worry about losing anything, at the same time adding a splash of color. Just to be sure, try to personalize the luggage strap or belt. Custom luggage straps with your name printed on it are a solid conservative option that still make your luggage different and stand out.
4. Add a custom patch
Another excellent luggage identifier idea is to sew some custom patches in a prominent location to personalize your suitcase. They can be purchased on e-commerce sites or at fabric stores, and they can be sewn into soft-sided luggage or attached with tape.
With these steps, you can be confident that you've done your part to avoid becoming one of the 2.5 million pieces of luggage that go missing at airports every year. Not to mention that you'll save time and effort at the end of your trip, when the last thing you want to do is waste time at the baggage claim.
5. Use decorative or caution tape to personalize your luggage
One of the best luggage decoration ideas that you should know: Wrap your suitcase in caution tape, it will look like a personal luggage sticker. You can do it on your own. All of this adds up to a great and somewhat humorous way for this caution tape to help your luggage stand out in the thousands of dark blue, dark gray, or black suitcases at the airport.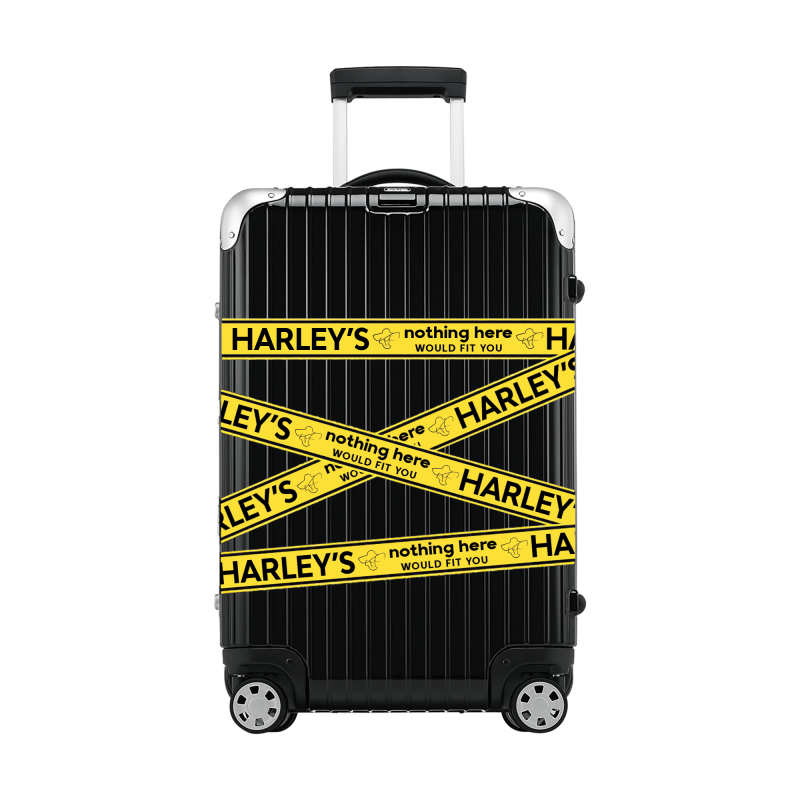 6. Go retro with traveling stickers
Another idea is to decorate your suitcase with stickers to reflect your personality as well as a way to carry luggage markers. How to paste stickers is a simple, straightforward, and highly effective method.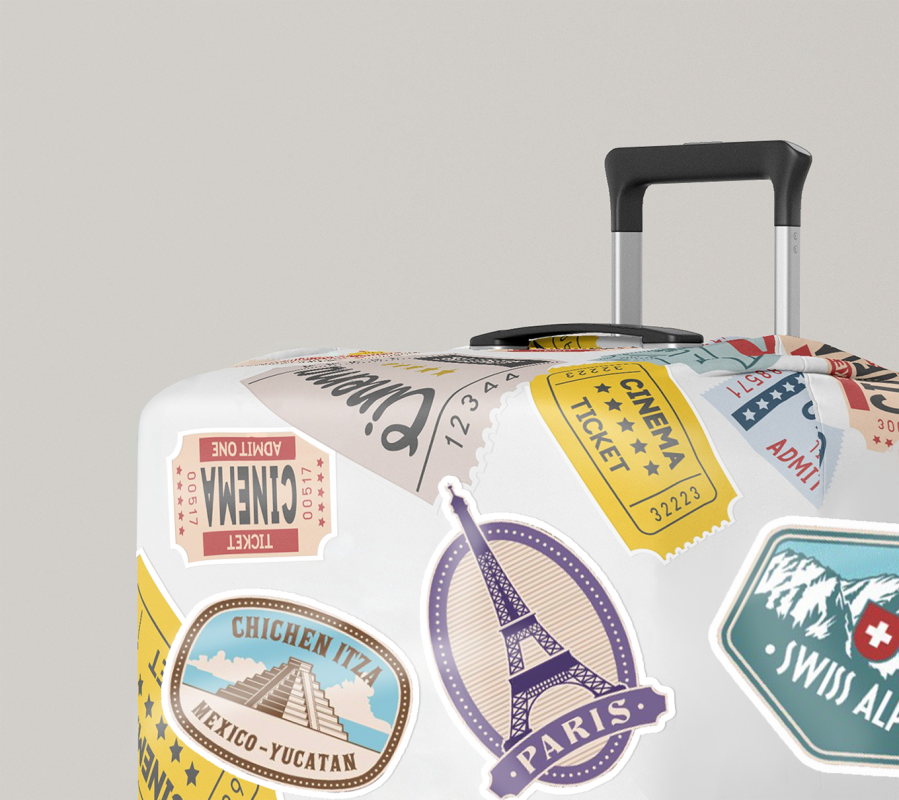 7. Add colorful accents as luggage identifiers
This is a suitcase decorating idea for your suitcase to stand out: Decorate the handles or zipper ends with colorful ribbons, zip ties, lanyards, fabric, bungee cords, carabiners, or scarves. The holidays are the ideal time to pull out those brightly colored ribbons. You can tie a bow around your suitcase or make small, pretty flowers out of ribbons and attach them to it. You can also knit cute animal shapes and hang them on the suitcase if you are more skilled for luggage markers.
8. Paint your own patterns
Another option for luggage markers is to paint your own patterns. Patterns, your spirit animal, your family crest, flowers, or whatever inspires you can be painted. Alternatively, if you have spray paint, you can stencil designs on hard shell luggage—just make sure the pattern and color are visible from a distance. To make it easier to identify your suitcase, choose a prominent paint or paint color and sign it with your name or nickname. This method will bring eye-catching and easily identifiable suitcases among the colorful suitcases at the airport.
9. A smart luggage identifier idea – use a tracker
Baggage trackers are a more dependable method of identifying baggage than paper tags or flimsy identification. A baggage tracker is a tag that you attach to your luggage before you check in at the airport. The card contains a code that is linked to your personal information. Baggage trackers only have an identification code on the tag associated with your information in the database, rather than displaying your name, address, and phone number on a human-readable tag like a nametag or luggage tag. Tracker allows you to track and find your lost luggage by using bluetooth.
The 9 luggage identifier ideas described above are the most basic and effective for marking your traveling belongings. Luggage identifiers are most important for its advantage of easy identification, but if you want them not only serve that but also spruce up your travel and show your personality, you could check out our custom products, which include personalized stickers, photo stickers, custom labels, and custom tapes for your luggage decoration. We are confident that these luggage identifier ideas are going to bring you awesome traveling experience!