Posters can be used for a variety of purposes, from decorating or personalizing a space to advertising a sale or providing information about a product or service. The act of hanging them is enjoyable, but how to hang posters without damaging walls? If you're worried about ruining the walls or your belongings, keep in mind that there are many options that are completely safe.
Whether you're hanging posters in a rental, a dorm, your own home, an office, or a company, you probably want to do as minor damage as possible to the wall or surface, have it last as long as possible, and hang it as quickly and efficiently as possible.
This article will teach you how to hang up posters without damaging walls and the poster itself.
6 ways to hang up posters without damaging walls
There are 6 most effective solutions to your question "how to hang posters without damaging walls."
Command Strips
Simply, command strips are adhesive double sided tape for custom posters, a tape that won't damage walls. They come with two sides, one used to stick to your poster and one to stick to the wall. They are answers to the problem "how to hang posters without damaging walls."
The strips are able to support weights of up to 16 pounds, depending on their size. (7.3 kg).
When applied properly, this best tape for walls will not leave any residue, protecting both your poster and the wall. But you shouldn't use them on wallpapered walls since they might tear the paper.
The strength of this poster tape makes it ideal for mounting posters with frames.
Tip: If you want to display framed posters on the wall, you have the option to acquire command strips with hooks to attach to the wall.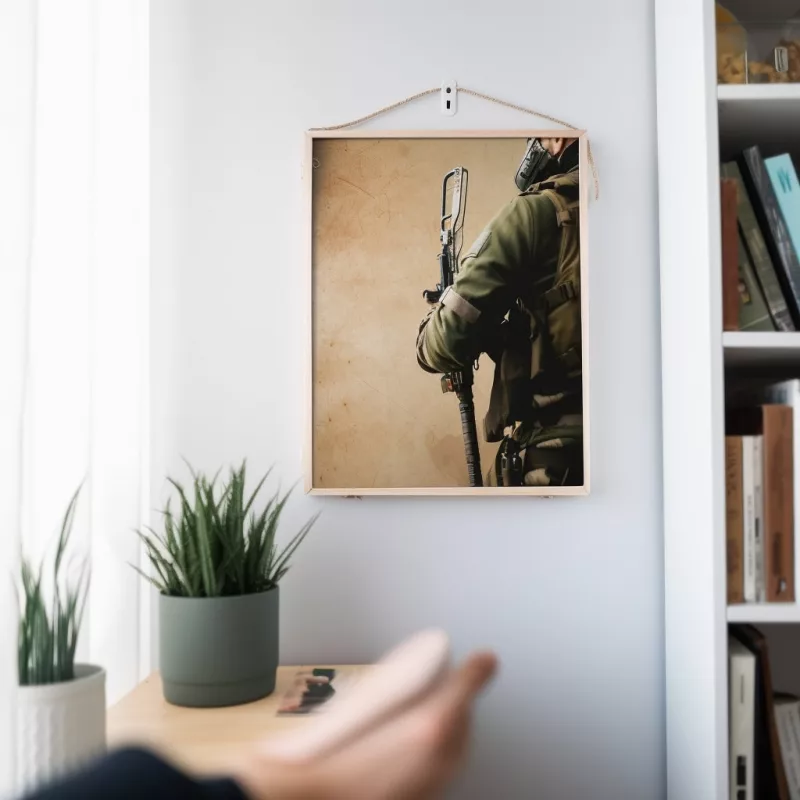 Poster Putty
Wall putty, also known as poster putty or poster tack, is an excellent answer to how to hang posters without damaging walls. Putty can be applied in a matter of seconds and does not need the use of any special equipment. You may adhere to your decoration by pressing the putty into place. Use your judgment to determine whether you need numerous pieces of putty for larger or heavier posters. More is usually better when it comes to adhesives.
Most mounting putty can't support much weight because of how readily it may be removed. Putties typically have a weight capacity of between 1 and 2 pounds. It could be strong enough to support a lightweight poster.
Non damaging wall adhesive putty is a fixative that doesn't damage the surfaces it's placed on. It is recommended for posters made of firm material because it reduces the likelihood of crumpling and minor bumps at the contact areas.
Furthermore, poster putty is recommended for posters that are not framed. This method is only applicable to light posters.
Washi Tape
Washi tape is made specifically for mounting posters and other decorative items on walls. It has the same adhesiveness as normal tape but comes in a variety of designs, textures, and hues. Without the need for unsightly frames or mounting equipment, you now find a straightforward way on how to hang posters without damaging walls.
Washi tape originates in Japan and is made from rice paper. The adhesive on this tape is so gentle that it won't even stick to anything as delicate as scrapbook paper. It is readily removable from any surface, so you then apply it over the front of your artwork without worrying about ruining it.
Washi tape may only be used on lightweight, unframed posters.
Tip: Instead of buying expensive picture frames, you can just attach your favorite posters to the wall and add a decorative border made from custom tapes.
Washi tape is how to hang a poster without a frame. Use your imagination to create shapes and patterns from solid-color washi tape, or choose washi tape with bold patterns like stripes or polka dots.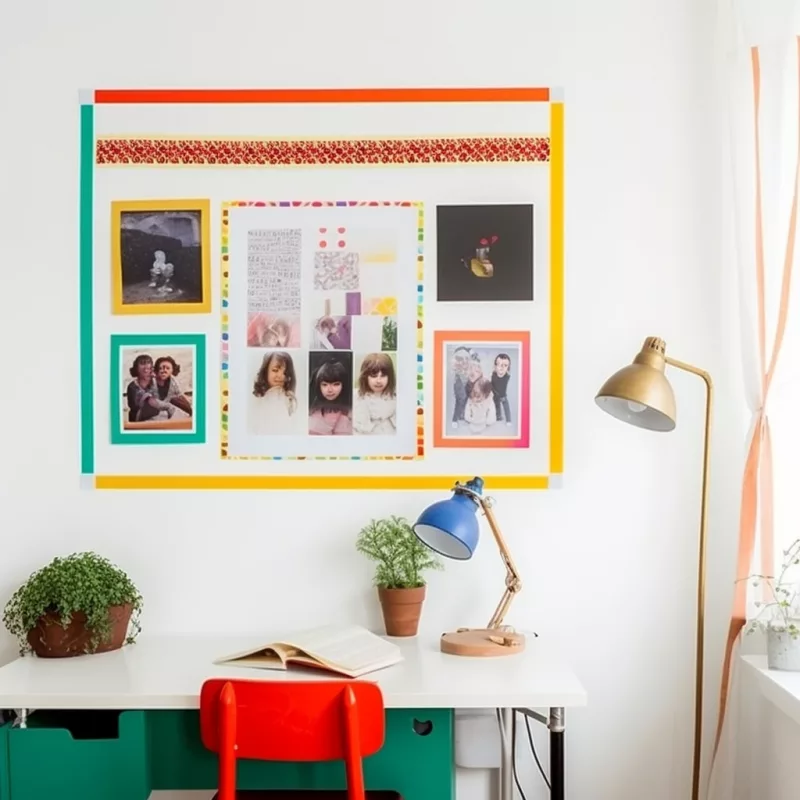 Magnetic Poster Hangers
Magnetic poster hangers use wooden or plastic clips that attach to the top and the bottom of the poster. Strong magnets are included in each set of hangers to keep posters in place. Each magnetic pair must be opened and brought together at the top and bottom of your poster. They are able to support up to 1 pound of poster weight.
These poster wall hangers allow you to display artwork without frames.
Tip: if you've secured your poster with thumb tacks or push pins and are now ready to relocate it, consider filling the small holes with toothpaste. That's how to hang posters without damaging walls.
Binder Clips
Binder clips are another solution for how to hang posters without damaging walls. You can clip the posters to the wall using ropes, hooks, or screws. When hanging posters, use clips that won't leave a mark on the paper.
Lightweight posters, under 1 pound, may be easily displayed with binder clips. If it's really heavy, you can use larger binder clips and nails (but still recommend weighing less than 2 pounds). You should only put a few large or heavy posters in them since they're meant for unframed posters.
Tip: Using bulldog clips instead of conventional binder clips, you will prevent the clips from leaving indentations on your posters.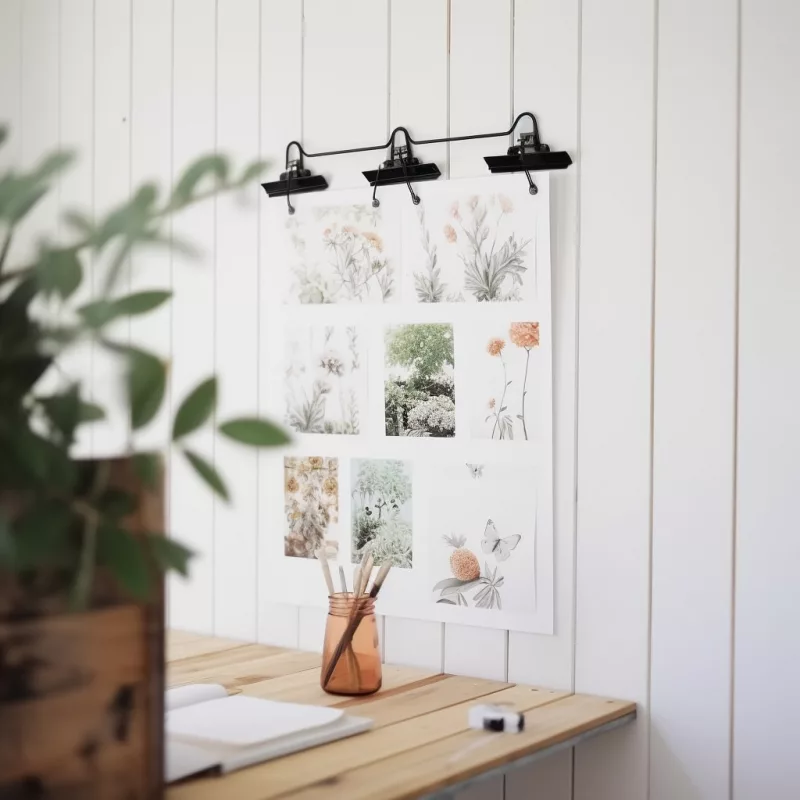 Tacks
Tacks can be used to hang a poster without puncturing it by placing them beyond the edge of the paper and near enough to the surface that the tack heads will still hold the paper in place. That's why they provide solutions to the issue "how to hang posters without damaging walls."
We highly recommend them for use on cork boards and surfaces made of rough wood.
Tacks are able to support posters weighing up to 2 pounds.
If you want to display a poster without a frame, tacks are a fantastic and popular option. Posters made of cardstock or other heavy material are ideal for this purpose.
5 steps to hang up posters
After knowing 6 methods of how to hang posters without damaging walls, now you need to start to prepare to hang your posters up. Following these steps to find out the best way to hang up posters.
Clean the wall
Get started by getting your wall ready. Dust and oil buildup on walls will reduce the effectiveness of tacks and tapes used to hang posters. So, use a moist cloth and some grease-cutting dish soap to make sure the wall is clean. Avoid using a wet towel since this might leave behind water stains on the wall. While you get the poster ready, let the wall finish drying completely.
Uncurl the poster
The poster can be flattened by rolling against the way it tends to roll. However, this might result in wrinkles if you aren't cautious.
If you have a poster that rolls up, you can flatten it more quickly by placing it print-side down on a flat surface and securing it down with weights like books. Then, just give it some time to sit.
Aligning
Next is to choose the arrangement and layout for the poster to prepare to stick on the wall. Do you want to hang posters in a horizontal row, staggered, or special shape ( heart shape, a circle, etc.)?
Depending on personal preference, decide and make choices on how to place posters on the wall. Then try it on the wall, take the measurements of your poster, and mark the placement of it on the wall using painter's tape. This is very useful for hanging many posters or arranging a gallery wall.
Attach
How to put up posters without damaging the wall? It depends significantly on the adhesive that you use. Posters may be attached using any of the six techniques mentioned above.
However, sticking it to the poster first will simplify your life. Stretch the poster flat on a clean, smooth surface with the facing down. You have the choice to put adhesive on any or all of the corners, in the middle, or at the intermediate locations.
Put up the poster
Now that your poster is finished and the area where it will be displayed has been prepared, you can finally hang it.
Conclusion
Don't let a bad hanging technique destroy a customized poster that's meant to showcase your individuality and taste. Luckily, you may utilize many different approaches to decorate your wall and learn how to hang posters without damaging walls.
Above are some of the many methods available for safely mounting paper to a wall. We really hope that you were able to pick up a useful new technique on how to hang up posters without damaging them from this article.