If you need assistance with poster design but either lack inspiration or artistic skills, MidJourney AI is here to help.
MidJourney is one of the latest tools in the online community's growing fascination with AIs that can generate works of art. Making posters using MidJourney AI has various advantages, including generating more ideas and saving money and time while still getting high-quality outputs.
In this article, we'll show you how to use MidJourney AI to quickly and easily generate hundreds of unique poster layouts. Keep reading to explore!
Understanding MidJourney AI
Here's everything you need to know about MidJourney AI before learning how to use MidJourney AI.
The definition of MidJourney and how does MidJourney work
MidJourney is a commonly used software for converting text to images. To put it another way, it understands your written instruction and illustrates it accordingly.
Besides creating posters, if you're interested in making stickers using MidJourney, read our blog post titled "Generate Free Sticker Designs with MidJourney Bot in 1 minute".
What is MidJourney AI technique?
MidJourney is a tool that takes written prompts and settings as input and uses a Machine Learning algorithm. It has been trained on a large amount of image data to generate unique pictures. The only way to reach MidJourney to know how to use MidJourney AI is via their Discord bot.
In order to begin interacting with the MidJourney AI, you must first create a Discord account, which is a chat program used by MidJourney. You have the option of installing Discord on your computer, or you can just use the browser version.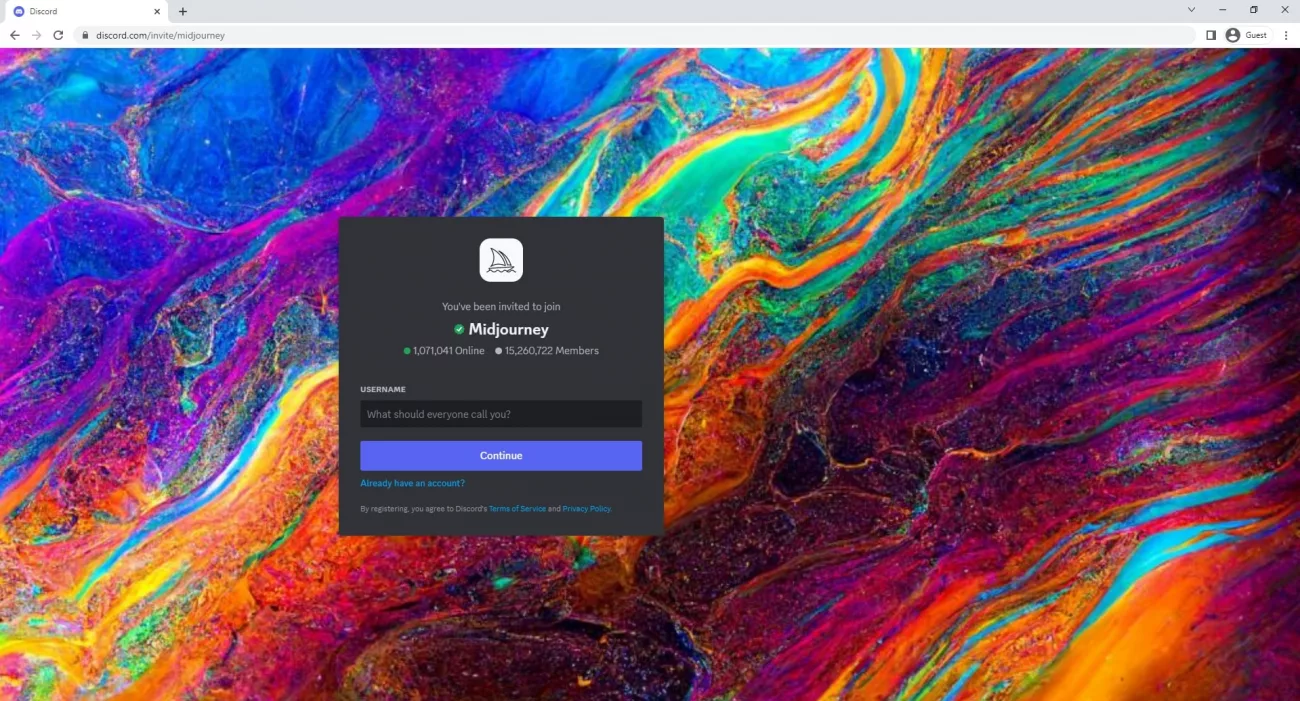 Can you utilize MidJourney without paying a fee?
Yes. There is no cost to utilize MidJourney AI in trials. The free trial of MidJourney begins as soon as a picture is generated. Users on the free plan may create about 25 Jobs before they are required to upgrade. All tasks performed by the MidJourney Bot are referred to as Jobs. Creating an image grid with the "/imagine" command, upscaling photos, and making image variants are all jobs that eat into your trial time.
Benefits of using MidJourney AI for creating posters
Before officially get into our guide about how to use MidJourney AI, we list out the main benefits you'll get when utilize MidJourney app to make posters:
Easy to use
The ease of use is a significant benefit when you learn how to use MidJourney AI. To create outstanding posters that bring your ideas to life, you do not need any previous knowledge of Photoshop or graphic design. With the right instruction, artificial intelligence can create posters of the finest quality.
Besides, with its user-friendly interface and automatic features, you can quickly and easily understand how to use MidJourney AI and produce high-quality posters. Since it is cloud based, MidJourney may be accessed from any device.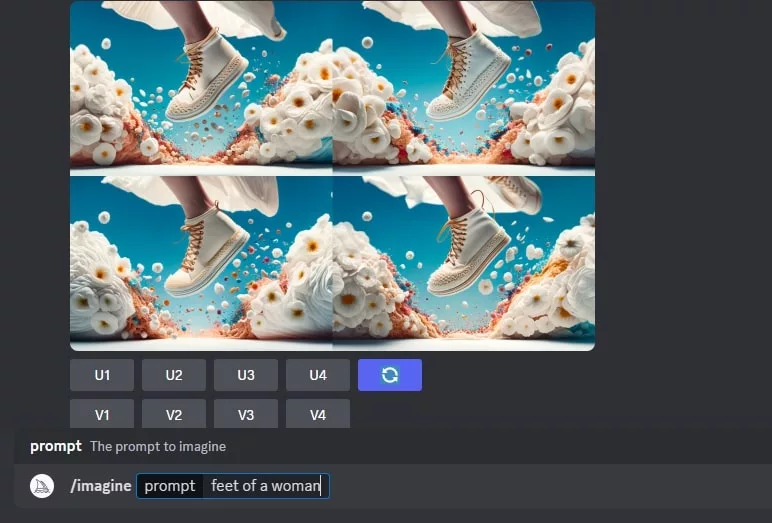 Saves time
Mid-journey using AI is a great way to get more done in less time. To save time and effort, it automates a number of repetitive procedures that speed up the creative process.
In response to your description, the MidJourney bot will take a little while to produce four distinct photos at once. In addition, you have the option of providing a link to the poster template in order to create a similar poster.
Free
Using the service offered by MidJourney , you may create beautiful graphics by just entering the words of your choice. When you sign up for free, you'll get access to 25 trials at no cost to see whether you like the service enough to pay for it. In addition, the prices of the member plans are also quite cheap compared to the number of photos this app can create.
High-quality output
MidJourney is useful for generating visuals of products, graphics, architectural visualizations, and more from textual descriptions. By annotating photographs and videos, MidJourney is able to provide the output of precise and high-quality.
To concluse, with the aforementioned advantages, you may use MidJourney AI to design a wide variety of high-quality posters. Then, you can sell them on various online marketplaces to generate a steady stream of passive money.
5 steps to use MidJourney AI to Create Stunning Posters
It's time to know how to use MidJourney AI to put MidJourney AI to work for creating eye-catching custom posters of your own. Here are five easy steps that will accomplish the trick:
Choosing a poster template
You need to first identify ideas, niches, and themes for your posters before designing them.
The next step is to search online for a suitable template that you like and copy the image URL. You may use it for the prompt. After that, MidJourney AI will make posters for you that fit the description you provide, and the poster design you choose.
Creating prompts
When you're ready, launch MidJourney AI and type "/imagine" in the newcomers' area of MidJourney AI Discord. Paste the URL of the template you copied earlier into the editable text box located to the right of the word "prompt."
You can type the picture description into the corresponding prompt section. The more specific you can be in your description, the more accurate the AI's output will be. Write a detailed description, making sure to specify any desired aesthetic. There are rules of behavior to adhere to, but as long as your description is not too clear, you shouldn't have any problems.
For example, for a vintage poster, you can add some keywords like "Simplicity," "Classical," "Minimal colors," and "Dark color." Besides, you can add the link of the poster template or the famous artist's name (Dmitry Moor, Alejandra Oviedo,…) for more details.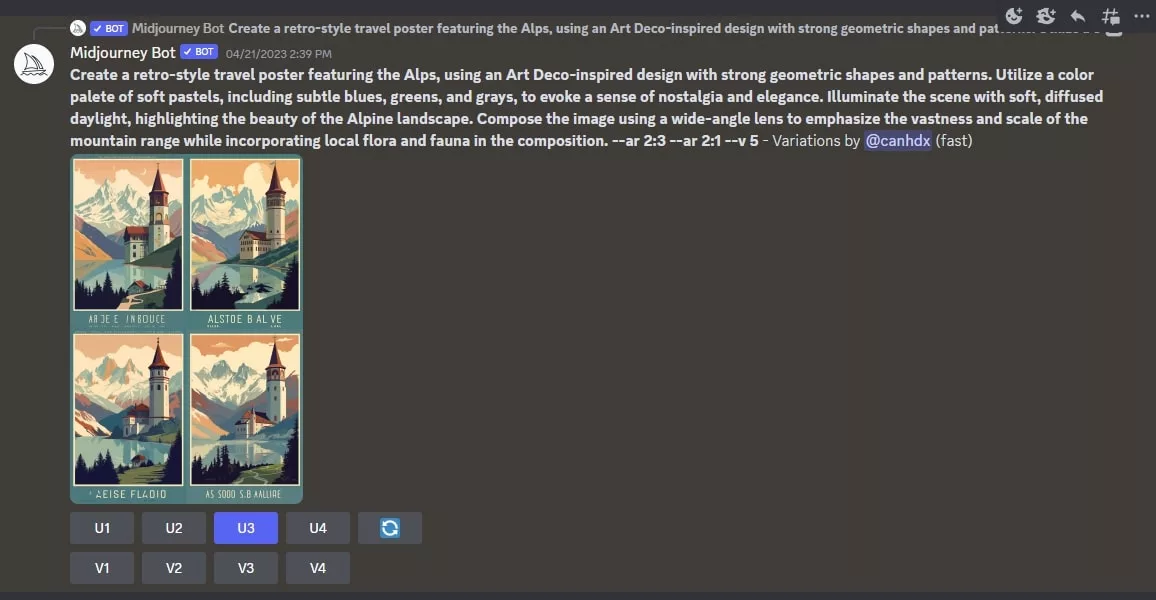 When you are done detailing the process, press Enter to submit the request.
Generating and upscaling image
Let MidJourney take a moment to produce the desired posters. Several variations will be generated by the AI from your description. From here, you may choose a few different paths forward.
Below the outcomes, you'll see a button to use if you want an upscale or variant of the image shown to make posters. If you want a higher-resolution copy of the same image, use upscaling; if you want four different takes on the same picture, use the variant.
Create the posters
At this stage, you have done creating posters with MidJourney. Let's download them from this app to your devices. In order to complete the poster, you should utilize additional software to add the finishing touches.
Putting in a frame is what comes next. This may be done using any number of available, no-cost applications on the web. After choosing a suitable tool, let's create the frame for your posters. Pick a form (ex., a rectangle or a circle) that complements the image you've provided. Consider utilizing a transparent frame to get a more gentle look and to let the picture shine through the frame.
When making posters, adding text is also crucial. Many free fonts may be downloaded and used immediately in your poster projects. When putting text, one of the finest "tricks" is to do it in areas that are less cluttered and easy to modify. These places should only come in one hue, making identifying and reading the information there simple.
For text arrangement that adds depth to the picture, you can get creative with minor effects, like shading, parallax scrolling, etc.
Editing and previewing the poster (present in a mockup if needed)
Now, your poster is almost finished and you can understand how to use MidJourney AI. Presenting it is the last stage. If necessary, use the mockup to demonstrate your point.
For instance, if you want to place your poster on the wall of your bedroom, you need to take a photo of the wall first. Then, you may send it to any photo editing program. Test the poster's compatibility with the existing wall picture. Make any changes if you want. If not, your poster is complete and ready for use.
Conclusion
Making a poster is a piece of cake with the help of MidJourney AI art generator. The technology that powers apps like MidJourney is always evolving. As a consequence, both the tools and the outcomes continue to improve.
There is no limit to what may be created by the MidJourney AI, which makes it one of the most potent art producers available. We hope you've found this article helpful in learning more about how to use MidJourney AI to generate your own eye-catching posters.