In our ever-evolving digital world, trends constantly pop up and capture our collective curiosity. These days, there's a new sensation on the scene: AI-generated '90s yearbook photos. We bet that these charmingly retro, digitally crafted snapshots have flooded your social media feeds, piquing your interest and creativity.
So, to leap into this trend, let's cover some important things. In this article, we'll peel back the curtain on the viral AI yearbook trend: What is it? Why have they become a unique online sensation? What do you need to create your own yearbook photos? Is it for free? And anything that you need to keep in mind before crafting your own retro-inspired gem.
Now, it's time to take a journey into this trend!
1. What is the 90s AI Yearbook Trend?
Let's start by exploring the concept of this viral AI yearbook trend. In simple terms, this trend is all about recreating school yearbook-style photos with '90s vibes using AI – artificial intelligence.
Recently, AI has made impressive moves in generating images. We've talked about it before in the blog post named "How AI generated pictures are changing stickers printing" and another post named "How to use MidJourney AI to Create Stunning Posters For Free".
AI is empowering users to craft various types of visuals, from lifelike portraits to imaginative designs. The '90s AI yearbook trend taps into AI's potential to replicate those iconic yearbook photos we fondly remember from the '90s. Picture soft, dreamy lighting, retro backgrounds, and smiles captured in time.
So, what makes this trend so viral on social networks? It's all about nostalgia. The '90s marked a distinctive era, and yearbook photos from that period evoke a sense of charm and elegance. Creating your own AI yearbook images, you can reconnect with a cherished past as well as their unique style.
Moreover, it's currently trending, with countless celebrities, top stars and KOLs eager to create and share their '90s AI yearbook photos, and it's time for you to be on the trend too.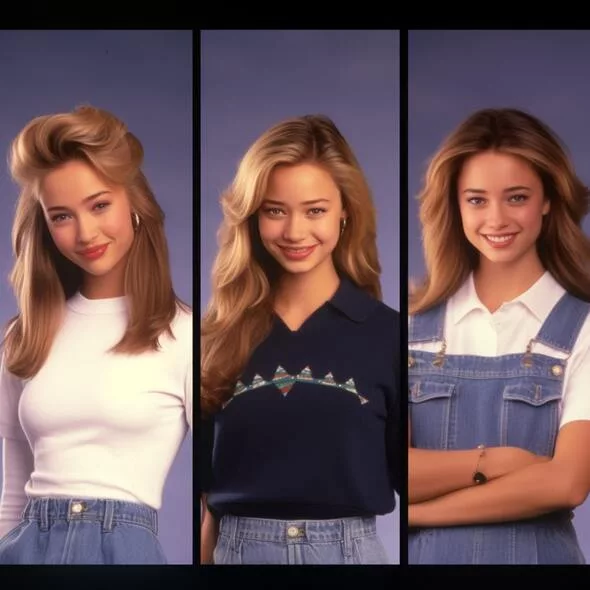 2. How are people making their AI yearbook photos?
Now that we know what the '90s AI yearbook photos trend is, you may want to ask, how other people do it or what did they use to create their very own picture. The answer is using AI tools and apps, and the most popular choice for crafting these charming throwbacks is the EPIK AI app.
Why EPIK?
EPIK has become a go-to option for many due to its user-friendly interface and impressive AI capabilities. It specializes in transforming modern photos into '90s-style yearbook snapshots.
Getting EPIK
To join the AI yearbook trend and start on your journey into the past, you need to get the EPIK app for your iOS device or Android device.
Download EPIK for Androi here.
Download EPIK for iOS here.
In the search bar, type "EPIK" to look for the app named EPIK – AI Photo Editor. Once you've found it, click the download button. Wait for a few moments as it downloads and installs onto your device.
With EPIK in your pocket, you'll be ready to create your very own '90s AI yearbook photo and join in on this captivating online trend.
3. Can I create an AI yearbook photo for free?
Creating those trending '90s yearbook photos using EPIK involves a small cost. To unlock the full potential of generating yearbook photos, you might consider subscribing to the standard or express version of the app. While it's not entirely free, the investment is often justified by the quality of the images and the time needed to receive your AI photos.
4. How to create AI yearbook photos
How do you do the AI trend of yearbook photos? Creating your very own '90s AI yearbook photo is a straightforward process, thanks to user-friendly apps like EPIK. Follow these simple steps:
Step 1: Start by downloading the EPIK AI Photo Editor app which is available for both iOS and Android devices. Open the app store, download it and get ready to generate your pictures.
Step 2: Once you're inside the app, choose the "AI Yearbook" tab. This is your gateway to crafting those trending AI pictures.
Step 3: Now, it's time to add your selfies. Upload 8-12 selfies of yourself. Ensure your face is clearly visible in good lighting, with no obstructions like caps, hats, or glasses.
Step 4: Select your gender from the provided options. This helps fine-tune the AI's image generation process.
Step 5: EPIK offers two payment options for your convenience: the "Standard" option at $5.99 for 24 hours and the "Express" option at $9.99 for two hours. Choose the most suitable for your timeframe and budget.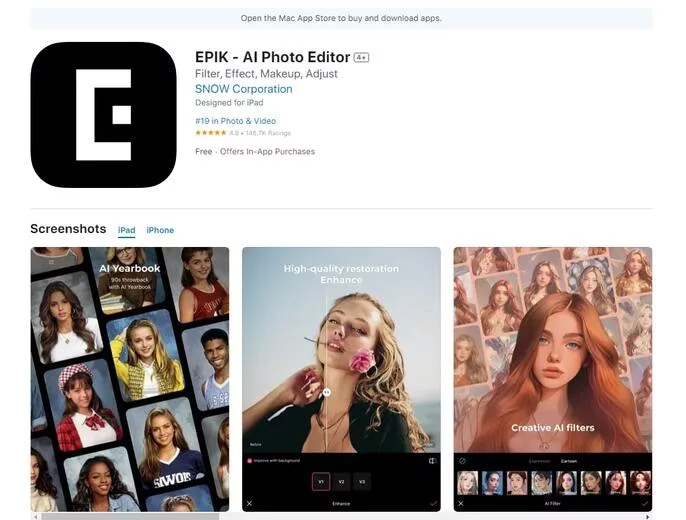 Step 6: With your payment option selected, it's time to generate your yearbook images. Tap on "Create Yearbook Images" to do it.
Step 7: Customize your yearbook photos to your preference. The app allows you to apply filters, frames, and backdrops for that perfect result.
Step 8: When you're satisfied with your edits, hit the "Process" button to finalize your image generation.
Step 9: Now, you'll need a bit of patience. Depending on your chosen payment option, it might take up to 24 hours. This wait is well worth it for the results you'll receive.
It's worth mentioning that due to the rising popularity of this trend, you might encounter a delay in the AI yearbook feature. If you receive a notification that says "a rapid increase in users using the service," don't worry, you just need to wait for a few minutes and try again later.
Remember, for a more realistic AI yearbook, select selfies with various expressions and angles.
5. Where to use your AI yearbook photos
You've got your delightful '90s-inspired yearbook photos, and now it's time to showcase them. Here are 3 fantastic ways to put these viral pictures to good use:
Sharing on Social Media
One of the primary joys of creating AI-generated yearbook photos is sharing them with friends and followers on your favorite social media platforms. Whether it's Facebook, TikTok, Instagram, or Twitter, these snapshots are sure to gain attention and spark conversations.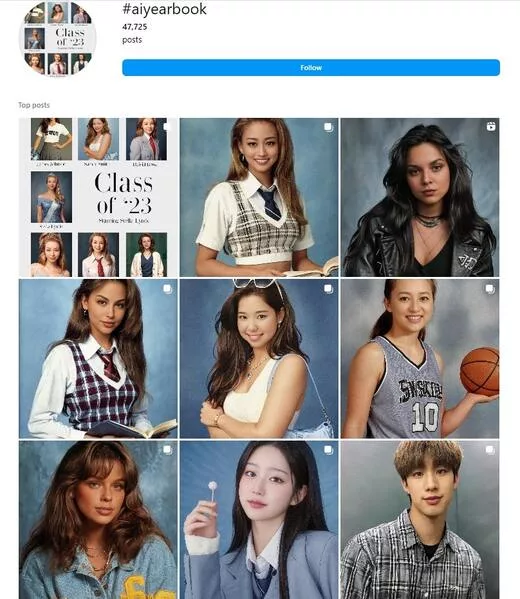 Simply upload your images and let the comments and likes roll in. Don't forget to use trending hashtags to connect with others who adore this trend.
Print Them as Memorabilia
Turn your AI yearbook photos into tangible memories by getting them printed. Consider making them into physical photographs, posters, or even a custom yearbook. These printed keepsakes make fantastic additions to your home decor or thoughtful gifts for friends and family who appreciate the charm of the '90s.
Create Photo Stickers for Decoration
Get creative with your AI yearbook photos by transforming them into fun and stylish photo stickers. Use them to adorn your laptops, phone cases, notebooks, and more. These stickers add a personal and trending touch to your everyday items.
In short, the trend of AI yearbook photos offers endless possibilities for sharing, preserving memories, and enhancing your personal style. Whether you choose to flaunt them online, print them as keepsakes, or create photo stickers, these AI generated photos are a blend of past and present, ready to be enjoyed and shared with others.
For more insights and tips for using AI in your creativity and creation journey, take a look at our other posts here, as well as follow us on social platforms for more interesting blogs published every week.