Shipping costs can significantly impact the profitability of small businesses.
In the competitive world of e-commerce, efficient shipping practices are essential for maintaining a competitive edge and maximizing profits. High shipping costs can eat into your margins, making it crucial to identify and avoid common pitfalls that contribute to these expenses.
That's why we've put together this article on small business shipping tips. Our goal is to help you highlight 5 common pitfalls that can increase shipping costs and decrease your profits. Understanding these, you can find a way to streamline your shipping processes, save money, and ultimately enhance your bottom line. Now, let's dive in.
1. Choosing Inadequate Packaging Materials
For small businesses, one of the common pitfalls that can significantly impact your operations and customer experience is choosing inadequate packaging materials.
Using common packaging materials may seem like a safe and cost-effective measure at first, but it can have serious long-term consequences. To ensure a successful but low-cost shipping process, the first shipping tip is to choose the right material that meets the requirements. These requirements include: protecting the product inside from physical impact such as impact, weather elements and at the same time meeting aesthetic requirements.
For example, if you have a business that sells printed t-shirts, instead of shipping cartons, try a mailer bag made from poly. It is definitely the cheapest way to send a package of these products. Custom poly mailers both reduce weight, protect T-shirts from weather elements, and can be printed with details that support your company's branding.
With your company logo, unique designs, or messages printed on these packaging materials, you can create a cohesive and visually appealing brand identity that resonates with your customers. This first small business shipping tip not only enhances brand recognition but also leaves a lasting impression, fostering customer loyalty and repeat business.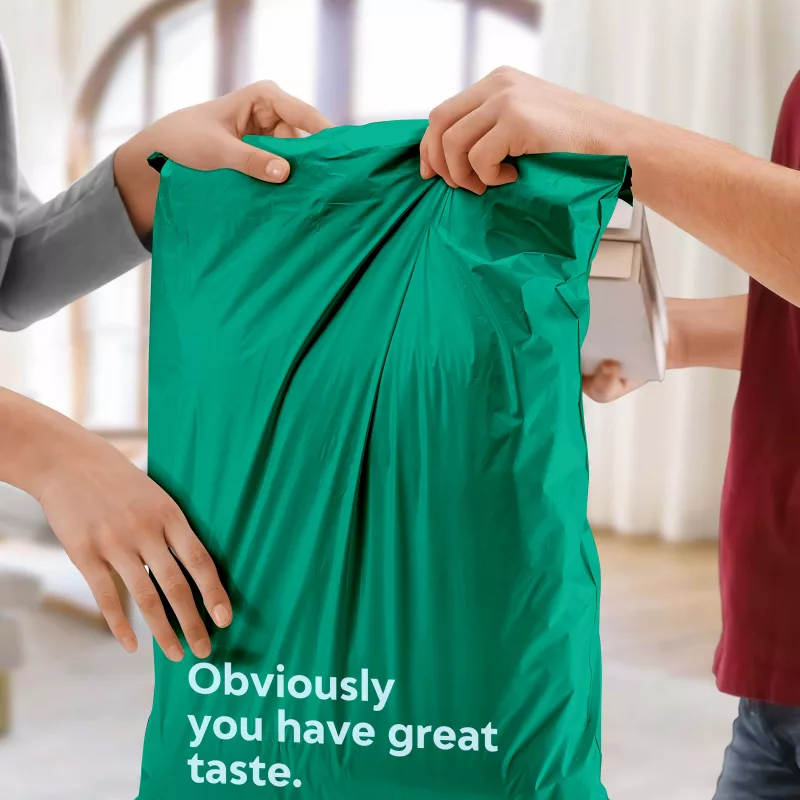 2. Incorrect Sizing and Dimensions
Have you ever wondered "why does shipping cost so much?" – Another mistake that increases your shipping cost is using incorrect sizing and dimensions for packages.
In addition to common materials, a series of packaging of the same size used for different size products is also a factor that increases shipping costs. In the long run, it turn into a huge cost.
The shipping tip for you: prioritize the use of multi-sizing packaging options. For instance, at CustomAny, we offer custom poly mailers in 3 sizes: 7.5″ x 12″; 10″ x 13″ and 14.5″ x 19″ (WxH). These sizes meet the different packaging and shipping needs of any company and help you ship and save at a time.
Additionally, in case you need packaging tape for carton boxes, we offer custom branded tape with length from 300 to 210000 ft. These options surely play a vital role in branding your business and creating a professional image. Furthermore, they offer improved product protection during transit, reducing the risk of damage and ensuring that your products arrive in pristine condition.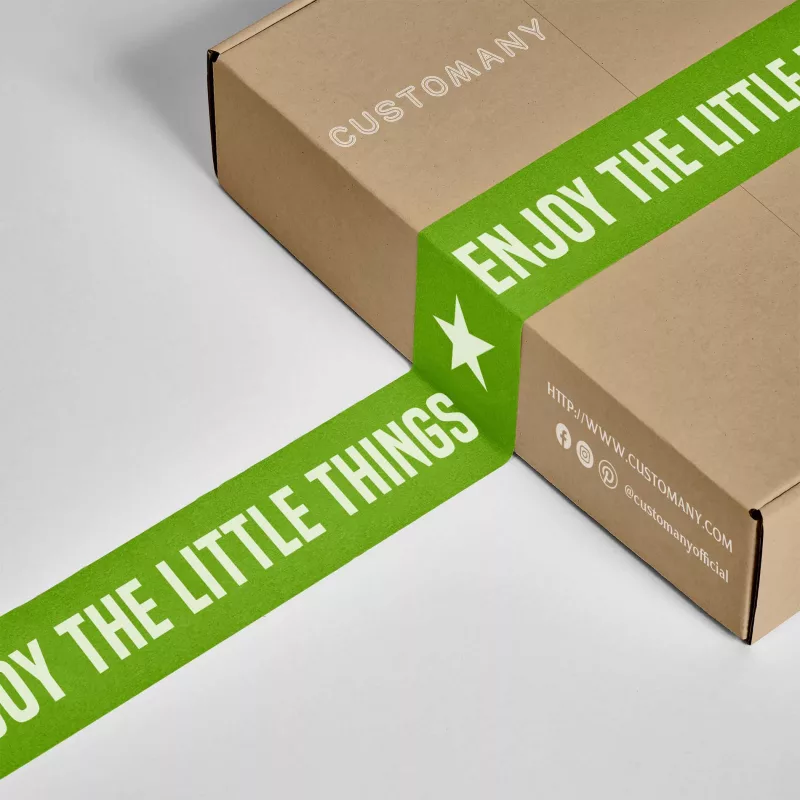 3. Inefficient Packaging and Assembly
Efficient packaging and assembly processes play a crucial role in this article about small business shipping tips, yet it's a pitfall that often goes unnoticed.
Inefficient packaging and assembly methods can result in wasted time, increased labor costs, and even customer dissatisfaction. Streamlining your packaging operations is vital to ensure smooth and cost-effective shipping.
One effective shipping tip for you is to invest in packaging types that are specifically designed to streamline the assembly process. Incorporating packaging automation tools and equipment, such as tape dispensers and label applicators, can further enhance efficiency and reduce labor costs.
Taking the time to evaluate and improve your packaging processes will pay off in the long run, leading to increased productivity, reduced costs, and happier customers.
4. Missed Branding and Marketing Opportunities
One often overlooked factor in small business shipping is the missed opportunities for branding and marketing that arise when not utilizing custom printed packaging materials.
Choosing plain packaging is not a factor that increases shipping costs but is an ineffective factor in branding and marketing. With not too much difference in price, using branded packaging rather than a plain option presents a valuable opportunity to showcase your brand and leave a lasting impression on customers.
In this shipping tip, you'll see that custom printed poly mailers and packaging tape are excellent options to consider. Poly mailers offer a large surface area for custom designs and branding elements, allowing you to effectively communicate your brand identity and values. Besides, custom packaging tape featuring your logo or slogan adds a professional touch to your shipments and reinforces your brand with every delivery.
These branding elements not only enhance brand visibility but also contribute to customer perception. When customers receive a well-packaged shipment with personalized branding, it conveys a sense of professionalism and attention to detail. It helps build trust, loyalty, and positive word-of-mouth for your small business.
Don't miss out on our deals for poly mailers as well as packaging tapes to capitalize on branding and marketing opportunities through custom printed packaging materials.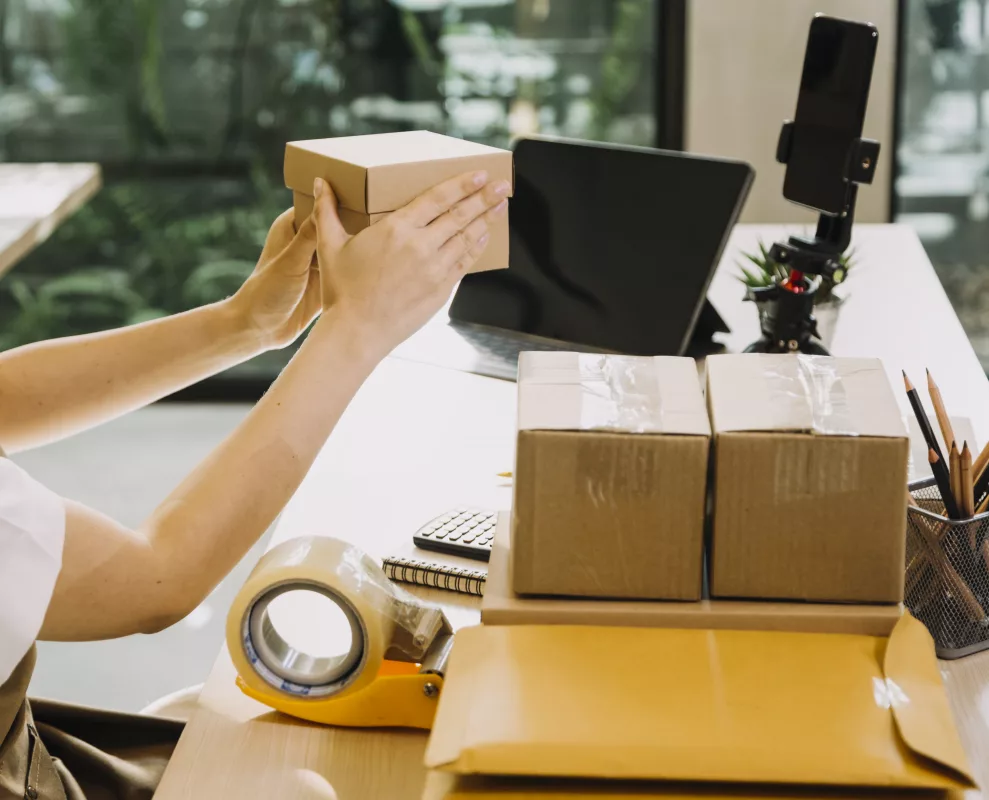 5. Ignoring Cost-Saving Features
The last critical aspect of small business shipping tips is to leverage cost-saving deals from suppliers.
How to reduce shipping cost? When making purchases for shipping packages, it's important to explore discount options that bring you cost-saving benefits without compromising product protection and customer satisfaction.
For example, take advantage of bulk ordering discounts is a must if you order from our website. We offer discounts for larger quantities, allowing you to save on both the cost of materials and shipping fees in the long run.
With that small business shipping tip in mind, when selecting packaging materials, prioritize those with cost-saving features that align with your business goals and shipping needs.
Last thoughts about Small Business Shipping Tips
These small business shipping tips are recommendations for you to prevent common mistakes that can significantly increase shipping costs. By going for suitable packaging materials, sizing, process, optimized for branding opportunities, and cost-saving features, we are sure that now you can streamline your shipment and maximize profitability.
For more valuable tips and insights on small business shipping, we encourage you to explore other Business Solution blogs on our website. Our collection of articles offers a wealth of information and strategies to help businesses optimize their shipping practices.
Additionally, we recommend utilizing our products for custom packaging, designed to enhance brand visibility, protect your products, and ensure effective shipping that optimizes your profit margin. Explore our website to find the perfect packaging solutions for your business's unique needs.