Sticker printing has exploded in popularity, allowing people to make their own unique designs for both personal and commercial uses. Finding the best printer for stickers, however, may be difficult since not all printers are the same. When picking a printer, it's important to consider print quality, usability, and price.
It might be a challenge to locate the best printer for stickers that satisfies all these factors among the various alternatives now on the market. So, this post was written to assist you in locating a suitable sticker printer for your requirements. Here are our five best sticker printer recommendations after comprehensive study and testing across various price points and feature sets. Let's explore!
Main Criteria for Choosing a Printer for Stickers
When choosing the best printer for stickers, you have two primary options: inkjet and laser. We did a comparison of these two printers before, which you can read here. However, for most sticker printing needs, an inkjet printer is the popular choice for its compatibility with a variety of materials as well as its high-quality prints and affordable price. So, in this article, we will exclusively discuss inkjet printers. And here are some factors to evaluate when picking the best printer for stickers:
Print Quality and Color Accuracy
When printing stickers, it's essential to use pinter with high levels of detail, vivid colors and full saturation. You should check that your new printer can generate the greatest print quality on your art while also properly reproducing colors.
Ink Type
When choosing the best printer for stickers, ink is crucial, and it's worth investigating your options. The two popular ink types for stickers are dye ink and pigment ink. A dye ink is a liquid where colors are dissolved in water. Pigment ink, on the other hand, consists of a powder suspended in a liquid substance. If you want to explore more about these two types of ink and their applications, check out our article. "Dye ink vs. pigment ink: Which is better for sticker printing?"
Different types of ink may be better suited for different printers. For sticker printing, if you choose the wrong ink, you will get the wrong results. That's why when choosing a printer you should learn carefully about ink specifications.
Paper Compatibility
See what kinds of paper may be used with your best printer for stickers. Not all printers can handle bigger sheets of paper, and many printers have paper size and weight restrictions. So, check the printer's specifications to be sure it's suitable for your requirements.
Connectivity
In the past, the only method to connect a printer was to plug in the USB cable. However, now, there are many other ways to connect a printer.
These days, printing is considerably more convenient thanks to Wi-Fi-enabled printers. Your best printer for stickers can also connect to your computer, laptop, and tablet. However, not all printers can be connected wirelessly or by cable, so check carefully before purchasing.
Cost
You may restrict your search based on your available funds. Numerous printers, ranging from cheap models to high-end ones, are available. You shouldn't automatically choose the lowest offer. Some of the more expensive printers might actually save you money in the long run, so it's important to consider your long-term usage.
The best printer for stickers? Our top 5
After evaluating numerous factors, below are our top 5 best printers for stickers:
1. Canon PIXMA IP8720
The Canon PIXMA IP8720 is an inkjet color printer with exceptional resolution.
You can get borderless 13×19-inch prints with this professional sticker printer. Its resolution is impressive, coming in at 9600 by 2400 dots per inch (DPI).
This printer produces stunningly beautiful prints with its 6 individual color cartridges ink system and fast print rates of 14.5 PPM (pages per minute) in black and white and 10.4 PPM in color.
In terms of connectivity, it has USB, wireless, AirPrint, and cloud options for enhanced management.
The Canon PIXMA IP8720, which typically retails for about $250, is the best printer for stickers for small company owners wishing to take the first step toward developing their stickers business.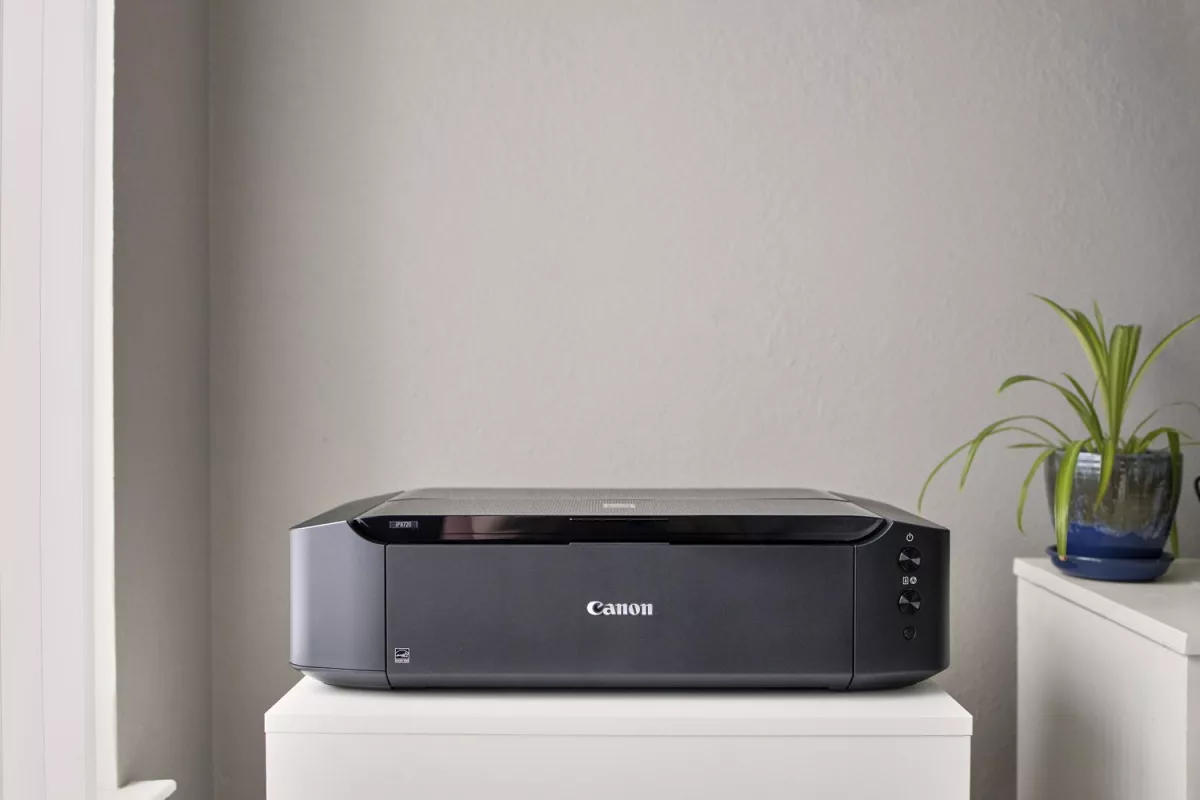 2. Brother MFC-J805DW
The Brother MFC-J805DW is a multipurpose inkjet color printer that brings professional printing capabilities right into your home or small business.
It can scan on both a flatbed and a sheet-fed basis, and the largest paper size it can handle is 8.5 by 14 inches.
Using a resolution of 6000 by 1200 dots per inch (DPI) and the INKvestment Tank Ink System's four individual ink tanks, this commercial sticker printer produces sharp, vibrant prints.
In terms of speed, it has been observed that the printer can output 12 pages per minute via a wired connection.
In addition, this sticker machine printer may be linked wirelessly to a mobile device or computer, allowing you to deliver prints like a pro without the need for complex cable management.
If you're not a perfectionist and are willing to pay the price tag of between $377 and $484, this printer is the best printer for stickers for you.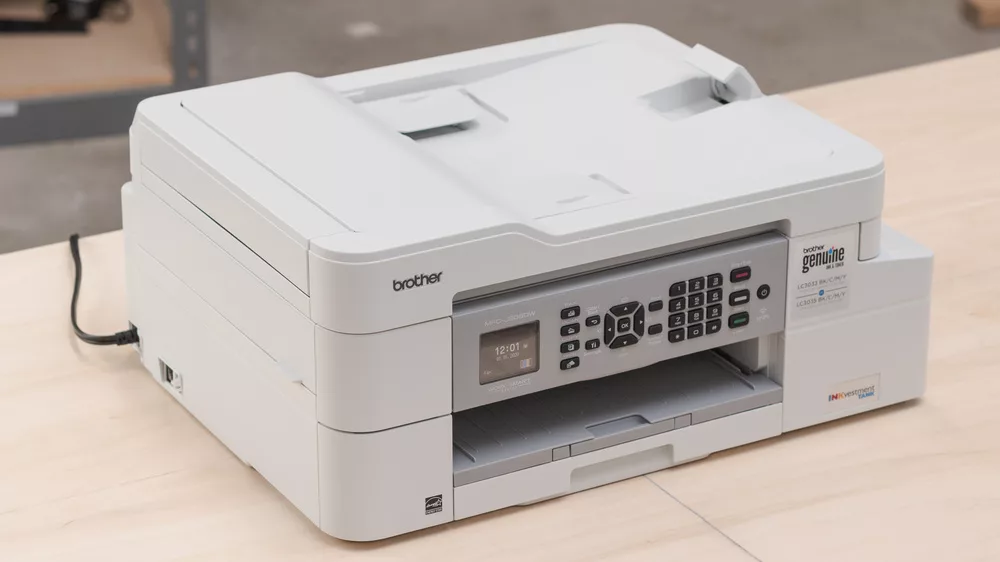 3. Canon PIXMA Pro 200
If you're looking for a high-quality inkjet sticker printer, go no further than Canon's PIXMA Pro 200.
The PIXMA Pro 200 can accommodate paper sizes up to 13 by 39 inches, making it suitable for almost every form of printing paper.
This printer's superior resolution of 4,800 by 2,400, which allows for crisp, clear output without blur and grain. Besides, its 8-ink dye technology allows for very vibrant prints.
The Canon PIXMA Pro 200 has a very fast print speed, at 17 sheets per minute. The typical time needed to print a glossy page is around 33 seconds.
Connectivity options for the Canon PIXMA Pro 200 include USB, wireless, AirPrint, Ethernet, and the cloud. At its current price of about $518, it's a worth-for-the-money option.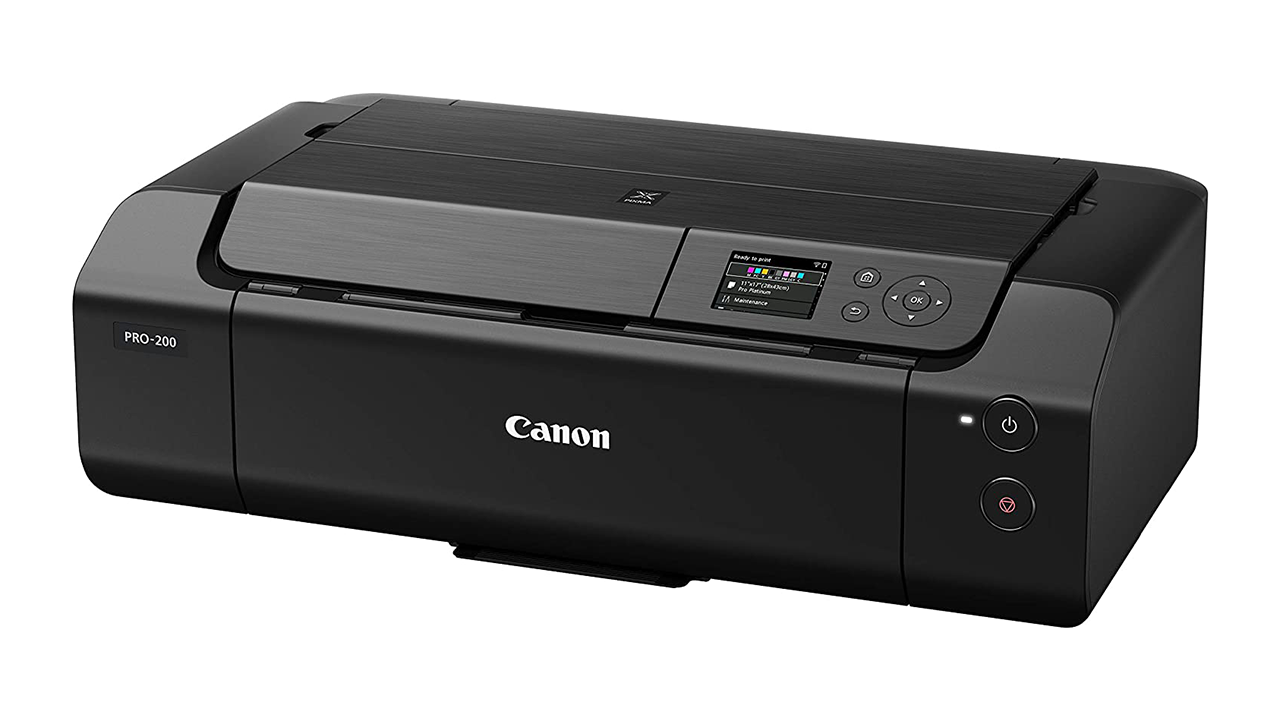 4. Epson Expression XP6000
The Epson Expression XP6000 is a compact inkjet printer. The largest size of paper that will work in this printer is 8.5 by 11 inches.
The print quality it generates with its 4800 x 2400 DPI resolution and 8 Individual ChromaLife100+ Cartridges ink system is sufficient for most individuals and businesses.
In addition, this mini sticker printer just takes 15 seconds to print a 4×6-inch picture. In terms of pages printed per minute, it can produce 15.8.
The Epson Expression XP6000 has a built-in wireless network connection for simple setup and connection. Forget messy cords; this printer's wireless printing capability offers the same high-quality output.
To sum up, we think the Epson Expression XP6000 is a fantastic buy at the price of about $225.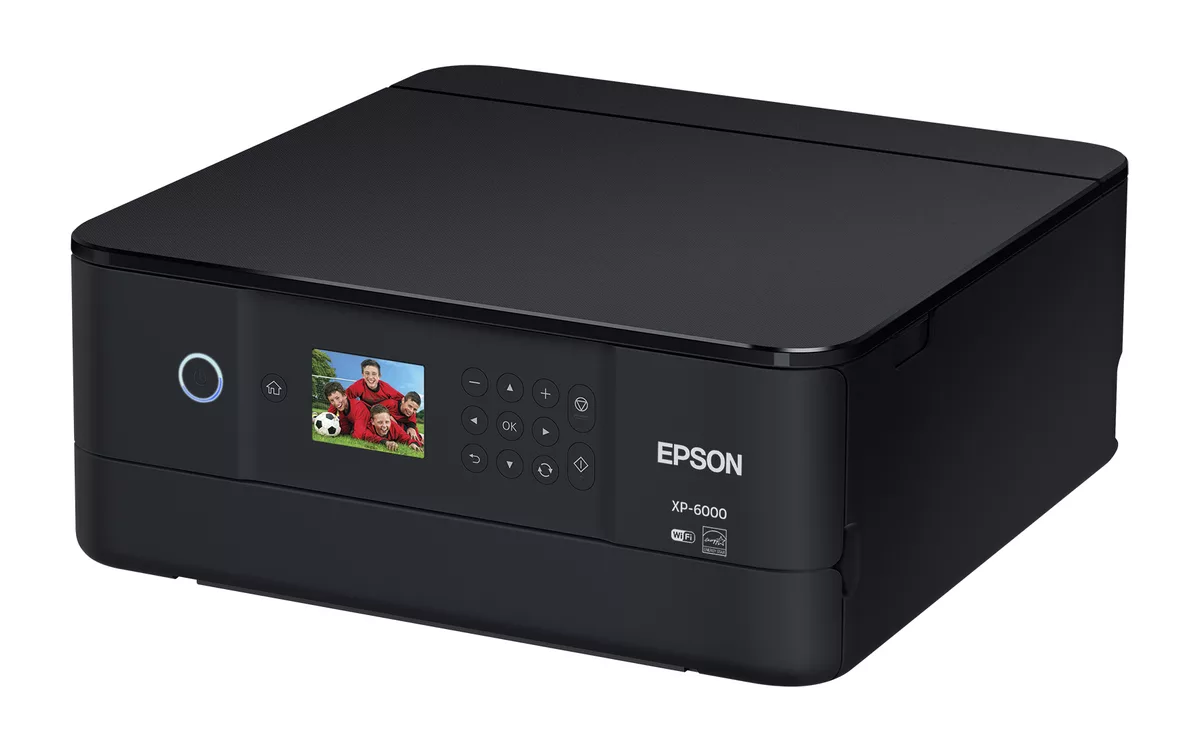 5. HP Envy 4520
The HP Envy 4520 is a versatile Inkjet printer that supports various paper sizes (up to 8 by 10 inches).
The HP Envy 4520's 1200 x 2400 dpi resolution places it at the bottom of our list of top 5 printers. Nonetheless, the charts and visuals produced are presentable enough for basic requirements.
Besides, it has the slowest print speed among these machines, at just 9.5 pages per minute.
Thanks to its wireless feature, you may connect it to a Wi-Fi network and print from your mobile device or tablet, as well as straight from social networking sites.
The price of the HP Envy 4520 has remained close to $150. This price tag seems reasonable, given the device's sufficient functionality and stylish appearance.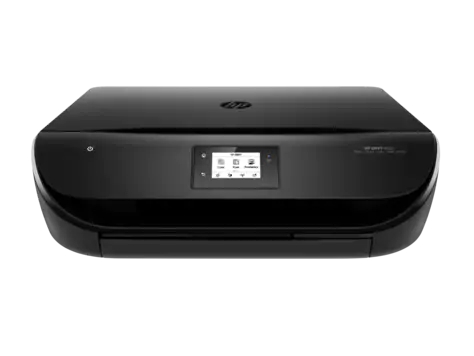 Tips to save money when using sticker printer
It's important to know some additional money-saving tips after you have chosen your best printer for stickers. The following are our recommendations.
1. Use Compatible Ink
You may save money without affecting print quality by using compatible ink cartridges instead of name-brand cartridges. Just make sure you do your research on the brand and read some reviews before buying.
2. Use draft mode and print proof
It is recommended to print a few draft copies of a sticker template before printing the final version. You can spend a lot of money or resources by doing this. However, the print resolution will decrease if you use print in draft mode. Remember that this is only a trial run; if you like what you see, you can exit this mode and start printing your chosen stickers right away.
3. Printer Maintenance
Major problems that might cause your best printer for stickers to stop operating and interrupt your work could be avoided with routine maintenance. It will also help you save time and money since it decreases the amount of service repair visits you need to make, which may be costly and unexpected.
Conclusion
It may seem like a significant choice, and there is a lot to consider while selecting the best printer for stickers. With this guide, however, you should be able to choose the finest sticker printers with confidence. It is recommended that you have a firm grasp on what features to seek and which of the aforementioned printers will serve your needs.
We hope you found this article useful in determining which sticker printer is appropriate for your requirements and hope it will help you find out the best printer for stickers.