In sticker printing, there are two types of printers: inkjet vs laser printer, and we previously discussed the best types of printable vinyl for inkjet printers. This article will help you choose the right ink between dye ink vs pigment ink for your project. Some inkjet printers use dye ink, while others use pigment ink. Color inkjet printers that use a combination of dye- and pigment-based inks are also available.
When shopping for a new inkjet printer, keep in mind that you'll need to decide whether you want pigment or dye ink. As a result, you should understand the distinction between pigment ink and dye ink. The following article will compare two types of ink: dye ink vs pigment ink for your information.
1. Dye base ink
Definition
The most common type of ink used in inkjet printers is dye-based ink. Dye ink printers can produce some of the best sticker quality prints while costing less to purchase than pigment printers. If you primarily print stickers for yourself or your business, a low-cost dye base ink would be a good choice. If your photos are bright and colorful, a combination of dye ink and glossy paper can really bring out the best in your stickers.
What is Dye base ink made of?
The dye-based inks are made from water soluble dyes derived either from plant extracts or, more importantly, from synthetic chemistry. Because they have a low diffusion factor, they produce more saturated and vivid printed colors. Because of their surface tension properties, they will also be easily absorbed by the surface of the paper, allowing the printed stickers to retain their gloss.
Why choose dye ink?
Dye ink are the most commonly used inks, because dye inks are less expensive to produce than pigment inks. You'll get great color vibrancy stickers because dye inks are brighter and more vivid than pigment inks, making them ideal for colorful stickers. Dye also works with a variety of sticker papers, with high gloss media producing the best results – ideal for sticker printing.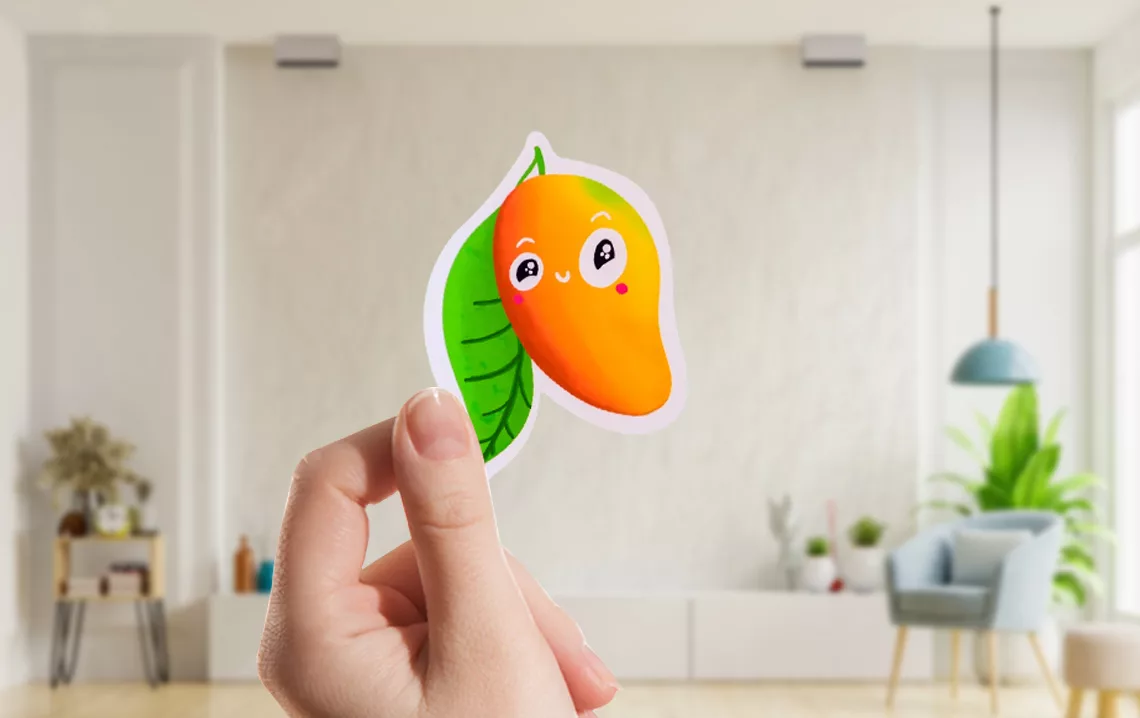 2. Pigment ink
What is pigment based ink?
Pigment-based ink is used to color paper, stickers and other surfaces. Pigments are small solid particles suspended in a liquid or gas medium, such as water or air. The pigment in this case is combined with an oil-based carrier. This ink has been used for centuries and was originally made from natural pigments found in plants, animals, and minerals. Pigment ink is typically composed of pigment, water, resin, and other additives. This mixture may be heated or cooled as it is created, depending on the desired type of ink.
What is pigment ink made of?
Pigment-based inks are made from pigment derived from organic synthesis, which is encapsulated with a synthetic resin and suspended in a liquid.
This ink is primarily used for printing on textiles, packaging labels, and, in particular, sticker printing. It's also used in printers like advanced industrial printing systems, digital textile printers, and direct-to-fabric models. For ease of use and maintenance, pigment ingredients are frequently water-based. Pigment particles are generally larger in size than dye molecules, making them more resistant to environmental conditions and resulting in higher quality stickers.
Although there are numerous pigment-based inks on the market today, each is distinguished by water resistance and resistance to fading over time.
Why choose pigment ink?
Pigment ink is found in high-end photo printers and is capable of producing high-quality output on a variety of media. It also produces long-lasting results because pigment inks do not smudge and are lightfast, making it ideal for sticker printing. Pigment ink also produces consistent results with all sticker finishes, including gloss, matte, luster, and fine art stickers. Having multiple black inks also provides the best results for black and white stickers.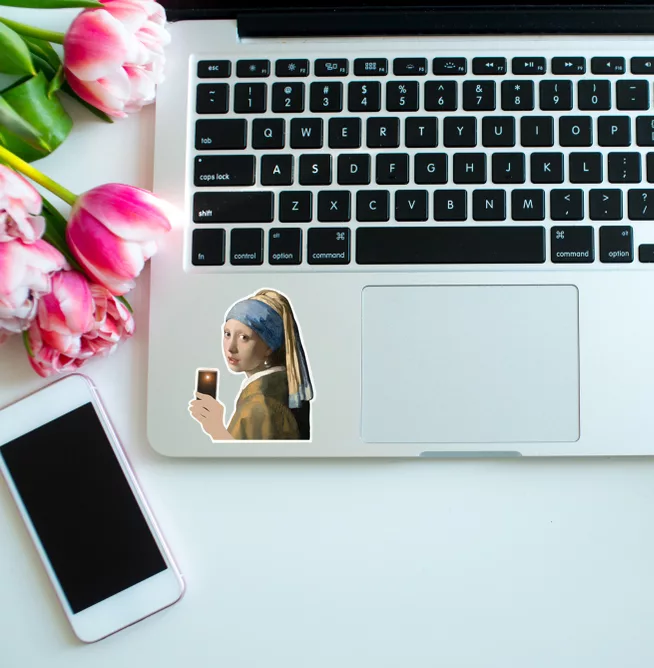 3. Dye ink vs pigment ink: Which should I use for sticker printing?
Dye ink vs pigment ink – Which is better for sticker printing? This question has no correct answer. Below will be some analysis of features, pros, cons and difference between pigment and dye ink for your reference.
Print quality (color): Because of the optical substances contained in the ink, the print color of dye ink is very fresh, which helps the sticker to be fresh, clear, brighter, and look very nice. The color of the pigment is not as precise, as fresh as Dye ink, so Pigment ink is suitable for color printing, and dye ink is more suitable for B&W printing.
Durability: When comparing dye ink and pigment ink, it is discovered that dye ink is thinner and pigment ink is thicker, it takes longer to dry, it can be dissolved in water, dye ink fades under outdoor factors, so its durability is poor and it is difficult to decorate outdoors, and the thickness of dye ink is very thin and easy to lose color than pigment ink. Dye ink is not suitable for printing stickers decoration, or long-term use because it is not subject to outdoor weather conditions, particularly the hot sun so you could use Pigment ink instead.
Material: Pigment ink can be printed on a variety of materials, allowing for a wider range of prints than dye ink.
Cost: Dye ink is less expensive than pigment ink. If you're looking for low-cost ink for sticker printing, dye ink is the way to go. Meanwhile, pigment inks are appropriate for stickers with a long shelf life that will be exposed to a lot of light. Pigment ink is used for large-format printing in addition to small-format printing.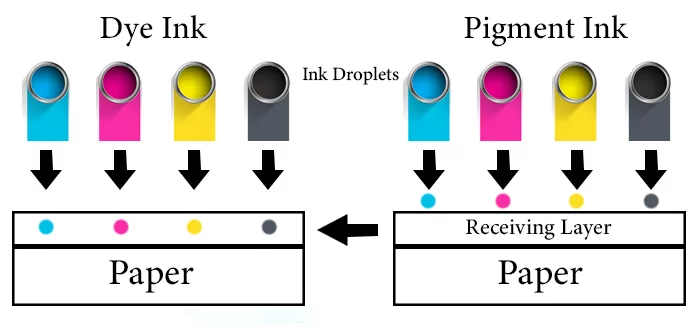 Conclusion
We have explained the distinction between dye ink vs pigment ink and the importance of using them correctly in this article. Pigment ink for photo sticker printing, B&W sticker, and dye base ink for printing all types of stickers, but the price is quite high. You can consider choosing the best ink for your needs based on your requirements.