Did you know that many people buy the type of sticker that they don't really need and pay a lot more than necessary? It's a sad story but fortunately, if you are reading this, we're sure that you won't make that mistake. We're here to give you a comprehensive guide on how to choose a perfect sticker that suits your sticker needs. Without going too deep into complicated techniques, this article will focus on 5 decisions that you have to make throughout the process of creating a custom sticker, which are choosing the right shape, material, the right finish, type of adhesive and the feasible cut. Ready to make the best choice with us? Let's dive in!
1. Choose the right shape
Uniform shape or die cut sticker? This is the first question that comes to your mind. Choosing the right shape for your sticker determines whether your design is aesthetically pleasing or not.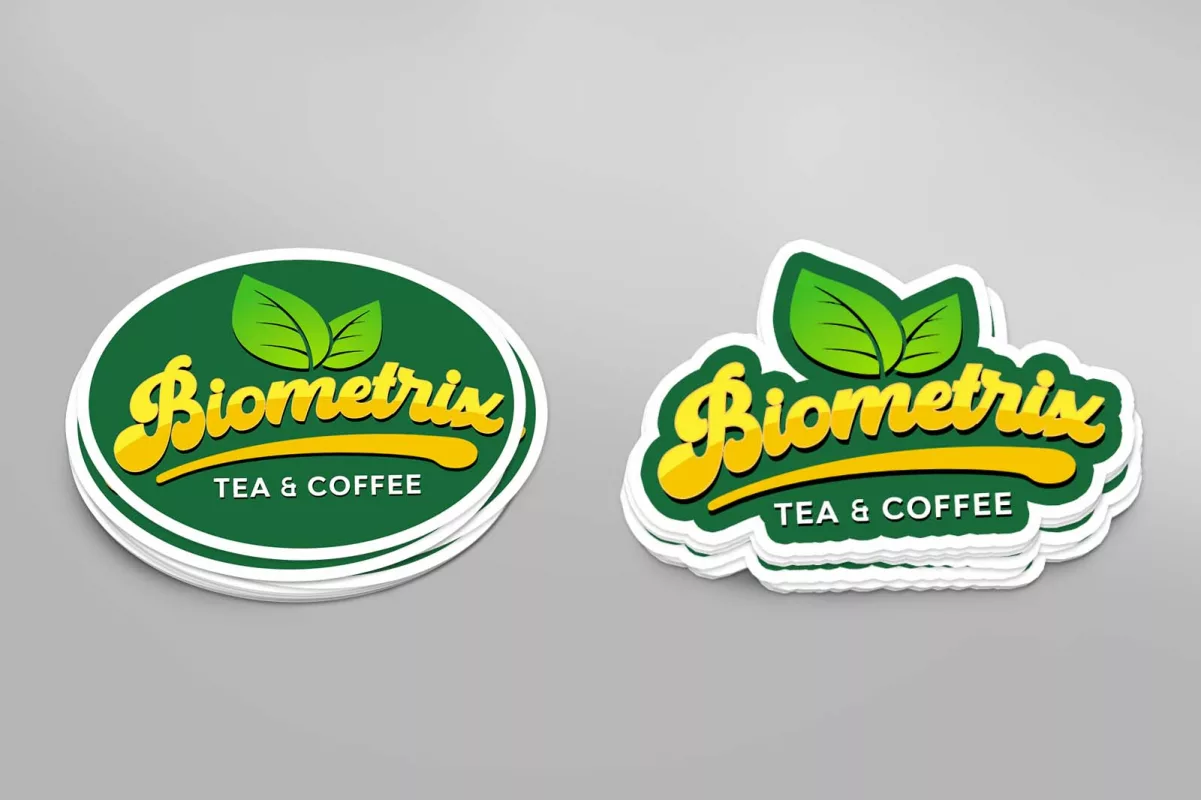 Die cut stickers are a great option if you have a unique design and want it cut to the shape. This custom shape is visually attractive and memorable so it gets more attention to your stickers design and what details you put in. However, as it requires complicated cutting techniques, die cut stickers cost more than usual sticker types. In contrast, uniform shaped stickers such as square stickers or circle stickers are easy to cut so they are much cheaper than die cut stickers and suitable for a fixed outline design.
For more information about this comparison, you may want to explore more in a detailed blog: Die cut sticker vs. regular stickers.
2. Choose material
Material is the layer on which your designs will be printed. Getting the sticker material right is not only aesthetically meaningful but also ensures that you can enjoy your perfect stickers for years without tearing or fading. There are 2 main materials for making stickers: paper or vinyl. So choose paper or vinyl? This depends on your intended use because both types have their own advantages suitable for different cases. Based on the highlights below you can choose the right one for you.
Highlights of paper stickers
Most paper stickers aren't waterproof
Easy to tear
Great in texture
Can be recyclable easily
Relatively cheaper than vinyl stickers
Highlights of vinyl stickers
Durable, waterproof and tear resistant
Tear resistant, flexible on curved surfaces
Great in various colors
Requires more techniques to recycle
Higher cost compared to paper stickers
Thus in terms of durability and prominence, vinyl stickers clearly prevail over paper stickers. However, if your sticker is only for indoor use and is rarely affected by water or weather elements, then a paper is a cost effective and eco-friendly option to make a perfect sticker. To better understand sticker materials, you may want to check out our in-depth articles like Vinyl stickers vs Paper stickers or Coated vs Uncoated paper.
3. Which finish do you need?
There are types of finishes that a sticker can have. And choosing the right finishing option leads you to a common question: lamination or not?
Do I need laminated? Lamination, or laminating a sticker, is to cover the top surface of a printed sticker by an extra plastic layer. This layer offers the sticker a protection from scrabbling, scratching and tearing. Because lamination is not a required layer when producing stickers, knowing whether you need it or not will help you save significant costs.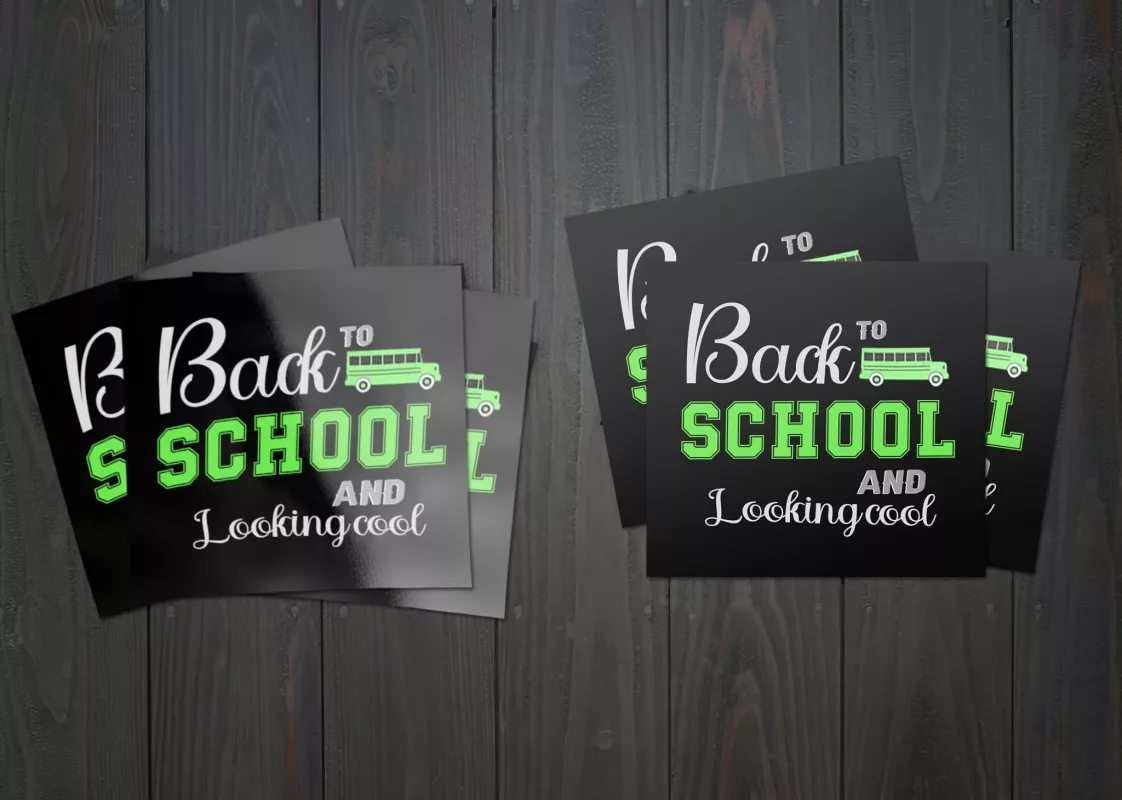 Non-laminated stickers are the right sticker type for you if
You use these stickers indoors. Stickers that are only used to decorate personal items such as notebooks or household items that are rarely exposed to water or sunlight – a laminated layer is not a must-have.
Your perfect sticker doesn't need a long lifespan. For instance, it will be single use on your party, event or on your takeaway packaging. Using lamination for extra protection is not necessary for such a short time of use.
You are on a tight budget. Adding a layer of laminating will require complex techniques as well as materials. Therefore, the cost for these stickers is much higher than non-laminated stickers. If you have seen either of the above situations and also have a tight budget, stickers with lamination are not a good choice.
You need lamination for your perfect stickers if
Your stickers will be used outdoors. You should add a laminating layer for car stickers, helmet stickers, stickers for bicycles, and so on as they need protection from water, UV light, ect.
Items that you put stickers on are often subjected to physical impact. For example, the back of your laptop is repeatedly scratched or rubbed so a perfect sticker for it is one that has an extra layer of protection.
You want to use stickers as an affirmation of quality. This is important if you own a premium brand. An extra protective layer makes your stickers look relatively thicker which gives them reliability and a premium look.
Matte or glossy lamination? If you need an extra protective sticker, there are 2 types of lamination available which are matte and gloss. Gloss laminating stickers are visually attractive as the laminate layer produces crisp lines and vivid colors. Meanwhile, matte lamination is a less reflective finish so colors will be less intense and generally resulting in a softer appearance.
4. Getting the adhesive
A sticker peeling off within days or even hours is actually not your perfect sticker. To prevent it from happening, you need to get the adhesive right. A suitable adhesive will ensure the stickiness of your sticker for the period of use you desire. So how long do you want this adhesive piece to last?
Removable adhesive for temporary use or expensive things: Custom stickers with a removable adhesive are recommended for a very short time use. This adhesive type would allow you to remove stickers without leaving any residue. The same principle applies to expensive items, so sticking or peeling the sticker will not affect the appearance of your object's surface.
Permanent adhesive is used for most kinds of stickers. This is because almost all sticker types including clear stickers, transparent stickers or holographic stickers are manufactured with high quality materials for long-term use. Thus, they need a strong adhesive to strengthen their durability. Custom permanent stickers are well sticking to various surfaces such as paper, leather, plastics, glass, metal and even powder coating.
As a user, choose carefully between the two adhesives above to ensure that they last as long as you want and they won't damage the surface they're applied to.
5. What is the perfect cut?
There are commonly 3 options for your perfect sticker finishing cut which are individual cut, sticker sheets and sticker rolls. Knowing which is right not only saves you money but valuable time on applying and storing custom stickers.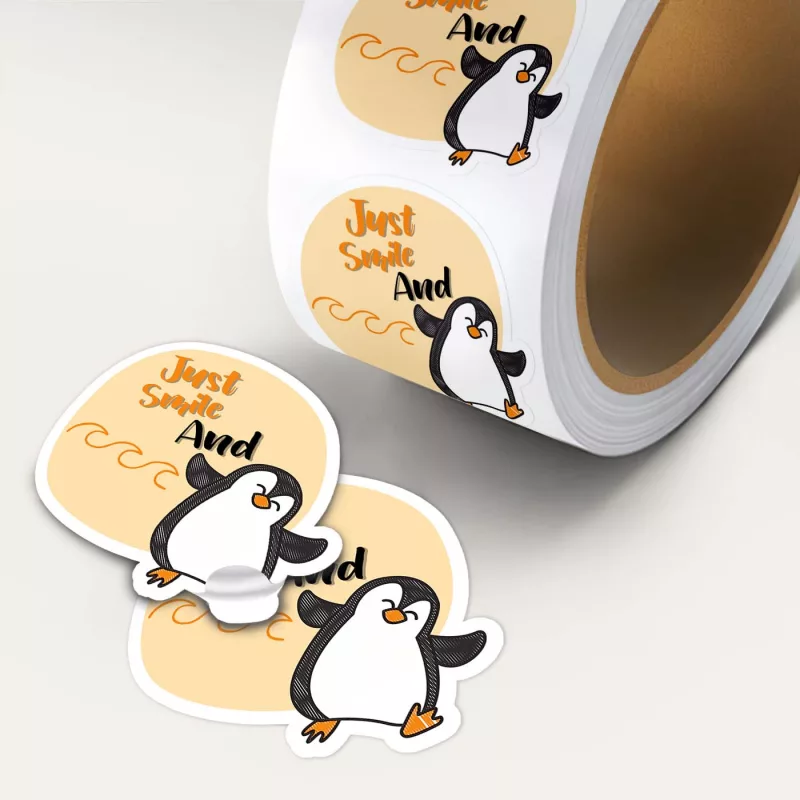 Individual cut is right for you if you are in need of stickers to distribute, sell or use in small quantities. Singular stickers allow you to easily divide them into packs, each for a different purpose. You can find many printers that offer individual cut stickers in small quantities as they are cheaper and easier to store than sticker sheets or rolls.
If you need more stickers than that, about hundreds or thousands, you probably need stickers on sheets. All stickers on a sheet are kiss-cut through the sticker layer and the coating layer (in case your stickers are laminated), but they all remain on the backing layer. This makes your stickers super quick and easy to remove from the sheet. Getting your custom stickers on sheets also helps in easier sticker inventory.
Stickers on a roll, similar to stickers on a sheet, are kiss-cut through the top layers and remain on the backing. Thus, sticker rolls also assist in applying a large number of stickers. Particularly, sticker rolls are the perfect sticker choice if you have a sticker dispenser. This machine, made to be compatible with dispense stickers from a roll, makes applying thousands of stickers much easier and faster.
Conclusion
In summary, to optimally make a perfect sticker, there are 5 key points in your checklist: shape, material, finish, adhesive and cut option. Getting all these right ensures that your stickers serve your desired purpose, last for a lifespan that you plan and cost you a reasonable amount of money. We hope that all the information above can help find your perfect sticker. If you have other questions about sticker printing service or want to make awesome stickers and labels, don't hesitate to access our website or contact us via [email protected]. We strongly believe that our website is a good place to buy stickers for all of your custom printing needs.