DIYs are all the rage right now, thanks to ever-increasing technological advancements and social media. This also applies to printing stickers/labels in the color of your choice. To accomplish all of this, you must first pair an inkjet printer with the best sticker paper for printers available on the market, in particular, which is printable vinyl. We will review, compare, and guide you through the sticker printer paper list to select the best types of printable vinyl for inkjet printers.
Benefits of using printable vinyl for inkjet printers to make stickers
These are some advantages of using inkjet printers and vinyl to make stickers:
1. Inkjet printer
The printer is an important device in all fields of work and diverse industries to support the printing of documents and stickers. There are many different types of printers available today, with inkjet printers and laser printers being two of the most popular for sticker printing.
Inkjet printers will be more appropriate for users who need to print color products, images, pictures, cards, and especially stickers. Because the machine can be used on thicker photo papers, it can produce more vibrant colors.
Furthermore, the mixed ink colors are passed through the high-pressure nozzle to create small pixels, resulting in more realistic and sharp images than laser printers.
Even when a color laser printer and a color inkjet printer are compared, the inkjet printer produces a much better color image. Inkjet printers are more capable of reproducing subtle color gradations in images than laser printers.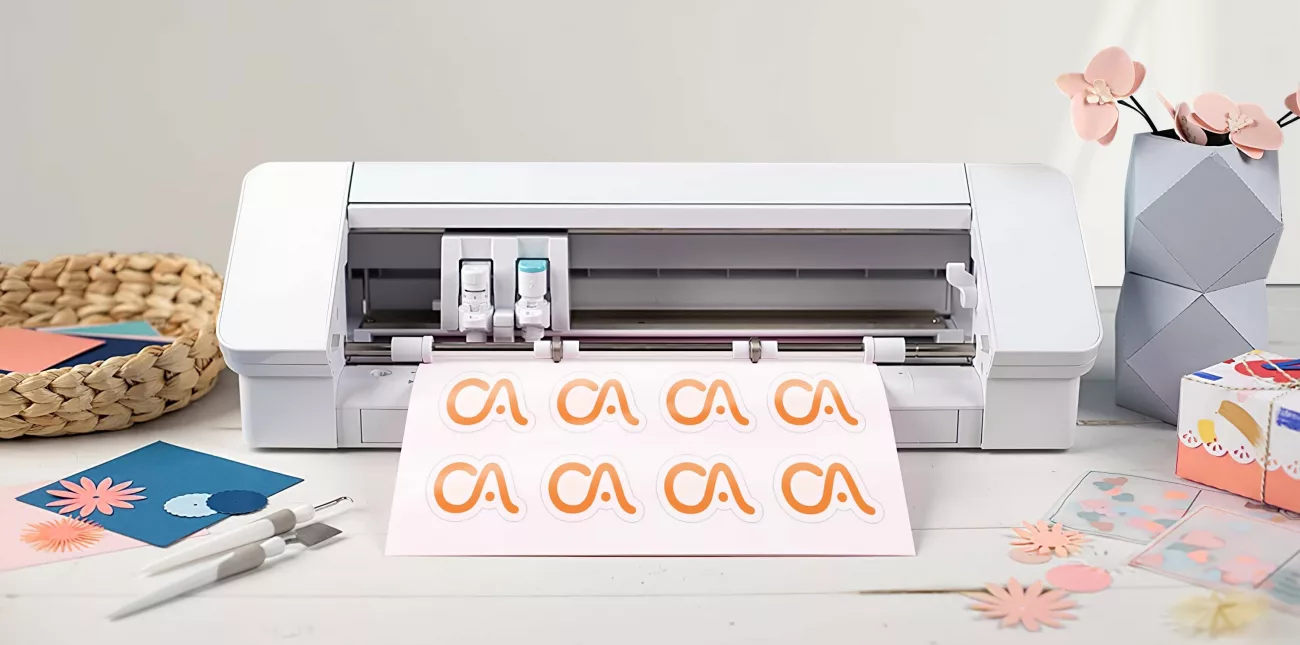 2. Printable vinyl
Traditional paper stickers are easily torn when we peel them off, or they fade and wrinkle over time and cannot be recycled. Whereas, vinyl stickers are extremely durable. The vinyl sticker can then be easily removed without leaving unsightly tears. Colors are imprinted on the inside and laminated on the outside, so they will not fade over time and are suitable for outdoor use. If you need a sticker that will last for a long time while maintaining its original appearance, vinyl sticker printing is the best one. 
Vinyl is inherently made of flexible plastic, which does not sound very eco-friendly. However, because they require so few resources to manufacture, it can be certain that the plastic used to make them is completely recyclable and environmentally friendly. In the previous article, we compared paper vs vinyl stickers, if you want to learn more information, you can refer to it here.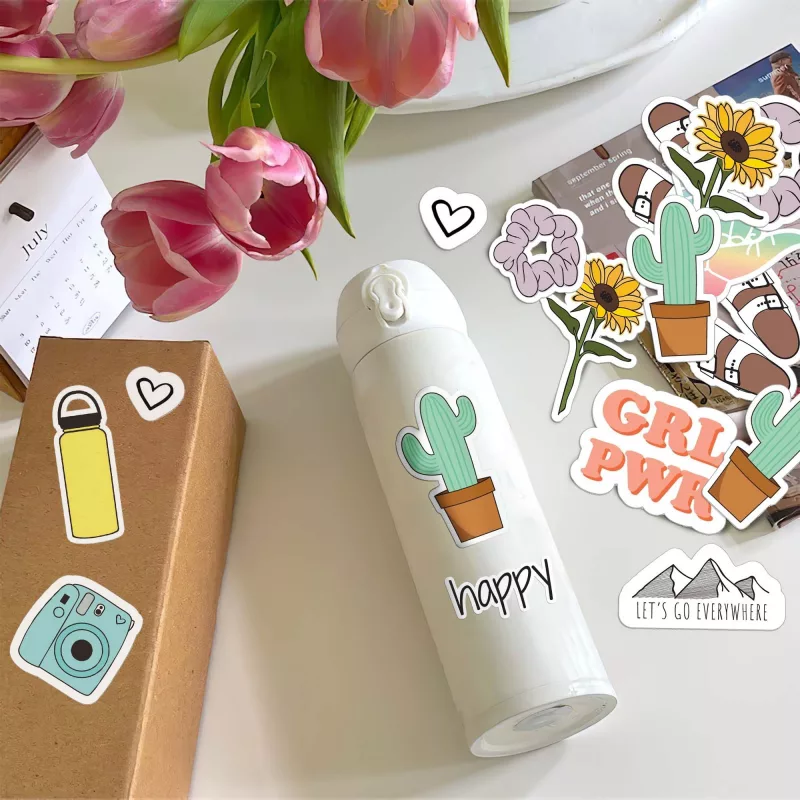 Best printable vinyl for inkjet printers
The disadvantage of using an inkjet printer is that it uses ink to create small dots on the paper, which causes ink smearing or difficulty drying on regular vinyl, so selecting the right printing on vinyl with inkjet printer is critical. The following are some examples of printable vinyl for inkjet printers:
Kinds of printable vinyl for inkjet printer
Papilio inkjet white waterproof vinyl: Despite the fact that most inkjet inks are water-soluble, how to waterproof inkjet prints is the unique vinyl material used to create the Papilio printable vinyl paper makes inkjet ink waterproof.
– Pros:
Dye, pigment, or solvent are all compatible with Inkjet printers.
Permanent
Waterproof
Matte white finish
8.5″ x 11″ standard sized sheets
– Cons:
Expensive
Only has 10 sheets
Joyeza premium printable vinyl paper for inkjet printer: JOYEZA produces long-lasting printable vinyl that works with both inkjet and laser printers. Furthermore, JOYEZA Premium Printable Vinyl Stickers are extremely simple to apply. The ink dries quickly, and the base layer peels away easily.
– Pros:
Water-resistant
25 Sheets
Easy to cut with die-cut machines
Easy to remove backing
Quick drying
No smudging
Lifetime Factory Warranty
Affordable
– Cons:
Needs sprayed to be waterproof
Thin
Known to curl in printer
Koala printable vinyl sticker paper for inkjet printer: The Koala Printable Vinyl Sticker Paper is tear-resistant, water-resistant, and long-lasting. It adheres to most surfaces and is easily removed. This is fantastic in some circumstances. However, there are times when you want a removable sticker, this vinyl is simple to remove.
– Pros:
Vivid colours
High resolution
Water-resistant
Tear-resistance
Full sheet printable adhesive
Laser and Inkjet Compatible
Removable
Cons:
Words on the backing paper
Needs sprayed to be waterproof
Zicoto premium printable sticker paper: The printable decal paper set offers a time-efficient and precise color performance; the ink dries quickly within 5 minutes and application is simple and smooth. You can make beautiful water-resistant labels for indoor and outdoor use with Zicoto Premium Printable Vinyl Paper.
Pros:
Water-Resistant
Thick matte sticker paper
15 Sheets
Inkjet and laser printer compatible
Dries quickly
Cons:
Backing can be hard to remove
Neato clear printable sticker paper: The crystal-clear vinyl sheets are ideal for labeling a variety of projects. They have a permanent adhesive and are tear-resistant, making them an excellent choice for glass labels.
Pros:
Clear vinyl sticker paper
Permanent adhesive
Tear-resistance
Inkjet and laser printer compatible
Weather-resistant
Free design software
Cons:
To make waterproof, special ink and sealer are required.
The colors are dull.
It takes many hours to dry (around 24h).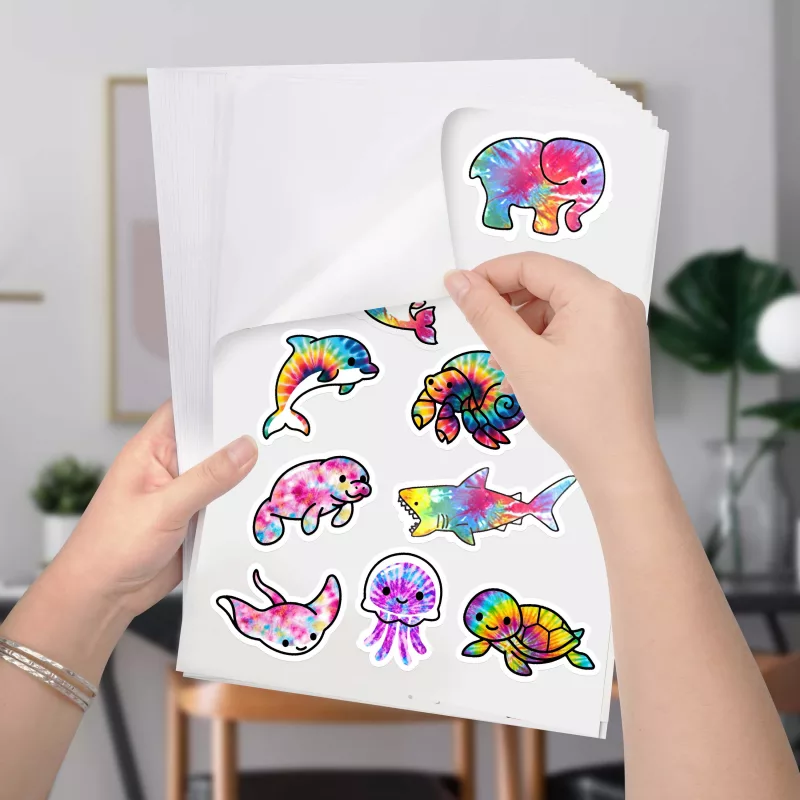 Word to the wise
At first, sticker printing may appear to be a highly professional or experience-based activity, but with the right information and tools, it can be done quickly and easily. When it comes to stickers, the combination of an inkjet printer and printable vinyl will undoubtedly yield the best results because the printing results in a colorful and highly applicable sticker product.
Once prepared, you can be as creative as you want and have as much fun as you want with it! You can test different color combinations one at a time to see which one looks best, use a small amount of different sticker paper to see which one produces the best results, and so on. When purchasing sticker papers, keep its usage and duration in mind as they may have specialized uses with other pro tips for buying sticker printer paper based on the type of 5 printable vinyl for inkjet printers mentioned above.