Proper label application is of utmost importance, especially when dealing with large quantities of products. Whether you are labeling products, packages, or promotional materials, ensuring accurate and efficient label application is crucial for achieving the best results.
In this article, we will discuss the different methods that can be employed, including both manual and automatic techniques. Besides, we will particularly focus on the top 3 automatic label applicators to provide you with valuable insights into advanced label application technologies that can significantly enhance productivity, accuracy, and uniformity.
So, let's discover the best approaches for achieving optimal results in your labeling processes.
Applying Labels by Hand
The traditional method of manual label application, also known as applying labels by hand, involves the manual placement of labels onto products. Hand labeled method has been widely used for smaller-scale operation or when automation is not feasible.
While knowing how to apply labels by hand is simple, the following factors are key to achieving the desired results:
Before applying labels to your products, check for any defects or errors in the printing and ensure that the product's surface is dry, and debris-free.
Follow the label placement guide. Make sure the label is aligned straight and centered.
Apply the appropriate pressure when securing the label to prevent any air bubbles.
Carefully inspect for misaligned or wrinkled labels.
While manual label application provides flexibility and control, it can be time-consuming, labor-intensive, and prone to human error.
For businesses dealing with larger volumes of labeling or aiming for higher efficiency, automated label application methods are more suitable. They increase speed, accuracy, consistency, and minimize human error. So, in the next part, we will let you explore more about the automatic methods.
Top 3 Automatic Label Applicators for Best Results
When it comes to automatic label applicators, there are several options available in the market. Here are three top automatic label applicators known for delivering the best results:
1. Primera AP-Series Label Applicators
Primera AP-Series label applicators are designed to quickly and accurately apply labels in a straight and smooth way. They are perfect companions for Primera's LX and CX label printers.
Applying labels using an AP-Series label applicator may reach speeds of up to 1200 per hour. It is an excellent machine to put labels on bottles, and other cylindrical and tapered containers such as cans, jars and tubes.
Primera AP-Series are typically lightweight and portable, making them suitable for small businesses or areas with limited space.
Prices for Primera AP-Series Label Applicators can vary depending on the specific model, features, and current market conditions. However, they generally cost from $900 to $2500.
This label applying machine is capable of applying labels to both the front and rear with equal precision. Using Primera AP-Series label applicators, you can apply the labels smoothly and wrinkle-free, giving your finalized products an expert appearance.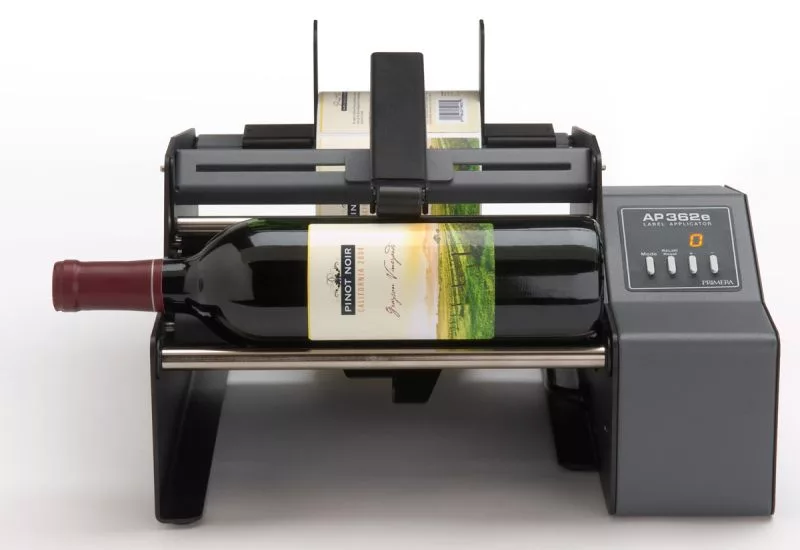 2. HERMA Labeling Systems
Compared to Primera AP-Series Label Applicators – compact, tabletop units designed for smaller labeling applications, HERMA Labeling Systems offer a wider range of configurations, including both tabletop and fully automated systems.
HERMA systems are known for their robust construction and suitability for high-volume labeling businesses.
These labeling machines provide a selection of equipment that is both general- and industry-specific. They are also known as automated/fully automatic labeling systems or applicator systems.
These devices include a variety of labeling capabilities, including labeling on both sides, labeling on both the top and bottom, seal labeling, and more. HERMA Labeling Systems are highly effective for labeling bottles and jars of various shapes and sizes.
You can also use them for labeling boxes, cartons, or flexible packaging materials such as pouches, sachets, and bags,…
They consist of a transport system that is designed to transfer the items to the labeling station in which the labeler is used.
Besides, HERMA's labeling systems for wrap-around labeling have the ability to apply labels on rounded surfaces with the greatest accuracy while eliminating spiral misalignment.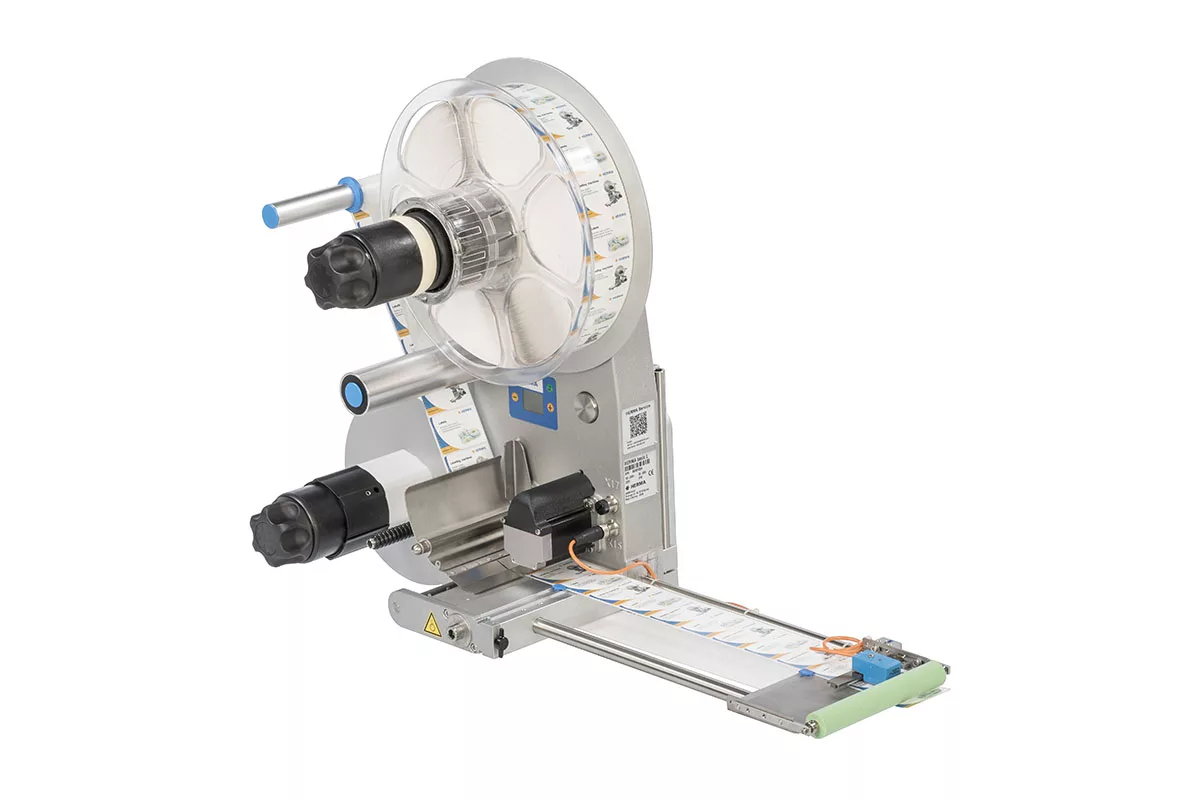 3. Markem-Imaje Labeling Systems
Whereas Primera's AP-Series Label Applicators are perfect compact automatic labeling machines, Markem-Imaje Labeling Systems and HERMA Labeling Systems are both print and apply labeling machines that can accommodate the widest range of materials and shapes.
Markem-Imaje provides comprehensive labeling services for a variety of businesses. As with Herma devices, the Markem-Imaje ones are highly versatile and are compatible with various types of product packaging, such as bottles and jars, boxes and cartons, cans and containers, tubes and vials, etc.
Labeling systems from Markem-Imaje are commonly used in industrial and manufacturing sectors, including industries such as food and beverage, pharmaceuticals, automotive, and consumer goods. These systems are designed to meet the labeling requirements of large-scale production lines and high-speed manufacturing environments.
This system costs about $4000, suitable for business use. The innovative innovations included in their 2200 series contribute to a low total cost of ownership by ensuring continuous output with excellent performance and little downtime.
These machines have an optimized label method, an automated label tension, and a built-in pad label sensor, all of which contribute to a reliable label application.
Labeling equipment from Markem Imaje can handle various materials and shapes. They provide high-quality and dependable labeling outcomes among many existing methods.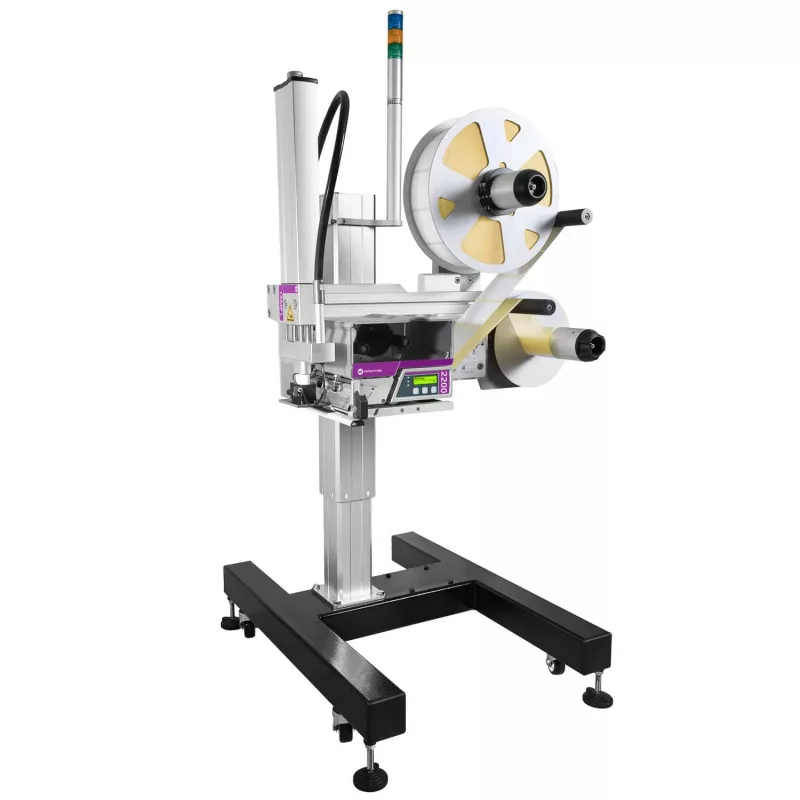 Additional tips for choosing automatic label applicators
Here are some additional tips to consider when choosing automatic label applicators:
Compatibility: Ensure that the applicator is compatible with the label sizes, shapes, and materials you need to use.
Speed and throughput: Evaluate your labeling volume and production needs to choose a machine that can meet or exceed your requirements.
Precision and accuracy: Look for applicators that offer high precision and accuracy in label placement. Features like advanced sensors and alignment systems can help ensure these factors.
Ease of use and setup: Choose an applicator that is user-friendly and easy to set up. Ideally, it should come with intuitive controls and clear instructions.
Adjustment capabilities: Check if the applicator offers flexible adjustments for label positioning, size, orientation, and other parameters. This will allow you to accommodate various labeling requirements without the need for additional equipment or extensive setup.
Integration options: Determine if the applicator can integrate seamlessly with your existing production line or labeling process. Compatibility with other equipment like printers, or barcode scanners can help streamline operations and enhance efficiency.
Conclusion
In conclusion, while manual application can be suitable for small-scale operations, automatic label applicators offer increased efficiency, accuracy, and professionalism.
The top 3 automatic label applicators discussed in this article offer advanced features and capabilities that can streamline the labeling process and deliver exceptional outcomes.
You can thoroughly evaluate and assess the options based on these considerations to make an informed decision and achieve the best results in label application.
We hope that you will pick out the right automatic label applicator for your specific labeling needs and achieve optimum performance in terms of accuracy, consistency, and efficiency.