As Christmas is coming, there's a shared excitement in the air for the countdown which has officially begun! May you wonder, how can you make this year's countdown more special than any year before?
Here, we've got you covered. In this blog post, we will together discover 14 Christmas countdown ideas for every style and mood. Whether you want to celebrate it in a traditional way, or want to seek unique and creative ideas, or even if you just wish to lie down all day but still want a unique way to count to Christmas, we've got suggestions for you.
Join us as we explore these possibilities!
Traditional ways to countdown 'til Christmas
When it comes to Christmas countdowns, the classics never go out of style. But if you feel it's somewhat familiar and boring, there must be a way to make the anticipation even more special.
1. Advent Calendar
Advent calendar is the most common choice for Christmas countdown ideas, providing daily surprises. This advent calendar countdown idea is how to make Christmas come faster by building excitement with every day passes.
If you're a fan of the advent calendar, you can check out our blogs, "15 Ideas to Craft the Best Advent Calendars for Kids in 2023". You'll find various ideas to make a Christmas calendar for your kids.
You also may be interested in our blog named "14 Creative DIY Advent Calendar Ideas for Doubling Your Christmas Decoration". This blog is full of creative ways to make your calendar not only a countdown to Christmas but also a festive decorating item.
2. Ornament Countdown
Using Christmas tree ornaments for Christmas day countdown combines both decoration and anticipation. You can start with a small, bare tree and add one more ornament to it each day. By the time Christmas arrives, your tree will be fully decorated with festive and tinkling ornaments.
3. Random acts of Christmas kindness list
Christmas holiday isn't just about celebrating; it's also about giving.
This year, count how many days till Christmas by creating a list of random acts of kindness that you and your family can do each day leading up to the big day. These small gestures can have a big impact, not just on others, but on your own holiday spirit as well.
There are some kind acts for Christmas countdown ideas we want to suggest you:
Give your home-baked cookies to your neighbors.
Write a heartfelt letter to a loved one.
Donate to a local charity.
Offer to help an elderly neighbor shovel snow.
Leave a surprise treat for your mail carrier.
Fun activities to countdown to Christmas
In case you prefer fun activities in your Christmas countdown, we've gathered some enjoyable and interactive ideas that will make each day leading you up to Christmas a delightful experience.
4. Jigsaw Puzzle Calendar
One of the creative choices for Christmas countdown activities is playing with a daily puzzle adventure. You can DIY or buy a Christmas-themed jigsaw puzzle and add one piece or one part a day. As the days go by, your puzzle will gradually take shape. It's a fantastic way to make the Christmas countdown ideas more engaging and interactive, especially if you're spending the holidays with family and friends.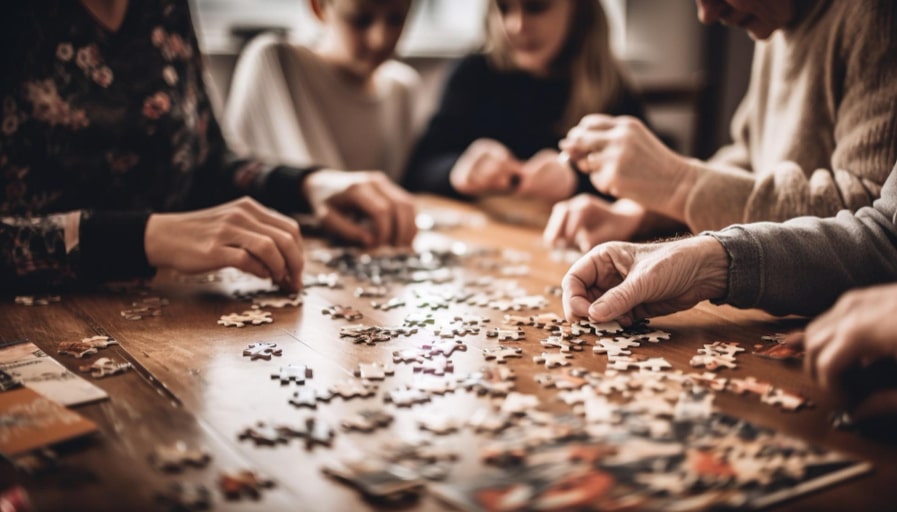 5. Coloring Countdown
How about artistic Christmas countdown ideas? Invest in a large Christmas-themed coloring page, and paint it the way you like. For example, each day, you can choose to paint all the cells of a certain color, or you can paint any area of the picture with all the color this area requires. By the time Christmas arrives, your coloring page is just finished and you have a beautiful masterpiece to display.
6. Window Stickers Countdown
Transform your windows or glass doors into festive Christmas wonderlands with custom window stickers. This is one of the Christmas countdown ideas which brings you the anticipation of the artist but also the fun of placing every little piece and finishing a big masterpiece.
To start your window Christmas countdown ideas, consider various shapes and types of stickers like snowflakes, reindeer, or Christmas trees. These stickers are available in a variety of materials, but clear stickers are often a good choice. Also, you can try our die-cut stickers or transfer stickers. These christmas stickers can be placed on both the inside and outside of the window or used on other surfaces like walls, doors, cabinets, and more.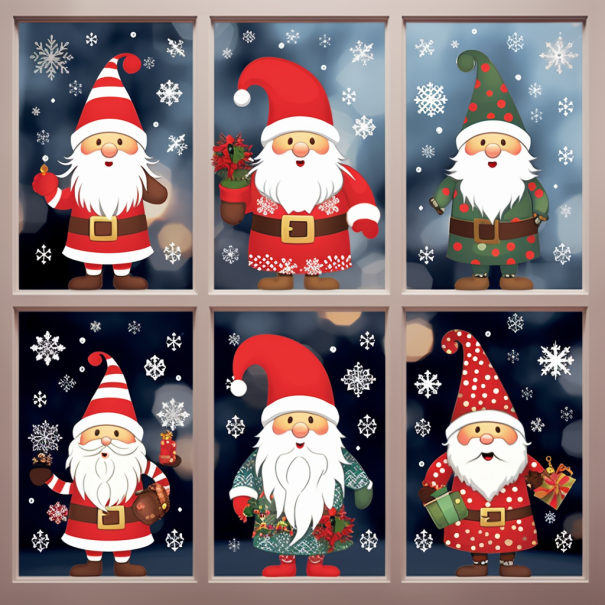 Crafting Christmas countdown ideas
If you find joy in crafting and creating, here are 2 delightful DIY Christmas countdown ideas that allow you to put your DIY skills to work.
7. DIY Snowman countdown clock
To DIY your unique snowman countdown clock, start with a circular wooden board. You should paint it in white to resemble a snowman's face. Cut some pieces of cardboard in the shape of a carrot nose and coal eyes then paint them.
Attach the carrot nose to the center so it will be used as your clockwise. Lastly, write the number from 1 to 25 around the half circle at the bottom of the snowman face. For a more winter snowman look, you can give him a cozy scarf and a festive top hat.
Each day, simply move his nose to reveal how many days are left until Christmas. It's a funny choice for your crafting Christmas countdown ideas.
8. Christmas Wheel
What do you think about Christmas countdown ideas of a wheel with a festive spin?
Using cardboard, create a wheel with numbered sections from 1 to 25, representing 25 days leading up to Christmas. In the center, add a central arrow which allows you to spin to reveal the day's countdown number.
For decoration, you can use different bright colors for each section. Add more glitter to some random sections for a festive look.
The Christmas wheel is a fun and decorative way to countdown til Christmas while giving you a chance to make some crafts with your creativity.
Christmas countdown ideas for those who loves relaxation
For those who prefer a more relaxed approach to the Christmas countdown ideas, we have some wonderful suggestions without breaking a sweat.
9. Candle Countdown
There's something undeniably soothing about the soft flicker and relaxed fragrance of a burning candle. To countdown how long until Christmas, arrange different candles on your fireplace or at your bedroom, light a scented candle each night, allowing the scents to fill your space.
Quick tip: choose the candles that help you in relaxation and at the same time bring you the scent of holidays, such as cinnamon or pine.
10. Sweet Treat series
Treat your sweet tooth with a different Christmas sweet each day. You can plan a list of festive chocolate, homemade cookies, or a delightful pastry from your favorite bakery. These Christmas countdown ideas let you enjoy the holiday season with one delicious bite each day.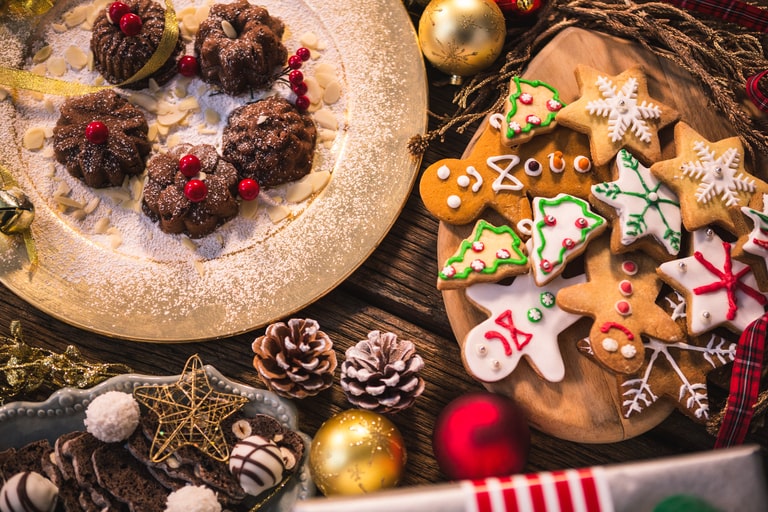 11. Winter Bucket List
Another Christmas countdown idea for you is to create a winter bucket list of activities. These acts, can be done solo or with loved ones, allow you to get the best out of the season:
Take a peaceful winter walk through a local park.
Sip hot cocoa by the fireside.
Try your hand at crafting holiday decorations.
Enjoy a cozy reading night with a good book.
…
12. Watch Christmas Movies with your Family
To count how many more days until Christmas, just gather your family to enjoy a different Christmas movie each night. This relaxed activity brings everyone in your family together, making cherished holiday memories.
For the movie list, you can choose from classics like "It's a Wonderful Life" to contemporary favorites like "Elf," these movies will surely get your loved ones in the Christmas spirit.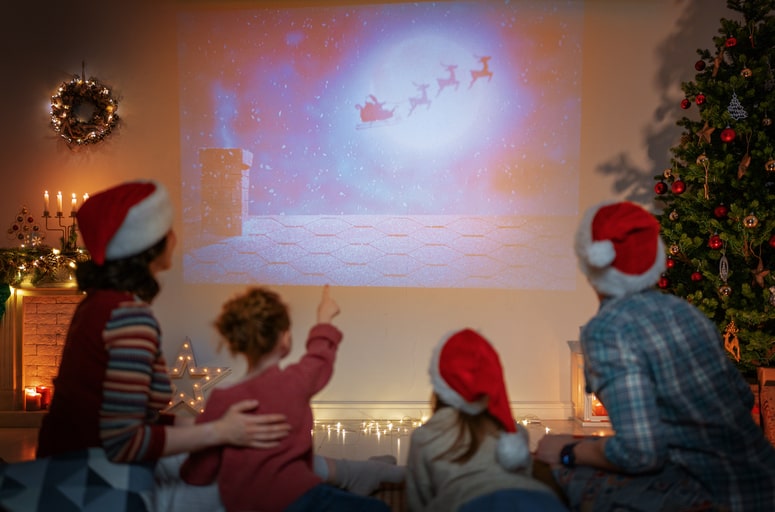 13. Storytelling nights for kids
How can you and your kids countdown to Christmas together? The answer is to engage your kids in Christmas storytelling nights. Your story series can include some stories like "The adventures of Santa and his reindeer", or "The magical journey of a Christmas ornament", ect.
Christmas countdown ideas for the lazy
14. Digital Countdown Apps
For those looking for a low-effort way to countdown to Christmas, a digital Christmas countdown app or virtual software are the perfect solution.
Smartphone Apps: Search for smartphone apps that offer Christmas countdown features. You can customize your phone with themes, colors, wallpapers, daily notifications and ringtones throughout the Christmas season.
Web browsers and browser extensions: Some web browsers, such as Google, and its extensions have Christmas countdown features. Find and install them so you can transform your browser's homepage, adding a countdown feature.
Virtual Advent Calendars: Explore mobile apps that offer virtual advent calendars, where you can open daily "doors" each day for surprises like festive images, quotes, or online games.
These digital Christmas countdown ideas are for lazy countdowners, making it mostly effortless to track the days until Christmas and spreading holiday spirit to your digital space.
Conclusion
No matter your style, there's one from these Christmas countdown ideas that's suitable for you. Take our suggestions to your Christmas season and cater it into your own unique countdown adventure.
Don't forget to check out our website for a variety of custom stickers that can elevate your holiday decorations and countdown ideas. From clear stickers to white base stickers with die-cut designs, CustomAny offer a wide range of options to suit your style and needs.