As businesses strive to stand out in crowded marketplaces, creative brand promotion techniques have become essential. One of the effective ways is through bumper stickers. Bumper stickers are versatile, budget-friendly, and they offer continuous exposure to your brand.
In this blog, we will discuss 5 dynamic bumper sticker ideas that will leave a lasting impression on your target audience. Whether you're a small business owner or an established brand, these bumper sticker ideas are sure to elevate your brand awareness and take your marketing game to the next level.
Who should use bumper stickers in brand promotion?
Bumper stickers are a versatile and cost-effective tool for brand promotion that can be used by a variety of businesses.
They can be especially effective for small businesses, startups, and non-profits that have limited marketing budgets or resources. These stickers can also be used by large corporations and established brands as part of a broader marketing strategy.
Essentially, any business or organization that wants to enhance its brand visibility, promote a message or cause, or engage with its customers can benefit from using bumper stickers as part of their promotional efforts.
5 Dynamic Bumper Sticker Ideas for Brand Promotion
Using bumper stickers helps spread awareness of your company to a wider audience than traditional advertising approaches. If you're looking for some bumper sticker ideas, consider the following suggestions.
1. Clever Slogans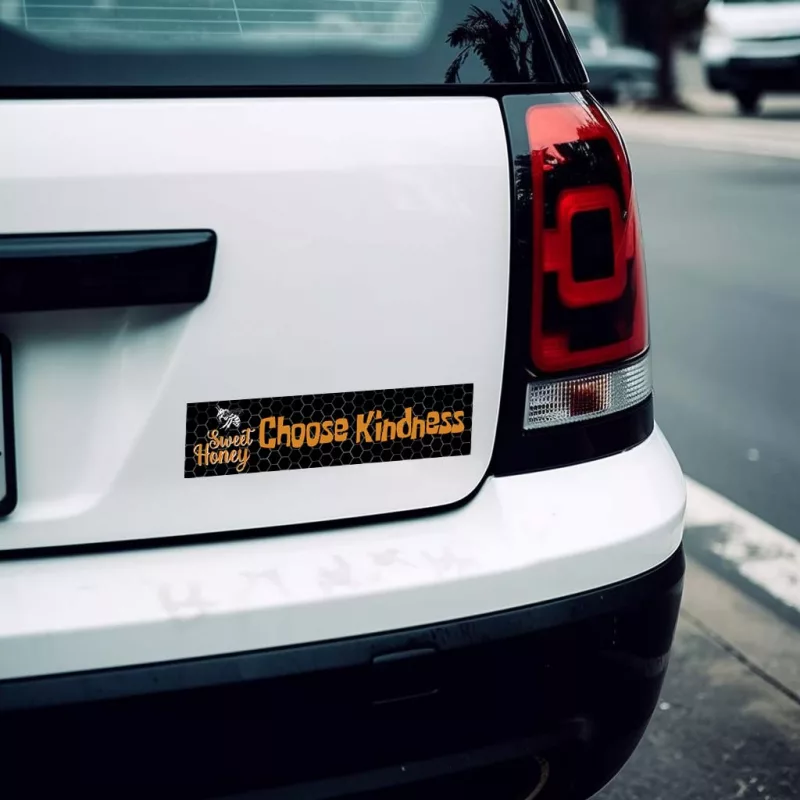 Making clever slogans for bumper sticker ideas requires creativity, a clear understanding of your brand and message, and an ability to succinctly convey your ideas in a few words. Here are some tips to help you generate clever slogans for your bumper sticker ideas:
Keep it simple: A good bumper sticker slogan needs to be simple and easy to understand at a glance. Try to come up with short, sweet, and memorable slogans of your company, such as "Good Vibes Only", "Choose Kindness", when making bumper stickers,
Showcase your brand personality: Your slogan should reflect your brand's personality and values. Ask yourself, what is it that sets your brand apart? For example, your main style is youthful, dynamic, or elegant. Then you can apply and convey them through your bumper sticker printing.
Use humor: A funny bumper sticker can be a powerful tool to grab attention and make people remember your brand. However, be sure that your humor is appropriate and aligns with your brand's tone. For instance, "Don't follow me, follow my brand.", or "My brand is the talk of the town."
Be memorable: A great slogan for bumper sticker ideas should be memorable and leave a lasting impression on your audience. Use clever wordplay, catchy rhymes or alliteration, like "My brand is the best, forget the rest",or "My brand is the star, taking you far" to stick in people's minds.
2. Bold Taglines
Taglines are important because they position your brand in the industry and tell people who you are and what you stand for, rather than what you do. Bold taglines can help make them more visible and easier to read. Besides, bold and attention-grabbing taglines will grab people's attention and stick in their minds.
Choose slogans that represent the brand's ideals and resonate with its intended consumers. This is crucial for developing an effective advertising strategy.
Branded taglines that connect with your target demographic and reflect your company's core values will go a long way toward building recognition and loyalty among your target market and setting your company apart from the competition.
3. Vibrant Colors and Striking Graphics
Vibrant colors and striking graphics make your bumper sticker ideas stand out from a distance and capture attention. This helps your message to get noticed, even in a sea of cars.
Your brand's personality and values can be represented through the use of colors and graphics on your custom bumper sticker. As an example, if you are promoting a playful and fun brand, you might use bright colors and whimsical graphics. Meanwhile, if you are promoting a serious brand, you might use muted tones and modern graphics.
When brainstorming your bumper sticker ideas, consider using colors and graphics that reflect your brand's personality and values while still creating a memorable, versatile, and eye-catching bumper design. This can help to boost brand recognition and create a positive impact on your target audience.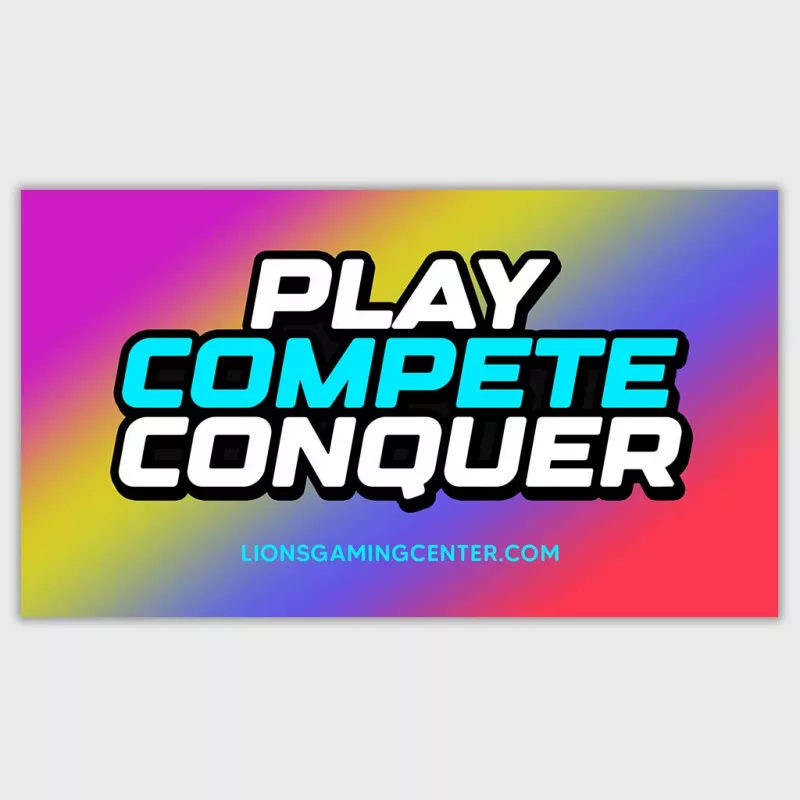 4. QR Codes
QR codes are a great tool to use when creating bumper stickers for brand promotion. They allow your audience to quickly and easily access your website or social media pages, increasing engagement and driving traffic to your online platforms. This can increase engagement and lead to increased sales and brand loyalty.
Besides, there are many reasons you should consider using QR codes on your bumper sticker ideas, and we listed them in the article: "5 whys every business should use QR code stickers and labels". Let's come and find out the wonderful benefits of QR codes stickers.
5. Interactive Elements
Interactive elements, like puzzles, games, or challenges, can be a fun and engaging way to make your bumper sticker ideas stand out from other traditional marketing materials. For example, you could create a vinyl bumper sticker design that features a word search puzzle related to your brand.
Then, include words that represent your products, values, or slogans and encourage people to find the words and offer a reward or discount for those who successfully complete the puzzle..
This invites users to spend more time engaging with your bumper sticker and draws attention to your brand.
When incorporating interactive elements into your car bumper sticker design, make sure to keep it simple and fun. The challenge or game should relate to your brand or message, and be easy to complete or participate in. By doing so, you can create a more memorable and engaging experience for your audience, leading to increased brand recognition and loyalty.
3 tips for using bumper sticker in brand promotion
After getting the bumper sticker ideas for brand promotion, we offer you some of the best ways to use them effectively. No matter what type of business you run, applying these tips may help you create a successful marketing campaign.
Create a Buzz on Social Media
Social media platforms have a vast audience, making it an ideal platform to promote your brand.
When using a customized bumper sticker for brand promotion, create a design that is unique and memorable. Then share photos and videos of your bumper sticker campaign on social media and encourage your audience to share their experiences with your brand. By sharing an image or video of your bumper sticker campaign on social media, your brand will have a greater chance of reaching more customers.
Don't forget to utilize relevant hashtags and engage with your audience to create a buzz and increase engagement with your brand.
Collaborate with Influencers
Influencers have a dedicated following that trusts their recommendations. Collaborating with an influencer means that your brand will be exposed to their followers, allowing you to reach a new, larger audience. The influencer's endorsement of your brand can be exceptionally valuable in attracting new customers.
To collaborate with influencers when using bumper stickers for brand promotion, you can start by identifying potential influencers in your industry or niche, then send them your brand awareness stickers as a gift. Once they have used your bumper sticker ideas, you can ask them to share their experiences with their followers on social media.
In case there is a contract for KOLs for the marketing of using bumper stickers, you should express gratitude for their promotions publicly to create stronger relationships.
Engage in Community Events
Community events typically attract a local audience, making them an excellent opportunity to promote your brand in front of people who are more likely to become your customers.
To engage effective bumper stickers in community events, you can consider sponsoring or participating in local events, such as fairs, markets, or other community gatherings.
You can provide your bumper stickers as a gift or reward for visitors who engage with your brand, or even organize activities featuring your bumper stickers like a scavenger hunt or use creative ways to display your stickers to attract attention.
Another option is to collaborate with other brands and organizations to create a shared program featuring your bumper sticker ideas. Ensure that your bumper stickers are visually appealing, on-brand, and deliver a clear message that resonates with your target audience.
By doing so, you'll be able to set yourself apart from the crowd and make a strong impression on the local community.
Conclusion
In conclusion, bumper stickers are a cost-effective, versatile, and dynamic way to promote your brand and leave a lasting mark on your target audience.
By following our recommended methods, you can make use of bumper stickers to promote your brand to the next level. So consider incorporating these dynamic bumper sticker ideas into your marketing strategy to leave a lasting impact on your target audience.