Are you tired of household items that are left like a mess at home and hard to find when needed? Or do you often forget about the date of your food bags stored in the fridge? Making your house organized by labeling everything is exactly what you need right now. Using organizing labels on kitchen utensils, food, and storage cabinets will save you time searching, keep your home tidy as well as limit related health problems. Learn how to label household items and how to choose the right type of label for your purpose in our article below.
1. Chalkboard Labels for temporary use
The first type to mention is chalkboard label which is made from high quality waterproof black vinyl. To use them, you need a white chalk pen or chalk pencil to write on their smooth writing surface. These organizing labels are probably the type for temporary purposes because they can be wiped clean with a damp cloth and then rewritten on.
There are 5 common types of chalkboard labels according to how they are attached to the labeling object:
Hanging chalkboard labels: Comes in with hanging strings, hanging chalkboard labels are suitable for large objects like boxes, bamboo baskets, used as cabinet labels, kitchen drawer labels or used to hang on the doors.
Clip on chalkboard labels: The clips of these organizing labels make them convenient to use on bookshelves, baskets for craft tools, dry food bags in use, etc…
Chalkboard label tags: Similar to hanging chalkboard labels but in a smaller size, chalkboard label tags are often used for smaller baskets, boxes or can be hung on kitchen jars.
Adhesive chalkboard labels: This is the most convenient type of chalkboard organizing labels because they have removable adhesive on the back, so it's safe to use on all kinds of surfaces, from plastic bottles, glass jars, wooden boxes, paper bags to your windows, doors and even walls. Just peel and stick, knowing that you can remove them whenever you want without any residue remaining on the surfaces.
Magnetic chalkboard labels: Due to the special properties of the magnet, this chalkboard label is often used for fridge notes or metal containers.
All 5 types above can be easily removed from the labeling object so chalkboard labels are loved for their reusability. Besides, handwritten words on a black background will bring out a striking look for those who love handmade or craft items.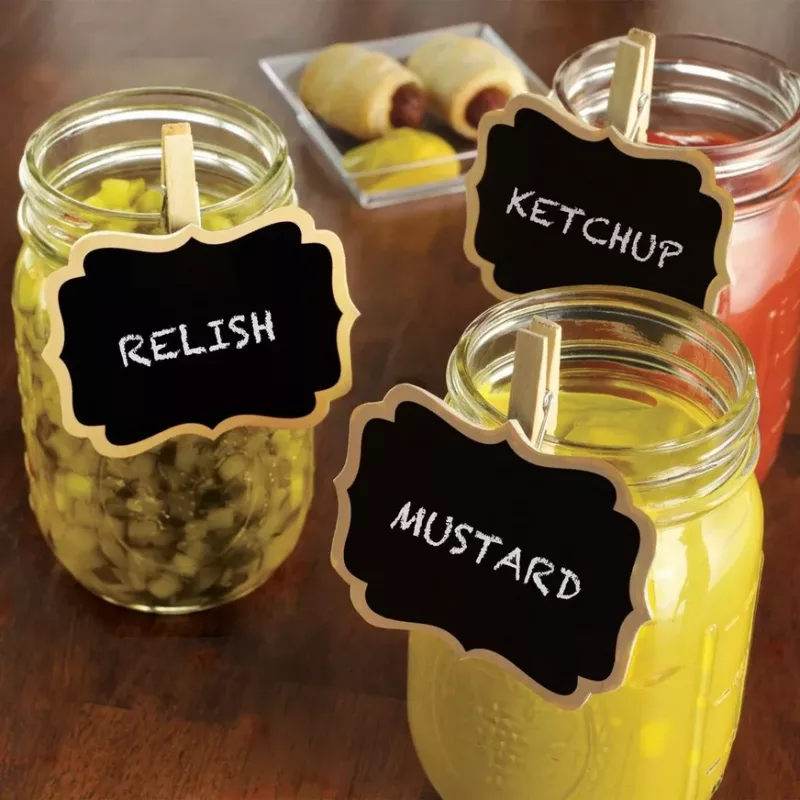 2. Printed Labels for long-time use
The obvious contrast between printed labels and chalkboard labels is that print out labels are made to mark exactly what you want. With pre-printed content on the label, each should only be used for a specific location. In return, you can be creative with the shape of the label: cut into a circle, square, triangle or cut to the shape of your design.
There are 3 ways to make printed labels for organizing your house:
Print simple text labels on paper: The simplest way is to type your content in Microsoft Words and print the labels out. Then using a scissor to cut them out, use packaging tape or double side tape to stick them to the object or surface that you want. This way you can use computer softwares to adjust fonts, choose colors and add decorative details to your organizing labels.
Print labels on sticker paper: Begin with the designs you have made on your computer, you can create printed organizing labels that are easy to stick to any surface by using sticker paper that can be easily found in stationery stores nearby. Use the printer to print your label design onto the paper, cut them out, then peel off the backing and you're good to go.
Order print on demand labels from custom sticker and label printing companies: Using organizing labels from

custom printing companies

gives you 3 significant benefits. Firstly, it ensures that the labels are made from high-quality material with high quality of printing process. Second, these labels come in with beautiful and eye-catching outlook because these companies offer you many templates available for a variety of purposes. Thirdly, this way can save you from buying expensive tools such as a printer or considering which is the right sticker paper for your designs.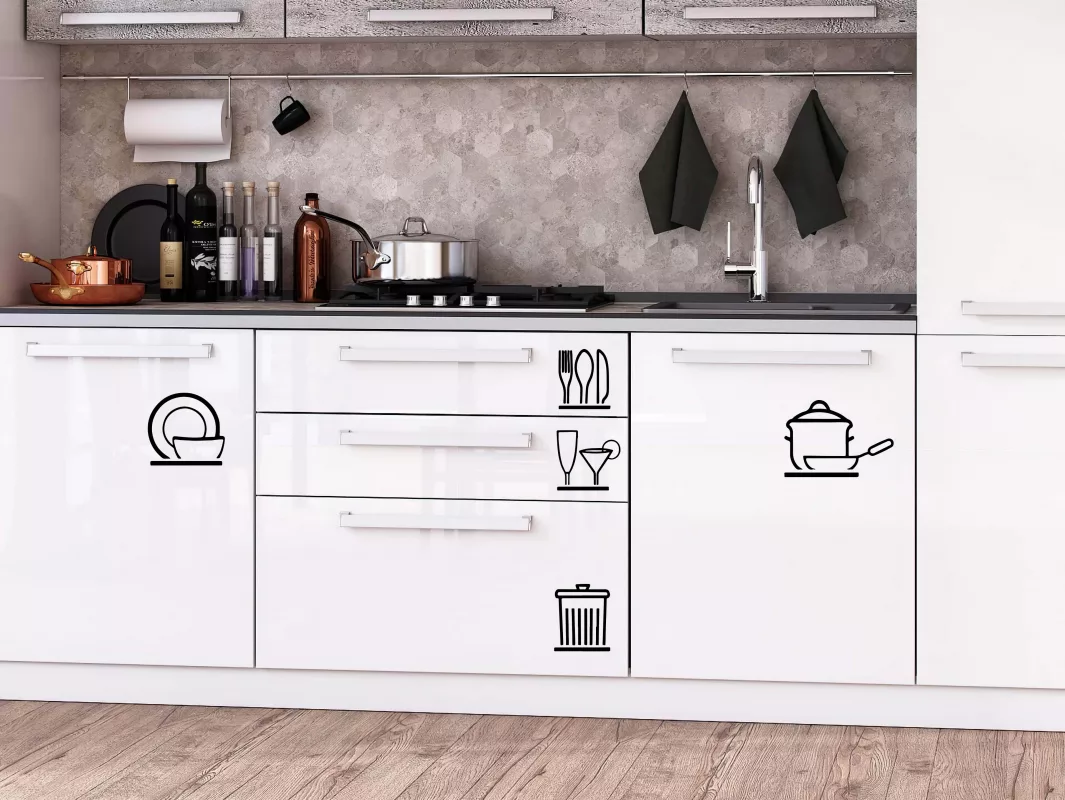 3. Bookplate Labels for those who love naming things
Bookplate labels are actually a special type of pre-printed label but have an additional feature of chalkboard labels. These labels have some printed details, like "this belongs to" or pre-printed lines for us to fill in by hand, which makes them similar to chalkboard labels.
Originally, bookplate labels were blank boxes for names that you could find on the front pages of books, but over time these labels were used to organize household items such as naming baskets. clothes, for cabinets, file drawers or used as kitchen jar labels.
To create this type of organizing label, you can completely design it yourself at home using simple computer software such as Microsoft Words, Photoshops, or a designing tool like Canva. You can also download templates available online and print them out, or order labels online from printing companies such as from CustomAny.
4. Custom food labels for fridge
Custom food labels are still a special kind of pre-printed custom labels. These organizing labels are used for food bags or boxes stored in the refrigerator. On their surface there are some spaces for users to fill in necessary information: name of the food, start date of storage, expiry date extra and space for other notes.
At first glance, custom food labels seem easy to design and print at home, but we do not recommend doing that. You probably should buy them from e-commerce platforms such as Amazon, Etsy,… or order from professional printers. The reason why? That's because these labels are used in the refrigerator under extremely low temperature and high humidity, so they need to be made of the right material and proper ink to avoid harmful substances that can absorb to your food and affect human health.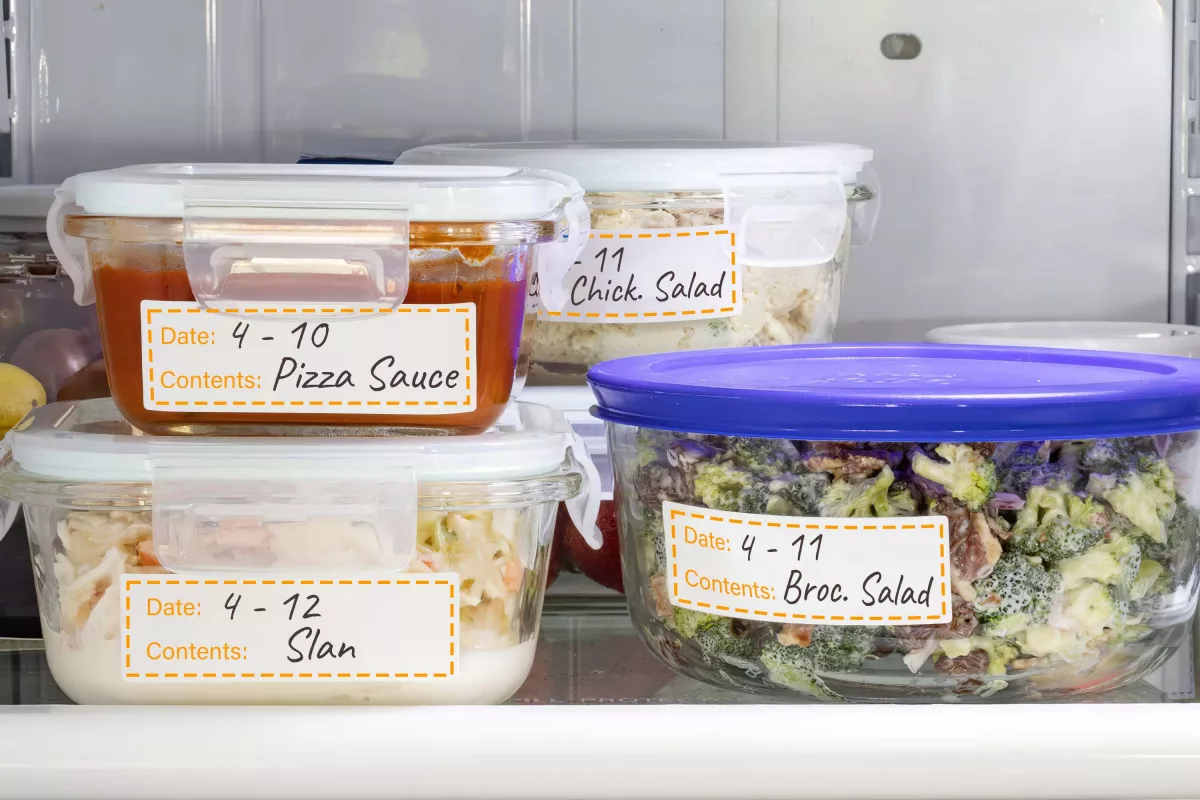 5. Clear labels for a good looking outlook
A clear or transparent label is a label that has a transparent background which can be seen through. It brings the labeling item an elegant look and emphasizes the content or image which is printed on it. Clear labels are available on printable vinyl or BOPP, which can be used on any surface, on any item as it is waterproof and machine washable.
You can put transparent labels on cabinets, shelves, bottles – anything that is made from popular materials like wood, plastic, metal. This type of organizing labels has high applicability but it is especially used on glass for the outstanding look. You can easily find clear organizing labels for kitchen jars, glass cabinets or bathroom mirrors online. We recommend transparent labels that feature white or black text; or cute images printed in pastel colors to level up your household glass items.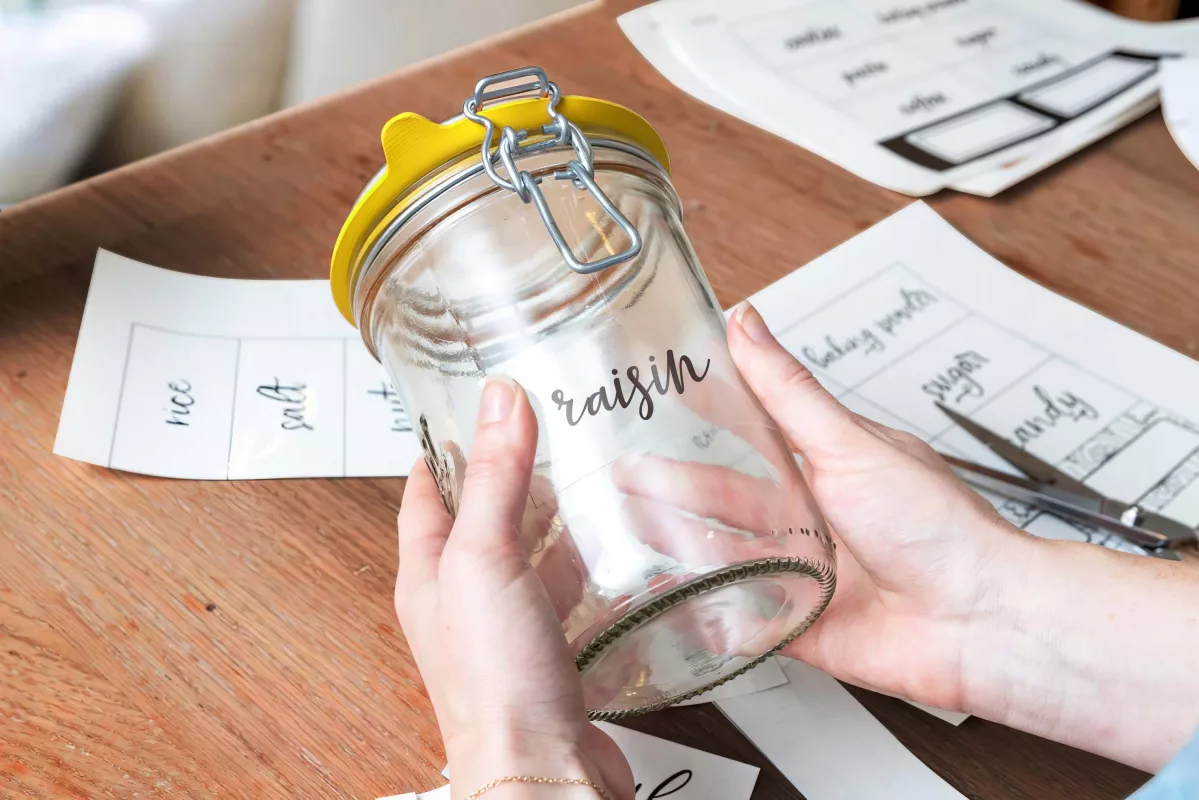 Tidying the house or storing things is so much easier when you have everything labeled. Organizing labels are even more useful if you are parents with young kids because they can make a great contribution in training your kids how to live a neat lifestyle. So, what else are you waiting for? Just starting to buy these useful labels for organizing your house. We believe that all the information about 5 common types of organizing labels will help you choose the one that is right for your purpose and at the same time can make your items look more interesting and beautiful.