A music room is a peaceful haven where anybody goes to relax and improve their skills. So, many people want to make their own customized music space with everything they need without interruptions. No matter how you want to use your music room, there is consensus that it should be designed to provide a relaxing retreat from the stresses of daily life.
Here, without further ado, are some of our favorite ways to spruce up a music-themed space! You can use these music room decor tips to create a relaxing environment to practice your instrument or just listen to music.
1. Reasonable location
Private room
Your music space would benefit greatly from being soundproofed. Unless you take the time and money to soundproof your space, you run the danger of upsetting your neighbors if you wish to play or listen to music at a loud level.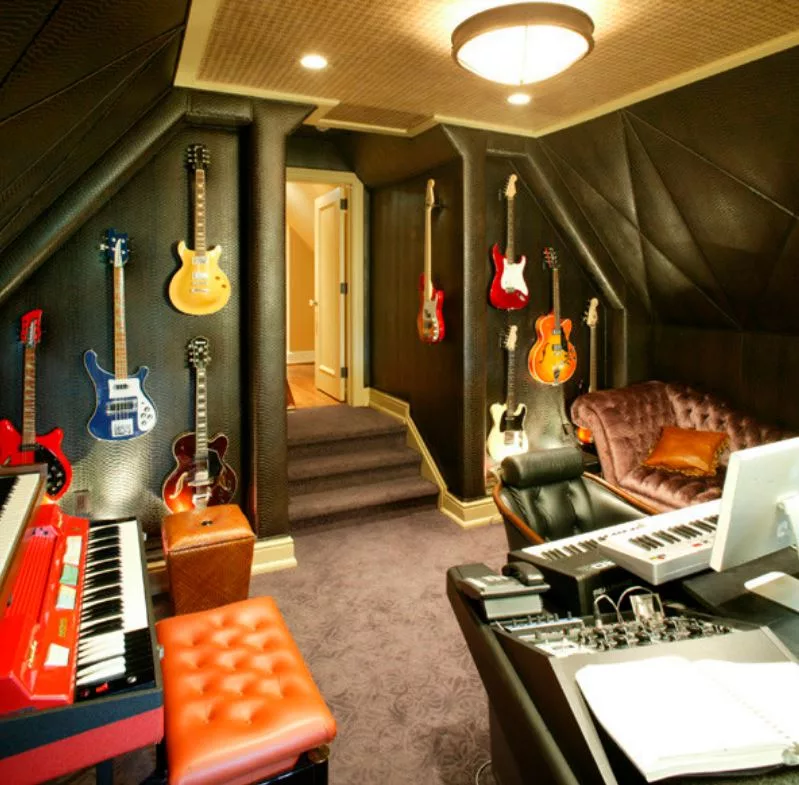 An enclosed space like a basement is an excellent music room decor idea. Otherwise, you can choose another room and use some soundproof methods.
Foam is the finest and simplest option for soundproofing. Though pricey, this offers the advantage of reducing ambient noise, which is crucial for recording requirements.
On the other hand, egg cartons adhered to the walls may be used as an inexpensive and effective music room decor method for decreasing the echoes caused by your music. Although this does what it's supposed to, it lacks the visual appeal of the foam option.
Putting thick rugs on the walls may be your best alternative if your primary objective is preventing sound from escaping and disturbing your neighbors. These rugs should be placed in door crevices, above windows, and anywhere else that sound may potentially escape through.
Multi-purpose music room
If you want to create a music room but don't have the option of spending a whole room for it, you may always make use of a multi-purpose room. A basement, for instance, might serve as a place for both music listening and a bar's atmosphere. In addition to being a great location to hang out with friends, this space is also ideal for concentrated practice. It's also great fun to have a small home party in a basement music room. Imagine that you are in a cozy, enclosed area with your friends, sharing a drink and listening to music. It is fantastic, isn't it?
If you are interested in discovering ideas for decorating the walls of a basement bar, you can read our following article to learn more: 3 basement bar wall decor ideas for the ultimate multipurpose space.
2. Unique theme and color
You are free to design your music room with themes that are a direct reflection of your unique taste and personality. You can decorate your walls with works of art, use musical furniture, stickers, etc. However, all must follow a consistent concept for relevance.
The next step is to adjust the room's color scheme so that it fits in with your overall music room decor concept.
Bright colors with a lot of energy will assist in raising your mood and create a dynamic space where you may create interesting new songs. Softer colors like blue or lilac will help you relax and concentrate as you practice your classical piano pieces. Rock musicians may find passion and a sense of intensity in a color palette of red, black, and orange.
Think carefully about what kind of theme and color scheme might work best for you and your music room.
3. Light of the stage
DIY music room decor allows you to create an inexpensive musical stage. It's up to you to decide what constitutes a stage for your performance; it might be a hairpiece in the middle of the room, some comfortable chairs, or even a raised platform in one corner of the room.
Adding a ceiling or spotlight that directly shone to your stage may greatly improve the visual appeal and draw the attention of all people in your music room. It is also possible to brighten up the areas by installing wall lights or sconces.
4. Creative wall
Inspiring gallery wall
Your music room's layout needs to be thoughtfully designed to encourage creative thinking and concentrated attention.
Arranging framed photographs of loved ones, musically-themed art prints, and any other awards or acknowledgments you have on display is great for creating an environment that inspires and motivates you. As a great music room decor recommendation, you can make a gallery wall with them so you can see them whenever you need a creative boost.
Practical musical instruments
Given that this is now your permanent instrument storage space, you'll want to find a place to keep everything in order.
Guitar wall mount is a great music room decor solution for displaying and storing guitars since they keep them safely off the ground, prevent them from being knocked over, and don't take up much room.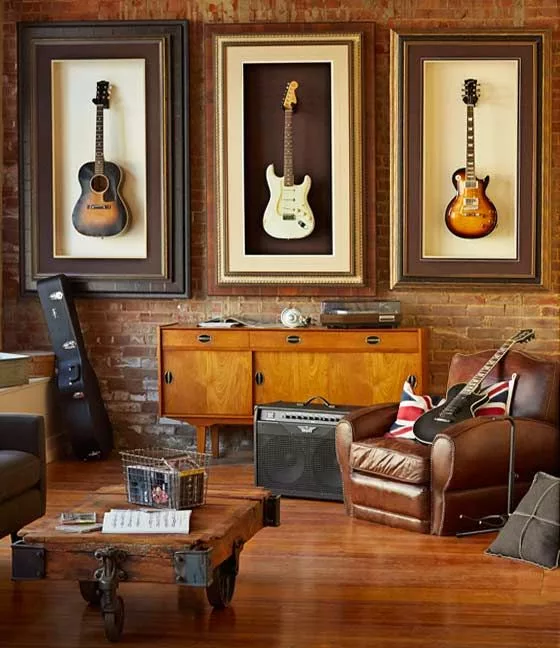 Posters and tickets
In addition to the framed vinyl, your music room wall decor will look amazing with some concert posters and maybe even some of the tickets from shows you've attended.
Framed custom posters complement framed vinyl records and provide a classy touch to any room.
Our music room decor suggestion is to hang a wide range of artwork on your walls. If you like other types of music, display them on the walls. After all, this space is dedicated to showcasing your favorite musical style in its many forms.
Wall decals and stickers
The addition of the music stickers and music wall decal as wall art would be a creative music room decor approach to liven up your practice space. This is a stunning addition that will really set your area apart. Stick the stickers or labels on the wall opposite the entryway or the focal point of the room to make them stand out.
You can find numerous musical instrument stickers, music note wall decals, music staff stickers available. They're one of a kind and simple to adapt to your decor needs. The placement of musical stickers or sheet music wall decal makes for an impressive statement.
Another music room decor for wall is musical quotes stickers. A selection of inspirational sayings and song lyrics created by well-known bands and musicians will make a lovely wall. Wall decals in a musical theme are an easy way to brighten any room.
You can make your own unique wall art in the colors, sizes, and designs that best suit your tastes and overall music room decor.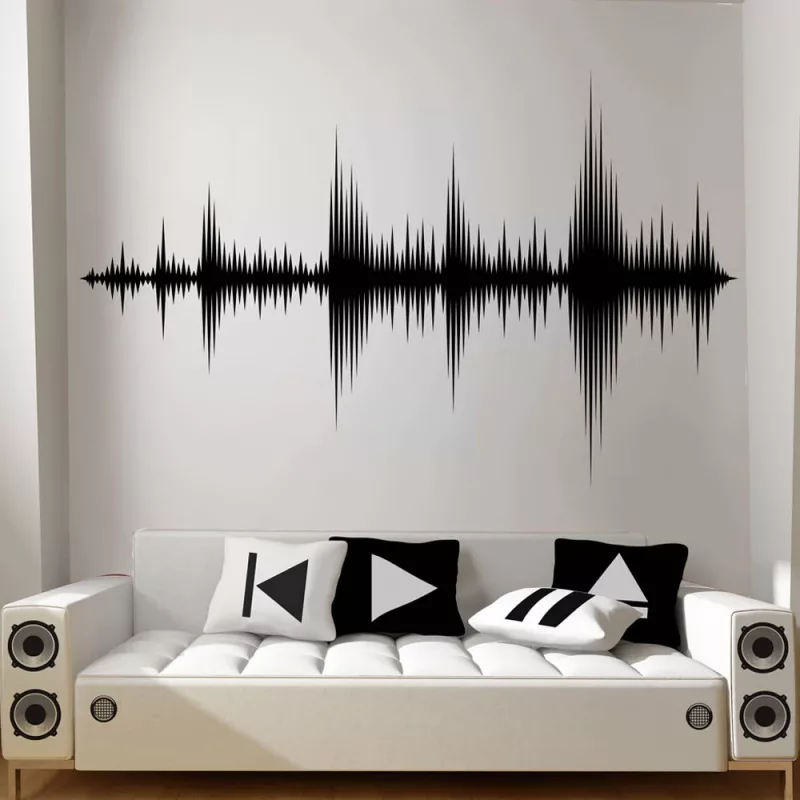 5. Inspired floor
Showing off your musical taste with rugs and carpets on the floor is a great music room decor idea. Several possibilities include illustrations of musical instruments and notes, such as a piano keyboard, a record player, a guitar, or a saxophone. You might use some carpets with a musical theme, or you could paint the required pattern on the floor.
Floor decals and quotation stickers are other options for freshening up your floor. These expressions may be anything you find noteworthy, from the words of your favorite person to random thoughts. This way, every time you enter your music room, you'll feel energized and inspired.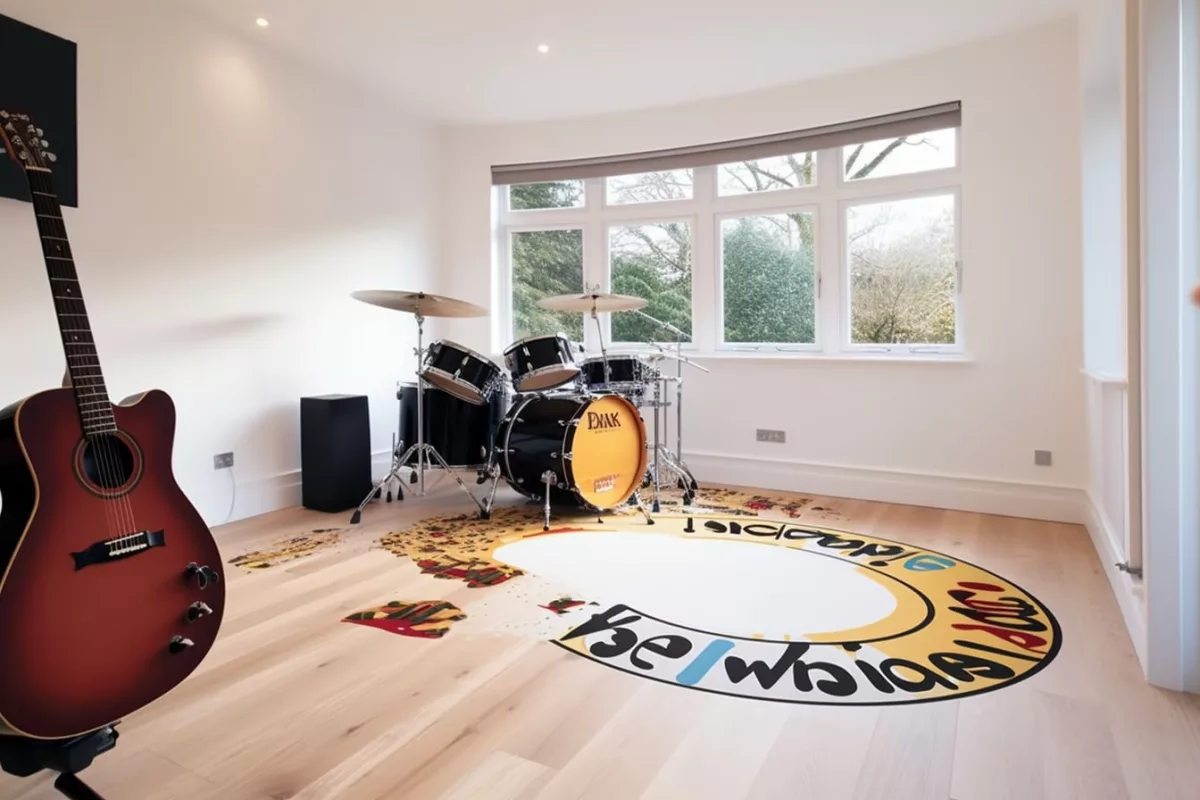 6. Music themed furniture
Having a music themed room decor is not only a great music room decor option to have a good time, but it can also boost your imagination. Because of this, we strongly suggest that you decorate your music room with furniture that is based on the subject of various types of instruments, like a guitar themed room, or a piano themed room. In addition to making for a visually pleasing environment, doing so might motivate you to go further into your interests.
You can show your love of music by including musical notes, chords, and other musical motifs on sofa covers, shelves, or storage cabinets. It's a quick and cheap music room decor method with a beautiful musical theme.
7. High-quality stereo system
After a busy week, there's nothing better than relaxing in front of a high-quality audio system, listening to your favorite tunes, and resting. You have a complete command of the song's lyrics and are able to pick out even the most subtle nuances in the music.
The stereos are not only useful for playing music but also aesthetically pleasing. It's crucial to be aware that high-quality stereo systems have a low rate of wear and tear and need little maintenance. Consequently, think of it as an investment for music room decor that may be used many times and benefits you in the long run.
8. Disc vinyl album art
Your new music room decor will look great with a few tasteful pieces of furniture, such as CD racks, bookcases, or even custom-built vinyl shelves. It would also be extremely awesome if you had some framed vinyl hanging on the wall. The wall is a wonderful place to exhibit any rare vinyl that you may have in your collection.
Don't forget to take the disc out of the frame before framing the cover art to prevent warping. For a similar reason, if you are going to frame the disc itself, you need to make sure that it is not exposed to direct sunlight.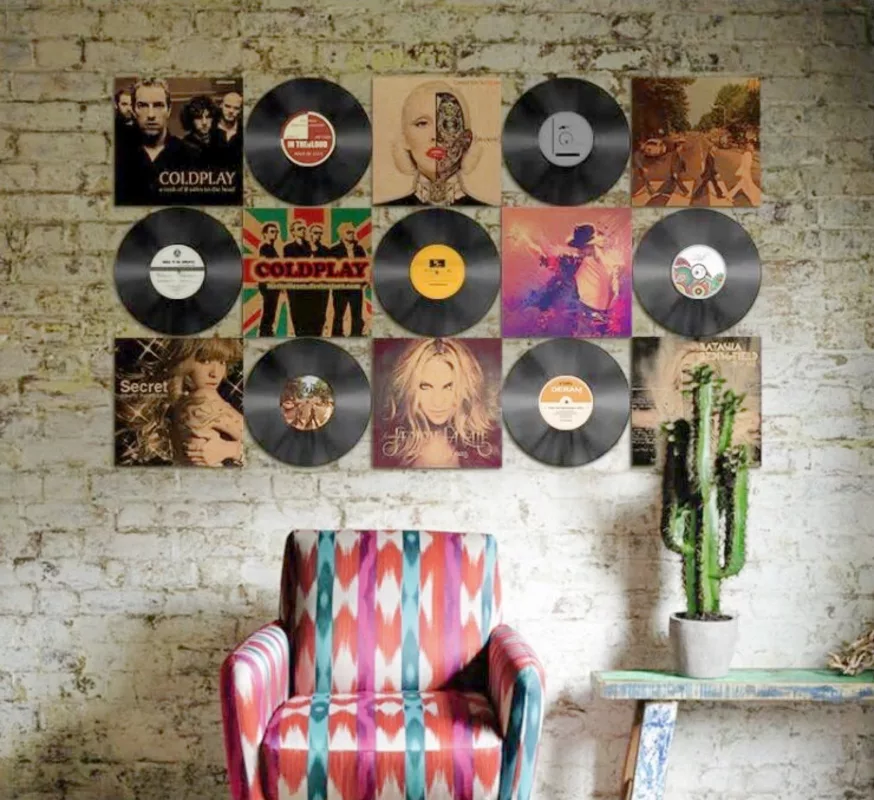 9. Limited collection shelf display
The music room may be a place to store all of your concert souvenirs if you are the person who buys merch at the show you attend. Whenever you buy anything from bottles to a T-shirt, put it on display on your shelf display. Moreover, including rare, one-of-a-kind items will make the space seem more valuable and new, like a gallery. They will be a visually striking and musically celebratory addition to your life.
Conclusion
It's true that your enthusiasm for music may be boosted by a well-decorated room in which you perform or listen to music. Nobody enjoys spending time in an uninteresting and disorganized environment. Creating a beautiful music room takes time and effort, so it's best to take modest steps. In this above post, we have offered a list of exciting and creative suggestions for music room decor. You should try selecting the one that matches best with your vibe, or you could experiment with combining many different ideas and seeing how well that works for you. We at CustomAny really hope that this post was able to help you out and provide you with some great music room decor ideas.