Coffee has been listed as the preferred stimulant of so many people. There are thousands of manufacturers and thousands of types of coffee packaging on the market. There is a lot of competition as a result, and differentiating yourself from the crowd might be difficult. The bags you use have to keep the coffee inside the highest quality while your coffee bag design should be appealing and can tell an engaging story about your brand. In this article, we'll discuss the components of effective coffee packaging ideas and offer advice on a good coffee bag design.
Why are bags the preferred packaging for coffee?
1. Well preserved
Coffee, whether it's whole bean or pre-ground coffee, absorbs moisture and produces an unpleasant odor. Moreover, your packaging needs to be airtight since it might blow up if it can't get rid of carbon dioxide (CO2) that gets trapped in a shelf-stable bag. Coffee bags are the preferred packaging for this as they provide a barrier that excludes moisture, odor, direct light, and oxygen while allowing CO2 to escape.
Although the material for its outer layer is up to you and will rely on your printing choices, marketing requirements, and the level of abrasion resistance needed, its inner layer requires extra care because it will be in contact with the beans.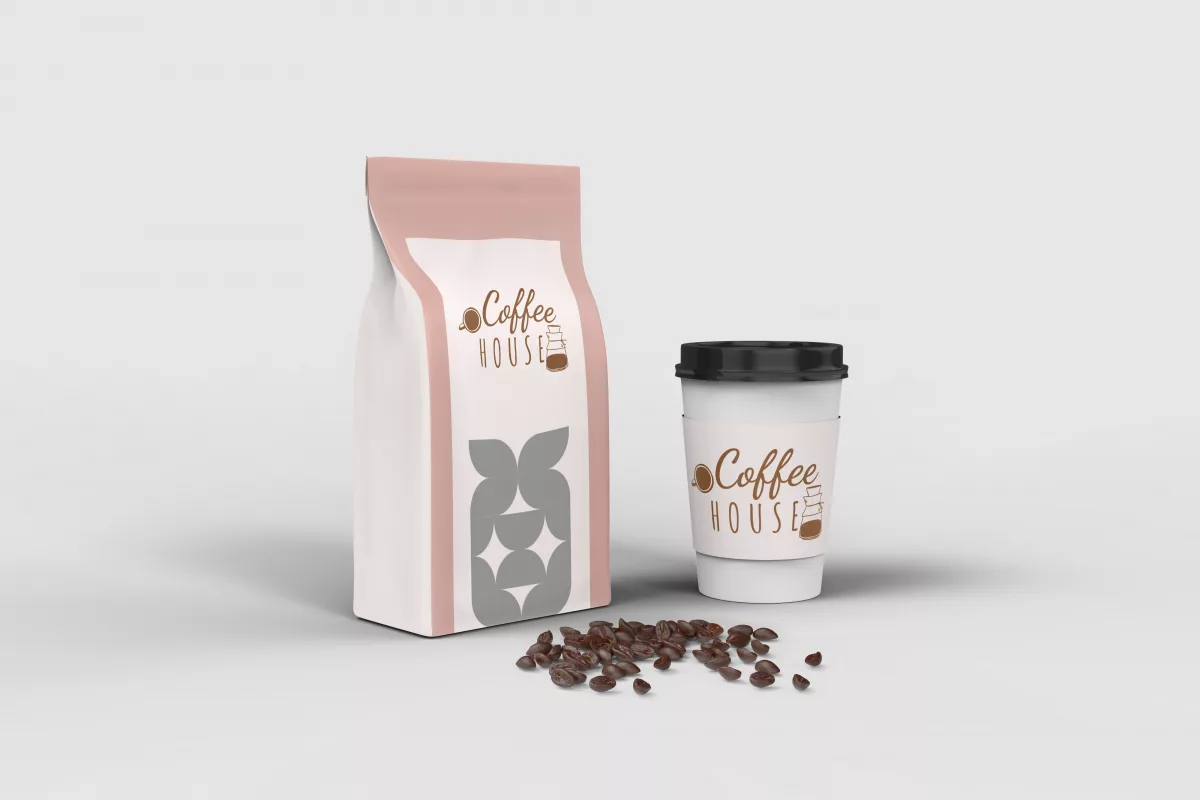 2. Flexible
Besides helping to preserve coffee well, coffee bags are also very flexible as we can increase their storage volume by removing the folds in the corners. Thus, coffee bags are ideal for both pre-ground coffee and coffee beans.
3. Cost-effective
While keeping your coffee safe is the main reason why bags are the most common type for coffee packaging, it is also reasonably priced compared to jars or cans. Their various sizes fulfill your packaging needs whether your end user is a coffee shop that buys and consumes huge quantities of coffee beans, a home brewer who occasionally buys a small bag, or a potential retail buyer who wants a sample. Coffee bags' flexibility also allow you fold them up before the coffee is packaged, thereby saving on shipping and storage costs.
Key factors to consider while brainstorming for a coffee bag design
1. Types of bag
Bags with a side-fold
Side fold bags are among the most popular forms of packaging for coffee. They can be folded flat while empty and expand when filled, side-fold pouches include creases on the sides. They rank among the most widely used styles of coffee-containing product packaging. Usually, a tin tie is added to the top of the bag to keep your coffee fresh.
Four-seal bags
Quad-seal bags and side-fold pouches are very similar. They are typically completely sealed, giving them sharper corners and a more rectangular appearance than their side-fold counterparts.
Floppy-bottomed bags
Floppy or flat bottom bags, as its name suggests, have a flat base that allows them to stand alone. It's a fantastic method to present your coffee, especially when it's vying for customers' attention at coffee shops alongside other coffee brands. A resealable zipper or a fold with a tin tie are the two most popular techniques for resealing.
Stand-up pouch or doypack pouches
This kind of packaging enables it to stand on its own. Stand-up pouches tend to have 2-3 sides to the packing, whereas flat-bottom bags often have 4-5 sides, despite the fact that they may sound identical. They are more affordable to create than flat-bottom bags, but they are also less durable and offer less space for displaying your brand's message.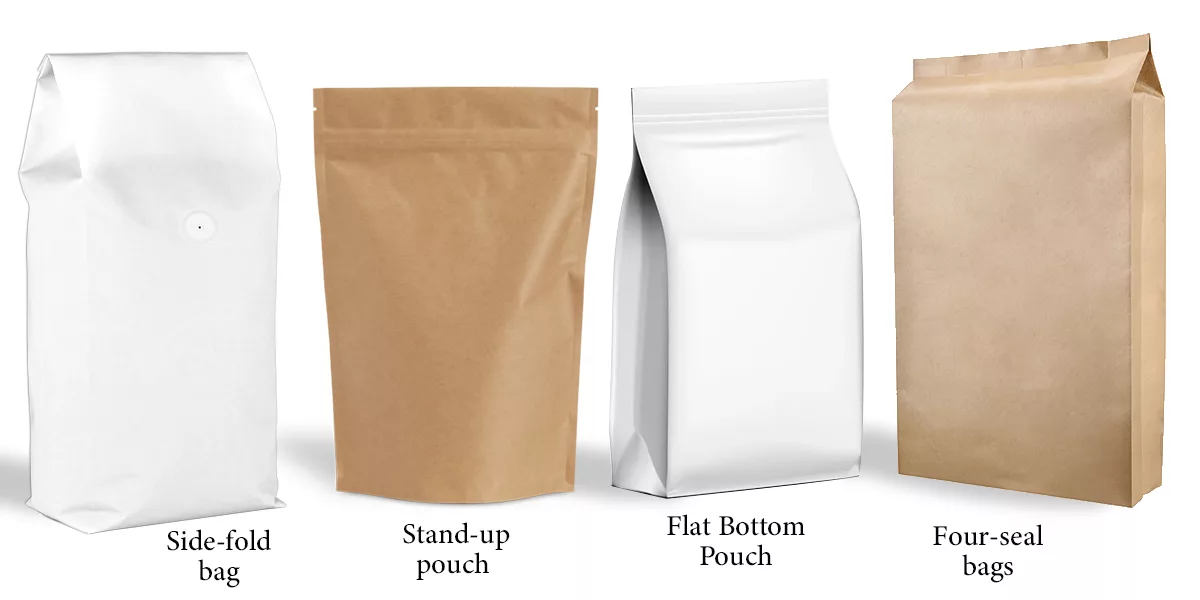 2. Materials
Kraft Paper
Kraft paper has traditionally been a go-to option for packaging in the coffee industry. When reinforced with laminates or additional layers, a coffee paper bag is not only affordable, lightweight, and simple to recycle, but also incredibly robust. Additionally, kraft paper is easily personalized, allowing roasters to put logos and product details on their bags. Thus, kraft paper coffee bags give customers the impression that they are purchasing something customized for them rather than something that was mass produced.
LDPE (low-density polyethylene)
LDPE is a practical material for packaging items that need flexibility, such as coffee bags. It is soft, flexible, and lightweight. While LDPE shares many traits with conventional plastics, it is entirely recyclable and simple to reuse. This sustainable coffee packaging is also the best material for printing because it can accommodate finely detailed printed graphics in a variety of colors. Because LDPE is so resistant to environmental elements like water and light, your coffee bags will maintain their quality for a very long time.
PLA (polylactic acid)
Made from renewable resources including sugarcane, cornstarch, and maize, PLA is a toxin-free bioplastic, making it a desirable choice for environmentally aware companies. For coffee, PLA provides adequate protection, allowing it to withstand lengthy transportation and keep coffee dry for up to 12 months.
Rice paper
Rice paper, made from bamboo and quintan tree bark, is biodegradable and recyclable. It is suitable material for packaging because of its durability, low cost, and wide availability. Rice paper is preferred since it offers coffee packaging a natural appearance and a little rough, gritty feel. This material also supports printed designs such as text, brand logos, and digital illustrations.
3. Information on the coffee bag design
Now you've decided on the style of coffee packaging you want, the next thing you should think about is what information should be on your coffee bag design.
Types of roast and flavor
Although not required, it's fairly typical for your coffee label information to indicate the type of roast. Indicate to clients whether they are purchasing a light, medium, or dark roast. You may even go a step further and provide details about your coffee's flavor profile, tasting notes, and the suggested brewing method.
Your coffee's origin
Great coffee beans can come from various countries, and most coffee drinkers probably have a favorite coffee origin. Because of this, listing the location of your coffee beans on the coffee bag design is a good touch. You might even go into specifics about the locations and methods used to procure your coffee.
Brand story
This is a chance to engage with your coffee lovers and tell your brand story in a genuine manner. There must be a fascinating aspect to your coffee production—for example, who are the coffee farmers you work with or where have you been before discovering the ideal coffee beans?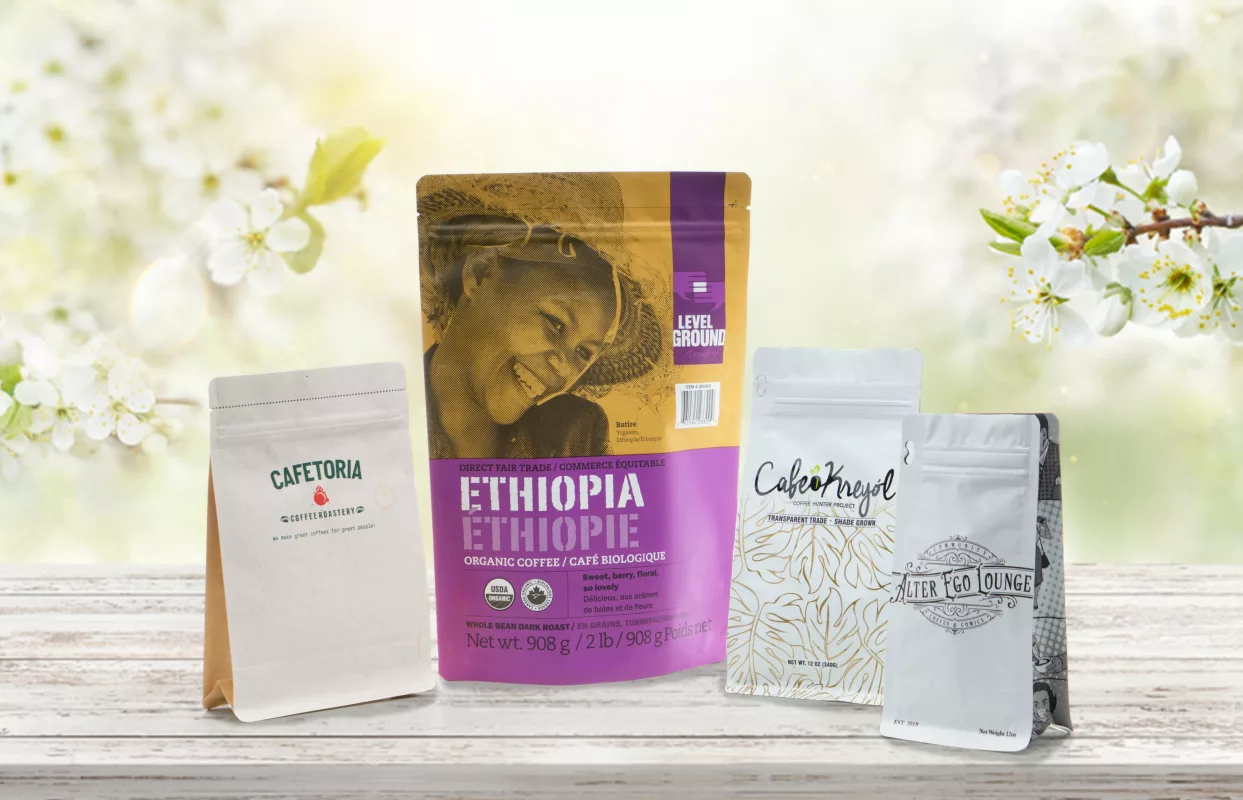 4. Directly printing on bags or using sleeves
Printing it on a sleeve is an alternative if you don't want to publish all the information on the packaging itself. You may maintain brand consistency and even give your coffee bag design a splash of color or a festive touch.
What makes a good coffee bag design
There are 5 key factors that make a good coffee bag design.
1. Consistent
Keep your coffee bag design consistent with your entire branding, especially when it is a component of your larger business, such as when you own a coffee shop. To express your brand to customers who might not otherwise visit your cafe, consider your coffee bags as an extension of your coffee shop.
2. Informative
More information about your business, the farmer, the coffee, certifications, roast characteristics, and flavor notes are typically included on specialty coffee bags.
For instance, you can utilize a humorous description label on your coffee bag design that tells the consumer about the coffee's origin, the elevation at which it was grown, its cupping profile, and who exports it. Additionally, you can add advice on brewing, storage, recycling, or a picture of the producer.
3. Outstanding
A great flavor of your coffee is not enough for a good sale as your customers will need to locate your coffee in order to buy it. Thus, you need to let your customets know your coffee quality. This is why having a striking coffee bag art is beneficial.
Consider using the exact opposite approach if your regular coffee bag design style is more modest. To make your product name stand out more, switch monochromatic colors for vibrant neon ones, enlarge the font size, and add extra soaring details like sleeves. Consider it as the proverbial hand guiding your customers to choose your cool coffee bags above other brands.
4. Marketable
Your coffee bag design should be marketable. The marketing of your custom packaging will convey the identity of your company through the selection of your logo, colors, and other elements. On as many as six of its sides, both inside and outside the bag, coffee packaging can show marketing. You'll need to strike a balance between its aesthetic appeal and the information you're giving them so they can determine whether or not to buy it.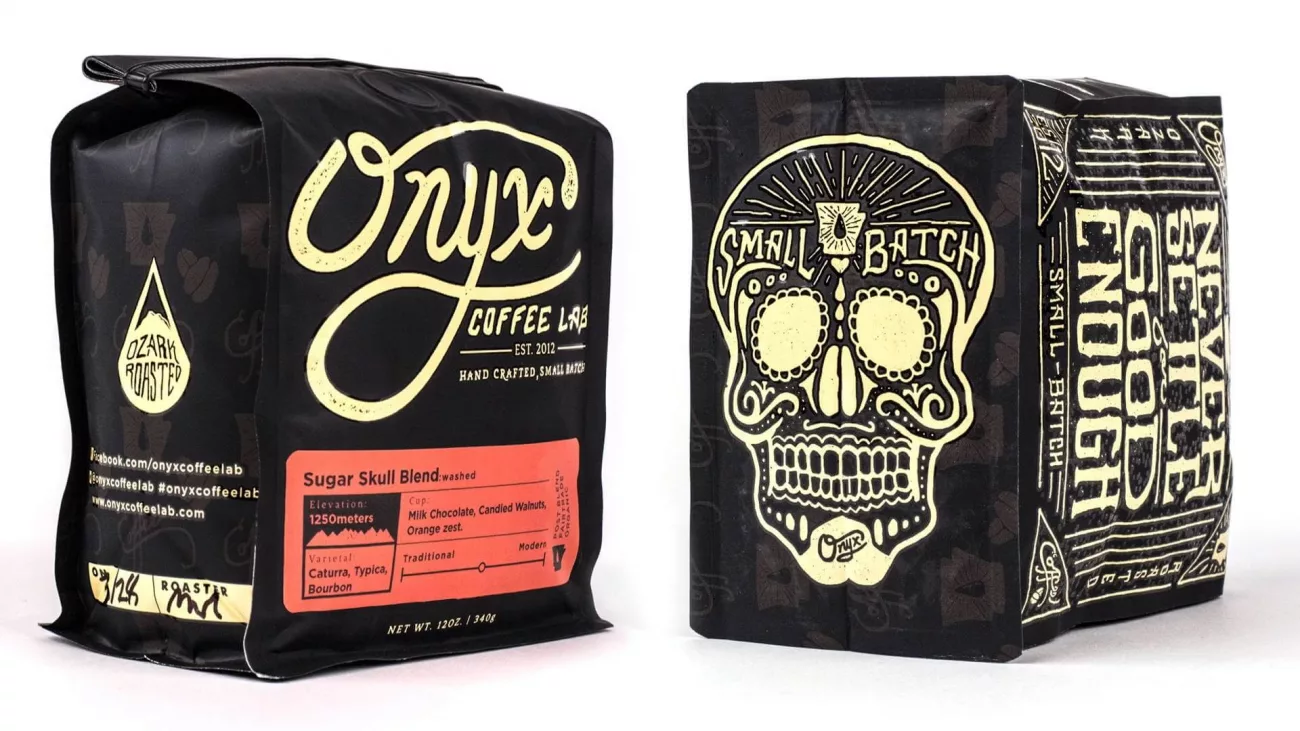 5. Trendy
Finally, stay informed and let your creativity run wild. Keep updating the new design breeze, trending materials and creative solutions, then skillfully apply them in your coffee bag design. For the latest trend on coffee packaging designs, you may want to read more on our previous blog: Top 10 awesome coffee packaging designs (2023 trends).
Conclusion
One thing is certain: there will always be a demand for appealing coffee bag design ideas as long as the world's consumption of coffee doesn't show any signs of slowing down. Great packaging conveys the essence of your brand, safeguards the coffee's quality, and ultimately persuades consumers to purchase your product. Your ideal coffee bag design should include all the essential components to set it apart from the competition. And if all of that seems like a lot to handle, hope that our article did a good job in guiding you.