Music is more than simply a hobby for those who really appreciate it; it's a lifestyle. The enjoyment of music enthusiasm goes beyond just listening to one's favorite artists perform. They seek decorative items, accessories, and home decor with musical themes. Let's look at several ideas of room decor for music lovers to show off that passion.
1. Dreamy Bedroom
When decorating a place to reflect a personal interest, a music fan often prioritizes a private bedroom. These approaches to interior design for bedrooms focus on music, giving you a chance to express yourself creatively and differentiate yourself from the crowd.
Room decor for music lovers ideas
Have some wall fun: Wall color is a customizable feature. Each wall might be painted a different color, or you could use a contrasting color on opposite walls. One of your prettiest walls would look great when covered in music-themed wallpaper and adorned with metal sheet music and musical notes. Putting up wallpaper with a musical motif makes the space seem more like an auditorium.
Carpets and floor tiles with musical themes (like bedroom guitarist, music notes room decor) are other options for bringing the sound of the concert hall into your home. You can choose from various products like elegant saxophone, guitar, or piano key floor tiles and carpets.
Recommended furniture/items
The trend of incorporating music bedroom sets into interior design has prompted a number of furniture manufacturers to create pieces using the musical instrument and song titles as their inspiration.
There is a huge selection of musically themed furniture available on the internet. They may be some guitar themed furniture, guitar-shaped tables, music themed bedding sets (black and white bedspread, music note pillow covers,etc), couches, chairs designed to resemble musical notes, drum tables, and so on.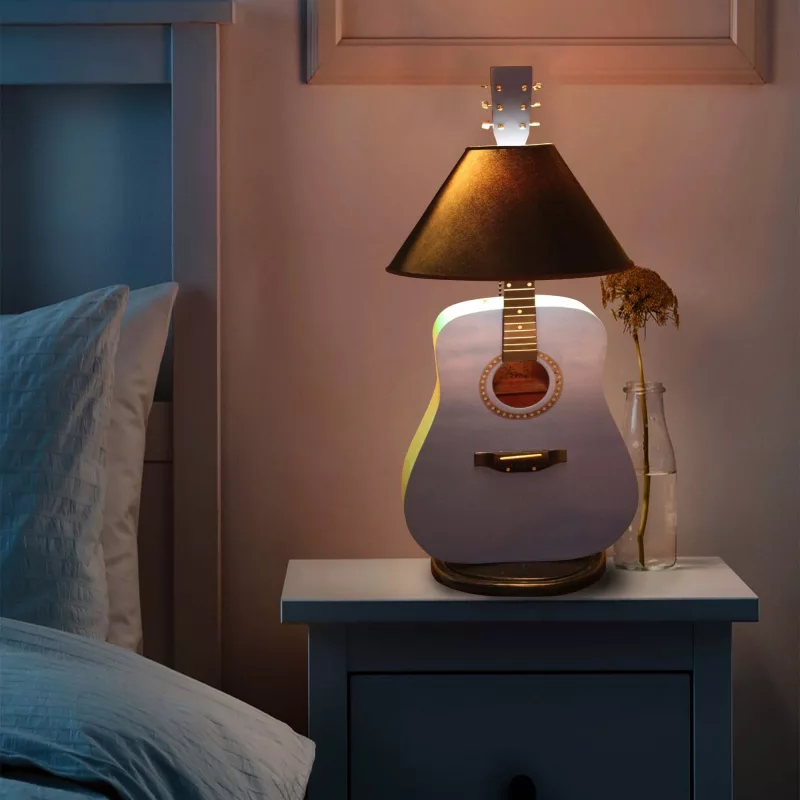 Tips for better results
When making room decor for music lovers, there is no need for music walls to be neatly ordered. You can choose your favorite musical moments from various sources, such as articles, books, albums, or concert tickets.
The next step is to cut them out and plaster them onto your wall in a chaotic collage that really gets to the core of your passion for music. If you are keen about sticking items to the wall itself and things will go wrong, choose your own removable stickers using our customization options.
2. Professional Music room
Music rooms that are used for professional purposes are for people who have a higher investment and want to have their own space for music.
Room decor for music lovers ideas
Guitar decor ideas: A wall-mounted guitar collection is a fantastic addition to any music-themed room decor for music lovers. It's a great addition to the wall home decor musical instruments and a handy place to store your instruments.
Sticker: Adding musical stickers as wall art would be a great approach to spruce up your music room. Having this would be a stunning centerpiece in your space. Stickers and remarks may be displayed on the focal wall or attached to the door.
Music gallery wall: Using a traditional gallery wall as the main point in your music room is a great way to demonstrate your passion for the art form. Photos of your favorite musicians, band signatures, sheet music, easy music note paintings, or even yourself playing an instrument may all have a place on the gallery wall.
Recommended furniture/items
If you're really into music and have a ton of instruments, it's probably a good room decor for music lovers idea to put them on full display in your music room.
Display some on the wall, like the guitars, and put up a piano or drum set in the center to avoid creating a cluttered music room with all the instruments. Place the rest of the instruments neatly in the corner, so they don't detract from the room's aesthetic.
The result will be a less chaotic and more ordered space in which to work and relax.
Tips for better results
Usually, professional music rooms are decorated in a modern and luxurious style. Therefore, you can choose some matte decals with elegant colors such as black, white, gray, … to give a modern feel.
Besides, you should not choose too many stickers for this room. Instead, choose some of your favorite stickers to stick in visible places. Stickers with gloss finishes are also an ideal choice. You can sit and watch these stickers reflected by the lights in the room. This will definitely bring great visual effects.
If you want to learn about room decor for music lovers ideas, read our article "9 things for a nice music room decor".
3. Creative Working room
No matter what line of work you're in, if you'd like to perform at your best, you have to be surrounded by a creative environment. That's why working room decor for music lovers is very important.
Room decor for music lovers ideas
Consider decorating your workspace with musical photos, collectibles, artwork, and items.
Put some musical stickers on your laptop if you're using one. Also, you can stick your favorite musicians' written words with some quote stickers. They will serve as a welcome boost to your drive.
Recommended furniture/items
While designing the aesthetics of your music-themed space, you have complete freedom to be creative. For instance, consider the drum table. It's a subtle addition to your motif that works well.
As an added bonus, a musical shelf may serve as both a beautiful ornament and a practical shelf for your belongings. Your music space may be elevated and organized with the help of a bongo shelf, a guitar pedal shelf, or a sheet music bookcase. You may also display your music collectibles, such as albums, guitar wall clocks, CDs, cassettes, and books.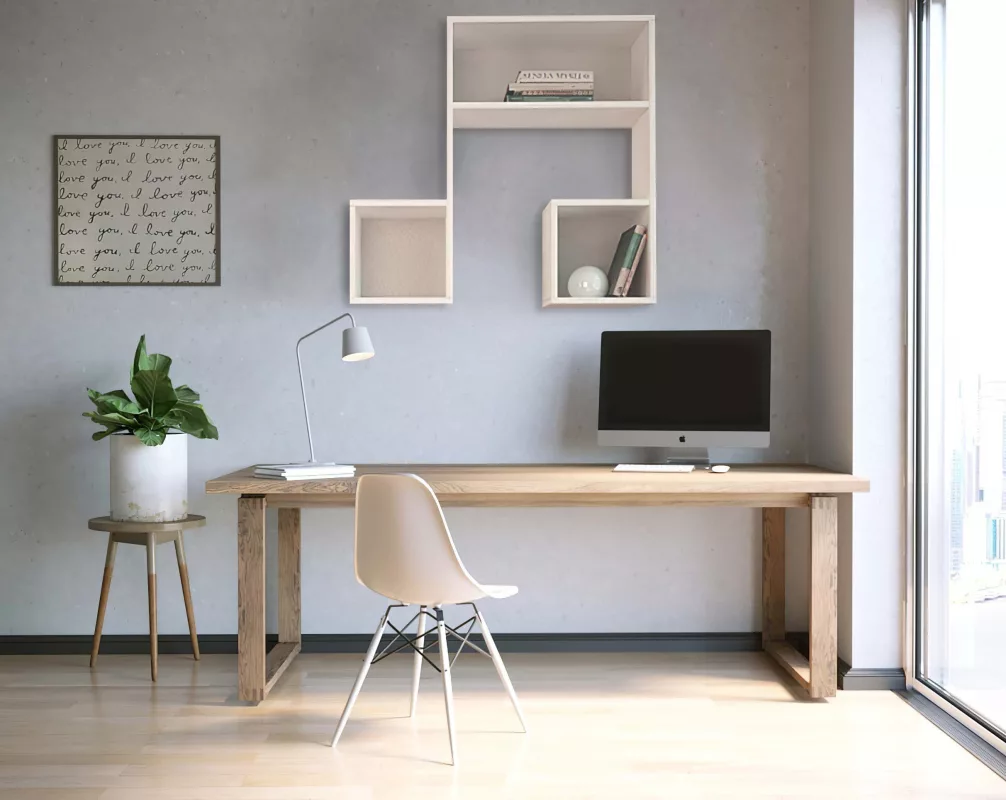 Tips for better result
Music-themed wall art is a great addition to any working room decor for music lovers idea. Large wall decals are an alternative to conventional picture frames or gallery layouts for this purpose.
They're one-of-a-kind, adaptable to your needs and aesthetic preferences, and may be used to create a stunning focal wall. The artwork on the walls may serve as a great source of inspiration and relaxation when working. You'll like the unique and interesting character they add to any room!
4. Elegant Living room
An elegant living area with a tasteful musical theme means more time for rest. Every homeowner, whether they live alone or with a family, can gain benefits from having a well-decorated living room.
Room decor for music lovers ideas
If you want to give your living space a really distinctive look, try crafting some decorative pillows out of old cassette tapes, vinyl record covers, or even a guitar pick, as is popular among music fans.
Adding some pops of color with throw pillows and blankets might help set the mood in a kid's music-themed room. Darker colors, including woodsy browns and folksy reds, may be a more accurate portrayal of the upcoming listening experience in adult music rooms.
Recommended furniture/items
With a music-themed room decor for music lovers, set up a leather sofa and several plush chairs so that your visitors may relax while listening to your music of choice. Use blankets and pillows with a musical pattern might help connect the room together.
If you're like vintage music decorations, you can decorate your house with a jukebox that doubles as a work of art. Or, if you want your home theater to truly bring the music to life, you may also get a nice surround system. Having a large speaker system is fantastic.
Tips for better result
It's not necessary to turn the entire room into a single style. To serve everyone in your family, you should choose different angles for decoration. For example, you can decorate a corner with lots of fun music stickers for your child. The rest is where you install sound panels for adults. This way, you will satisfy all family members.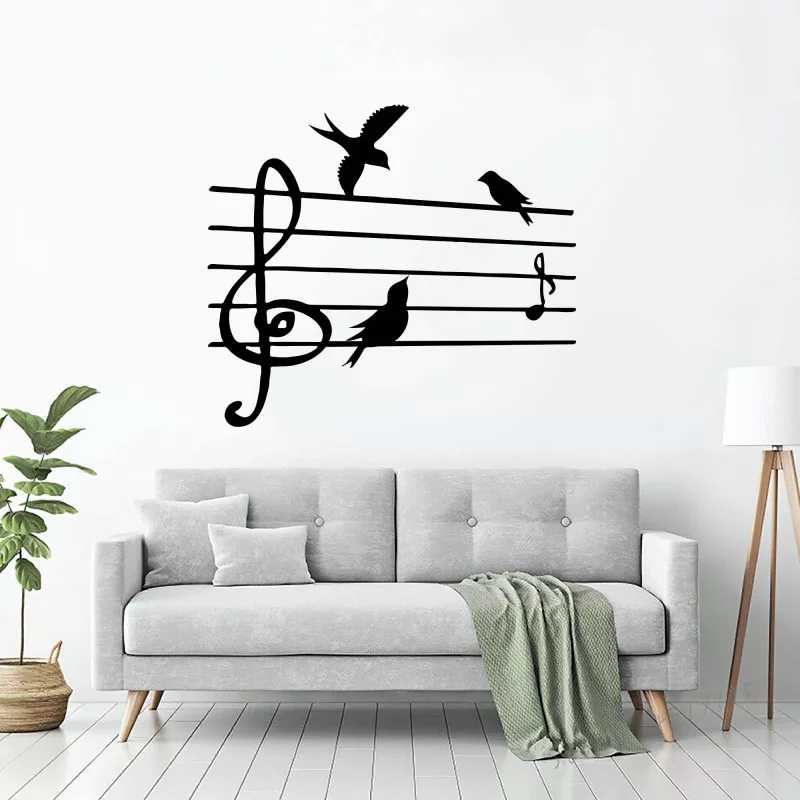 5. Inspirational Basement
The basement is an excellent location for an at-home room decor for music lovers.
Given its underground location, it should help dampen any unwanted noise that could otherwise bother nearby residents.
Room decor for music lovers ideas
Your basement music room's decor should promote productive thought and play. Decorate the room with things that inspire you and provide you joy, such as framed images of loved ones, works of art with a musical theme, and any other awards you may have gotten. Put them in a gallery so you may see them whenever you need a creative boost.
Recommended furniture/items
Once you have your room decor for music lovers layout selected, it's time to add furniture and accessories.
Accessories are the last touch once you've settled on a plan and key pieces of furniture.
You can display a first set of drumsticks in a shadowbox and prop up your guitar or bass on a stand.
Custom-made, matted stickers depicting one's favorite musicians, instruments, and even sheet music are all viable options for adorning the walls.
Lava lamps, neon signs, and other forms of novelty illumination, such as string lights, may be entertaining additions to this space.
Tips for better result
As music is often dynamic, you should choose a color for the walls that is bright and colorful, such as yellow, green, or ocean blue. Also, stencils of music themed wallpaper or custom poster like musical notes, speaker or other patterns may be used to beautify the walls.
Use a sticker in a contrasting tone, such as black, if the wall is plain and has light colors.
See our post "3 Basement Bar Wall Decor Ideas for the Ultimate Multipurpose Space" for additional information on how to create a basement room decor for music lovers.
6. Funny Bathroom
The bathroom is a place where you can relax and relieve stress after a long day at work. Adding a touch of your music passion to it will boost your mood significantly.
Room decor for music lovers ideas
Make the toilet door stand out with a musical pattern "bathroom" word sticker. It not only shows your music enthusiasm but also helps visitors find the bathroom faster.
Inspiration for a comforting bath: One's bathroom should be a place of tranquility and respite from the strains of daily life. Vinyl wall decal may be used in a variety of settings, but it works especially well over bathtubs to create a relaxing spa-like atmosphere.
You also can put a bathroom quote on a wall sticker and use it as inspiration room decor for music lovers. Or sticking a motivational quote on the bathroom mirror is also a great way to up your mood. These stickers/decals must not be too big, and you should adhesive them to a corner of the mirror so that you can easily look at yourself in the mirror without any obstacles.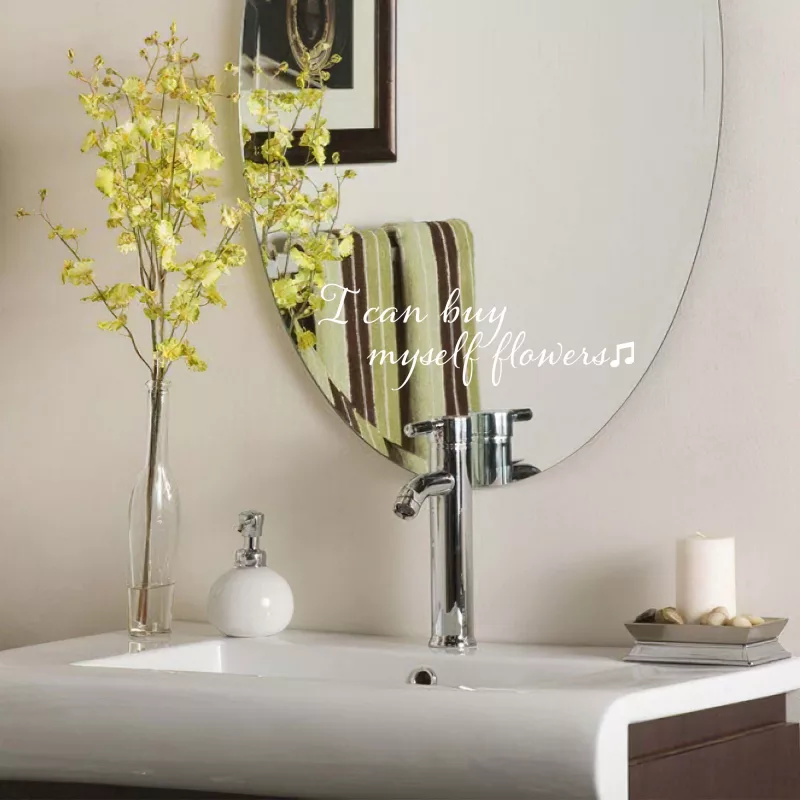 Recommended furniture/items
Themed room decor for music lovers are not only lots of fun, but they can also add to the creative potential within a space. For that reason, we highly recommend incorporating instrument-themed items into your music room! For example, music themed bath towels, shower curtains, bath mats and rugs,…
Not only will this create a beautifully themed space, it can also inspire you to engage more wholeheartedly with your passions. And we all need that little push!
Tips for better result
Stickers used in the bathroom should be waterproof because of the constant moisture they'll be exposed to. The water-resistant vinyl stickers are a terrific way to spruce up your bathroom without worrying about permanent damage from frequent showering.
7. Kitchen with Harmony
A musically-themed kitchen room decor for music lovers is a great way to add some fun to meal preparation and cooking time. For those who love music, these amazing pieces of musical kitchen art will turn cooking into a pleasure instead of a job.
Room decor for music lovers ideas
While decorating the windows, feel free to be creative. Wrap some yarn or rope around some used CDs or records and you have a handy DIY project. These are suitable for use with curtain rods. If you'd rather have something a little less complex, you may always go with the classic black-and-white striped look, or maybe go for some drapes with an embroidered pattern of musical notes.
Recommended furniture/items
Consider decorating your kitchen with music-themed items, such as guitar handle coffee mug and tea towels at your kitchen.
While preparing your meal, use a music-shaped cooking tool. For example, a violin cheeseboard with bow knife, piano pattern gloves, musical note measuring spoons, etc. These stunning tools may turn meal preparation into a musical show.
With these fantastic musically-themed items, your kitchen will move to a new level.
Tips for better results
Using musical, transparent stickers to decorate a kitchen window is advisable. They are somewhat see-through and sturdy to boot! Upon removal of the protective film, the design will be clearly visible through the transparent vinyl and adhesive layer. These may be stuck on the inside of windows for further security.
Besides, when looking for kitchen room decor for music lovers, it's important to keep in mind that your kitchen doesn't need to be set up with every possible musical detail since this may be both exhausting and annoying to the eye. Rather, you should focus on the finer details, such as those you've highlighted.
Conclusion
No matter what your musical tastes lean toward—rock, hip-hop, or country, let's create a one-of-a-kind and welcoming space for yourself and your visitors by decorating with colors and themes that represent your taste in music.
W really hope that these room decor for music lovers ideas have provided you with some opinions for all of the wonderful music-themed homes. Now, it's time for you to start decorating! We hope you have a wonderful time in your enchanting musical room.