Basements are frequently overlooked when individuals think about how to best put their houses to decor.
If you have a basement, why not utilize it for more than just storage? You may use it as a bar area, a guest room, a home office, a second living room, or any combination of these. Basement bars are the perfect multifunctional area, and with a little work, yours can be transformed into one of the most elegant rooms in your house.
Among many decorations, basement bar wall decor is an imperative aspect. These home bar walls will be amazing with decor that ranges from fashionable and modern to cool and traditional. So, no matter what kind of bar you have in mind for your home, get some inspiration from 3 following multipurpose basement bar wall decor ideas for your basement.
1. Basement bar and music room
Purposes and benefits
The influence that music has on people's moods is magnified significantly, especially when they are in an enclosed space like a basement. If a basement bar and a music room are combined, the resulting atmosphere will be so deep that you will feel as if you are relaxing inside a sound box while enjoying your drink.
The basement is a perfect place to build an integrated, defined, enjoyable music area to get away from everyday stress works. This key combination unlocks a door to a world of taste and sound pleasure.
Necessary furniture
You can add texture with carpets and cushions and showpiece easy chairs upholstered in wool to create a warm and elegant space.
Basement bar wall decor
One option for basement bar wall decor is to hang a showcase of your remarkable guitar collection. The guitars look great against a brick wall, and the gallery lighting really brings out the details.
You may also utilize your favorite album and music posters to hang as gallery art in this space. In addition, musical stickers, as well as stickers with some of your favorite quotes, make for a fascinating addition.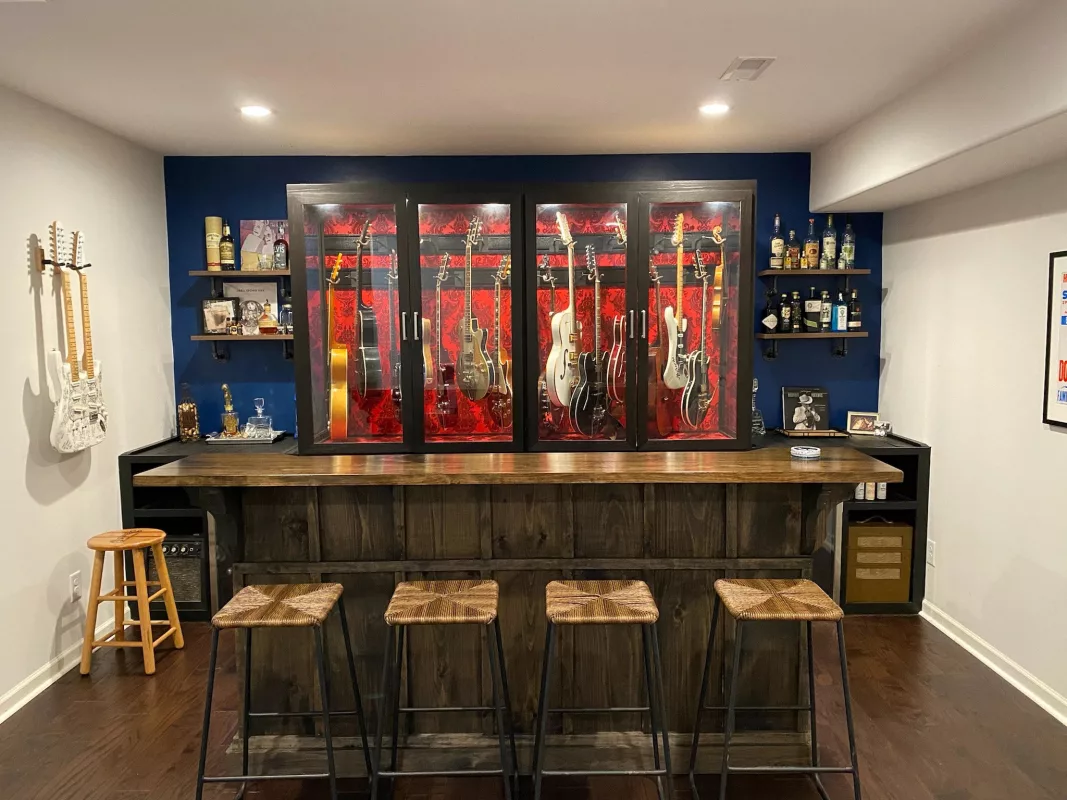 Tips for best results
Traditional pub decor, including brick or rustic bar wall decor, iron accents, and vintage lighting, is now trending for these kinds of establishments.
Additionally, using a color scheme and materials that are consistent can guarantee this space seems like one large area and expand its impression of size.
2. Basement bar and play room
Purposes and benefits
It doesn't matter how old you are; you should always make room for some lighthearted entertainment. Adding a basement bar is an excellent way to make the basement a more popular gathering spot.
But integrating a gaming room into the basement bar will make this place seem more exciting and welcoming.
You can play video games, tabletop shuffleboard, darts, and ping pong with friends in this wonderful basement.
Necessary furniture
Invest in basement ideas with bar and pool table, a poker table, some air hockey equipment, or some arcade video games to liven up the bar area. Although it is somewhat stereotypical, a sports bar is a popular choice for a basement bar.
Provide your basement bar with TV, and you've got yourself a place to watch and play the games.
Basement bar wall decor
Colorful drinking glasses, legos, and beautiful souvenirs of your favorite characters are some suggestions for basement bar wall decor. You may arrange them on shelves and turn your basement into a little gallery.
In addition, a basement bar might be the ideal setting for going all out with a theme that many people like. You can transform your basement bar wall into a version of any fantasy theme you could imagine.
For example, if you're a big Star Wars fan, for instance, you
could want to hang some custom posters about this movies and games. Another option is to utilize Star Wars wall stickers and decals. The combination of all of these items transforms your wall space into a fantastical universe.
However, no matter what theme you choose for your basement bar wall decor, remember to follow a consistent theme.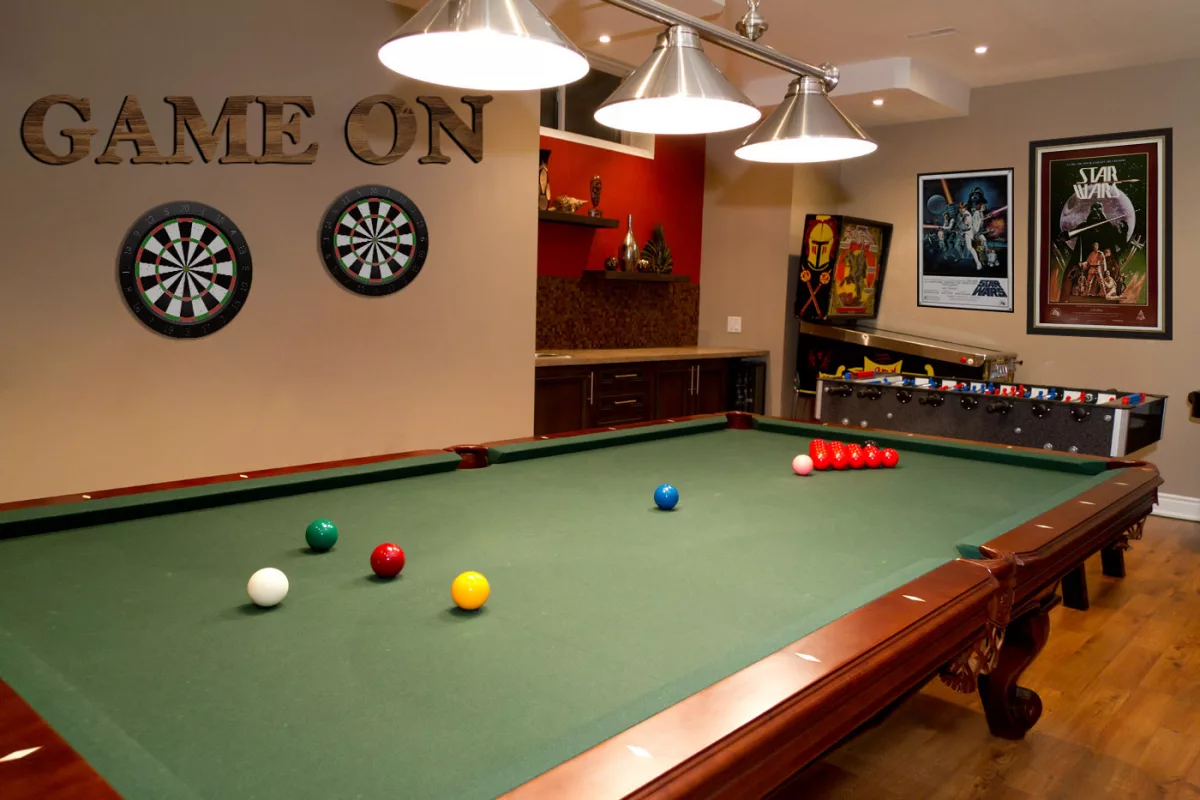 Tips for best results
In this decoration type, lighting has a crucial function in enhancing your wall and shelf designs. You can transform the basement bar into a fantastical play area by hanging up colorful lights and giving it a vibrant vibe overall.
3. Basement bar and wine storage room
Purposes and benefits
Because there are no direct sunlight or extreme temperature changes in a basement, it is an ideal location for storing wine. So, if you have a wine collection, you should think about installing a wine room in your basement bar. This storage solution is not only useful, but it also has the potential to be aesthetically pleasing.
The basement bar may hold more party action than any other room in your home. With this combination, the drink is now readily available, allowing for more joyful gatherings with friends.
Necessary furniture
Contemporary basement bar ideas with back cabinets basement bar or basement stone bar will best suit this kind of room's vibe.
In addition, building a tall, narrow wine rack along one or both walls of the alcove is a great way to make use of the space. Check that the design isn't overly expansive since it would make rearranging the bar stools difficult. With this layout, you won't have to worry about running out of room for your wine collection.
If there are children in the house, you may either leave the rack unlocked or put a glass case around each one. The glass will keep your collection safe while allowing you to see your collection anytime.
If there is space, install a compact wine cooler above or below one of the shelves at your bar to ensure that your wines are always served at the ideal temperature.
Basement bar wall decor
The most appropriate aesthetic atmosphere for a wine bar basement is elegant simplicity.
The wine racks are the best tool for basement bar wall decor. You can choose wooden or dark-colored stone wine racks. This will increase the elegance of the room as a whole.
Also, in order to add visual interest without being too fussy, a luminous sticker placed on a focus wall is a great idea. You should not stick too many stickers. Instead, stick some large custom transfer stickers in places that attract attention, such as opposite the main door, in the middle of the wall behind the bar, etc.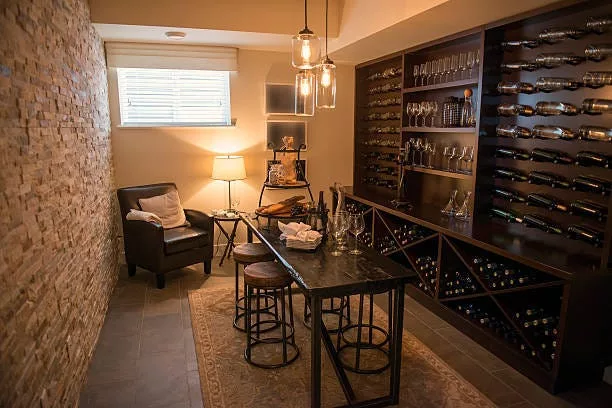 Tips for best results
We recommend you apply a gorgeous paint color to the wine rack to help it stand out from the rest of the walls.
If the corner is too dark, put up wall sconces on each side. Then, you can install mirrored panels placed along the rear wall in the empty spaces between the shelves to reflect even more basement bar lighting into the room.
Conclusion
Given that the basement area is located in the ground, this "hidden" room can be repurposed into almost whatever you want. Instead of wasting time in a pub, why don't you have the party in your basement the next time you want to celebrate something?
We hope this post has lit up some basement bar wall decor ideas for you. After going through all of these suggestions, choose the one that appeals to you the most. Next, it's your turn to design some art for the walls of your basement partying room.