Nowadays, no matter how often or why you are traveling, you need a suitcase. Suitcase has become the best platform to show personality and people do it in various ways. For example, you can use a unique tag or a custom patch, paint our own patterns or adhere some stickers and decals. Among all, applying suitcase travel stickers to your luggage is the greatest way to show yourselves when traveling. Additionally, these stickers can help our baggage stand out from the crowd, reducing the chance that we'll pick up the wrong one.
Yet, how to choose the best suitcase travel stickers? In this article, we'll offer you below 5 features that stickers should have to stay firmly and last longer on your suitcase. Plus, you'll find tips to apply stickers right and some ideas to create an artwork on your luggage.
Why should you use suitcase travel stickers?
1. They're beautiful
Adding stickers to your suitcase provides you with the opportunity to glamourize your luggage. Suitcase travel stickers help turn your boring one-color suitcase into a work of art expressing your personality. They show off where you've been, where you are going, and are specifically made to stay on luggage.
2. They make your suitcase standout
Using stickers on traveling suitcases not only serves the purpose of decorating but it also serves another vital purpose: allowing you to easily identify your things. By placing recognizable suitcase travel stickers and labels on, you'll be able to make your luggage stand out and easier to identify even in a crowded airport.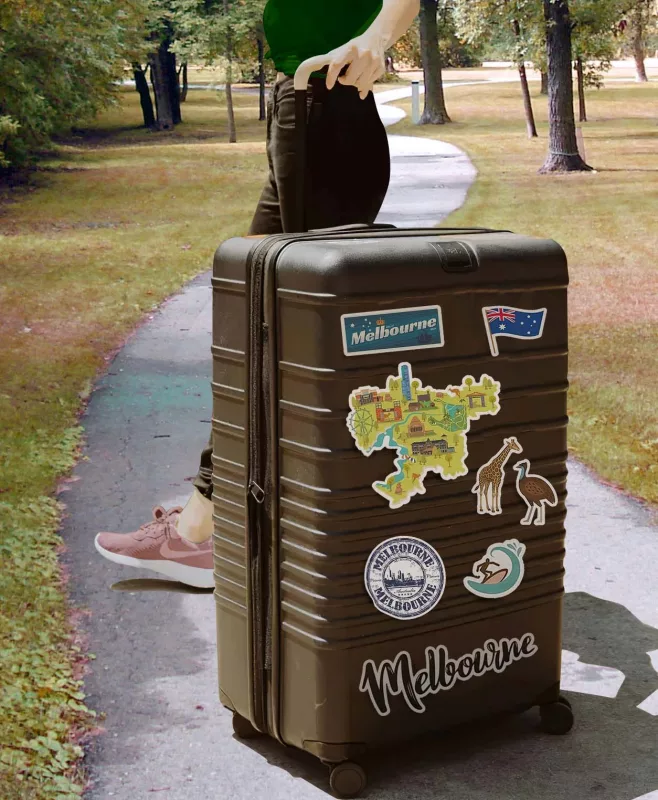 3. They're cheap
Suitcase travel stickers are nothing but an inexpensive way to make your luggage look distinctive. You can easily buy various stickers in bulk, and the price of these stickers is much cheaper than investing in a suitcase belt or a luggage tracker. So, if you are looking for something durable to add to your suitcase at an affordable price, it's definitely travel stickers.
5 tips to choose the best Suitcase Stickers
What do you expect in a sticker artwork that is applied to your traveling suitcase? We bet you want it to stay firmly and beautifully on your suitcase for a long time. To make it happen, you need to choose appropriate stickers for outdoors. These are 5 features that a suitcase sticker should have.
1. Go for Removable Stickers
Choose removable stickers for your suitcase because you can always get the new ones. Removable stickers are simple to remove and leave no trace, making sticker replacement hassle-free.
2. High Definition Stickers
The best stickers to use if you want to customize your bag are those with clear images. Suitcase travel stickers with sharp images not only look more premium, but they also have a lovely decorating effect.
3. Waterproof Stickers
Pick waterproof suitcase travel stickers when making your selection. As a suitcase is typically used for travel, the tour may take place in the rain. If the sticker is not waterproof, it will be harmed and ruin the appearance of the luggage. Choosing a waterproof sticker or making it a waterproof one is therefore a wise choice.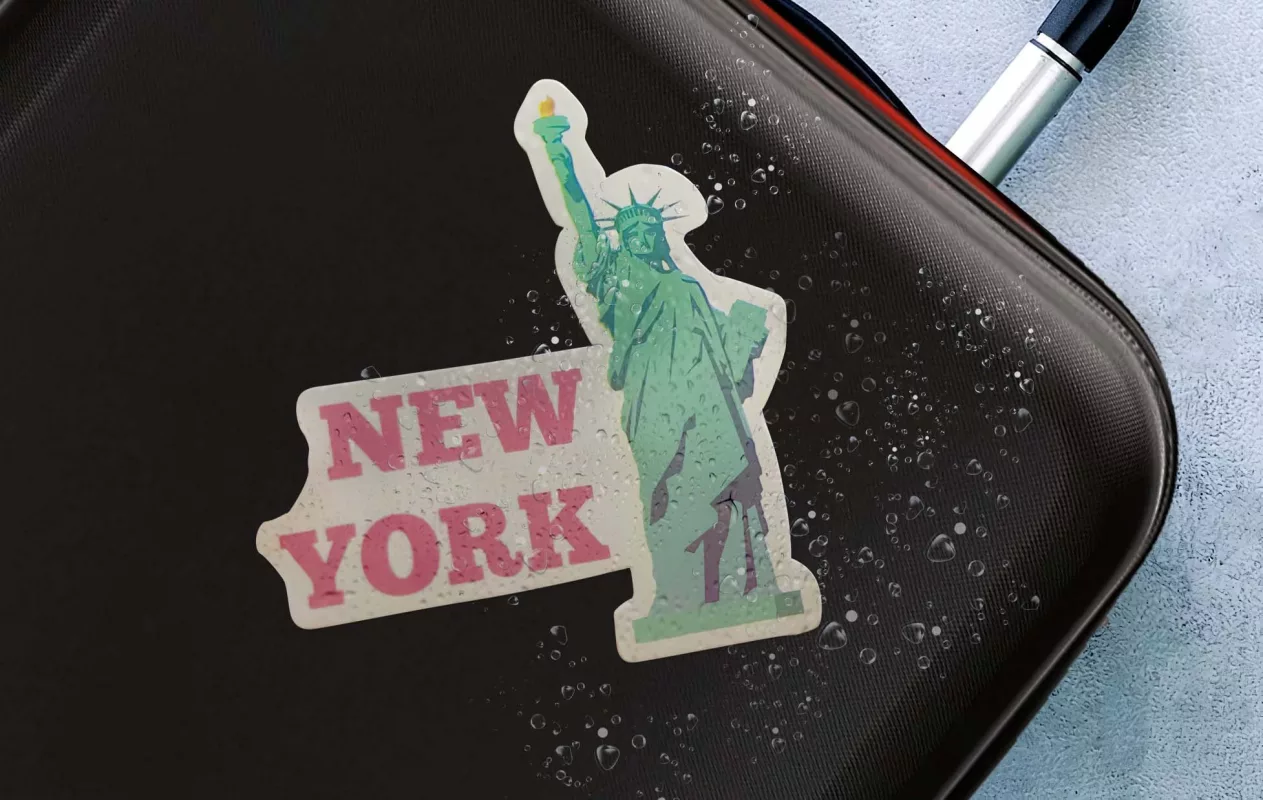 4. Sticky Stickers
Make sure you select sticky suitcase travel stickers. Firmly adhesive stickers will not fall off along your way and stay in your suitcase for as long as you expect.
5. UV Resistant Stickers
It is preferable to select a UV proof sticker when selecting some sticky beauties for your traveling suitcase. Without UV resistance, the sticker can't avoid the sun when you carry your suitcase outside. The corner of your travel stickers for suitcases will pop out and give it an odd appearance.
3 tips for applying suitcase stickers
1. Separate the two stickers by a space
Unless you are about to sticker bomb your suitcase, remember to leave spaces between stickers while adhering them to luggage. The suitcase travel stickers will look cluttered if there is not enough space between them. The suitcase decoration will be more spatially coherent if stickers are kept at a reasonable distance apart.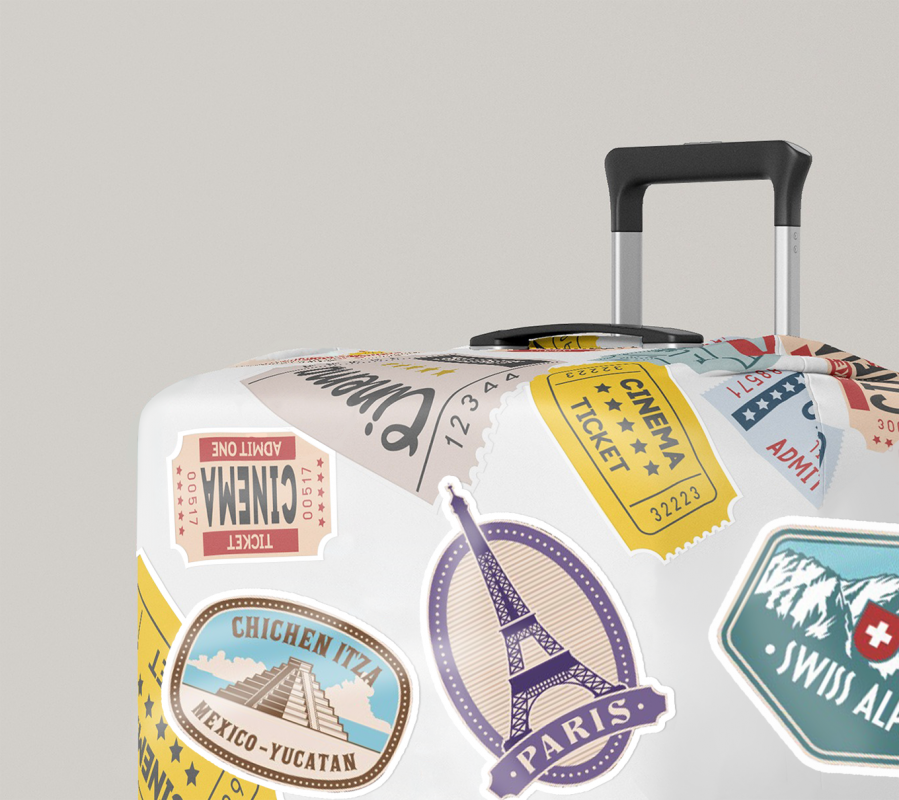 2. Distribute stickers according to their size
Make sure to align the various stickers correctly while adhering suitcase stickers. If your stickers are in different sizes, place the largest in the center and then surround it with other smaller stickers. In the scenario that your suitcase travel stickers are all the same size, you can adhere the stickers in accordance with the shape or the angle.
3. Choose stickers from the same theme
Try to choose stickers that show the same theme as they will make your sticker art more elegant and reasonable. You can buy stickers packs or sticker books to make sure they match with each other.
How Do You Decorate Your Suitcase with Stickers?
Step 1: Put the suitcase on the ground first, then place the sticker on the outside of the bag and determine its general placement.
Step 2: After deciding where to place the suitcase travel stickers on the surface, rip off the backing and begin pasting the sticker.
Step 3: Distribute stickers evenly among their various sizes. Determine where the large stickers are first. Then, surround the large stickers with the smaller ones and adhere them.
Step 4: Lastly, consider the color, design, and size of your suitcase to determine whether you properly adorned it. It's crucial to understand that it's okay if your stickers don't line up perfectly. You can slowly take out a corner and re-paste it after blowing it up with a hairdryer.
Great ideas to buy stickers for suitcase
After learning about how to choose the high-quality suitcase travel stickers and how to apply them right, it's time to take a closer look at some of the different types of stickers available.
Retro sticker
Retro trip stickers are perfect if you enjoy vintage design. They are a throwback to the heyday of travel, when jet-setting was trendy, and luggage stickers were a mark of a worldly person.
Travel city stickers
Travelers who want to flaunt their love of discovering new locations can do so with the help of travel city stickers. These suitcase stickers depict a variety of well-known urban scenes from throughout the globe, including well-known locales' landscapes and iconic monuments. Try sticker packs, which typically contain hundreds of stickers in total and provide you with a wide range of alternatives.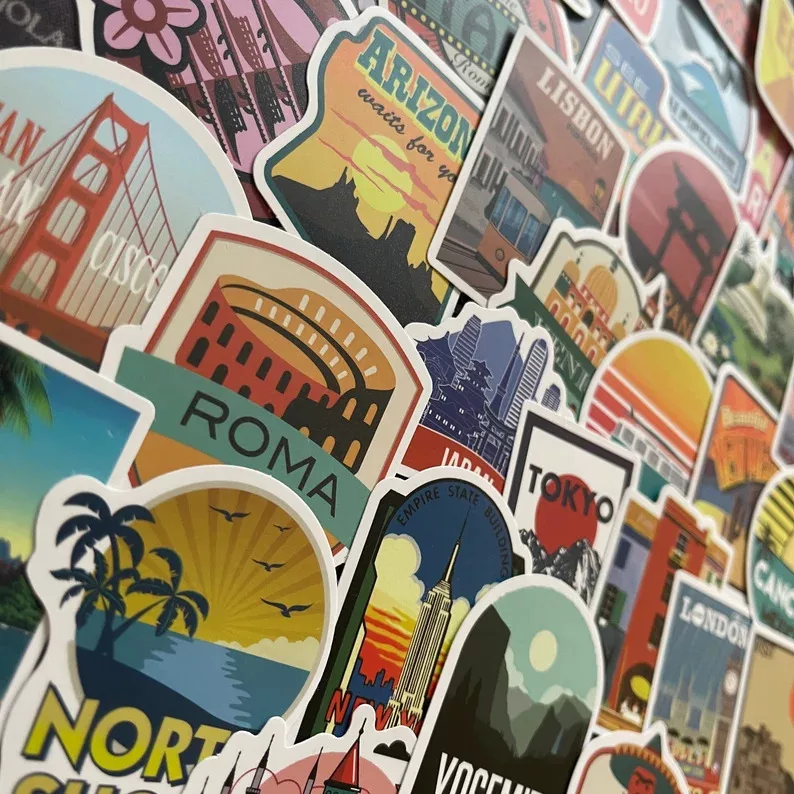 Postmark stickers
Retro stamp postmark stickers are a fashionable and enjoyable way to give your suitcase a retro look. These stickers showcase a selection of vintage stamp and postmark designs, including well-known international stamps and bygone city postmarks. They make it simple to add a personalized touch to your travel accessories and can assist you in quickly identifying your bags at the airport or train station.
Modern travel luggage stickers
If vintage and retro styles aren't your thing, don't worry. There is a wide variety of suitcase travel stickers available and there are many current sticker possibilities available as well.
Cute photo stickers
Using photo stickers that feature you, your loved ones or even your adorable pets is not a bad idea. Photo stickers also are now the trendiest in the custom sticker market. With them held onto your suitcase, you will never lose your luggage again at the airport.
Outdoor Adventure Stickers for suitcase
Adventure stickers come in a wide selection of patterns featuring stunning landscapes, mountain ranges, and images with an adventure theme that are inspired by hiking, camping, and other outdoor activities. They are a fantastic option for anyone wishing to give their suitcase a dash of adventure.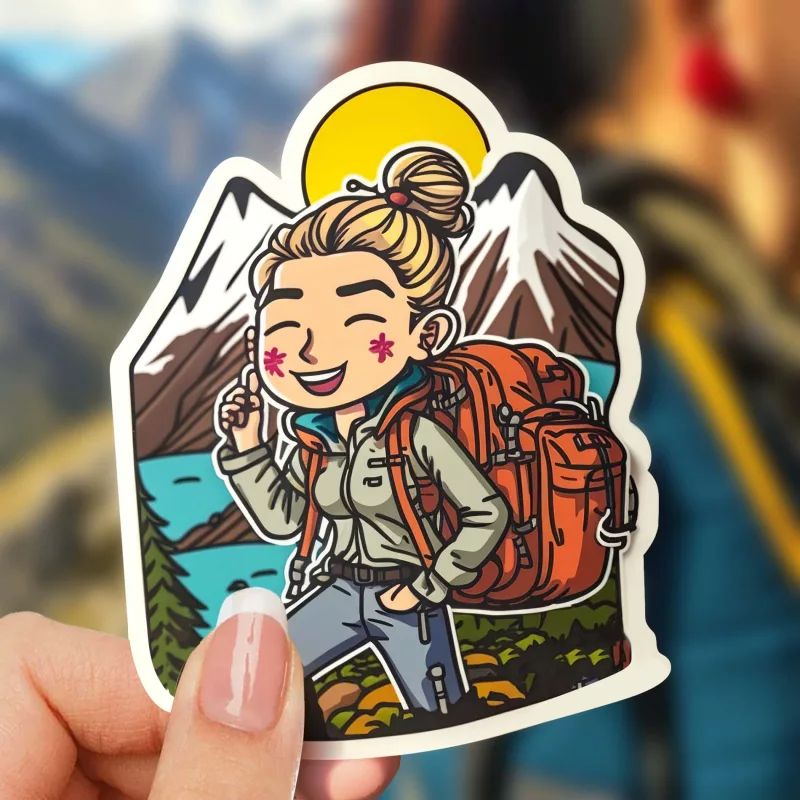 Conclusion
On your upcoming trip, a personalized travel suitcase with stickers is the ideal companion. Grab suitcase travel stickers that are waterproof and UV-laminated on sturdy vinyl, so you can take them with you from the beach to the summit and back again. When you're about to decorate your suitcase, follow our top tips for choosing and applying suitcase travel stickers, you won't get it wrong.