Have you heard about non sticky stickers which can firmly hold to your desired surface without support of any adhesive? These non sticky stickers are called static clings. As their non-stickiness allows them to be applied and removed without damaging the underlying surface, the emerger of static clings becomes the best solution for ensuring a surface's integrity.
To get the best out of your static clings work, in this article, we will guide you through 3 key points: What are static clings? How do these non sticky stickers work? And the detailed explanation to the most common asked questions about static clings.
1. What are non sticky stickers or static clings?
Window clings are a type of non sticky stickers which are made of clear vinyl with a non-adhesive backing. This thin, white vinyl naturally adheres to glass and other smooth surfaces, allowing static clings to hold firmly to these surfaces without using any adhesive.
Static clings work best on glass like clear stickers, transfer stickers or front adhesive stickers. So, how is this different from our regular window stickers? The answer is these non sticky stickers are removable and reusable. Static clings can be peeled off and reapplied multiple times. Because of this, static clings are excellent for seasonal or short-term purposes while remaining robust enough for long-term use.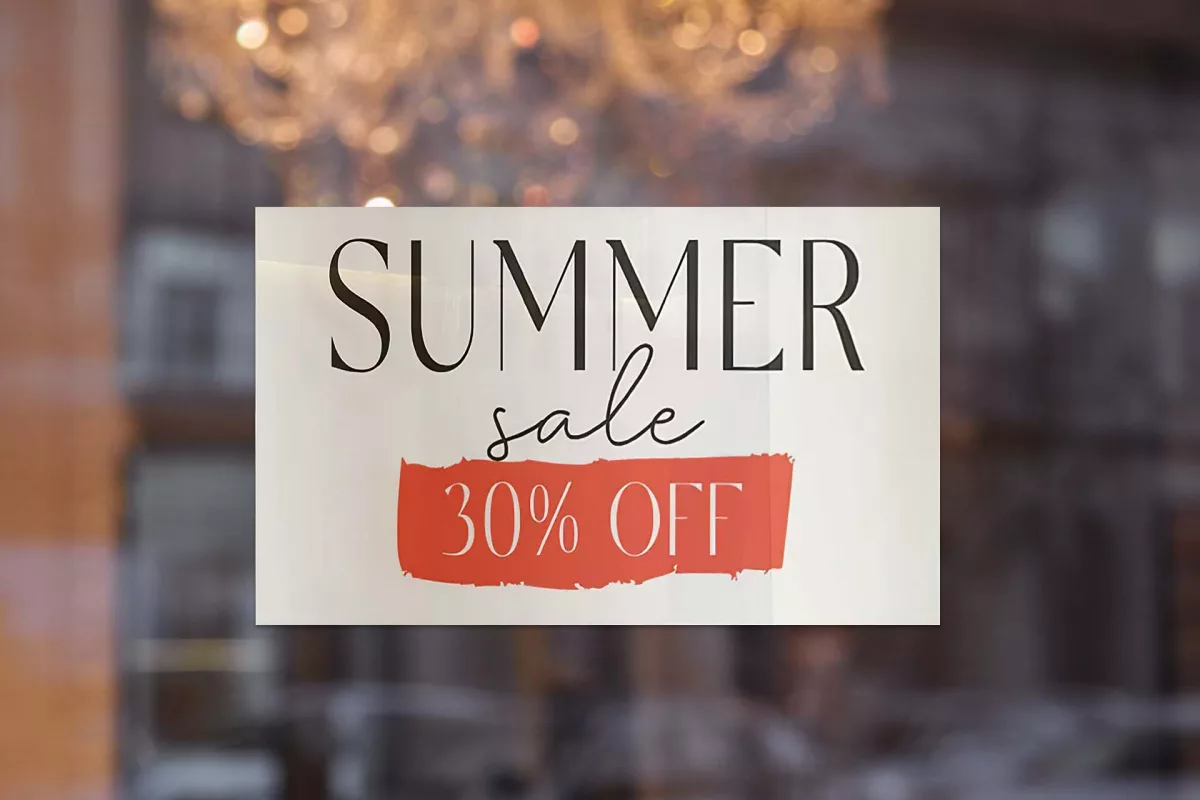 2. How do non sticky stickers work?
Most customers automatically think that because a product is called a static cling and doesn't have any adhesive properties that it must attach to the window utilizing a static charge or static electricity. Is this actually how they operate?
Without any adhesive, how to get window clings to stick? Actually, these non sticky stickers work thanks to the thin vinyl they are made from. It acts like a miniature suction cup when rubbed against a surface with a comparable cohesive force. If you have a non-porous surface to apply static clings on, these identical surfaces adhere to one another with a little pressure, creating a very flexible signage alternative. So it's not static electricity or adhesive, it's just functional reusable window stickers that adhere to surfaces themselves!
Understanding how window clings work can help you decide when and when to utilize them in practical situations.
Materials on that static clings works best including:
Glass
Plexiglass, poly, acrylic and acrylic glass
Glossy laminated plastic (such as whiteboard, etc…)
Ceramic
Some kinds of metals
Static clings don't work on:
Aluminum
Refrigerators made of stainless steel
Porous surfaces like matte and textured plastic
Laminated woods
Cardboard and fabric
Styrofoam
3. Common applications of static clings
Static clings can easily hold to any non-porous surfaces such as glass, ceramic and plastic by using suction. These non-adhesive stickers can be applied to the front or rear of glass, making them visible from both the inside and outside. Plus, they are also removable and reusable. All these outstanding advantages make vinyl static clings a great choice for various purposes, both inside or outside.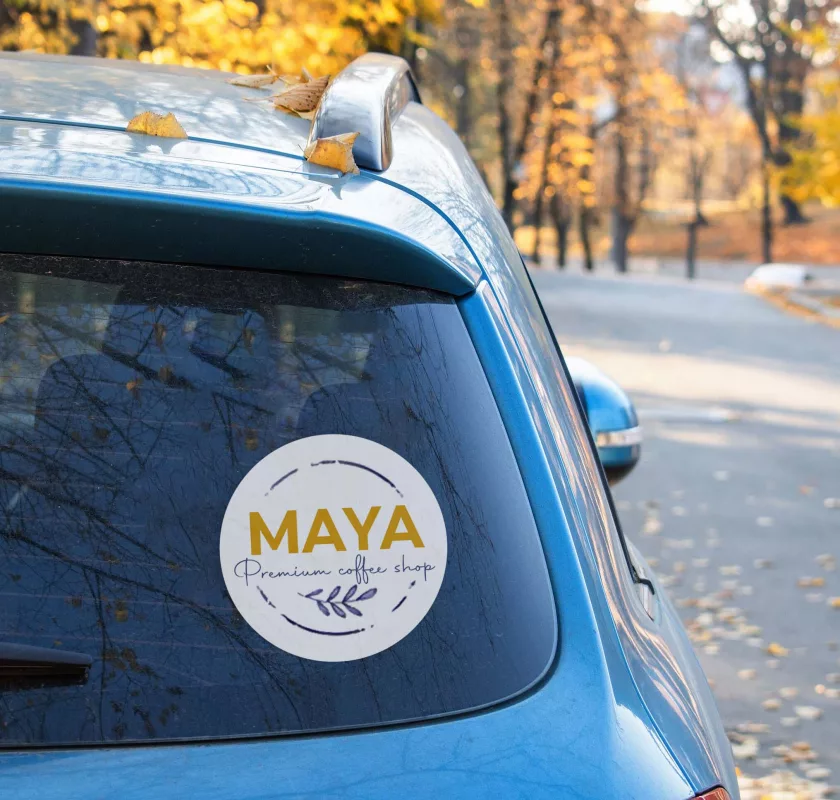 For store glass doors: Either you need a clean, enjoyable way to decorate your store window, or to convey a message, or inform a promotion, you can try window clings. The non sticky stickers should feature your company logo, store hours, newest product, or any sale information.
For car advertising: Make static cling advertisements with your brand and place them in the back or passenger windows of your car for quick promotion. Put your non sticky stickers at the back of your car for the people behind you to make the most of those traffic jams. The best thing about using static clings on cars is that you can quickly and easily remove them and reapply them at any time.
For mirror: Create some imaginative clings to adhere to the mirror or shower cubicle in your bathroom. Motivational signs posted in your restroom are the best way to get you pumped.
For the front door: Place a static cling in your front door is very useful in case you don't want to be bothered or if you want to alert visitors to a family pet that might escape.
For lockers: As static clings also work on metal surfaces, you can make use of them on your school or office lockers as a name tag or some decoration for your own space.
4. How to apply non sticky stickers
Custom static clings may promote your company or show your artwork in a remarkable way without leaving any trace behind. The non sticky stickers are the best option for short-term use, such as promoting future sales or events. To ensure that your sign is installed correctly, follow these instructions.
Essential Equipment
Squeegee
Spray bottle
Cleansing soap
Erasable marker
Installation Guidelines
How to install window cling is a simple process that requires a little bit of care. Follow these steps for a right application.
Step 1: Begin with a spotless surface. Put your static cling in place.
Step 2: Mark the four corners with a washable marker to indicate the desired placement.
Step 3: Add one or two drops of dish detergent to the water in your spray bottle.
Step 4: Slightly wet the surface with your spray bottle.
Step 5: Peel the static cling from its backing.
Step 6: Reposition the non sticky sticker to your marks, then gently press it to the glass. Begin with the center, move outward.
Step 7: Finally, any bubbles should be removed with the squeegee to ensure a perfect work that lasts for a long time.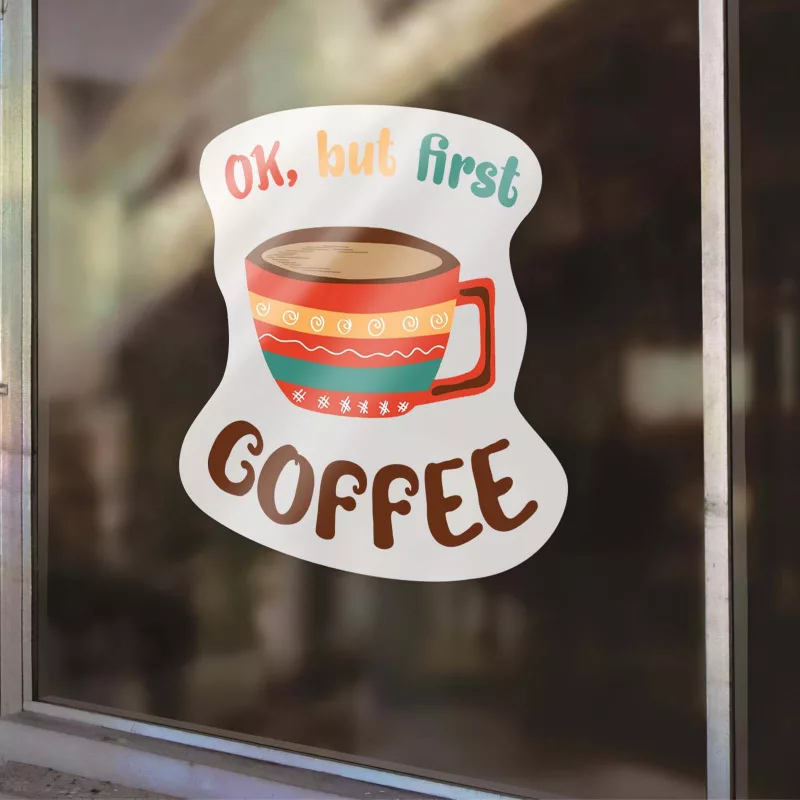 5. Static Clings FAQs
Q1: How long do static clings last?
Static clings are usually used for temporary applications. So the question is how long does static cling window film last? It can last up to about 3 months. Their capacity to cling may also be restricted by temperature, wind, and rain.
Q2: What distinguishes static clings from other window stickers?
Most window stickers (such as clear stickers or front adhesive stickers) have a superior, thick vinyl construction and a powerful adhesive. They are most frequently distributed separately or as part of packaging for promotional purposes. They are excellent for long-term outdoor use.
Meanwhile, static clings are typically used for transient installations, like as window displays, reminders for oil changes, and transient promotions. Static cling material is constructed from a self-clinging white vinyl material that doesn't require adhesive. They can be used to view something through a window from the inside or the outside. Because they are so simple to remove, reposition, and reuse, they are also a fantastic choice if you intend to reuse the graphic.
Q3: What kind of material is used to create static clings?
Static clings, also known as non sticky stickers, are produced using white, premium self-stick vinyl.
Q4: What range of temperatures can static clings withstand?
The temperature range for static clings is 20°F to 200°F, with a minimum application temperature of 40°F. These non sticky stickers should be applied as near to room temperature as feasible for proper application.
Q5: Do static clings withstand the weather elements?
No. As mentioned above, temperature can affect static clings' capacity to attach, as well as other weather elements like humidity and rain can reduce their lifespan.
Q6: Can we use static clings outdoors?
Static clings work best indoors and they can also work outdoors. However, weather elements can affect their capacity to attach so they should only be used outdoors temporarily.
You now have a better knowledge of how static clings adhere to windows and the other frequently asked questions that we discussed above. We hope that this information should make it easier for you to utilize static clings in your house or for your business. If you've already made up your mind on a non sticky sticker, be sure to visit our product page for static cling to upload your image and turn your ideas into reality. If you need any assistance on designing your static cling, feel free to contact us at CustomAny. We're always here to help.