Valentine's Day is a great opportunity to reconnect with someone you love. While the diamond, handbags, and flower industries may have you believe otherwise, you may still show your love for your special someone on Valentine's Day without breaking the bank.
In order to give your sweetheart a present that is both romantic and unforgettable on Valentine's Day, you need to know her well. You may show her how much she means to you without costing you a fortune by giving her a one-of-a-kind present that expresses your love. Here are our top 5 best Valentine gift bag ideas to help you choose an affordable one. Let's find out!
1. Special Card and Envelope
Most Valentine's Day "notes" between couples come from pre-printed greeting cards. Although there are a number of greeting cards from which to choose, the stock phrases seldom express the depth of your emotions. Hence, if you are short on cash yet want to make an impression, a handcrafted card is your best bet. Handmade Valentine's Day cards are especially appreciated and valued by women because of their uniqueness and sentimentality.
In addition, if you make your own valentine gift card ideas, you may express your thoughts precisely how you want. The greatest aspect is that it doesn't cost too much at all. Besides, envelopes are also one of the meaningful valentine gift bag ideas. Nothing can be more romantic or heartwarming than receiving a handwritten letter from someone who cares about you. On Valentine's Day, try this out on your special someone, let them know how much you appreciate and adore them.
Personal expressions of affection are more meaningful than any other kind of expression. Including a mailing sticker or a seal sticker when shipping the envelope is a bonus suggestion. With this little touch, your letter will stand out as unique to your sweetheart.
2. Message in a bottle
Create your own unique Valentine's Day message in a bottle as a memorable keepsake of your affection. The combination of a little jar, some pink and red decorations, and a handwritten note is such a sweet and creative gift among Valentine gift bag ideas. Making this is a breeze, and it may be customized to each of your intended receivers.
You may personalize your message in a bottle project in a variety of ways. Simply stamp your message onto some piece of paper, roll it up, then secure it with small circle stickers. If you want to make your bottle even more unique, you may add a few more touches beyond just the message papers. The use of clear stickers or transfer stickers is a great tool for this purpose. The perfect fit between your bottle and this sticker ensures optimum visibility. There's a lot of room for personalization with these stickers, and the die cut heart stickers may be perfect for Valentine's Day.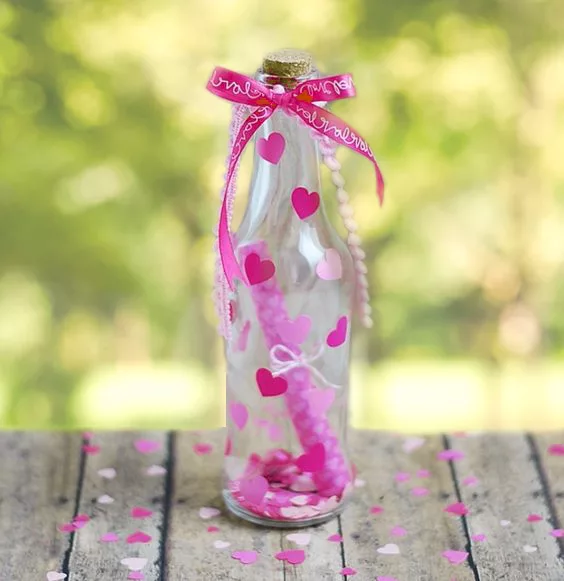 3. Sweetie and chocolate bar wrappers
When it comes to Valentine gift bag ideas, candies and chocolate bars are just as common as flowers. Sending a sweetie on a budget? Consider valentine cookie jar with candy hearts in a variety of tastes and conversation hearts with nice phrases written on them. Just like a handcrafted greeting card for Valentine's Day, homemade sweets in your sweetheart's favorite flavor demonstrate that you put in the time and thought.
In addition, crafting your own wrappers adds a more personal touch than selecting a readymade heart-shaped box at the supermarket. You may personalize the packaging by adding a custom label with a clever saying or pun, such as "Be my valentine check yes or no", "Will you be my valentine note", or "Will you be my valentine card". This simple thing would provide excitement to your loved ones.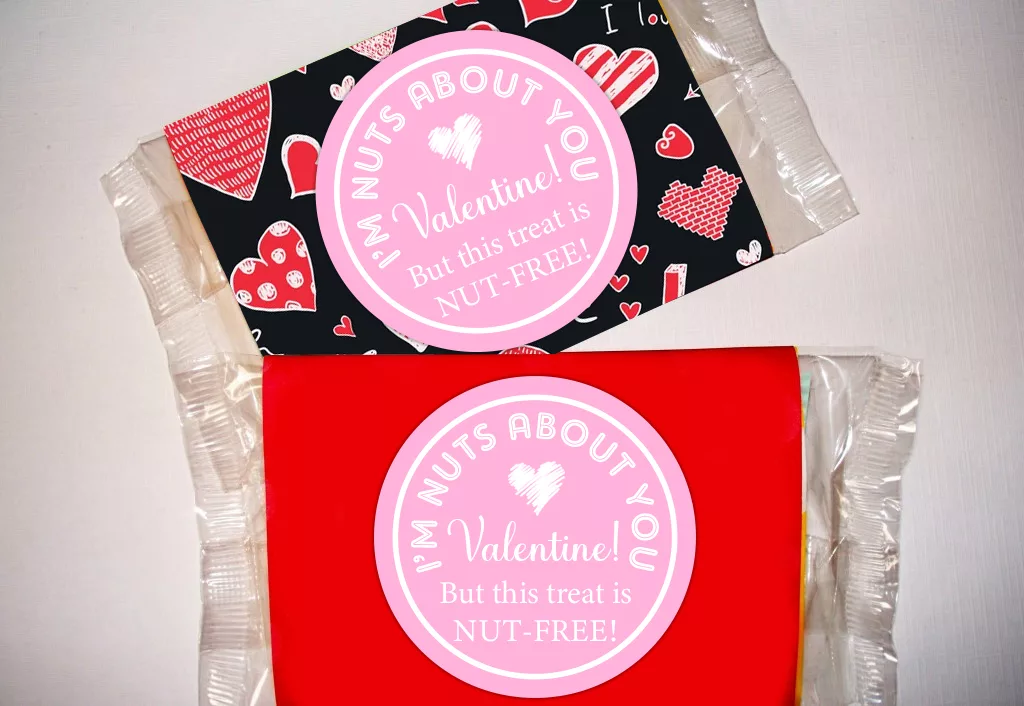 4. Printable topper
If you're searching for a way to spice up your Valentine gift bag ideas, try your hand at making them with these cheap, accessible, and printable treat bag toppers!
Enjoy the diversity of unique designs available for this Valentine's Day goodie bag toppers. You may choose one design to give to everyone or mix and match designs that range from cute and cuddly to bright and modern. Even while making your own Valentine's Day presents from home may be a bit of a hassle, these printables will make it a breeze to print out, cut out, and staple onto your treat bags.
An attractive bag present may also be created with the help of a blackboard label. Beautiful and practical, blackboard embroidery hoops may be used to show a meaningful message or a meaningful phrase to a loved one.
After you've finished making the printable topping bags, fill them with store-bought or homemade seasonal candies or snack mixes. In any case, your loved ones will be impressed by your Valentine gift bag ideas.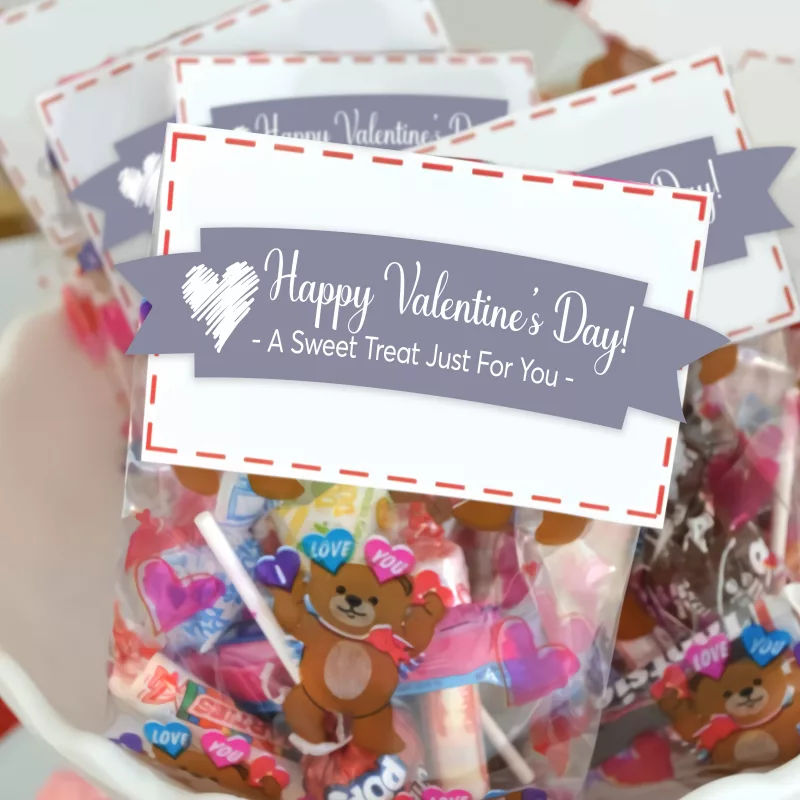 5. DIY paper bag
Any present placed within a handcrafted bag would be appreciated twice as much. So when you're in the giving mood, try your hand at making a creative and adorable DIY valentine treat box.
DIY gift bag designs are fantastic valentine packaging ideas, whether you're trying to save money on wrapping materials or just searching for a creative touch on the standard treat bag. The possibilities for creating a one-of-a-kind handmade present bag are virtually limitless. You can use upcycled materials to fashion a unique bag. You can also paint elaborate patterns on paper bags to create novel and creative designs.
Die-cut stickers may be some remarkable additions to your paper bag. They are produced to the precise dimensions of the custom design, eliminating the need for a border. Die-cut stickers may include anything from a photo of you and your sweetheart to a heart graphic or a short love quote.
Additionally, you can use a lettering sticker with the recipient's name. This way, your sweetie can be sure she's getting the paper bag you prepared just for her. She will be really moved and appreciative of your action.
Conclusion
The true value of a Valentine's Day present lies not in its cost but in the thinking that goes into selecting it. It only means that you gave some attention to the gift you ultimately gave her. The most costly present isn't always the greatest one. The most effective way to show your love for her is with a present that reflects your careful consideration. We hope these Valentine gift bag ideas above can assist you in choosing the most meaningful presents for your partner. And remember that spending money is simple, a genuine show of love and care is invaluable.