This blog post is calling all the store owners who are on a budget! Why? Because we've gathered 15 Dollar Store Christmas decorations for you.
CustomAny understands that when the Christmas season rolls around, all the store owners want to make their shop as festive as it could be. But if you are on a budget, you may think there are less options to choose from. That's why we searched around and finally rounded up the best price store decorations for you. They are the most budget-friendly decorations but do not scream "cheap" at all.
Get interested? Yeah. Let's dive in and discover them right now!
Dollar Store Christmas Decorations for the Outside
Let's start with the outside of your store – which is the first thing to come within the sight of passersby.
1. Festive Signs
The first dollar store Christmas decorations idea we want to suggest to you is a festive sign. Use decorative signs featuring festive sayings or seasonal messages to welcome your customers to your store this Christmas season. You can hang them near the entrance or on the store window to easily set the holiday mood.
2. Window stickers
If your store has a glass window, don't forget it! Small but versatile window stickers or storefront stickers in various designs are perfect for a temporary holiday transformation. They're easy to apply and remove, cheap christmas decorations to make into eye-catching window display combinations to attract anyone who passes by your store.
Where to get cheap Christmas decorations? Whether you want some delicate snowflakes in clear stickers or a jolly Santa Claus in die-cut shape, CustomAny is here to help. Simple access to our product page, select your desired material, shape, size and quantity, we'll create your unique custom stickers, ready for you to use this Christmas.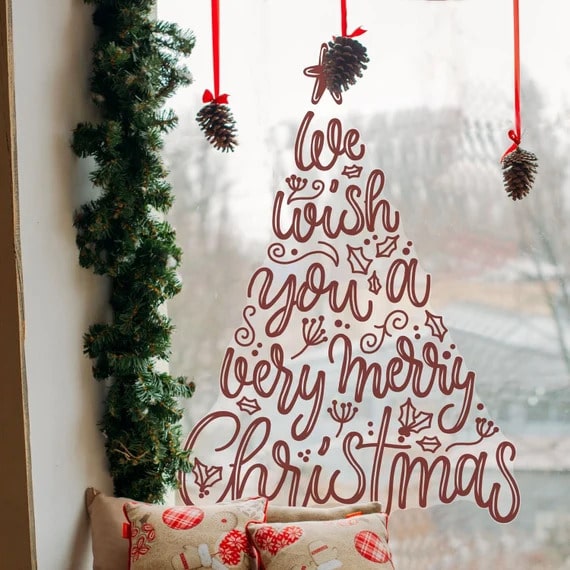 3. Wreath made of old ornaments
Christmas wreaths are not just expensive store-bought ones, you can also make your own with your old ornaments. Gather and glue these old dollar tree decorations onto a wreath frame, and add a festive ribbon, you will get an attractive, upcycled decor item.
4. Stocking gnome on the door
A funny stocking gnome is one of the greatest dollar store Christmas decorations. If you have a stocking featuring a gnome, simply hang them on your store's doorknob or use them instead of the traditional wreath. If you don't, you can draw your own gnome on a kraft bag shaped like a Christmas stock. These easy and inexpensive DIY Christmas decorations bring holiday spirit to your store.
These dollar store Christmas decorations will help you spruce up the exterior of your store, attract customers with a festive look without overspending.
Dollar Store Christmas Decorations for the inside
Our suggestions for dollar store Christmas decorations doesn't stop on the outside. Once the customer steps in, you must show them the winter wonderland you make inside. Here are some exciting and cheap Christmas decoration ideas for interior decor without breaking the bank.
5. Tiny Christmas Tree
A Christmas tree is something that can't be missed on Christmas. However, it does not need to be an extravagant decor. Buy yourself a small artificial Christmas tree to be perfectly displayed on your tabletops, shelves, or counters. These mini trees are inexpensive and don't require a large area, so they are the excellent choice for stores with limited space.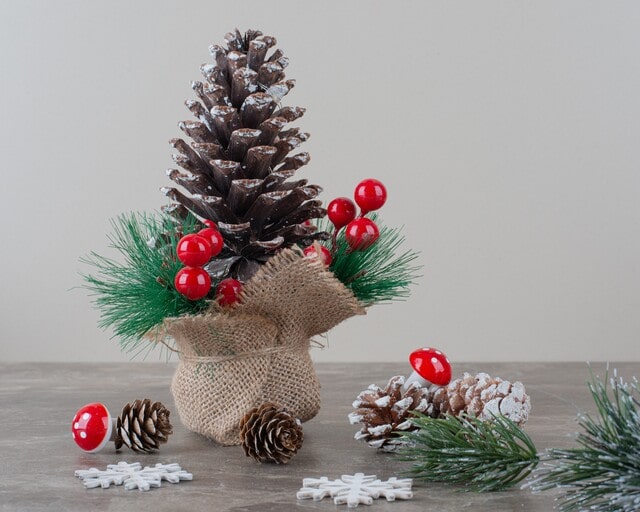 6. Artful Wall Decals
Another dollar store Christmas decorations option is holiday-themed wall decals and Christmas stickers. They are ideal for creating a festive atmosphere in your store at a reasonable price.
You should use temporary adhesive stickers as you'll want to change the wall art after Christmas. Again, you can find various types of custom stickers and decals on our website, allowing you to easily customize your store walls and even floor.
7. Glitzy Lights
Lighting is key to setting the right atmosphere for your selling space during the holiday season. There are a wide range of affordable Christmas lights, such as string lights, LED candles, and battery-operated lights available in local stores at a budget-friendly price. Use them to create a cozy, inviting look for your store.
8. Christmas Villages
Looking for a delightful way to create a whimsical display for store decoration this Christmas? Mini Christmas village sets are your answer. Look for these sets with tiny houses, figurines, and accessories at decoration stores. You can put them on tabletops or on store shelves to display.
9. Christmas figurines
With just some dollars, you can buy some charming figurines, such as angels, reindeer, or the old Saint Nick himself. These varieties of figurines will enhance your store's decoration without running out of money.
10. Decorative Bows
Dollar store Christmas decorations can never be completed without festive bows. These colorful additions not only enhance wrapped presents but can also spruce up various items in your store. Use them to attach to your wreaths, garlands, or even the backs of your chairs, turning your space into a space full of holiday cheer.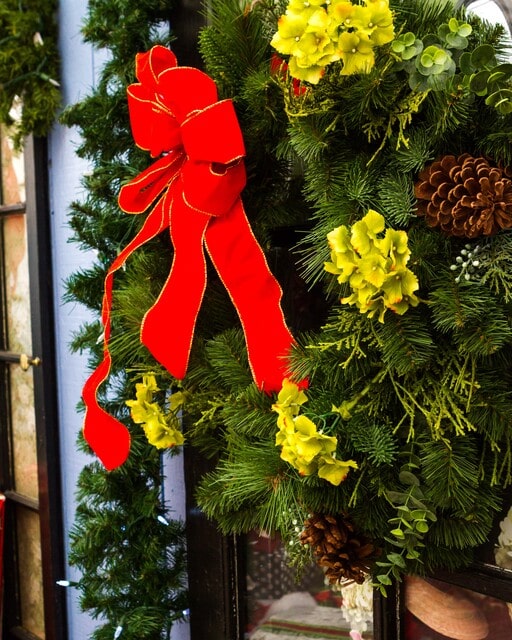 11. Charming Table Runners or Tablecloths
After chairs, think about your tables. Use charming Christmas-themed table runners or tablecloths as dollar store Christmas decorations to instantly transform your plain tables into a stage of your holiday.
12. Holiday Pillows
Infuse comfort and cheer to your store using holiday-themed throw pillows. These dollar store Christmas decorations are available in various festive patterns. Choose those with matching style with your store and use them for both decoration and customer seating.
13. Mini Chalkboard for the menu
If you run a restaurant or any food shop, create a festive menu board with a mini chalkboard. If you have a non-food store, use this dollar store Christmas decorations idea to highlight special holiday offerings, such as seasonal treats or limited-time promotions. Furthermore, mini chalkboards not only serve you in Christmas but also for other holidays, for other events and even daily use.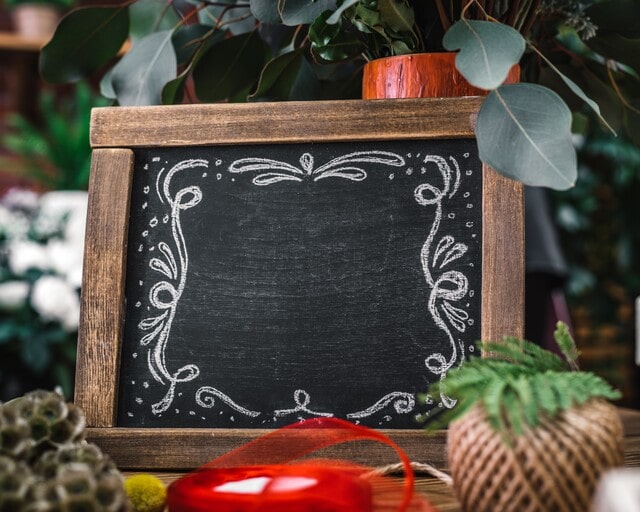 14. Dressed-Up Wine
For restaurants that offer wine, consider dressing up your bottles with Christmas-themed wine covers, available at many dollar stores. These cheap yet effective decorations can instantly elevate your display.
15. Faux Greenery for Counter
Bring the outdoors Christmas scene inside your store, on your counters by displaying faux greenery. They can be artificial garlands, wreaths, and sprigs that can create a fresh, natural look for your inside decoration.
All the dollar store Christmas decorations above bring a festive, inviting atmosphere to your store. They are easily made by yourself or bought at a local store. What you need to do is let your creativity run wild, mix and match them, create your unique store decoration to impress your customers.
Tips for Choosing Dollar Store Christmas Decorations that don't look cheap
When you are looking for dollar store Christmas decorations, consider these practical tips to ensure your choice, whatever it is, remains elegant without breaking the bank.
DIY with your old decorations
Before going to store shopping, upcycling your existing Christmas decorations. Do you have Christmas ornaments, string lights, or other types of embellishments from previous years? They'll turn out to be budget-friendly but effective store Christmas decorations with a DIY makeover using paint or sparkle.
Buy Simple Things that will not be outdated
You should look for classic designs and color schemes for your dollar store Christmas decorations. Opt for basic ornaments, plain wreaths, and clear lights, as these things won't go out of style year after year
Pay attention to materials and details
To ensure an expensive look on inexpensive things, you should pay attention to their materials and details. Select decorating items made of sturdy and high-quality materials that don't appear flimsy. Elegant finishes, patterns, or textures should also be taken into account as these small details can make inexpensive decorations look more expensive and refined.
Last thoughts
An enchanting Christmas decor doesn't have to be an expensive store-bought. You can make some from the old decorating items you already have at home. You can also go to a local store to grab some festive mini dollar store Christmas decorations at a low cost. We hope that with over 15 ideas and tips we've shared above, you can choose the dollar store Christmas decorations that offer your store an elegant look without breaking the bank.